A point of sale system used to be a cash register that simply took account of the sales of the day and organized the bills into sections. The current main function of point of sale systems remains the same.
However, with today's technology, these systems provide so much more. Often, business owners themselves aren't very well informed about how POS software works, even though it's one of the most important aspects of running a successful business.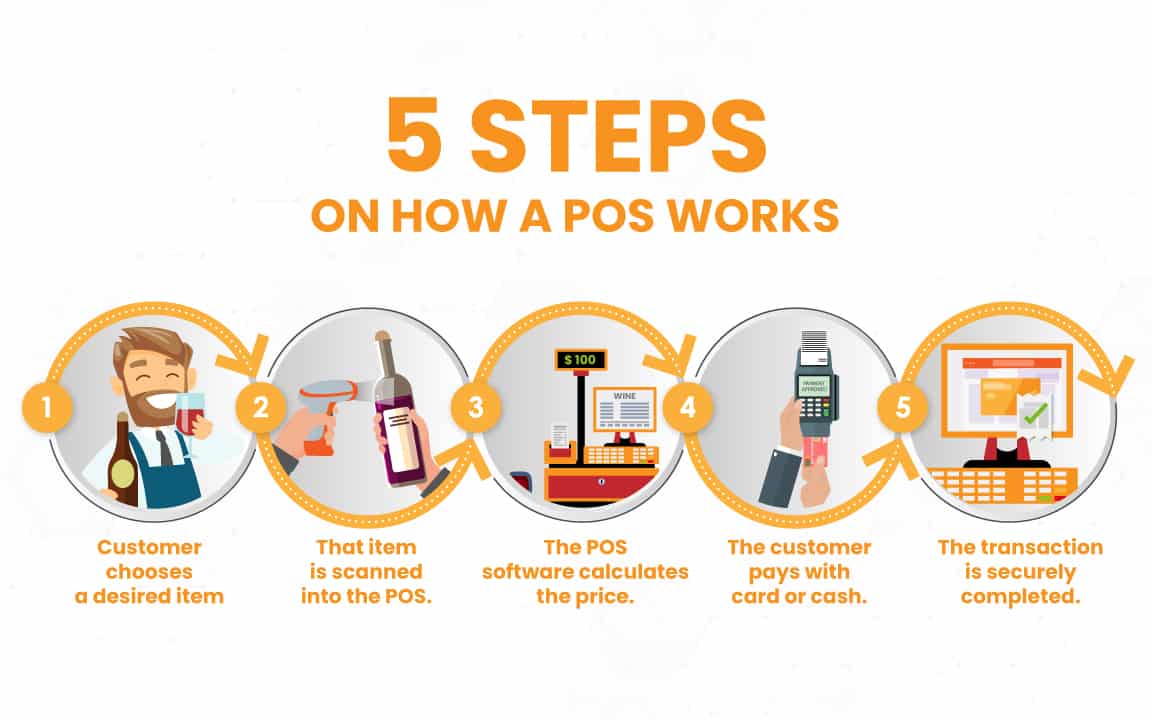 A POS system is the software and hardware that a company uses to carry out purchase transactions, whether in store/in person or online. While all POS systems serve the same basic purpose (that is, executing purchases), they also perform many more vital functions for both the store and the customer.
Below is a guide to help break down the basics of modern point of sale systems and their operations:
How Does a POS System Work?
Components of a POS
A POS system includes the following elements:
Software

Hardware

Credit Card Machine

Payment Processing

Receipt Printer

Scanners

Cash Drawer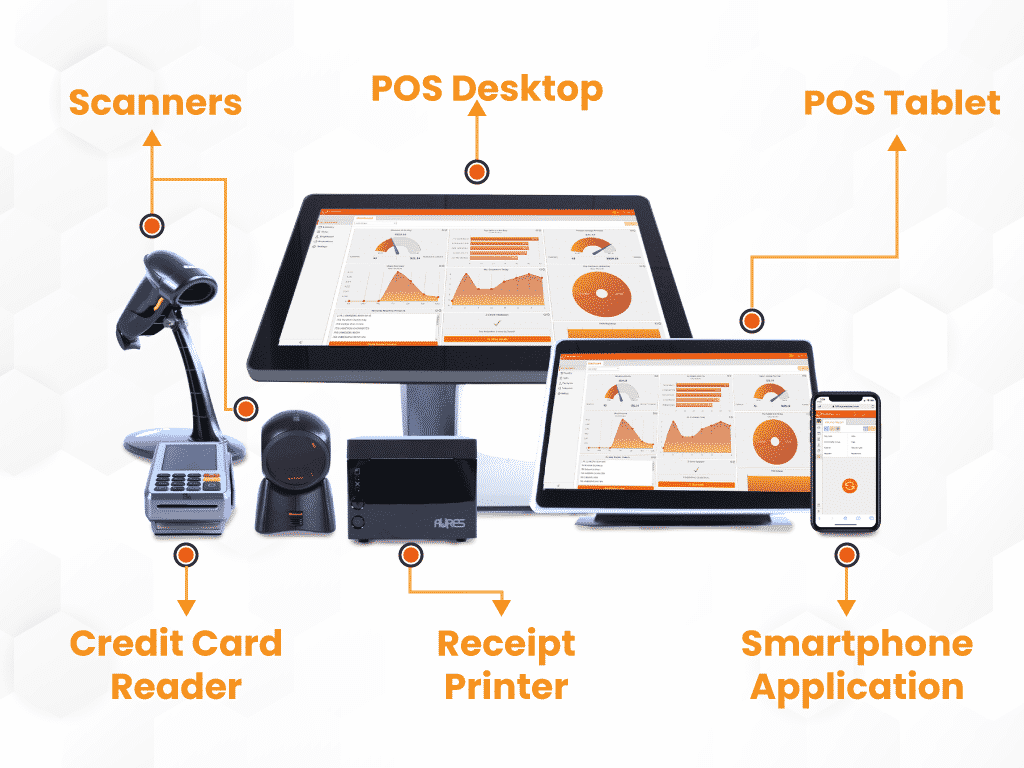 Software
As the most important part of the system, the primary function of the software is to process transactions, store data, and manage inventory. Modern systems provide an array of functions that taper to specific business demands. These functions aid company management in many tasks, including sales analytics, employee management, and customer loyalty programs.
POS Hardware
The hardware for all point of sale terminals consists of the computer, phone, or tablet that physically runs the software. Depending on the system being used, this hardware is typically purchased, leased, or rented from the POS company. Different types of hardware work better for different types of stores and products, depending on space, scale, mobility, and more.
Payment Processor
These include built-in and third-party processing functions that communicate and authorize transactions between the company's software and the credit card machine. By communicating between the card/bank networks the processor ensures the success and security of the transaction. Processors charge varying fees for this function.
Credit Card Machine
To complete the sale, the customer will use their card to swipe, dip, or scan onto the actual credit card machine. These machines communicate with the processor to safely complete the transaction.
Modern payment machines provide both the customer and the business with significant protection against fraud.
Receipt Printer
For brick-and-mortar locations, the hardware system will include a printer for the transaction receipt. Some customers prefer to have a physical printed copy of their receipt, though you can always offer to send the receipt via email or both email and print.
Scanners
Though not all shops need to use them, handheld scanners make the cashier's job much easier when ringing up customers during high volume and busy days. The scanner reads a barcode to communicate with the POS software to indicate which item is being purchased.
Scanners can also help to conduct efficient and accurate inventory counts. These aid retailers with a larger level of inventory to optimize their receiving and ordering systems.
Cash Register
Cash is typically still an option for making purchases at most small businesses. Thus, most businesses will keep a cash drawer that opens electronically using the POS software.
Read also: Quick Guide for Retail Business Owners on Different Types of Point of Sale Systems
On-Premise/Legacy vs. Cloud-Based Point of Sale Systems
Legacy POS
On-premise or legacy POS systems have local servers that process and store all inventory and sales information in-house. Generally, legacy POS systems cost much more money to buy and start. They usually require an IT person to come onsite and install the necessary hardware and software for the POS to operate.
These legacy systems are often bulky, nonportable, and need more professional installation and hardware systems for separate retail locations. They also depend on the user to keep current with software updates and necessary tweaks for their personal business. Eventually, the hardware used with these POS systems will be obsolete and the company will have to purchase the next available version.
Cloud-Based POS
Most of the emerging POS systems in the modern retail landscape are what are called cloud-based POS systems. These cloud-based systems run on applications that store information and function through off-site "cloud" servers.
Generally, cloud-based systems are much less expensive to implement, either using the proprietor's own computer or tablet, or providing less costly hardware for purchase or lease. Cloud POS systems work on a SaaS – software-as-a-service– model, billing companies a monthly subscription fee.
These cloud-based subscriptions offer many benefits for their clients. First, they automatically update their software, keeping everything running at top performance without the need for businesses to monitor them. This includes remote access troubleshooting that is usually included in the subscription contract, meaning no big fees for sending out technicians to your shop!
Another key benefit that cloud -based POS systems offer is scalability. Since the server is remote and internet-accessed, companies with multiple locations can use the same network to process and store all of their inventory, sales, and employee management data in real time.
This technology is accessible remotely by business owners to monitor their day-to-day operations from their own mobile devices, keep updated on all inventory and sales reporting, or even by employees to view their sales numbers and/or work schedules.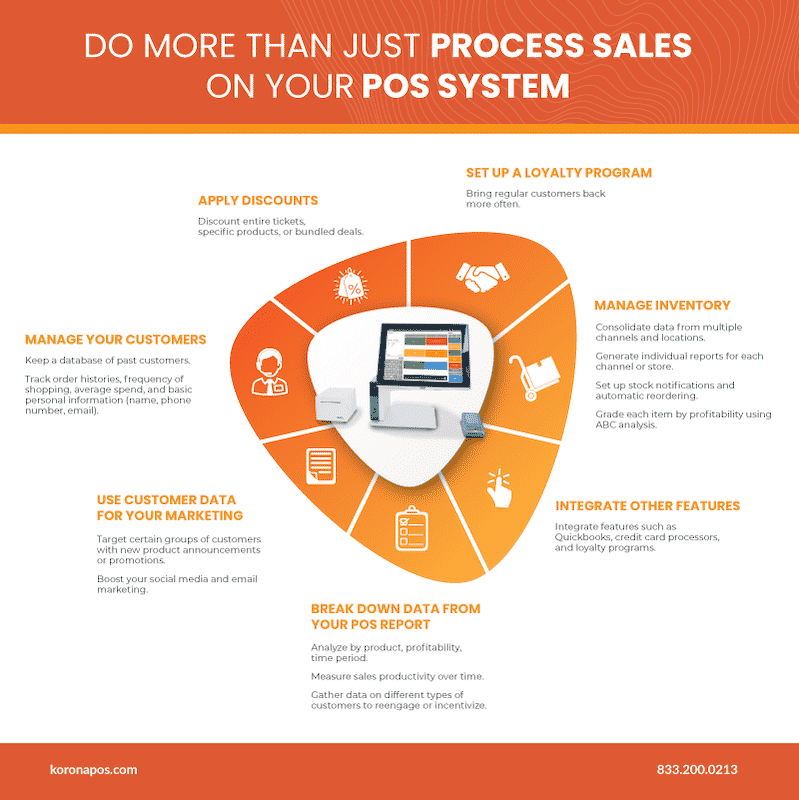 What a Modern POS Can Do For You
The POS is no longer simply a cash register. It can include built-in functions to make your business much easier to operate. Currently available POS software can perform a multitude of functions to help with inventory management, loyalty programs, employee payroll, sales tracking, and more.
One clear advantage of modern solutions such as KORONA POS is that they are easily enhanced with third-party add-ons. By integrating other software applications, your POS system functions smartly and seamlessly across all aspects of running a small or large business operation.
Tracking Sales
Built-in performance indicators, conversion rates, and product reports provide key data and sales trends. These tools are Quickbooks Online integrated and can provide a variety of information, including identifying struggling products or measuring performance between different store locations. In concert with other programs, this information assists business owners in showing seasonal trends and so much more. By analyzing the past it can help you predict the future.
Loyalty Programs and CRM
While POS software facilitates sales it can simultaneously track who is purchasing what items and how frequently. Cloud-based systems like KORONA POS can be easily integrated with customer relationship management (CRM) databases such as bLoyal to build reward programs, target specific customers, and reach out to lapsed clientele to get them back in the store.
Inventory Management
A cloud-based POS system can automatically account for all items within a company's inventory across multiple brick-and-mortar locations and eCommerce sales. Tracking key performance indicators (KPI) and conducting ABC analysis allows businesses to optimize their efficiency and fully understand their inventory. Smart tools such as automatic reordering save time and energy for business operators.
Built-in Credit Card Processing
Many cloud-based systems will offer pre-integrated credit card processing that skip the need for a separate processing solution. This can be a good fit for some businesses, particularly those that have very few transactions or are looking to save money upfront on hardware costs.
However, it's always best to do your own research and determine if this option will cost you more than using a separate processor. Often, when the POS and processing solutions are bundled, the processing rates will be artificially inflated above market price. Some cloud-based POS systems, though, are called "agnostic" and will allow you to use the most affordable processor you can find.
Employee Management
The same POS screen that is used to execute sales can also allow people to clock in and out. Employee data collection can easily track sales and efficiency for specific workers. Multiple custom security features are available such as records of void or sale cancellation to protect the cash register, and tapered permission levels to tailor the access of individual workers.
Finding the Right Fit
Hardware That Fits Your POS Demands
Hardware that fits your needs is a must when considering which point of sale system to use. Certain types of stores will require more mobile check out options like tablets while others would be better suited to use more stationary, larger touchscreen devices to process transactions.
See also: Understanding POS Hardware Bundles: Streamlining Retail Operations
Software Solutions
As for software, asking the POS company which niche features are available can really make your life so much easier. Systems like KORONA POS are customizable to tailor fit to your needs. For example, a museum or amusement park might need a POS that allows them to sell tickets to tours, process inventory and sales in the gift shop, and also host large events, while a winery will need a powerful CRM for wine club management and shipping compliance. In the end, it's important to remember that different businesses need different solutions.
Look Out For These When Shopping for a Point of Sale
Long Contracts and Initiation Charges
Before you pull the trigger on your POS for your retail company make sure you shop around and gather as much information about the array of features, the full yearly and future cost, any contracts or additional fees, and how their customer support system works. Some systems have greater start-up and installation fees, while others work on a month-to-month subscription as a service setup.
Point of Sale Credit Card Processing Fees
Credit card processing is one of the biggest and most important expenses for small businesses. The difference between a 2.25% and 2.75% processing fee can add up to tens of thousands of dollars in sales over the course of a year. Be careful with POS solutions that bundle credit card processing, as they usually have higher rates and won't allow you to shop around for the best available rates. A credit card agnostic POS system like KORONA POS will allow you to use the best rate you can find.
Customer Support for Your POS
Another important factor to consider in choosing your POS company is what kind of customer support they offer. Will you be able to get in touch with a knowledgeable representative quickly and easily if you run into software issues? Do they offer assistance during your working hours? You can even do a test run by calling the help number that companies offer to see what kind of support you get. Ask questions!
Software Product Demos and Free Trials
Finally, see if you can try it out! Many POS companies offer trial periods for businesses to try their product and win them over. If a system is going to work for you it should be intuitive, tailored to your needs, and streamlined. Go ahead and do a trial run to see it works for you. This will allow you to get a feel for how the system operates, whether the features are right for your business, and if the customer service provided meets your standards.
See related: 10 Questions To Ask When Shopping For A New POS
For an even more detailed article on this topic, continue reading: A POS System Buyer's Guide: Questions Every Retailer Should Consider.
Get Started with KORONA POS today!
Tell us a little bit about your business and explore all features that KORONA POS has to offer. And there's no commitment or credit card required.