Among other reasons, the rising trends of online shopping, contactless payments, QR code use, click-and-collect, increased software integrations, and a stronger reliance on data are expected to strengthen the cloud POS market through the foreseeable future. Such changes have revolutionized the retail industry and consumer behavior and wouldn't have been possible without the creation of cloud-based POS software. Various industries have embraced the use of cloud POS, making legacy point of sale solutions all but obsolete.
Cloud POS trends are booming, with nearly 28% of retailers planning to adopt this technology to shape the future of their sales operations and improve consumer satisfaction. The global cloud POS market is expected to reach $9 billion by 2026. For your retail business to compete, a cloud POS option is essential to meet consumers' needs and ensure their data security. Check out this blog to learn about the future of cloud-based POS systems.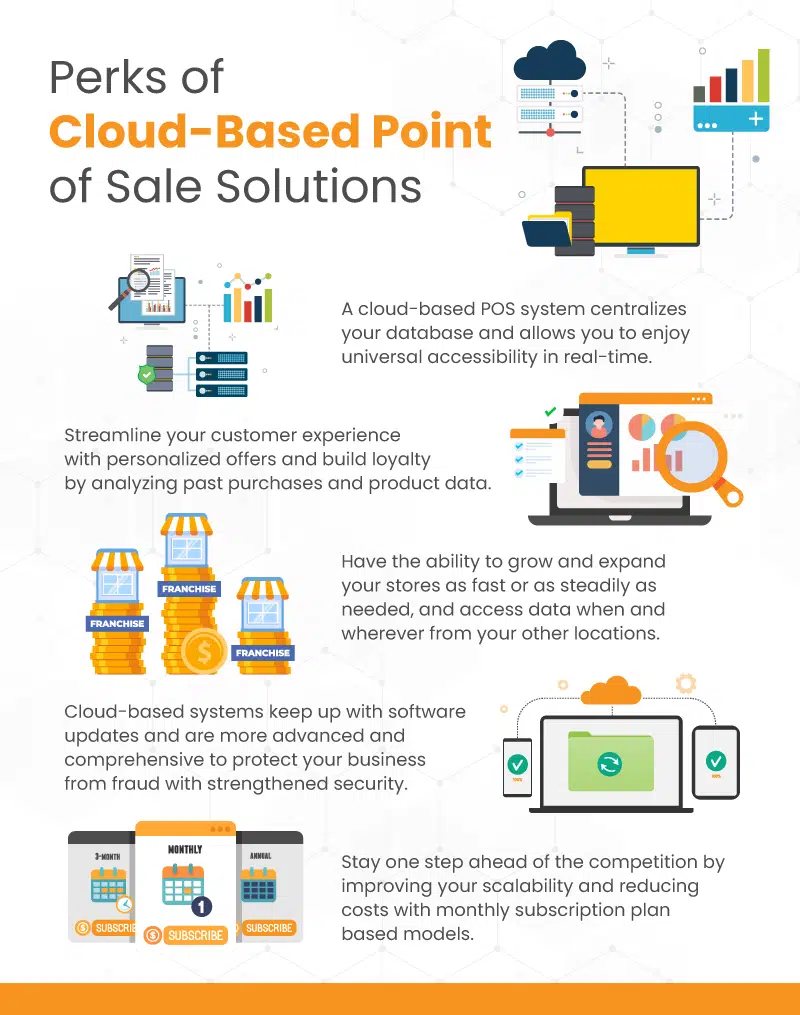 Table of Contents
Cloud POS Will Give You Universal Accessibility
The dynamic growth of the eCommerce and retail sector has undeniably led to a major upheaval in the operation of traditional stores, resulting in rapid adoption of the cloud-based POS landscape. A cloud-based POS system allows you to centralize your database, allowing you to make optimal decisions and improve transparency and data visibility across your organization.
With cloud-based POS systems, employees and managers can track and manage their company's sales data in real-time. Additionally, unlike conventional on-premises POS systems, which require users to use devices connected to a particular fixed location or connect to a local network, cloud-based POS solutions can be used from anywhere.
Streamline Your Customer Experience With Personalized Offers
By analyzing customers' past purchases, businesses will be able to gain insight into which products are selling well and which are being ignored. Cloud-based POS systems allow retail owners to analyze its data and pinpoint the items that are most popular with consumers, which helps them create targeted marketing campaigns.
The POS system is also essential for building customer loyalty through rewards programs, product subscriptions, and just-in-time offers. It is worth noting that cloud-based POS systems offer encrypted online storage while reducing the risk of incompatibility or failure. This also provides customers with a highly secure and encrypted system that ensures smooth transactions on their orders.
Ability To Expand or Shrink Your Stores
If you're a multi-location store owner, you'll have different data to manage, which can be complicated to track if you have various types of software without an integration through your point of sale system. Cloud-based checkout with a complete POS solution changes this dynamic, allowing retailers to grow as fast or slow as they want with centralized checkout data in the cloud.
No matter where you are, you can access your inventory management and payment processing tools with just a laptop, tablet, or smartphone from all of your stores. And in leaner times, using a cloud-based point of sale system can be a huge advantage.
Multi-location retailers or quick-service restaurants can now switch off POS systems in certain locations without losing access to all the useful customer and diner data they have stored. Cloud-based POS systems with a monthly subscription model will make it easier to increase or decrease the number of POS devices as needed.
Protect Your Business From Fraud With Strengthened Security
Running a retail store, whether online or physical, means you have a lot of data, usually related to customers. Whether it's user transaction information, personal data, or information about your payment system, a lot of information needs to be protected.
You May Also Want To Read: How to Prevent Data Breach: A Guide For eCommerce Retailers
No matter how many security protocols you adhere to, digital products are still vulnerable to data breaches. One way or another, hackers will try to find a way to gain unauthorized access. Therefore, organizations need to implement critical data security strategies to avoid cyber attacks. With a cloud-based POS system, the security of your data is assured. Unlike on-premises software, the security system of a cloud-based POS system is much more advanced and comprehensive. It relies on data encryption and strong firewalls to protect your data from the hands of hackers.
A cloud-based POS system also has "real" security measures, such as surveillance integrations, fingerprint locks, secure login credentials, and cash protection features. In the future, cloud-based POS systems will further enhance fraud and payment protections with more advanced security features. You are even more vulnerable to hacker attacks if you have an online store. With cloud-based systems, even if you lose data on your device, your central system still has a backup of the data.
Improve Your Scalability And Reduce Costs
A cloud-based POS system is designed to be scalable. When choosing a POS solution, you need to consider certain things, such as mobile payments, inventory management, and pricing. Cloud-hosted and mobile POS systems have become essential elements of a company's business strategy to provide better customer experiences, scale the business, and expand revenue streams.
Cloud POS users pay a monthly subscription fee instead of a one-time licensing fee. This ensures that they'll always have the most up-to-date features, continual customer support, and no sudden costs for replacement. Plus, subscription models mean you can pay for what you want. Subscribe to the plan that best fits you rather than pay for features you won't use.
Unlike legacy systems, cloud POS systems keep pricing fair and recurring. This can help your business reallocate resources to the many other areas of your business worth investing more in. Cloud-based software also automatically upgrades itself at no additional cost, unlike traditional software. And if you run into problems, say goodbye to annoying service fees. With a cloud-based POS system, this is never the case. If there is a problem, it is addressed and fixed by the provider at no additional cost to the users.
Future Of Cloud-Based POS: Conclusion
More and more cloud-based POS systems are emerging that promise to save companies money on financial and operational expenses, making the competition fiercer. And this means that the quality of the market is better than ever. KORONA POS software is helping to drive an omnichannel retail revolution, flawlessly fusing physical and digital experiences to engage customers and slash costs for retailers.
The POS system becomes a tool to enhance the value of the company's brand by engaging with the customer wherever they are, whether in-store or online. Indeed, a cloud-based system can be one of your best business decisions for the coming year. Not only does it have the ability to scale your business, but it also helps you reallocate your resources for maximum ROI. If you also want your business to be one step ahead, it's time to opt for a cloud-based POS To learn more about KORONA POS, click on the button below.
FAQs: The Future Of Cloud-Based POS
1. What is the size of cloud point of sale (POS) market?
The global cloud POS market size was valued at $2.24 billion in 2020 and is expected to reach $13.24 billion by 2028, registering a CAGR of 24.5% from 2020 to 2028. The COVID-19 pandemic impacted the cloud POS market in the first half of 2020 due to the temporary closure of transportation terminals, retail stores, and restaurants. Government organizations have imposed strict lockdown measures and social distancing regulations to reduce the overall spread of the virus. This factor encourages customers to prominently use cashless payment methods, such as digital wallets and credit cards, to avoid direct contact.
2. What is cloud-based point of sale?
Cloud-based POS is a type of POS system where the information for transaction processing comes from a remote cloud service. Typically, point of sale refers to where purchases occur, such as a cashier's kiosk. Cloud-based POS systems process all payment transactions and updates online rather than on your local computer.
3. How is the US cloud POS demand growing from large enterprises?
The U.S. enterprise market size exceeded $600 million in 2021 and is expected to grow at a CAGR of 14% through 2028, according to this GMI report.
4. What is a legacy POS system?
A traditional POS system, also known as "on-premise" or "traditional" POS, stores data on local servers and operates on a closed internal network. This type of POS system is a thing of the past and is being replaced by cloud POS systems and POS terminals to facilitate employee checkout.