Last Updated: February 28, 2022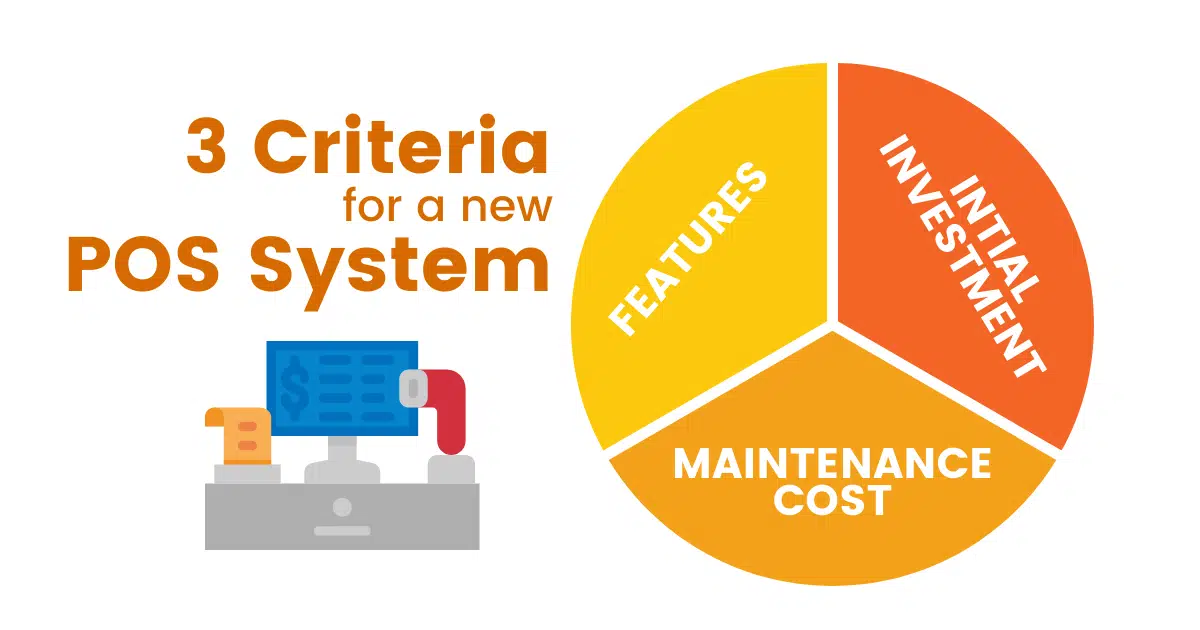 Deciding on a new point of sale solution is a laborious process. Ideally, you'd like to find a POS solution that will fit your store's needs now, as well as down the road. Take a look at our guide to a new POS, including a few red flags and common pitfalls to watch out for.
Your Guide to a New Point of Sale
The 3 Criteria Most People Have
When looking for the right POS system most people base their research on the following three criteria:
Features – Of course, you want to narrow your decision down to POS solutions that fit your needs. After all, an inexpensive solution is worthless if it does not work for your business.
Initial Investment – Whether you are switching POS systems or buying your first for a new business, there will be an initial investment. In many cases, this can include paying for setup, hardware, or legacy software license fees.
Maintenance Cost – Most systems also have ongoing costs. With software as a service, this is usually the monthly or annual service fee. In addition, most POS solutions come with service and support contracts as well. Unfortunately, credit card processing fees are unavoidable. Less clear-cut costs are tasks that require your time. Inefficient design or manual labor such as data entry can devour up your time, which is your most valuable resource.
3 Common Problems When Buying a POS System
There are many other criteria considered when choosing the right retail POS. But there are a few common pitfalls to watch out for:
1) Sunk Cost Investments
Many people prefer buying a product outright and owning it rather than renting it. This is a smart financial move in many areas of life. When it comes to software, however, renting might be the better move. With software, you simply don't know how long your investment is actually going to last. Here are a few scenarios which can have detrimental effects on your business:
The developer of your software discontinues the product or goes out of business. In this case, you might not just lose support, but also be out of Payment Card Industry (PCI) compliance. This can have grave effects on your business.
New laws or payment requirements can force you to update your system sooner than you think. This can be as simple as a new tax rate, which your existing system can't handle. For instance, when EMV was introduced, it made much of the existing POS hardware immediately obsolete. A $5000 investment on a point of sale made even a few months prior would be worth nothing.
Your new POS system just doesn't work out. This is probably the most common pitfall because it is difficult to evaluate a system completely until you are using it more routinely. There will always be risks, and sometimes you don't discover serious problems until after it's too late to return.
In these cases, you risk losing your large initial investment. To protect yourself, try to avoid systems with high up-front costs and consider a month-to-month option. The idea of software-as-a-service (SaaS) is meant to take some stress and burdens from your life as a business owner. It's easier to know that you'll always have the latest software, at the same price every month. This might be counterintuitive for some business owners, but it mitigates risk and is a more predictable part of your budget.
2) Getting Locked into Long-Term Contracts
Did you find an amazing yet incredibly inexpensive product? Are they also asking that you sign a long-term contract? The concern is, why would any point of sale company need a contract? If you're offering a great product, your customers will want to stay loyal. With that said, many POS companies require minimum contracts, most of which don't benefit the buyer at all.
Companies oversell their product and won't deliver the product that you're expecting.
Fees for support or basic features will increase – we commonly see other POS companies charge extra for additional products or login IDs.
There are embedded fees such as credit card processing, which will be set higher than the industry standard
The last point is a very common practice. As most business owners are painfully aware, credit card processing contracts are not easily understood and involve all kinds of unexpected or hidden fees. Many processors charge 2-3% for each transaction. In addition, if they lock you into a point of sale system that requires you to use a certain merchant service, then you might pay a lot more money than you initially thought. These fees can sometimes be 1-2% higher than standard rates. Simply put, if your business does a lot of sales, this can be a pretty monstrous figure by the end of the year.
3) Paying Additional Fees for Support
Lastly, sometimes issues with your POS system can arise. These cases should be solved quickly without becoming a headache for you or your managers. What do you expect from your point of sale? When it's not working, the vendor shouldn't charge you for helping out. There are scenarios, like on-site staff training, in which additional support fees are reasonable. However, basic technical support should always be included. If it isn't, you should ask yourself and your vendor why not and how often their customers usually require assistance. In many other cases, any offer of free support will also drop dramatically once you are past your refund period.
KORONA POS Guide
With KORONA POS SaaS, we guarantee you the latest software each month at the same low rate. We also never require (or even offer) any contracts. Our support is second to none and is a phone call, email, or text away 24/7. You'll never be charged a dime.
Get Started with KORONA POS today!
Tell us a little bit about your business and explore all features that KORONA POS has to offer. And there's no commitment or credit card required.
FAQs: Buying A POS System
Will a POS system make my business operations easier?
Simply put, yes! Most POS systems come with distinct features that can be suited to your business needs. Some of the best features are having automated inventory management software and reports on sales. This saves you valuable time to continue to run your business.
Are POS systems costly?
POS software can be costly, however, there are several competing different brands and options that are affordable for small businesses. Determine your budget and look for a POS that includes the hardware and features your business needs, and start your comparisons.