If you work in any capacity of the retail industry then you must have heard at least some knowledge of customer loyalty programs. Over the last couple decades, customer management and rewards programs have blossomed and proliferated alongside more bigger developments in the digital world.
With the legalization of recreational marijuana in nineteen US states, cannabis dispensaries have added digital marketing to their arsenal of techniques and strategies to rise above competition. A big part of cannabis dispensary marketing relies on using cutting edge software to retain customers and optimize relationships with them.
The industry leader in this regard is springbig loyalty and rewards, who offers a suite of tools for cannabis retail. Below is a profile of what the company does, and how it can be used to help your dispensary.
Table of Contents
What is springbig?
Springbig is a cannabis industry digital rewards and loyalty program. They offer a full-suite customer relationship software as a service (SaaS) for dispensaries. This suite includes marketing tools to reach your clientele in a variety of ways. Beyond loyalty rewards, this includes SMS marketing, referral programs, segmented customer insights, and more.
When was it started?
Springbig was founded in 2012 by Jeffrey Harris, Mark Horbal, Michael Gross, and Natalie Shaul. The founders had years of experience working in customer loyalty for big box brands. They had overseen part of the development of data driven innovations that replaced the traditional and outdated punch card style system.
This new digital form of loyalty and rewards counts customers spending rather than trips taken to a storefront, incentivizing shoppers to spend more, and even more importantly, making use of their purchase history. Springbig now has over 1,300 clients and 2,400 cannabis retail shops. Just this year, the customer loyalty software company went public through a merger with Tuatara Acquisition Corporation.
springbig Offers The Best Customer Relationship Management
Springbig offers a fully integratable marketing platform for cannabis retail companies. With their software you can cover basically every aspect of rewards and customer management. Integrate KORONA POS with their API to seamlessly upload all of your customer sales data onto their cloud-based customer relationship management (CRM) program. Their platform has a proven track record of 15-25% increased retention rate.
This powerful, industry leading, cannabis customer relationship platform powers all of the other tools that springbig has in its lineup. By making the most of your point of sale data, you can leverage shopper information, turning it into actionable insights.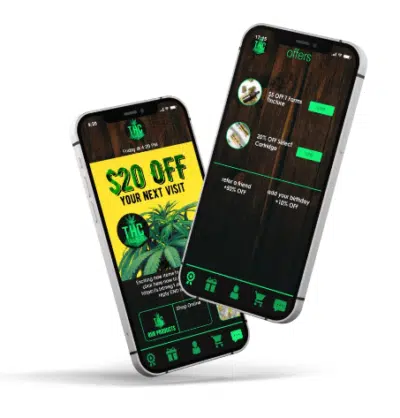 Loyalty And Rewards
Loyalty and rewards is springbig's bread and butter. Their program allows you to incentivize your clientele with benefits and bonuses for dispensary regulars. Think frequent flyer except for pre-rolls and edibles instead of miles
With the cannabis retail space as competitive as it is, having a robust, state of the art loyalty program is a must for dispensaries. Springbig allows dispensaries to create a fully customizable rewards platform with segmented tiers and bonus points that you as the owner can decide on and set parameters for.
Rewards Smartphone App For Customers
One of the recent additions to their loyalty repertoire is a customer rewards smartphone app. From this app dispensary shoppers will see their earnings and make purchases directly through cannabis retail eCommerce sites.
As of now, it's still in it's nascent period. But when it reaches full functionality, springbig's rewards app will allow dispensaries to fully customize their business profiles. Best of all, it provides cannabis retailers a direct channel to push notifications about promos and product inventory updates.
SMS And Email Marketing
Make use of your sales data to construct informed, targeted messaging campaigns. By utilizing demographic indicators, purchase pattern and history, springbig allows you to effortlessly reach your customers in order to entice them back in the store with tapered promotions, discounts, and announcements.
These more personalized text message and email campaigns have a much lower rate of opting out than mass quantity types of blasts that lack consumer insight. In addition, with springbig there's no need to worry about cannabis SMS marketing compliance, as they are experts in this field. This year they also added a feature to allow dispensary owners to live preview exactly how their message will look.
Referral Program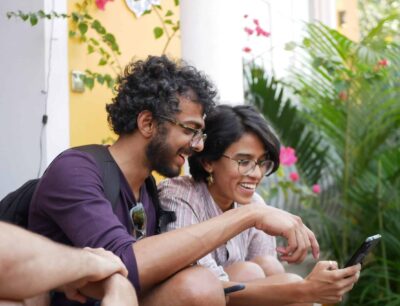 With their referral program called "budz," springbig offers dispensaries a neat and effective way to acquire new customers. You can now push a marketing text to your clientele with automated promotions for referring a friend.
It goes something like this, John gets a message from the dispensary saying that if they refer a friend, they can both get a free eighth of cannabis flower. John sends the referral link to his buddy Sarah, and then they both go into the store to make their purchases. All parties are happy. This can be an outstanding asset in acquiring new customers. In fact, springbig claims that their clients added 276 new customers on average per year using the referral program.
KORONA POS INTEGRATION
Springbig and KORONA POS are here to make your dispensary more efficient and more effective. With the powerful cloud-based data analytics and monitoring that KORONA's point of sale offers matched up with springbig's best in the business customer relationship management suite, there is no better option for cannabis retailers. Give our wonderful customer service team a call today to schedule a demo to learn more about how these software solutions can work wonders for you.
FAQs: springbig Loyalty Programs
What does springbig do?
Springbig offers a cloud-based customer management technology suite for dispensaries. By integrating their software with your point of sale system, you can do everything related to customer retention management, loyalty and rewards programs, text and email marketing, and beyond. They are one of the clear loyalty and rewards leaders in the cannabis retail space. 
What is loyalty and rewards?
Loyalty and rewards refers to digitally tracking your customers purchases and offering them benefits for frequenting your store. They are designed to retain customers, while establishing brand allegiance, maintaining a line of communication with clientele, and dissuading shoppers from switching to the competition. 
Do customer loyalty programs really work?
Yes, customer loyalty programs certainly work. Many studies and news articles have revealed convincing statistical evidence that points to loyalty programs effectiveness. Springbig also provides figures on their website showing that their platform is highly useful for dispensaries. 
Why is customer loyalty important?
Acquiring customers is one of the most difficult aspects of retail business. Customer loyalty helps increase customer retention, giving clientele a nod of gratitude for being a frequent shopper. It also incentivizes choosing your store over competitors.