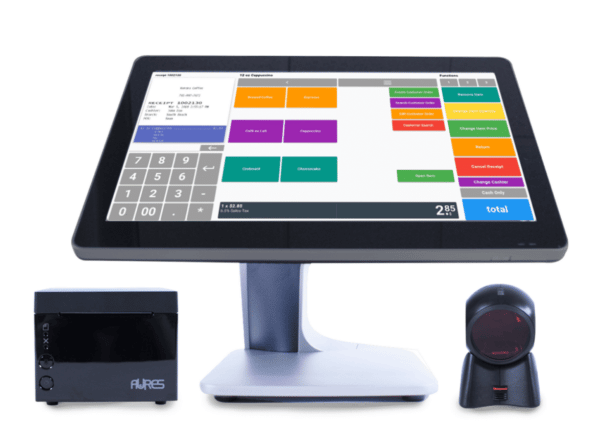 ---
A point of sale (POS) system is essential to any successful retail business. It's what facilitates transactions with customers, helping you to improve operational efficiency and provide a better customer experience.
But how much does a POS system really cost? It's not an easy question to answer as several factors can impact the cost of a POS system. These include the size and complexity of your business, the type and number of hardware components you need, and the type of software you choose.
In this article, we'll break down these costs in detail, comparing some of the most popular point of sale software packages so that you can make an informed decision when it comes to purchasing your POS system. Let's dive in!
Table of contents
How Much Does a Retail POS System Cost?
There's no one-size-fits-all answer when considering the cost of a point of sale system. Generally speaking, the cost of a POS system can range from zero to upwards of $250 per month for small businesses with one POS terminal. For larger businesses, the costs can get into the $1,000+ range, depending on which features they need, how many stores they have, and how many terminals they need.
For example, an entry-level package usually includes just the software, hardware (printer, barcode scanner), and installation fees. However, if you want specific features, such as employee management or advanced inventory features, you'll likely need to purchase additional components and incur additional setup costs.
To give you an idea about pricing: Basic systems for a retail store start around $500 for the hardware. Mid-level packages include additional components like employee time tracking, promotions and gift cards, inventory tracking, and loyalty programs for around $2K – $5K, depending on your chosen hardware. Enterprise solutions can easily cost more than $20K. (much more suitable for retail chains or multi-store locations stores). So it's up to you to determine your needs and decide what type of system suits your business best.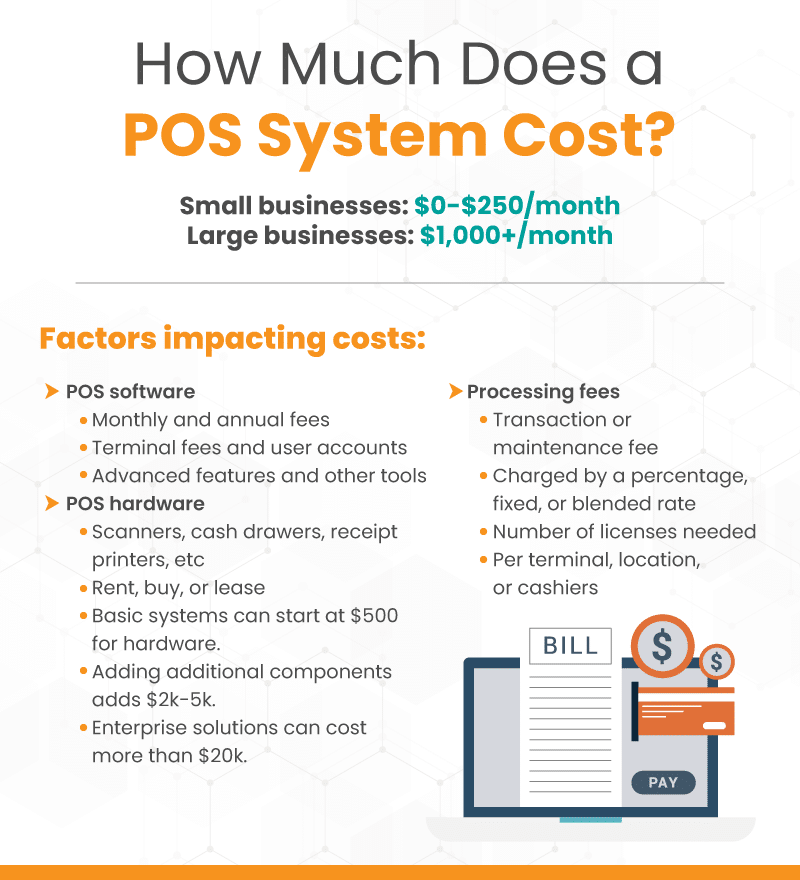 Factors Impacting POS System Costs
Several important factors determine the final cost of a retail point of sale (POS) system:
POS Software Costs
Point of sale software can cost as little as $10 upwards of about $250 per month, depending on your desired features. Ensure it has the built-in features you need to run your business, such as inventory management, reporting, and analytics, and integrates with your eCommerce platform. A basic point of sale system with a card reader will be much less expensive than point of sale terminals spread across different points and locations.
In addition, most POS software often has monthly or annual fees and different subscription levels at different prices. For example, a retailer subscribing to the basic KORONA POS package will pay $59/month per terminal, giving them tools such as end-of-day reporting, core checkout functionality, manager functions, and much more.
Other factors affecting the cost of POS software are per terminal fees and user accounts. Most POS software providers charge per terminal for their services. Prices typically range from $30 to $100 per month per terminal. Similarly, POS software typically covers a set number of employee accounts. In some instance, the more logins you have, the more you will have to pay, while other POS software providers offer unlimited accounts.
Retailers with a critical need for inventory management, and other more advanced features, such as reporting and analytics, advanced user permissions, or with multiple retail stores to manage, can sign up for KORONA POS Plus for $89 per month. They also have the option to book a demo with one of our product specialists for a deeper understanding of KORONA POS pricing options and features.
POS Hardware Costs
Depending on the type of business you own, you might need a variety of hardware components to get up and running with a POS system. Components such as barcode scanners, cash drawers, customer displays, and printers are all important for most types of businesses. Depending on your setup and budget, you might also want to consider more specialized pieces of hardware, such as tablet stands or interactive kiosks.
Depending on your budget or needs, you can buy, rent, or lease POS equipment. For example, if you want to open a pop-up store, you can rent KORONA POS equipment to accept payments without investing in equipment you don't want to keep. A basic retail store uses a tablet or touch screen, a credit card reader, a receipt printer, and a cash drawer to accept payments. Others only need a mobile card reader, while some need a variety of point of sale equipment spread across different locations. The initial cost of point of sale equipment for a single terminal can range from $50 to $5,000, depending on your needs.
Processing fees
Depending on who you choose for your payment processor, additional fees may be associated with setting up and running your POS system. Before signing any contracts, you must understand what kinds of fees you can expect for transaction costs or monthly maintenance fees. When it comes to payment transactions, the fees charged by the payment gateway provider are typically a percentage, fixed, or blended.
See related: POS Systems vs. Merchant Services: What's the Difference?
Depending on the payment method used by your customer, some providers have variable rates while others charge a set fee. We always suggest going with interchange plus rates as they are more transparent, predictable, and fair. Plus, you can be rest assured knowing that you won't be surprised by anything on your bill. These fees will vary month-to-month based on your total sales, but they will always indicate exactly where every penny of your processing fees are going.
There are POS providers that also serve as payment processors. In other words, they require that you use their own payment processors and transaction fees if you want to use their point of sale system. The disadvantage with this model is that not only do you not have the leeway to integrate other payment processors in case the applied rates are no longer favorable for you, but also that you will be forced to change all your hardware if you want to continue with your processor. This can cost you a substantial amount, as well as add a lot of stress and time. For instance, Square's pricing starts at 2.5% + $0.10 to 3.5% + $0.15 based on plan tier and type of sale.
Read also: Key Features That Make KORONA POS Different From Other Retail POS Systems
What to Consider Before Picking the Right Retail POS System
When reviewing a point of sale provider, there are several key considerations that you should have in mind. The first is the cost and complexity of implementation. Does the provider offer an easy-to-use solution that doesn't require much setup? How much training will be required? Next, consider the features and functionality that each POS system provides. Do you need advanced features like customer loyalty programs or inventory management tools?
Finally, review the service level agreement (SLA) for the software. Will you receive 24/7 support in case of any issues? These are all critical factors to keep in mind when selecting the best POS system for your retail business. Other factors to consider when choosing a new point of sale system are contract length, ease of use, and ability to grow with your business.
Must-Read: Switching POS Systems – Signs It's Time for A New POS and How to Find the Right Solution
Pricing of Some of The Popular Retail POS Systems
Cost can be a critical factor when choosing the right retail point of sale system for your business. To help you make an informed decision, let's look at some of the most popular point of sale solutions and compare their pricing.
KORONA POS: Core: $59 per month per terminal; Advanced: $69 per month per terminal; Plus: $89 per month, per terminal. All user can use any processor of their choice.
Square POS: $0 basic POS (with their processing agreement); $29 to $69 per month for Square Plus with upgraded retail, restaurant, appointments, and staff management features
Lightspeed: $39 to $289 per month paid annually, based on plan, plus $39 per additional register per month. Higher tiers add eCommerce, loyalty, specialty features, accounting, and advanced reporting. Prices increase by approximately 30% for all plans not using their processing.
Clover POS: $14.95 to $94.85 per month for business-focused POS features for restaurants, services, retailers, mobile sellers, and more. All users must use their processing.
Shopify POS: $0 to $89 per location, per month, with a Shopify $29 to $299 monthly eCommerce store plan. All users must use their processing.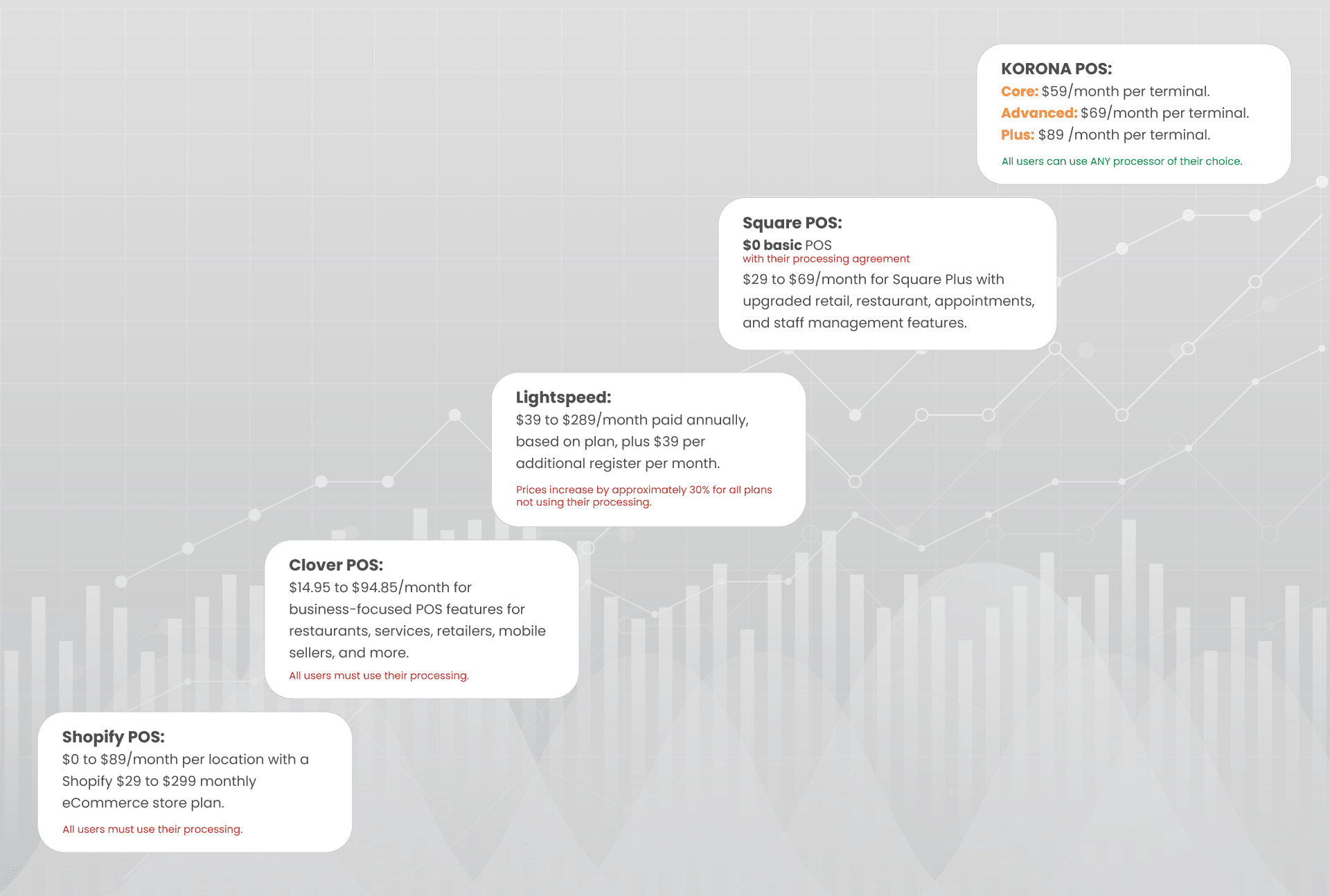 How to Get the Most Affordable Point of Sale System for Your Business
There are a few factors to consider regarding how much a retail point of sale system really costs. To get the most affordable solution that meets your business needs, start by assessing the following:
Number of licenses needed
Most point of sale software will charge based on the number of licenses you need. Depending on the size and scope of your business, you may need additional licenses for each cashier or person using the system. Check the license fees for each POS system before making your final decision and look for systems that charge a flat rate per terminal or location instead of a per license rate.
Hardware specifications
Hardware components like printers, credit card readers, and scanners are necessary for a functioning point of sale system. Some POS kits come with their own hardware bundles, while others allow you to purchase individual hardware items a la carte. Others also allow you to you certain existing hardware that you may already have at your business.
POS System Cost: Wrapping Up
When choosing the right point of sale system for your retail business, there are many factors to consider. From hardware and software selections to monthly fees and incremental feature add-ons, all of these can affect the total cost of a POS system. Do your research and explore all your options to ensure you find one that fits your budget and meets your needs. With the right retail POS system, you can be sure to increase revenues, streamline operations and make a great impression on customers.
Check out Some Point of Sale Resources You Might Want To Read
FAQs: How Much Does a POS System Cost
How much does a basic POS system cost?
A basic POS system is generally priced between $500 to $2,000, depending on the manufacturer, features, and size of your business. For larger businesses, more robust solutions often cost more.
What are some of the additional costs I should consider?
Aside from the cost of the actual system, you should consider any installation fees, additional hardware costs, credit card processing fees, system training, and ongoing maintenance costs.
What factors influence the cost of a POS system?
Typically, the cost of a POS system depends on the features and functionality needed for your business. Technology, hardware, software, peripherals, and service contracts can also influence costs.
Is there any way to reduce the cost of a POS system?
Yes! You can reduce the cost of a POS system by opting for basic software and hardware solutions, using a cloud-based system, researching different manufacturers, and shopping around for bundle packages or discounts.