Managing multiple retail stores requires hard work, accuracy, timely decisions, and an unwavering dedication to achieving long-term brand goals. It's challenging, especially in a highly competitive landscape. Companies must use the right tools, implement best practices, and build strategic partnerships to ensure continued success.
Multi-store inventory management, employee staffing, finance, and store security are all critical aspects that you need to focus on to succeed in a larger or even enterprise-level operation.
Successfully managing multiple stores also means investing in retail software tailored to each store. This way, business owners can identify potential problems as well as additional improvements that can be implemented. In this article, we will discuss the most critical factors that go into making a multi-store business successful.
Table of Contents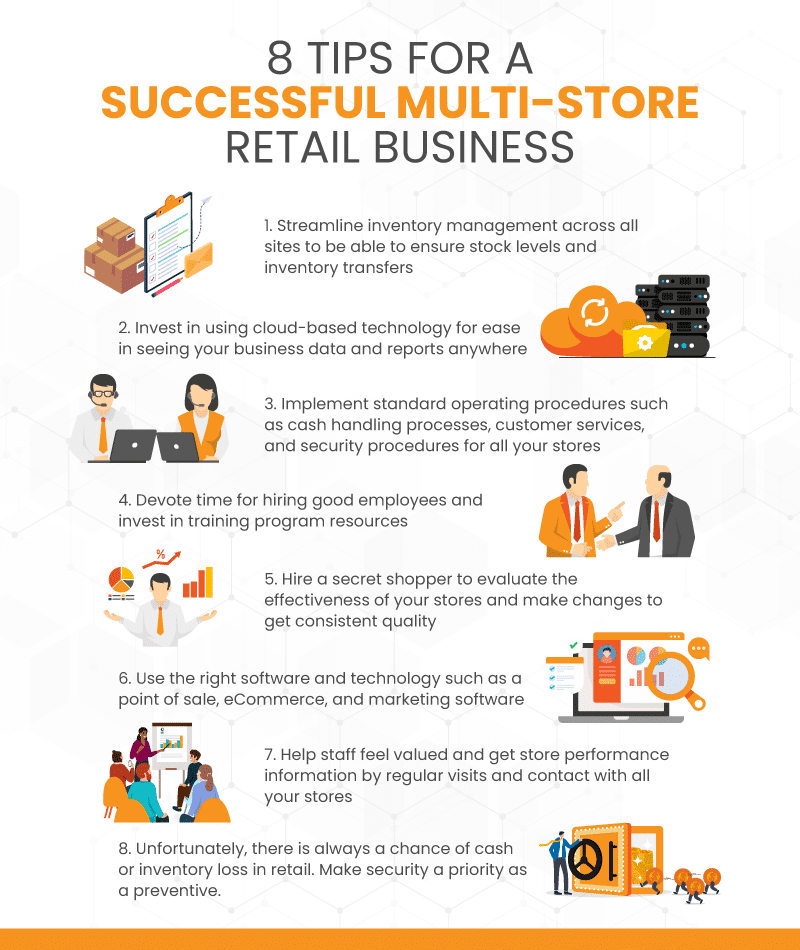 Streamline Inventory Management Across All Sites
One of the significant challenges in running a multi-store business is inventory management. As the owner or manager of a multi-store business, you must ensure sufficient and accurate inventory for the entire business.
Managing multiple stores, however, offers unique inventory management opportunities. For example, it is always possible for one store to supply stock to another store if they run out.
Suppose a customer can't find the size or color of a particular product in one store. In that case, you'll want to check to see if other locations have it so that you can direct the shopper to another location or have the items delivered to your store or their home.
However, for this to work, you need a system that provides quick communication between these stores so that inventory transfers can be done efficiently. With the right POS system in place for your multi-store operations, you can get minimum order quantity (MOQ) suggestions based on past sales or management recommendations to manage your inventory to avoid stock-outs.
Good inventory management software can also help you create special serial numbers that allow you to track every item that passes through your stores. The ultimate goal of good inventory management is to avoid overstocks, stock-outs, and dead stock.
Investing in an inventory management software is a must to make this effective. A point of sale software integrated with inventory management software for several stores will create a more efficient operation and inspire better decision-making. In addition, you have access to more accurate inventory reports. Click on the button below to learn more about KORONA POS, one of the best inventory management software for a multi-store retail business, including how it works for franchisors and franchisees. The solution is built for many types of businesses, including smaller single locations all the way to national franchises.
Invest In Cloud-Based Technology
Investing in cloud technology is one of the most effective technologies for making your multi-store business more successful. Since cloud-based solutions are not "hosted" on a single machine, they allow you to access the tools and data you need from anywhere, as long as you have an internet connection.
Whether in one of your stores, at home, or even on the road, you can simply log into the system to check on your other branches or your entire operation. More cloud-based solutions are available today than ever, including CRM solutions, accounting, and point of sale software.
Plus, many of these programs interoperate, meaning you only have to enter your information once, and all cloud-based solutions are updated. If you have multiple cloud-based tools, it's best to choose solutions that can integrate with each other. Check with your vendors before purchasing to ensure seamless data transfer. KORONA POS software can integrate with many software such as BottleCapps, Timeforge, Bloyal, Quickbooks Online, LineupApp, and many more.
Implement Standard Operating Procedures (SOPs) For All Your Stores
Standard operating procedures are instructions that explain how your business operates, from payment processing and staff rosters and schedules to customer communication and more. Implementing SOPs in all your stores will allow all staff to follow the same rules and protocols for doing things, making it easier to manage multiple stores. Although the types of standard operating procedures will depend from one business to another, SOPs in a retail store should generally cover the following:
Cash transaction and cash handling processes
Standard operating procedures at this level should consider the types of payments you accept, your procedures for handling refunds and returns, and how often you close the cash register. Procedures should also cover everything related to handling cash in your store to ensure the security of your finances.
Customer service
Customer service procedures define instructions and policies on how your staff should behave and dress. They also define what employees can and cannot say and what to do when dealing with difficult customers.
See related: How to Deal With Difficult Customers in Retail: 9 Tips for SMB Owners
Merchandising
Your SOPs for merchandising and layout include what your displays look like, how often you need to change displays, how your products are displayed, etc.
See related: How To Design a Store Window Display?
Safety and Security
Ensure that you have the proper procedures in place to ensure the safety and security of your staff and customers. These procedures should cover basic issues, such as who opens and closes the store, as well as more complex situations, such as how to deal with shoplifters or what to do in case of a natural disaster or other emergencies. Remember that all of these procedures must be documented and available to all company employees.
Make Sure You Hire Good Employees In The Stores
A successful multi-store business is all about ensuring you have the right people in each store because you can't be in more than one site simultaneously. Human resources are the first critical factor determining your business's success. You will need to spend a lot of time vetting the employees you hire, and you will need to devote considerable resources to training them. It is advisable to organize periodic trainings to beef up your employees' skills, especially for those in direct contact with customers every day.
In case you are not able to train people at your original location, or if you are having trouble getting existing employees to handle your other stores, you will need to put in place a solid training program to bring people up to speed.
Consider online training or have one of your seasoned employees do it. Make sure your employees understand your goals; in turn, you must keep them happy. Make sure they always receive a good salary, incentives, and benefits. All these aspects play an important role in having a dedicated staff at your stores.
Read also: 7 Signs That a Company is Going Under And How to Turn Your SMB Around
Hire a Secret Shopper To Evaluate The Effectiveness Of Your Stores
So often, when we're closely involved in an activity, we have a hard time picking up on the small details and sometimes miss the most obvious issues. By inviting someone to shop at all of your stores, you can get a clear indication of the level of consistency you offer.
The secret shopper or consultant will help you detect any flaws in the selection of products, the quality of service you provide to customers, the store layout, and the overall shopping experience. Such allows you to make the necessary changes to ensure that your business provides consistent quality service in all aspects.
Use The Right Software And Technology
Although the human factor is the most important aspect of running a successful multi-store business, modern technology continues to be a tremendous asset for today's retailers. Of course, there are an overwhelming number of solutions and offerings, but here are a few that can be useful for managing multiple retail stores:
POS Software
Point of sale software is the backbone of running a multi-store business. As you grow, you need the right technology and software to keep track of critical retail metrics and activities across all stores. From advanced inventory management to cross-promotions across multiple stores to CRM and loyalty functions, investing in multi-store POS software should be a priority.
KORONA POS can serve many types of multi-location retail businesses through its KORONA POS software, whether you're a franchise retail business, a retail store chain, a small town operation, or even an experience-driven ticketed destination.
KORONA POS also provides you with mobile POS terminals that synchronize with your accounting software and can allow you to accept a wide range of payment methods at any location. There are a few other things to consider when looking for a point of sale system:
Ability to use any payment processor: The best POS software for your retail stores allows you to choose any payment processor. You should be able to switch from one payment processor to another if you're unhappy with your rates or service.
Most point of sale solutions now require their users to also use their processing solution. This is NOT advisable for any business, since it will likely mean you're paying more money in the long-term.
Automate your inventory: With multiple stores, it can be difficult to manually track inventory. Such a traditional method typically hired a dedicated staff to track everything, making it not cost-effective and more prone to human error.
Investing in an inventory management system, such as a point of sale system, solves all these problems. The best part is that this software helps companies maintain sufficient inventory levels in all stores. When certain items fall below the threshold, it notifies the manager or owner that they need to reorder them. It even automatically generate purchase orders to speed up the process. In addition, the software allows you to generate various small and large-scale inventory reports, giving you a more accurate picture of your inventory at any given time.
eCommerce software
Creating an online presence for your business is essential if you want to increase your revenue and make your customers' experience more enjoyable. Setting up a reliable online store to support a retail business with multiple locations is never a bad idea. Such hybrid retail is best conducted through a single POS solution. This allows you to synchronize the online and in-store activity of all your locations with a single platform. With KORONA POS, you can create a custom web store that is fully integrated with your brick-and-mortar point of sale.
Marketing Software
Establishing a strong relationship with your customers in all your stores is important to encourage them to buy more and refer their friends. Part of creating such a relationship is best done through regular communication. Marketing automation software can help you do that. Send SMS and email campaigns, highlight promotions through Google, create a custom loyalty program, automate product suggestions online and in-store, and more.
Maintain Regular Contact With All Your Stores
Visit all your stores regularly as much as you can. This helps staff feel valued and reassures them that you are invested in the success of all new stores.
It also gives you first-hand information about the performance of your store and staff. Are the layout and presentation procedures being followed? What is the atmosphere like in the store? There are things you need to see for yourself. Combine that with store-specific data from your cloud-based software and you'll have a well-rounded understanding of your product sales and the performance of your products and staff.
Additionally, retailers need to communicate across multiple channels with a consistent approach and cadence. Considering the fast pace of store operations, employees absorb information differently, so relying on a single channel or person will not be as effective as it should be. You can improve your communication management and information distribution with software as well.
Make Security a Priority For Your Multi-Store Business
Security has always been important to retail store owners. Whether it's rogue employees or common shoplifters, investing in smart technology and security integrations can help you manage multiple locations while improving your stores' performance.
For example, you can consider smart security cameras for live inspections, access control, and after-hours deliveries. The use of smart cards and badges can also enhance security in your stores. Plus, loss prevention features through your POS can help you identify discrepancies in your inventory or sales reporting. And employee permissions and cash controls reduce instances of internal theft.
For more information on how KORONA POS can help you manage your retail chain or franchise, click below to sign up for a free trial and product demo.
FAQs: Making A Successful Multi-Store Business
1. ​​How do I manage multiple outlets?
There are many ways to manage multiple outlets in different locations. Standardize your operating procedures. Make sure you hire professional and reliable staff. Establish strong communication between teams and invest in the right point of sale software. It will allow you to automate the inventory tracking process.
2. How do you call a company that owns several stores?
A store with multiple businesses consists of a number of branch stores owned by a single trading company. It is an attempt by manufacturers or wholesalers to establish a direct link with consumers by avoiding intermediaries. A company with multiple stores usually operates as a franchise or chain store.
3. What Is a multi-store POS system?
A multi-store POS system is software designed for businesses with multiple locations. It can easily expand and grow with a business. Manage your inventory for all stores from one place. Track employee performance across all stores in your chain.
4. How to manage inventory management across multiple locations?
Managing inventory across multiple locations requires accurate tracking of inventory, tracking of inventory at each location, and use of inventory analysis. Also, ensure your inventory management software can integrate with suppliers, and don't forget to back up your inventory data.