The success of a retail business depends on its ability to retain customers and build loyalty. Customer engagement is based on product quality, price, customer service, and loyalty programs. Loyalty programs aim to reduce selling costs, build customer profiles for targeted offers, and increase sales.
Loyalty program members generate 12% to 18% more revenue growth per year than non-members, a clear indicator of the importance of having a loyalty program. However, there are several types of loyalty programs that retailers should consider. Knowing which type of loyalty program is best for your brand is essential, so you know how to leverage it. Below is a guide that walks you through how a loyalty program works and the most common loyalty programs you can offer your customers.
Key Takeaways
Loyalty programs offer rewards, discounts, or other special incentives designed to encourage customers to purchase a store's or brand's products and build trust with them.

Loyalty programs benefit businesses by building customer loyalty and providing crucial information about how customers spend and which products or types of offers are most attractive. They, therefore, provide a wealth of information about customer preferences that is valuable to your future marketing strategies.

There are several types of loyalty programs: the most popular are tiered programs, point programs, value-based loyalty programs, and paid loyalty programs.

Some of the best examples of customer loyalty point programs include Starbucks Rewards, Sephora's Beauty Insider program, Amazon Prime, and REI's Co-op Membership program.
Table of Contents
What Is a Customer Loyalty Program?
A loyalty program, also known as a rewards program, is a marketing strategy that rewards customers with unique benefits to encourage them to remain loyal to your store or brand. The purpose of loyalty programs is twofold: to reward customers for their loyalty and to provide the issuing company with valuable information and data about their consumers.
84% of consumers say they are more likely to remain loyal to a brand that offers a loyalty program. The best loyalty programs focus on improving customer retention rates and rewarding existing customers.
Different Types of Loyalty Programs
There are many types of loyalty programs to choose from. Below are the most common ones, including some customer loyalty program ideas from companies that are already using them successfully.
1. Tiered programs
Tiered loyalty programs are types of programs that offer different rewards based on the milestones achieved by members. Typically, these milestones are measured in dollars. The more a member spends, the higher the tier. In other words, the customer's status as an advocate of your brand increases as they accumulate points.
Moving from one tier to the next can significantly increase member engagement because it adds exclusivity to the program. In traditional point programs without tiers, everyone gets the same thing. In tiered programs, it becomes a matter of status. For example, Philosophy's rewards program is divided into three levels: optimistic, confident, and empowered. Each level gives customers points for each purchase.
Upon joining a higher level, customers can take advantage of special sales days and free shipping. Plus, new members instantly earn 100 points for joining the program. Loyalty program members receive referrals based on their shopping habits, which can help them move up to the next level.
In addition, rewards program members can earn additional points for reviews, referrals, or connecting on social media. Some successful multi-tiered loyalty programs also show members the percentage of total members in each tier. This allows members to see their status relative to other members in the program and plays into the desire to compete for higher social status. Since higher levels offer better benefits, these programs make your customers feel more valuable. They know they are enjoying rewards that are only available to some.
2. Point programs
Points-based programs are the most popular type of loyalty program because they are the simplest. These types of programs reward customers with points that they accumulate for each purchase. The principle is quite simple: spend more to get more. So, when customers reach certain points, they can convert them to obtain a product or benefit from a discount.
Must-read: 7 Key Reasons to Get a Retail Point-Based Customer Loyalty Program
Buying a product is not the only way to earn and accumulate points. Customers can earn points by sharing on social media, leaving reviews, celebrating a birthday, or gamification. For example, body care retailer Blume uses a points system called Blume Bucks.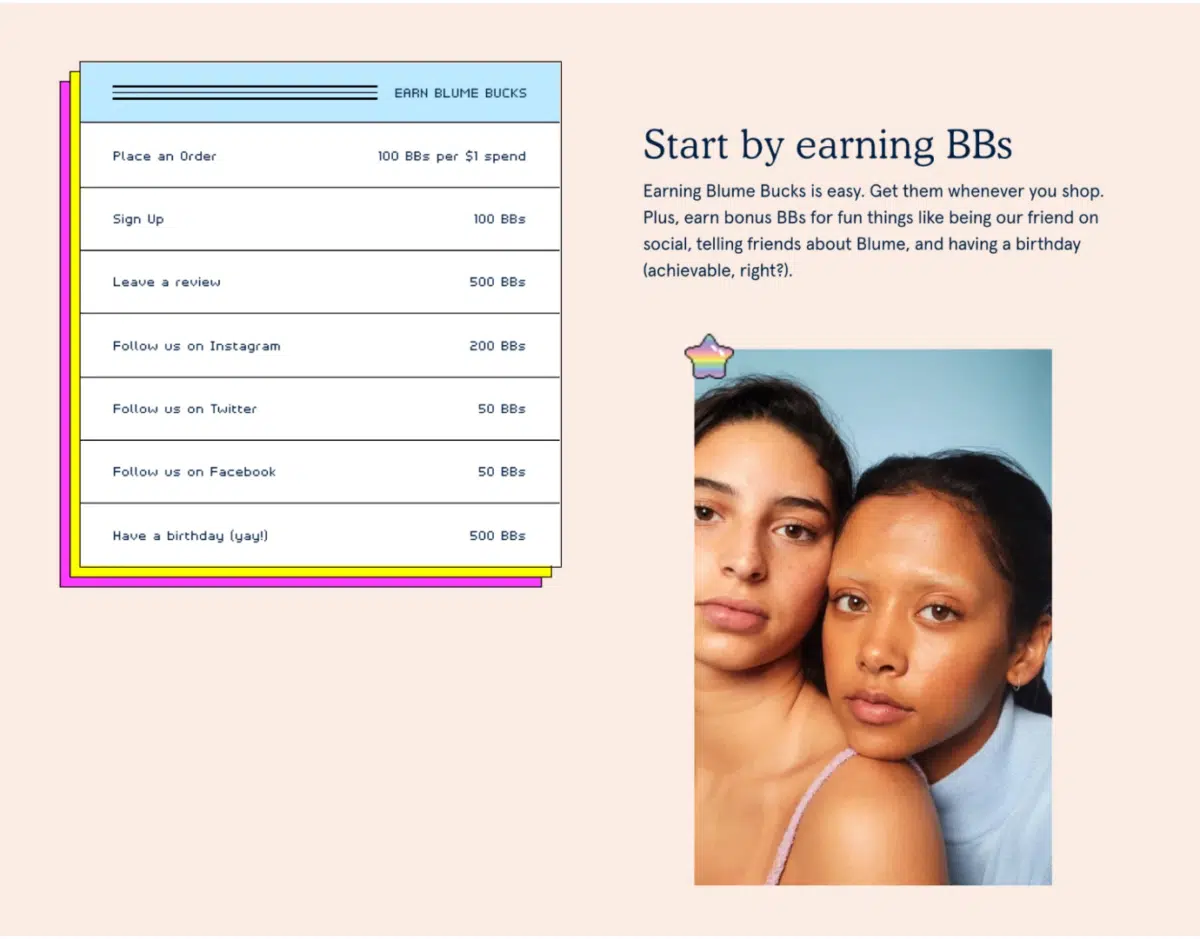 3. Value-based loyalty program
The value-based loyalty program is another common type of loyalty program, but different from others because it does not offer explicit rewards to customers, such as discounts or other benefits. Instead, value-based programs focus on the organization's values and, ideally, the customers' values.
Value-based reward systems seek to retain customers by giving back to causes they care about. For example, a company may commit to donating a portion of its revenue to a charity or orphanage after a certain number of items are purchased. While the customer may not receive a direct reward for their purchase, they are likely to repeat their purchase if they feel their sponsorship positively impacts the world.
Value-based programs are great for eCommerce businesses looking to drive sales in an online store. Gen Z, described as the most critical consumer group to date, has a different view of shopping and consumption than previous generations. They are the latest to enter the workforce and have strong purchasing power.
With an increased demand for higher quality items and tighter control over spending, brands must earn their place in Gen Z's wallet. Generation Z cares deeply about the planet and the future, which presents a huge opportunity for sustainable business growth. They believe the generations before them represent overconsumption, capitalism, and materialism. Thus, a value-based loyalty program can be essential to rally to their values and stimulate more sales from them. For example, the retailer Sephora allows its members to donate their reward points to the National Black Justice Coalition.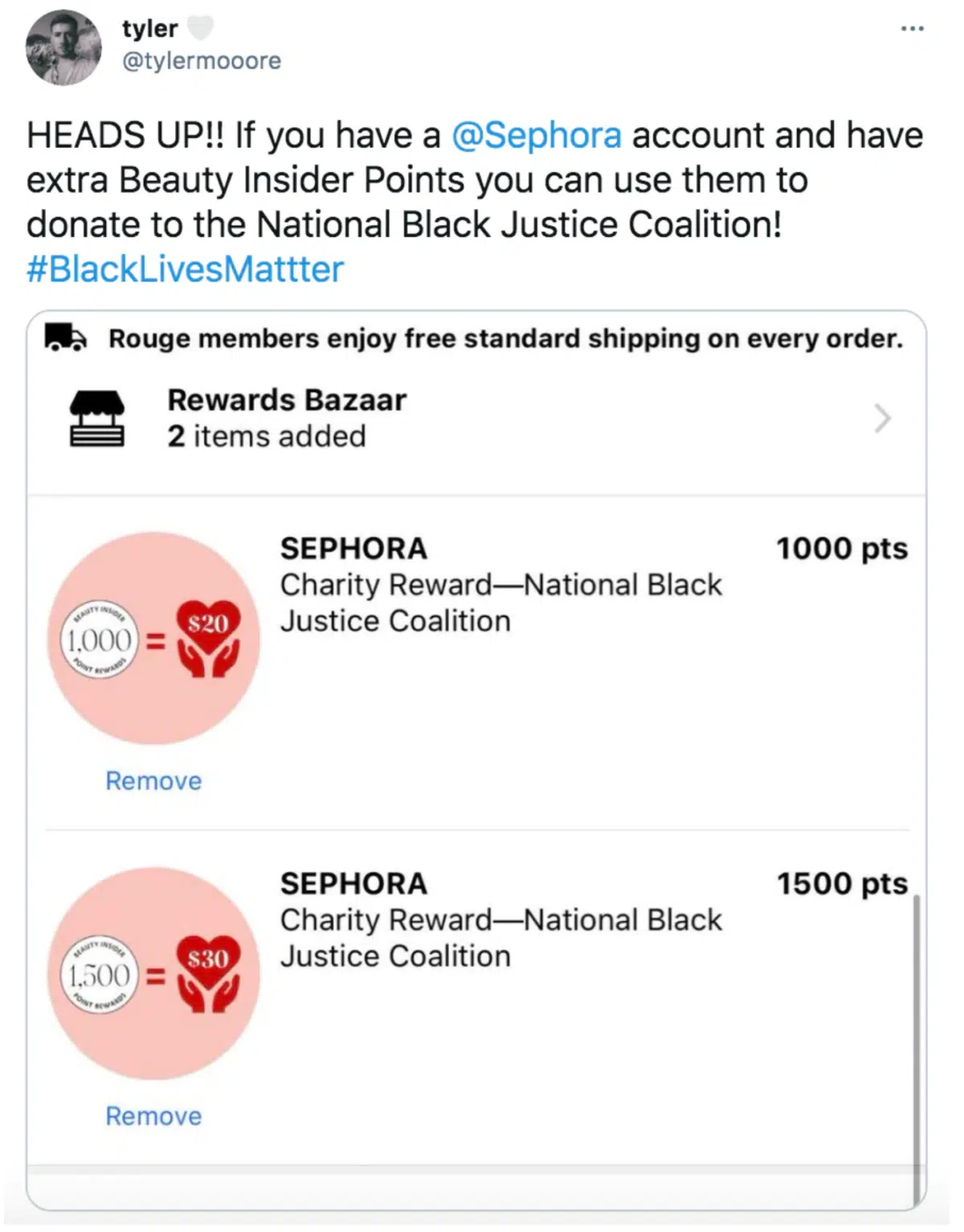 4. Paid loyalty programs
Paid loyalty programs, also known as fee-based loyalty programs, offer customers immediate and ongoing benefits for a participation fee. In other words, customers pay a monthly or annual fee to become part of your VIP membership club and gain access to special services, discounts, or unique opportunities. A recent McKinsey report shows that consumers are 60% more likely to spend more on a brand after joining a paid loyalty program.
Amazon Prime is the most palpable example of a loyalty program. In exchange for an annual membership, customers receive several free shipping options (including same-day delivery), music and video streaming services, and early access to products in limited-time flash sales, such as Amazon Prime Day and lightning deals. While the model may seem challenging to emulate, paid loyalty can fit many different business models. The various successful paid loyalty programs have a few common characteristics:
The benefits outweigh the fees, which encourages enrollment.

Members stay for more experiential benefits, such as personalized experiences and members-only content.

Engagement levels are high. Good-paid programs have an ongoing interaction wheel that increases the program's value.
5. Omnichannel loyalty programs
With retail evolving so rapidly, customers have access to an unlimited number of touch points with your brand. Loyalty programs can no longer be limited to one channel if they are to be truly successful.
By allowing your customers to earn points, rewards, and incentives, whether they choose to buy from you online or in-store, they'll be much more likely to join your program and return to buy more from you. By offering members unique ways to earn and use rewards points, your loyalty program will stand out from the crowd and contribute to growth and retention.
North Face's VIPeak rewards program is a great example of successful omnichannel loyalty, as it allows members to earn points by shopping on their website, in brick-and-mortar stores, and attending North Face events.
You Might Also Want To Read: Springbig Loyalty: A Rewards Program For Dispensaries
How Do Customer Loyalty Programs Work?
Setting up a customer loyalty program means you have to offer something. Loyalty program incentives depend on what you want to offer. Typical incentives include the following:
Advance notification/early access to new products

Early access to sales

Free merchandise or enhanced services

Special services, such as free or expedited delivery

Member-only discounts
To join a loyalty program, customers typically register their personal information with the company and receive a unique identifier, such as an ID number or membership card. They use this identifier when they make a purchase. The benefits of a rewards program are enormous:
More referrals from customers – If you have an excellent rewards program, people can tell their friends and family about it, so more referrals mean more customers.

Improve customer retention rates – People who find value in your loyalty program will likely stay longer.

Increased sales – After having a positive experience receiving a loyalty reward, 70% of consumers visit the brand's stores, over 40% follow the brand on social media, and just over 30% sign up for the brand's newsletter. An increase in loyalty of just 7% can increase lifetime profits (spread across customers) by up to 85%.

Better brand advocacy – An effective loyalty program can turn repeat customers into brand advocates. This group helps your company connect with new customers through word-of-mouth, a low-cost marketing strategy compared to paid advertising.
See also: How Does Loyalty Program Work for Amusement Parks?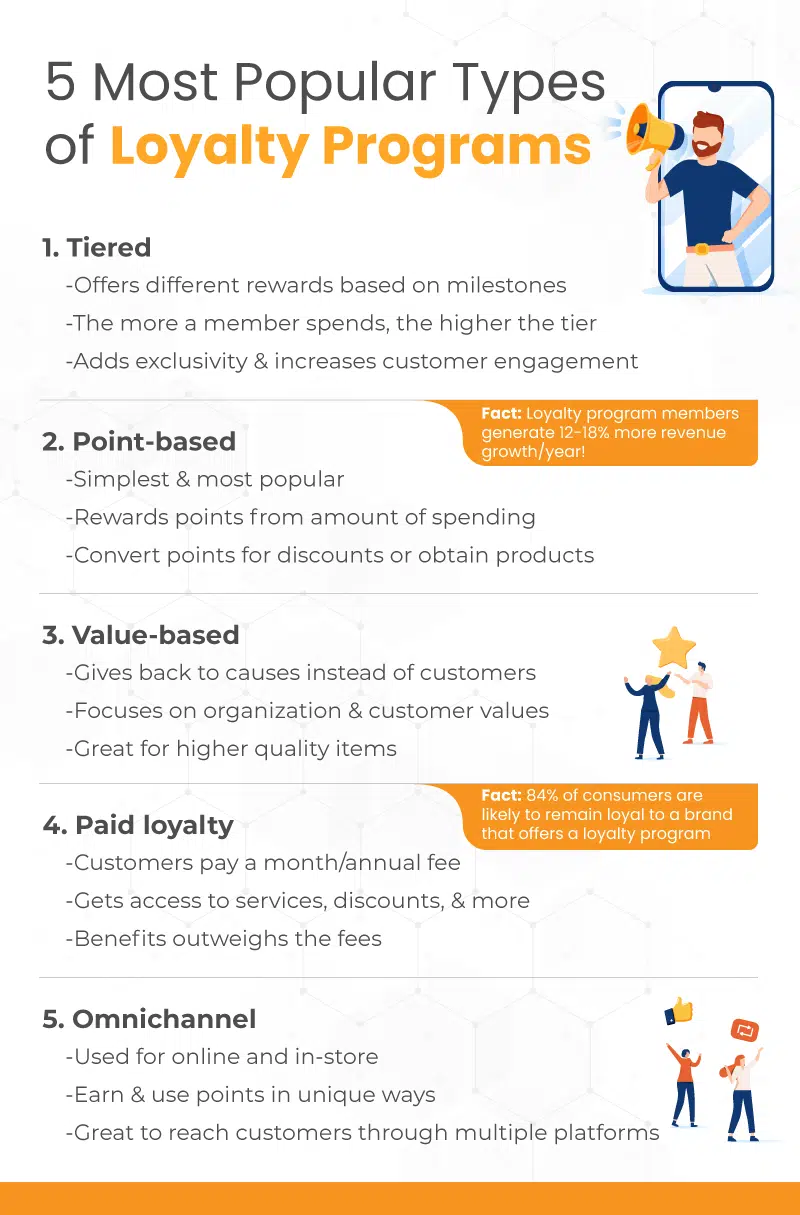 Types of Loyalty Programs: Conclusion
If you're simply trying to get as many consumers as possible to sign up for your loyalty program, a traditional free program may be the best solution. These types of programs don't have much of a barrier to entry, but inherently they could be more effective at differentiating your brand. However, if you want your most loyal customers to engage with your brand, premium loyalty might be exactly what you need to take those relationships to the next level.
Creating a hybrid loyalty program has the potential to appeal to your customers on all levels. A free transaction-based program could bring casual customers into your loyalty ecosystem. Once they're in, it's much easier to prove the value that a higher level could offer, which will ultimately lead to increased engagement and brand love. One thing is evident with any type of loyalty program: it can only succeed if the customer is the program's focal point.
Getting them to sign up is just the first step. The benefits you offer them as members of the program will determine whether they return. And the only way to know what to offer is to listen to what they say. Not all loyalty programs are alike. It's up to you to choose the type of program that's right for you.
Get Started with KORONA POS today!
Tell us a little bit about your business and explore all features that KORONA POS has to offer. And there's no commitment or credit card required.
FAQs: Types of Loyalty Program
1. What are the different types of loyalty programs?
There are several types of loyalty programs. The most common are tiered loyalty, points-based, paid, value-based, and omnichannel loyalty programs.
2. What is the most popular loyalty program?
Many companies are known to have the most successful loyalty programs. Some of the most popular are Sephora Beauty Insider, Starbucks Rewards, Amazon Prime, The North Face, etc. 
3. Do loyalty programs actually work?
49% of consumers agree that they spend more after joining a loyalty program. 74% of customers surveyed made purchasing decisions based on rewards or points programs. They help increase sales and have a much-improved retention rate. So, yes, customer loyalty programs work for real if you know how to use them.