Updated: October 26, 2022
Contactless, mobile payments are becoming increasingly popular, with more banks and credit cards offering the technology to their customers, and more retailers accepting it as a form of payment. One study showed that over 60% of US retailers were equipped to take Apple Pay. But how does mobile payment work?
Let's go over some of the basics of contactless POS payments. If you are a small business retailer this guide is for you. We will include details concerning how mobile payment functions, what makes it more secure, why all retailers should be accepting it, and what it means for your store's POS system.
1. What Is A Mobile Payment And What Are NFC Payments?
Near-field communication (NFC) is a radio frequency identification (RFID) tool that can is used to facilitate information interchange between two devices . The technology has been around for some time, and has been used in various forms: garage door openers, ID chips in pets, public transportation entrances, and more. Recently, however, its use has been increasingly applied to facilitate payments.
This form of payment can be used with a number of devices, including fobs, watches, wristbands, tags, actual credit/debit cards, and, most commonly, mobile phones. More and more of our day-to-day operations are being conducted through our phones, and the payment industry has followed the trend.
(Note: For the sake of this blog post, we'll be addressing contactless, mobile payments since it's the most common and fastest growing form in the industry.)
2. Mobile Payment Technology: How Does NFC Work?
NFC requires two devices using the same radio frequency to communicate. For this type of communication, the two devices must be within range of approximately 1.5 inches of each other. Once within range, and with no other outside interference, the devices can safely pass along sensitive information, in this case, bank account details.
For a payment, this communication is done through a credit card reader. That reader is then connected to a point of sale system. Often, these credit card machines, or terminals, will accept multiple forms of payment, including magnetic swipes, chip dips, and contactless taps/hovers.
3. Who Provides Mobile Payment Services for Customers and Retailers?
The number of providers is growing rapidly, but the main players at this time are Apple Pay, Google Pay, and Samsung Pay. Smartphones have apps for these payment technologies either preloaded or available for download. Typically a simple double tap will initiate the mobile payment transmitter to communicate with an NFC card reader.
4. Are Mobile Payments Systems More Secure?
As the use of credit cards has become more ubiquitous, related fraud has grown more rampant. Luckily, mobile payments are even more secure than EMV chip transactions. So what makes it so secure?
First, NFC is both encrypted and dynamic. It is typically encrypted by means of tokenization. When you register your debit or credit card with your contactless payment service, they will immediately erase all banking account information and replace it with a series of random numbers, or, tokens. Additionally, the information used to make each transaction will change after every use, thereby making it dynamic. These aspects of the technology is exactly what make EMV-enabled cards more secure than magnetic-stripped cards.
But mobile payments offer more security. In order to register your banking information with a mobile payment, you'll be required to use facial recognition, fingerprint ID, or additional security codes in order to confirm the authenticity or the transaction.
Many countries also require a PIN for transactions over a certain value, called a "floor limit." This adds further protection.
Finally, mobile payment terminals are only allowed to connect to one device at a time, preventing any miscommunication during the payment process. And again, the devices must be within a such a close range that an unknowing customer will never mistakenly pay for someone else's purchase.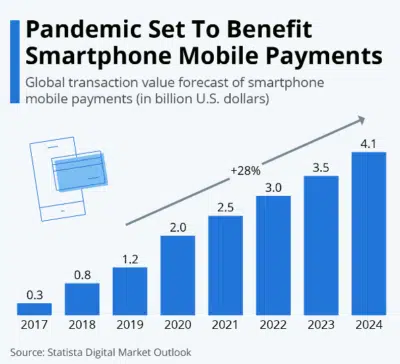 5. Are There Other Benefits to Mobile Payments?
Executing transactions without contact was an obvious plus during the height of the covid pandemic. But the efficiency and ease of mobile payments have stuck. That's because there are added benefits for both retailers and consumers.
Mobile Payment Benefits for Consumers
Mobile payments offer an added level of convenience. The technology allows you to put multiple cards onto whatever platform you're using. No more cluttered, overfilled wallet!

If you leave your cash or cards in the car or at home you can still use your phone to pay for daily items. Going to the gym, or out for a run? Leave as much stuff behind as you can while still being able to stop for a drink or a snack post workout.
Mobile Payment Benefits for Retailers
Retailers benefit from a reduced liability for any fraudulent transactions. For any fraud using a magnetic strip card, the burden of compensation lies on the retailer. But with any EMV or contactless fraud, the issuing bank is on the hook, keeping your business more safe.

High volume retailers like c-stores can process thousands of mobile transactions without any chip insertion. This reduces wear and tear on credit card terminals so that you won't have to worry about replacing them.
Mutual Benefits!
The most obvious mutual benefit of mobile payments is their speed. Contactless payments generally take about half the time as an EMV chip reader. The chip is an actual processor that requires more advanced communication to complete a transaction. A speedier checkout line will keep customers happy and retailers doing more business.
Furthermore, loyalty and discount memberships can be built into the payment app. This makes getting your customers signed up with their email address and a loyalty program even easier, allowing retailers to keep in contact with their customers. Consolidating everything into one payment app keeps everything simple and organized.
6. Do Retailers Need Terminals That Take Mobile Payment Methods?
Technically you don't need a contactless payment terminal. However, taking mobile payments is highly recommended. Contactless will soon be the standard form of the payment world, so it's better to be ahead of the curve than playing catch-up. Plus, most contactless payment terminals are both affordable, and double as EMV chip readers.
Put plainly, if you own a small or medium-sized business, this is a reasonable investment certainly worth making. Over 43% of smartphone owners use mobile payments. Give your customers a reason to choose your store and keep coming back.
KORONA POS Is Mobile Payment Ready
Every retailer must be sure that their point of sale is compatible and integrated with a mobile payment platform. KORONA's POS software is integrated with all forms of mobile payment. We also provide all of the point of sale hardware you may need. Click below to find out more about how KORONA can help your small business grow.
Get Started with KORONA POS today!
Tell us a little bit about your business and explore all features that KORONA POS has to offer. And there's no commitment or credit card required.