Last Updated: December 11, 2020
The modern point of sale system is a remarkably powerful tool for any business. Custom software development has evolved to cater to retailers of any niche. The technology of data storage has moved into the cloud, allowing for more flexibility and security. And more and more additional tools have been integrated with POS software technology.
Unfortunately, many small business owners don't know how to use a POS system. They think of it more like a basic cash register than the powerful addition to business operations that it is. Of course, no business will need every single tool that a great point of sale system has to offer, but there are some universal POS features and tools that should be familiar to all business owners.
So let's take a look at the most important ways that your POS system can help your business grow and succeed. And for any questions that aren't covered in this blog, please reach out to our amazing support team. They'll even walk you through a free demo so you can see exactly how KORONA operates.
You Must Know How Your POS System Processes Sales
Yes, this is obvious. But it's more complicated than you might assume. You'll need to upload all products with their descriptions, inventory counts, and prices into the back-end of the POS system. That way, the product will pop up when a barcode is scanned, a product number is entered, or an item is selected on the front-end of the point of sale. You can also use a search bar to find products to add to a sales ticket.
While you have to enter pricing for each product that you sell, you must also familiarize yourself with discount and promotional pricing. You can apply discounts to entire tickets or to specific products. You can also discount bundled deals – your POS will automatically apply the discount when the appropriate combination of items is added to the sale. These will also be reflected in your inventory counts and reports, even though they are sold at a different price.
Finally, you need to know how to take all forms of payment. Cash is easy, of course, but credit cards can be more tricky. Your POS should accept EMV, mobile, gift cards, and branded loyalty cards. Each process might be slightly different, so make sure you're comfortable with each.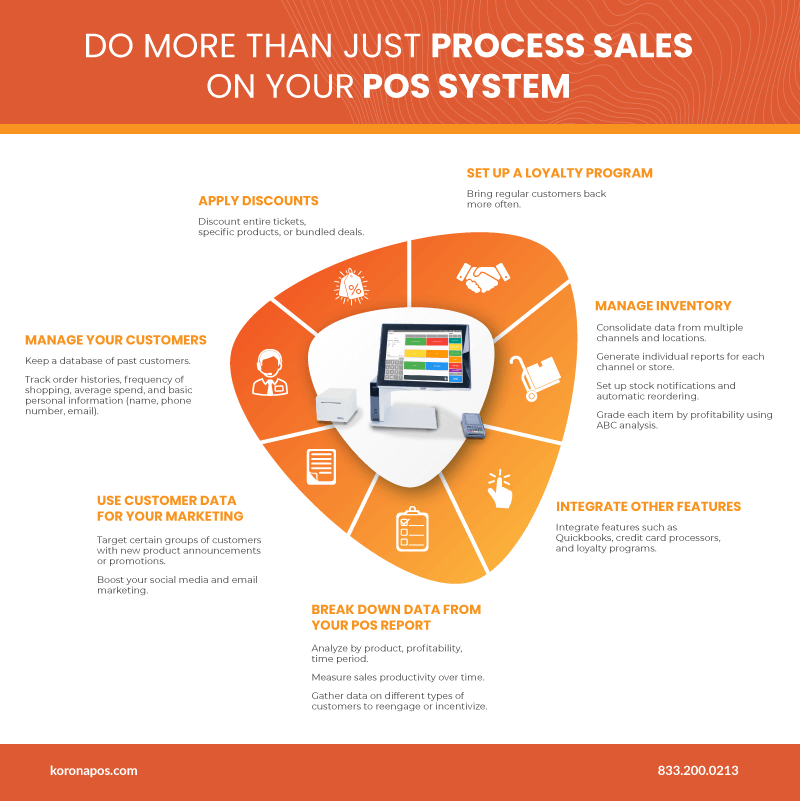 Figure Out How Your Point of Sale Can Help Manage Your Customers
Shoppers are expecting a more personalized experience every time they set foot in a brick and mortar store or enter a webstore. So it's also important that you understand how to use your customer relationship management (CRM) tools.
You want to have a basic database of past customers. This lets you keep track of order histories, frequency of shopping, average spend, and basic personal information (name, phone number, email). These will help you target certain groups of shoppers with new product announcements or promotions. Most importantly, figuring out your CRM on a POS system will increase your marketing productivity. It can be used to boost your social media or email marketing presence and bring your regular customers back more often.
Setting up a basic loyalty program is also a great feature to have in your point of sale. A modern POS will come with a point-based membership program. It's easy to set up and makes a punch card system easier and more accurate. For more powerful loyalty programs, look for a POS that can integrate. Membership-based businesses like wineries, museums, and theme parks will benefit by integrating with a third-party loyalty software.
Learn How to Manage Inventory and Understand Data
First, you'll enter all products, any specific attributes you want to include, counts/par levels, and brief descriptions. These can be done manually or imported all at once from an existing database.
If you own a franchise or have multiple locations, you want to decide if inventory will be kept under one umbrella. Your POS can scale with your growth by making it just as easy to manage inventory for 10 stores as it is to manage it for 1. Even with your inventory consolidated onto a single software platform, you're still able to generate point of sale reports and analytics for individual stores.
This is also the case if you have both brick and mortar stores and an eCommerce shop. Selling products online requires careful attention to inventory. Make sure your POS is keeping track inventory from both channels. This can easily be done by integrating your eCommerce retail platform, like WooCommerce or Shopify, with your retail point of sale.
You also may want to set automatic reorder levels for various items in your inventory. Through your inventory management, choose a threshold at which your point of sale will automatically place a reorder from your supplier.
Integrate Additional Features That Would Benefit Your Small Business
Not only has modern technology allowed us to create great new features for a point of sale, but through a cloud-based solution, we have more options than ever to expand features with partnerships and integrations. You have the option to integrate other business processes into your POS system. These two different pieces of software will be able to communicate and sync any mutually relevant information.
For most services, your point of sale will be able to integrate with at least one software provider. For example, if you need accounting software your POS might be able to integrate with Quickbooks. This means that you can handle all accounting operations through your point of sale. It will have all costs and sales built in so that Quickbooks can process the information immediately. These types of integrations can also work for eCommerce platforms and loyalty programs, to name a few others.
We're always working to build out software to offer more integrations, but business owners also have the option to integrate software manually through the third-party application's API. This requires some technical knowledge but can be done with just about any app.
For other services, like credit card processing, ask your point of sale solution about partnerships. Here at KORONA, we don't operate as a credit card processing company, but we integrate with many and are happy to put you in contact with different options.

Break Down the Data and Analytics From Your POS Reporting
Each business is different, and not all analytics will be useful to your store. But consider these (alongside some advanced POS hardware tools) to figure out which might be beneficial to you.
Individual Product Reports – Check how quickly items are moving and how much revenue and profit they are bringing in. You can break down these reports by time period as well. This is especially helpful for analyzing seasonal items.
Overall Sales – Measure productivity and compare it to past weeks, months or years. Past sales data never leaves so you have the chance to look back on your sales history from any time period. It allows you to compare growth or decline in a more productive way.
Stock Notifications – Turn on low stock notifications and set your ordering to be done automatically when a product hits the minimum threshold. Your POS can remind you of these small details so you can focus on more important things. Overstock reporting will also notify you of products that are taking up shelf space without being productive enough. This will help you determine when to run sales or promotions and what products should be a part of it.
ABC Analytics – A great point of sale solution can get even more in-depth with graded reporting on every single product in your inventory. With ABC analysis, you can have each item graded (A, B, or C) by profitability and revenue production within seconds. These grades help our retailers know which products to push and which to remove from inventory.
Sales Reports by Customer Groups – Once you have your CRM in place, gathering data on specific customers will allow you to generate reports on different types of customers. Figure out how to reengage lapsed shoppers, offer more perks to your best customers, or find ways to hook those who come in for showrooming.
These are just a handful of analytics that a top POS system can offer any business. There are hundreds of retail KPIs that can provide you with actionable data to improve your business. Check out more here, or give us a call to set up a demo so you can see firsthand.
Find Out More About How to Use a POS System
Sign up below for our free demo to find out more. One of our great support team members will set up a thorough walk-through of our software and the most important features that will make your business better. Sign up by clicking the button below to schedule it!
Get Started with KORONA POS today!
Tell us a little bit about your business and explore all features that KORONA POS has to offer. And there's no commitment or credit card required.