In a space as competitive as retail, it's easy to give all of your focus to bringing in new customers and growing your customer base. And to be sure, that's a vital aspect of growing a successful business.
But productive employee engagement is just as important. The retail sector is known for having high rates of turnover and a lack of production. And though that might be the norm across the industry, it doesn't mean it's inevitable. High turnover rates and unproductive staff members are critically costly and inhibit long-term success. Focusing on your employees will create a better working environment, improved customer service, and a better all-around operation.
Check out these employee engagement tips to improve your small business, both in your day-to-day and long-term.
What Are the Different Types of Employees?
Understanding who your employees are and how they are motivated is an important first step in driving more employee engagement.
Remember, you can't stop being proactive with your employees immediately after you hire them. It's important to continue to nurture them to maximize their potential.
According to a 2020 Gallup poll, there are three categories of employees based on their engagement:
Engaged Workers – Accounting for just 36% of the workforce, engaged employees regularly give the job their full effort. They take responsibility and are loyal to their company.
Not-Engaged Workers – At 54%, not engaged employees constitute over half of the total workforce. They do what's needed to get by but are not fully devoted to the goals of the business they work for.
Disengaged Workers – 10% of employees have next to zero motivation, carry a negative attitude around, and are detrimental to the rest of the staff.
These stats encompass the entire U.S. workforce. It's likely that a larger percentage of retail employees will fall into the disengaged and not engaged categories. These categories of workers cost businesses billions of dollars each year. And while some waste is unavoidable, it's important to minimize it.
Read also: What Is The Work Opportunity Tax Credit
Why Is Employee Engagement Important?
There are a number of reasons that employee engagement matters so much to businesses, no matter how big or small.
First and foremost is for your employees' happiness. Having a content team that feels valued, isn't overworked or stressed, and challenged to grow is imperative to your success.
Additionally, strong employee engagement will lower your employee turnover rates. High turnover rates are subtly extraordinarily costly to businesses. It's time-consuming and expensive to onboard and train new people.
Employee engagement in the retail space will also greatly improve customer satisfaction. Staff members who are engaged and represent your company well will make more sales and inspire more loyalty among your shoppers.
Finally, strong employee engagement means more productivity. While you don't need to push your employees too hard, it's important to get good production out of them.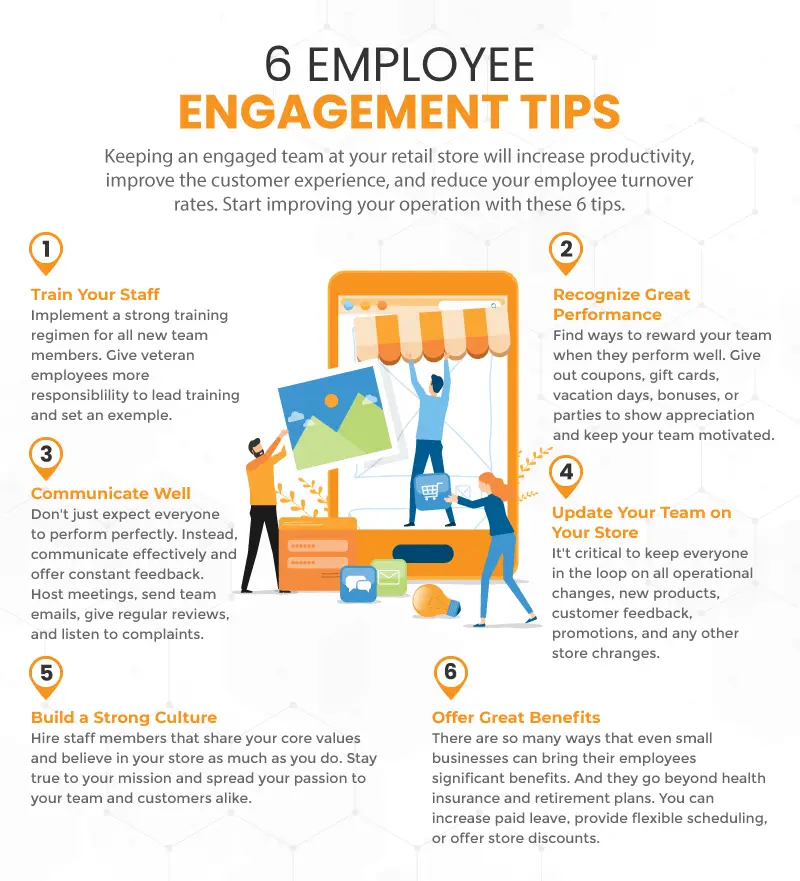 What Are Some Employee Engagement Tips?
Now that you understand the importance of employee engagement, use these tips to improve it at your retail business. You'll notice changes among your staff immediately.
1. Implement Strong Staff Training
Most importantly, you need to start each new team member off on the right foot. It's vital to design and execute a strong training program from the very beginning.
Lean on your strongest veteran employees to help out. Give them extra responsibility and offer pay raises for those that help out.
Create a detailed and thorough training guide so that each employee is on the same page with all store procedures and operations.
Great staff training will make your staff more confident and productive, in turn improving their morale and performance.
2. Give Recognition
While "Employee of the Month" clubs might be a bit dated, there are plenty of other ways to show your team the recognition that they deserve.
There are a lot of different ways that you can recognize your staff and reward them. Coupons, gift cards, free items, extra vacation time, bonuses, and pay raises, will all go a long way.
Remember, some people may love them more than others, but we all like the occasional pat on the back. Doing so will inspire friendly competition and help keep your retail staff engaged and motivated.
3. Communicate With Your Team Well
Nothing will frustrate a staff more than bad communication. It leads to confusion, poor performance, and tension among staff and management.
Keep regular team meetings

Update everyone on small items by email or with an employee communication network

Conduct surveys and ask for feedback

Give regular performance reviews

Listen and be empathetic

Offer critical feedback but be encouraging
4. Keep Your Staff Updated with Store Information
Don't hide your store's performance from your staff. It's important to keep them in the loop so that they know how their individual performances are affecting your overall store's performance.
Share both good and bad news. Of course, the good news is more fun and encouraging, but it's important that they know when something isn't working, too.
This is especially important in retail spaces that encourage their staff to move up to management positions eventually. Giving them big-picture feedback on product promotions, new products, staff initiatives, etc., can help them understand the role better once they are promoted.
5. Create a Great Company Culture
It's also important to build a great company culture around your business. Be sincere in discussing why you believe in the brand and how it helps your shoppers. This will help train your staff to pass along the same information to your customers.
Schedule some big team-building activities to help foster stronger relationships among your staff. These are fun ways to bring people together and bridge the gap between work and home.
6. Offer Great Benefits to Encourage More Engagement
Another way to create a great work environment for your team is by offering competitive pay and benefits. Not all small retailers will be able to offer the full range of benefits, but there are some critical ones that you should consider adding:
Health insurance

Retirement/401k

Travel stipends

Paid vacation

Flexible schedule

Discounts
Overall, remember that their job is not likely to be their number one passion. Find ways to make sure that your team has the ability to enjoy their free time, too.