Last Updated: February 2, 2021
Your retail checkout counter is a great place to make a lasting impression on each customer and to make some last-minute sales. With the right approach, your cash wrap area can help you increase retail sales and significantly improve your small business. Even better, it can add value to each shopper's experience and help build customer loyalty.
Focus on improving the checkout area around your retail POS system as it is a critical spot on your floor. It needs to be clean and organized, highlight the right products, and feature a great point of sale system. You'll be surprised how even adding the smallest details make a big difference. Here are 8 ways you can market your retail checkout counter and optimize your POS area.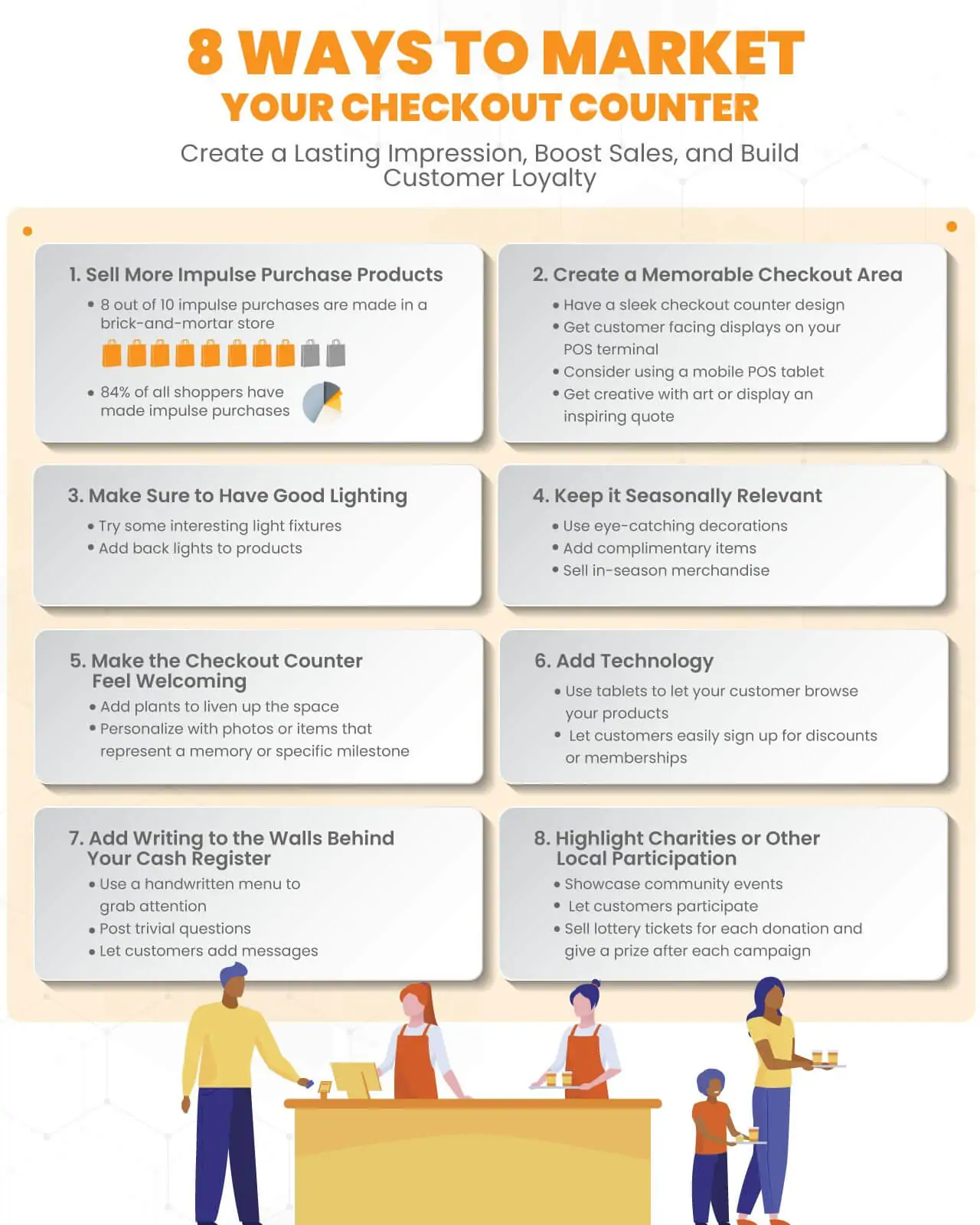 1. Sell More Impulse Purchase Products
The most common approach to checkout area marketing is to fill it with small, inexpensive impulse purchases.
Many big-box retailers execute this brilliantly. Urban Outfitters fills their retail checkout lines with coffee table books, unique cards, and other easy gift ideas. H&M loads theirs with cheap socks and underwear that you might have forgotten you needed.
Others stick with the checkout marketing basics: headline catching magazines, gum, candy, and drinks. These still sell. Think about how many times you've thrown in an extra item or two without even really giving it much thought.
In fact, 84% of all shoppers have made impulse purchases! This sales opportunity is unique to brick-and-mortar retailers (8 out of 10 impulse purchases are made in a brick-and-mortar store), so make sure you're taking advantage of it. Selecting the right impulse buys will raise your average transactions value and boost your overall retail sales.
Below is a brief list of some of the most commonly stocked impulse buy retail inventory:
Seasonal items

Snacks/candy

Gum

Kids' products

Everyday items

Gift cards

Magazines

Complementary products

Small toys
2. Make Your Checkout Area Memorable
Depending on the rest of your retail floor space and overall decor, you might have some freedom to get creative with your checkout counter design. A sleek design and great last impression will make your store more unique and encourage people to return.
In order to do this, you need to have the right retail POS hardware. Tablets are small, mobile, and unobtrusive. For retailers who need a larger desktop, consider getting hardware that improves the customer's in-store experience. Customer facing displays, touch screens, and credit card machine with multiple payment options are great places to start.
Your point of sale is an important piece of this interaction with the customer. Make it enhance the experience rather than become a nuisance. Feel free to also add unique art or an inspiring quote your brand stands for.
3. Pay Attention to Your Lighting
Lighting is important for your entire retail space. Bad lighting can ruin an entire experience in a store. But it's especially important around your checkout counter. It should be bold enough to make it clear where the cash wrap area is, but also be pleasant and fit the rest of the store.
If you have a small business with only one checkout terminal, consider adding a single hanging light over the POS system.
Add backlighting to products on shelves behind the cash register, too. This is an easy way to highlight some of the impulse purchases on the counter, shelves, or along the checkout line.
4. Keep the POS Area Seasonally Relevant
Preparing for major holidays and seasons is a vital part of retail planning. Your products, advertising, additional merchandise, marketing, in-store design, etc. should all be relevant to the season.
Use milestone days as an excuse to mix things up in your store and keep it looking fresh. With Valentine's Day coming up, any small business can add some complimentary chocolates. You should also make the merchandise around the checkout counter seasonally relevant.
5. Make the Checkout Counter Feel More Welcoming
We talked about making sure it's clean and that your retail point of sale looks the part, but you can also add small items to make the checkout area more inviting and warm.
Plants are a great way to liven up a space. They are cheap, pleasant, and (usually!) easy to take care of. More and more coffee shops, for instance, are covering their checkout counters and POS area with vines and other plants. Greenery is especially important for places that serve food and drink. It gives the space life.
Also think about ways that you can brand your cash register area. Make it you. Some businesses pin up their first dollar ever made, others have photos of themselves or their family up. You could also use this as a space to sell different sorts of products that you happen to really like at the moment. Whatever you decide, adding some personality to the counter space will allow customers to relate to you more and feel more at home in your retail space.
6. Add Technology to the Experience
Technology is being integrated into all aspects of retail, even the checkout line. Small tablets near the cash wrap area can keep customers occupied while in line. They can also highlight new products, discounts/promotions, or items that you carry online but not in-store.
Adding tech to the point of purchase area is also an opportunity to collect valuable customer data. Promote the creation of shopper profiles and memberships. This allows you to build your loyalty program and improve your customer resource management, all the while improving the shopping experience.
7. Add Writing to the Walls Behind Your Cash Register
If you have a store with a menu, take your time to make it unique and beautiful. A well-made handwritten menu is eye-catching and a sign that you take your craft as a retailer seriously. It also makes menu changes easy to update and promotions easy to highlight.
Even if you don't have a menu, still consider ideas for adding some writing. You could post small trivia questions that customers can answer for the chance of entering a raffle or receiving a small discount. You might also make the wall interactive and allow customers to add messages, making each purchase a bit more interesting.
8. Highlight Charities or Other Local Participation
It's important for small businesses to be a positive part of the community. Participating in local charities, community events, and festivals is imperative for all retailers. With good taste, it's a great idea to advertise this as well. If you give away a certain percentage of proceeds to a charity, don't hesitate to highlight that fact.
You can also use the POS terminal area to offer customers to participate in the charity as well. Small donation jars are an easy way to promote your favorite organization or charity. Some businesses opt to make this into a game, selling lottery tickets for each donation and then drawing for a prize after the campaign.
Your Checkout Counter Marketing Is Critical
Marketing around your cash register and POS is an important part of creating a great brick and mortar retail store. It's an opportunity to boost your sales and leave each shopper with a great impression of your business before leaving. Try out different ideas and see which works for your small business.
Get Started with KORONA POS today!
Tell us a little bit about your business and explore all features that KORONA POS has to offer. And there's no commitment or credit card required.