Your inventory is likely a major source of stress and headaches. It's an integral part of running any successful retail business, but it's not necessarily easy.
And even the smallest retailers need robust inventory management. Failure to implement it to your store will result in effects that trickle down to many areas of your business. These could include supplier relationships, order management, warehouse management, pricing, promotions, and even employee management.
Good inventory management, on the other hand, can bring businesses increased profits and lasting success. Plus, businesses have several ways that they can conduct their inventory. Physical inventory counts are one way that smaller retailers can count their products. Though there are several other options that are better for larger-scale operations, we'll focus on physical inventory tips. And once your business scales, you'll be ready for an automated inventory system.
What Is a Physical Inventory Count?
This is simply the process of manually counting your inventory levels. Usually, this is done over a period of time in which retail employees count predetermined sections of your stock. For retailers with larger inventories this might include breaking down the physical counts over the course of several days or weeks.
Most physical counts of inventory are conducted on paper ledgers, digital spreadsheets, or on mobile tracking devices. Businesses can use any method that gives them an accurate count on their store's data at a given time.
Are There Better Ways to Conduct Inventory Counts?
The short answer is yes. Most retailers would benefit from more automation in their inventory management. Physical inventory counts are more labor intensive, subject to increased amounts of error, and don't provide real-time data.
Perpetual inventory is a more common method of inventory management for retailers with an inventory above a few hundred products or any multi-store operation.
With more automation involved in the process, business owners don't need to take the time to conduct physical inventory counts, can rely on more accurate information, and always have up-to-date data. This is obtained through your retail POS system. And when combined with vendor relations, order level optimization, and automated reordering, your store will run much more efficiently.
See Also: Cycle Inventory Vs. Physical Inventory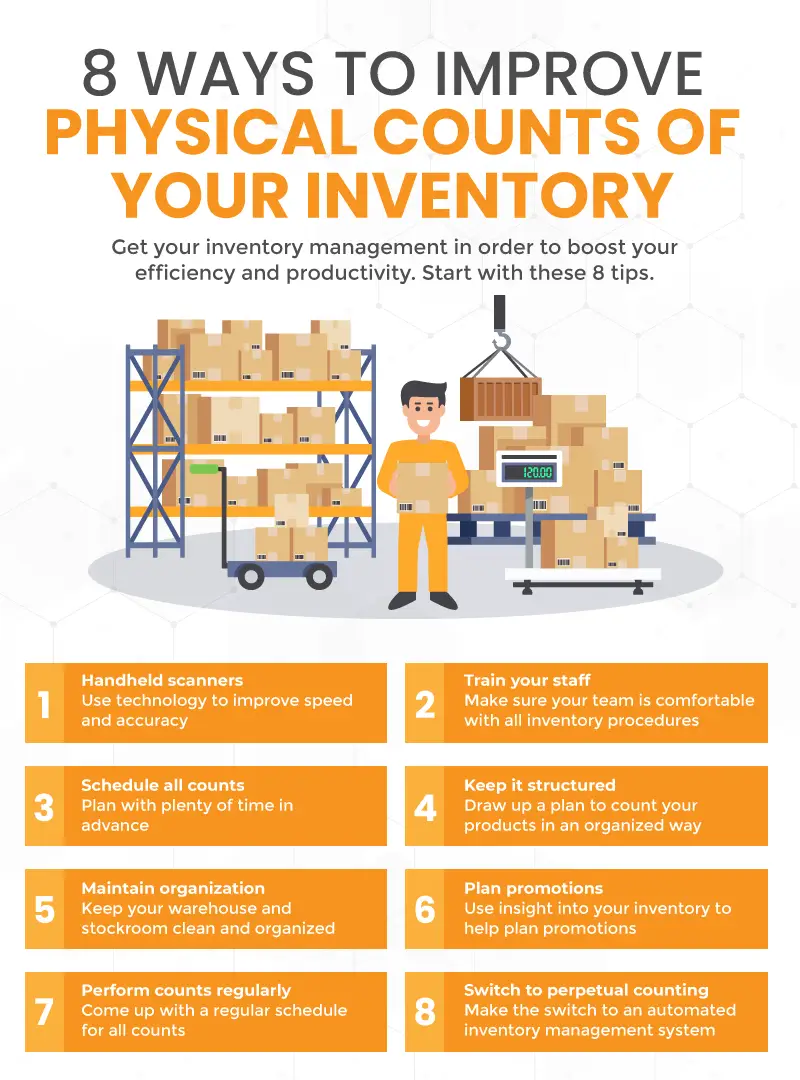 1. Use Handheld Scanners
Though you can still use pen and paper or a spreadsheet, physical inventory counting will become a whole lot easier with some added scanning technology.
Handheld scanners are affordable options that speed up the inventory counting process and ensure a greater level of accuracy.
Any scanning must be integrated with your point of sale solution. This means that all data, once scanned, will be added to your back-end system and reflected in your reporting.
KORONA POS is built with automated inventory management features to make perpetual counting simple, but can also accommodate physical inventory counting through mobile scanners.
2. Train Your Staff for Inventory Management
Most business owners won't have time to manage physical inventory counts. Which means you'll be relying more on your retail team.
But with such an important job, you need to be sure that they're properly prepared. Use your more seasoned employees to conduct the process and train new team members. Though it's important not to dismiss your newer staff – sometimes fresh eyes on an established process are invaluable.
Some retailers also hire outside assistance for the process. If you're aren't sure how to manage your inventory yet, bringing in someone who does, at least initially, is a big plus.
3. Schedule Large Counts Well in Advance
Conducting a count of your entire inventory can be a massive job. So it's important to plan well ahead of time.
First, think about how you'll break down the process: will it be done in one go or broken up over several days? From there, come up with a schedule to make sure your team is ready for it. Ideally, you also implement a recurring plan so that your inventory is counted several times throughout the year.
For retailers planning on doing a full inventory count at once, it might be necessary to shut down your store or conduct it overnight, making advanced planning even more important.
4. Create an Optimal Counting Structure
Similarly, you want the counting process to be done as efficiently as possible. This means coming up with a counting plan for your store.
Start with a map of your retail floor space and warehouse/storage areas. Draw out the space with certain sections labeled for their order in the count.
5. Keep Your Stockroom Organized
Stockroom organization is critical for a number of reasons. But most importantly, it allows you to make your store counts simple and accurate.
Plan your stockroom layout to make items accessible and logical. Make sure your entire staff is comfortable and familiar with the space.
Add assistance for hard to reach items, especially with any vertical storage areas. Additionally, add safety precautions for these areas so that counting or retrieval/stocking of items can be completed without danger.
6. Plan Promotions Around Your Physical Counts
Once you've completed inventory counts, plan your promotions accordingly. Take note of what you're overstocked on and come up with promotional ideas that will help you move through products.
Being overstocked on certain items can tie up your storage space and cash flow, both of which prevent you from ordering new products.
Get creative with your promotions to highlight items, even if they're out of season. Be careful monitoring your bottom line when setting your promotional pricing, but remember that a glut in your inventory can be extremely costly in its own right.
7. Count Often
Conduct all retail inventory counts often. You might not have time to do so each week or even month, but the more often you can complete these counts the better. Doing so will give you consistently accurate information on the state of your store.
Plan a schedule for your counts that is reasonable enough that you and your team can stick to it.
8. Think About Switching to Perpetual Counting
Finally, you should start thinking about giving up this antiquated system of running your inventory. It's slow, tedious, and annoying. Look for systems that offer perpetual inventory counting.
KORONA point of sale tracks each item you have from the moment it's ordered to the moment it leaves your front doors. It helps businesses optimize their ordering, set better pricing, deal with their suppliers, plan their budget, and a whole lot more.
To learn how to sign up for a free trial below. You can play around with the features yourself, and a product specialist will get in touch with you to schedule a demo, too.