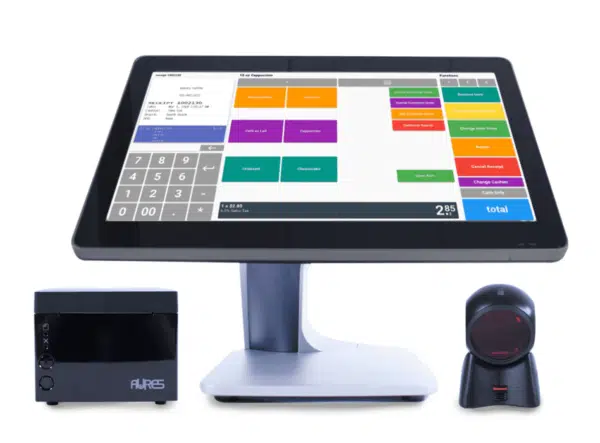 The purpose of POS software is to run your store smoothly, not create endless headaches. If you're reading this article, perhaps you've dealt with some of this from your current point of sale solution. And maybe you're thinking about switching POS systems.
Purchasing a new point of sale system for your business must be a decision made carefully. What features do you currently lack in your POS software? What are you looking for in your next software? What are the current needs of your store? What questions should you ask when you get on a demo call with a product specialist?
This blog answers all of those questions and dives into some common problems that businesses have with their points of sale. Hopefully, this can serve as a guide for those thinking about switching POS systems. Read on to learn more about finding the right point of sale.
---
---
Table of contents
When Should You Switch POS Systems?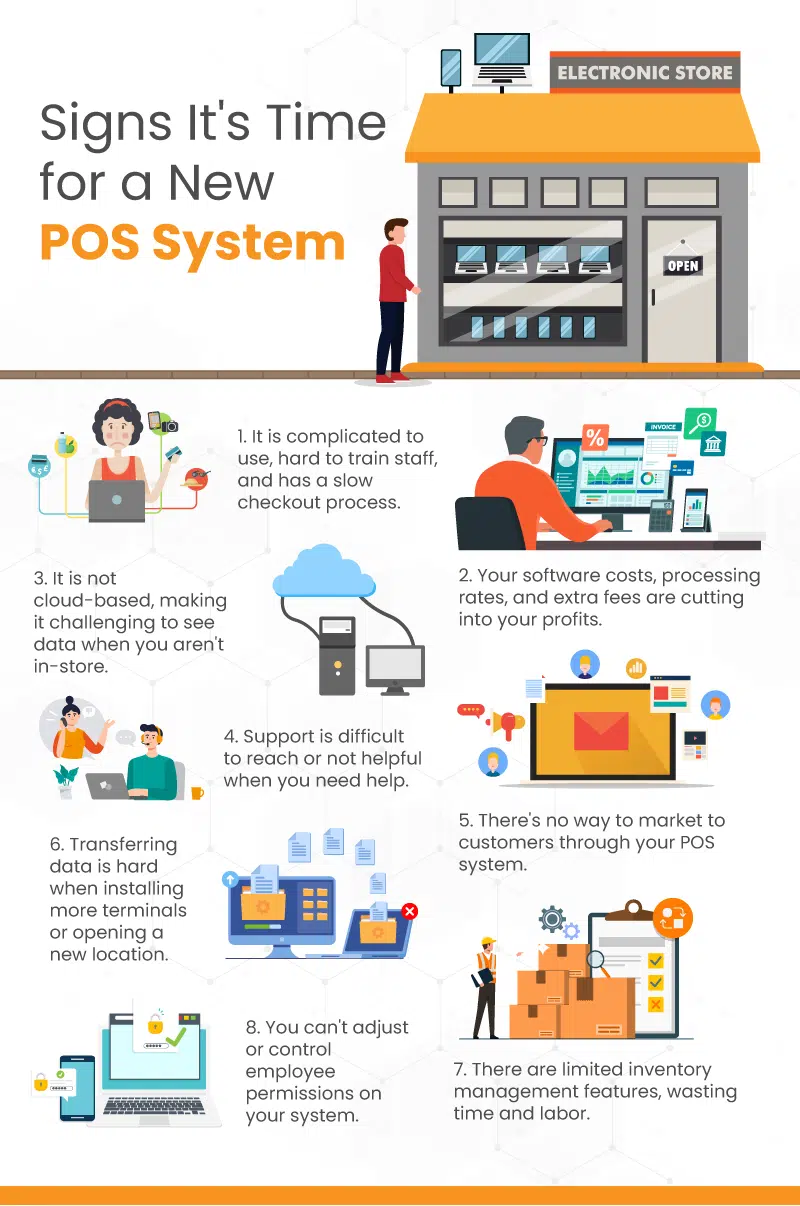 Your POS system isn't easy to use
The first red flag for switching POS systems is how difficult it is to use. POS software is supposed to bring simplicity and efficiency to your store management. An non-intuitive POS system will likely slow down checkout processes, frustrate staff during training, and prevent access to valuable features. The ideal retail POS system should make transactions seamless and offer powerful inventory management, product reporting, integrations, and loyalty programs.
If you are currently using an older system, upgrading to a POS system with hardware that includes credit card readers, mobile scanners, and ticket & inventory scanners can make life a lot easier for your staff and help reduce your labor costs. Lastly, look for a system that is customizable. Remember, it's important that your point of sale is adaptable to the needs of your business. POS systems with open APIs and important integrations are a big plus.
It eats up your bottom line
You must look for new POS software if you realize that your store's growth is being held back by high software costs, processing rates, or added fees and surcharges. Retail store budgets are tight, and your POS system should not be cutting into your profits.
The costs that eat away at your profits are usually twofold: the costs associated with high payment processor rates and additional fees, like paying for your gift cards or customer support calls. For instance, many POS solutions also operate as payment processors and can charge you rates that are much higher than market standards.
The same goes for gift cards. Some POS providers require you to use their gift card module, and they charge you money per gift card used. Other solutions tack on hidden fees for customer support calls or emails. Check that customer support is included in any subscription you buy.
It's not cloud-based
A retail store that does not prioritize data is like running your business blind. Reliance on gut instinct in an ever-changing retail landscape is a recipe for disaster. One of the most potent tools for retail store owners is POS reports and analytics. These reports should be easy to access whether you're in your store or not. Hence the importance of having a cloud POS system.
Modern POS systems offer the flexibility and convenience of remote access. This means you can comb through your sales report, check current inventory, and schedule your staff anytime, anywhere, and from any device. Using a POS system that doesn't provide all the data you need means you might want to rethink your choice.
You can't get support when you need it
Technological difficulties are inevitable, but if you can't get support when you need it, it may be time to switch POS systems. In addition to the outstanding features that KORONA POS offers, what makes the service unique is our support team dedicated to assisting you at every step of your onboarding process. The KORONA POS support team will help you with demo training, phone, email, and chat support, installation assistance, and 24/7 support for emergencies.
Some POS software vendors charge extra fees for product support, but KORONA POS offers 24/7 support and services by highly trained product specialists at no additional cost.
"I like that it's cloud-based, I like that it's so customizable and that the support is available 24/7 to help with any issues. They are all very knowledgeable" says Richard D, a retail store owner who uses KORONA POS. (Hear from more here!)
The POS system does not allow you to market effectively to customers
The ideal point of sale software for a retail business should have robust CRM features to collect customer contact information or any other information. For effective marketing, you'll want your POS to have a built-in loyalty program, connect to email and SMS marketing tools, allow for customer segmentation, and more. If your current system is falling behind, it's time to upgrade to a new POS.
Your current system does not allow you to develop easily
If you want to expand your business by having several other locations, will your current POS software be able to keep up? If the answer to this question is no, you should probably consider changing your POS software. Your POS should easily transfer inventory between locations or install more in-store terminals. KORONA POS is also designed for multi-location retail businesses and franchises. And since the software is cloud-based, you can access real-time data from all your stores or from one store in particular.
Limited inventory management features
As your retail store evolves, your inventory management challenges become increasingly complex. If you need to count inventory to update quantities on your eCommerce platform frequently, it's probably time to look for a new point of sale system.
Think about how much time you could save with a point of sale system that updates inventory quantities instantly when you process sales, returns, or exchanges, both online and in-store. When your POS software's functionality is limited, your store operations' efficiency takes a hit.
KORONA POS software offers a revolutionary feature for inventory management: order-level optimization. Order level optimization in most POS software is manual. With KORONA POS, you can optimize the order level of more than 1000 products in a few minutes.
You can't control staff permissions
When you can't give employees access to certain actions in your store, such as approving returns, it can slow down operations and create more work for managers. Conversely, if your system doesn't allow you to restrict anything, staff could misuse the system and give unauthorized discounts, for example.
If your current POS software does not allow you to restrict access to certain actions to your employees, then it's time you switch POS systems. With KORONA POS, you can assign staff different roles and permissions to set limits on what store associates can do while logged into your POS. In addition, cashiers can clock in and out of the system. The software then provides a summary report of hours you can use in your payroll system to pay the correct amount to cashiers.
How To Switch Your Retail POS
When you finally decide to change your point of sale system, there are some critical steps to follow so you don't make the choice. Below are a few of them to consider when looking for the right point of sale system for your business.[/fusion_text][fusion_text hide_on_mobile="small-visibility,medium-visibility,large-visibility" sticky_display="normal,sticky" animation_direction="left" animation_speed="0.3″ animation_delay="0″]
List the flaws of your current POS system
You can only upgrade your current system if you know what you want in your new POS system. What features does your current system have that you can't do without? What is missing from this system? What are your business's current and future needs, and how will your choice of a new POS system make a difference?
Do your homework to ensure your new POS provider has the needed features. It's good to write down your top three to five complaints, must-haves, and want-to-haves. Once you have a list of your needs, you can find the right solution for your business.
Explore payment processing rates
If a POS provider offers integrated payments, read the fine print and understand any additional fees for equipment rentals or annual fees. Also, determine the types of payments you want to accept in-store and online. Consider the fees associated with these transactions and how an in-store payment processor will work with your eCommerce platform.
Do you need to use separate payment processors for in-store and online payments? What are the fees associated with each type of payment? Do you have visibility into payments and how much you spend on payment processing? Will you need gift cards? If so, what rates will you be charged?
Get demos with multiple POS providers
Before making a final decision on your system, schedule several demos. Ask as many questions as possible. List all your old system's problems and what you are looking for in the new one. Ideally, the solution also comes with a free trial that you can use to see how the system will actually work in your store.
Watch out for hidden fees
Product limits, staffing limits, and customer support are where point of sale providers can hide additional fees or make you upgrade to more "premium" accounts. Ensure you understand which features are included in your subscription so that you're not surprised by increased monthly costs down the road.
Understand the migration process
Once you've chosen your new system, you'll need to migrate your sales, inventory, and customer data from your old payment system to the new one. Your new account manager or integration specialist should help make this process as easy as possible. Ask your POS system provider to provide training resources to help staff become familiar with the system. This step will also help you better assess the level of support from your new POS provider.
KORONA POS: The Best POS System For Retail Businesses
KORONA POS is a POS software designed for retail stores. It is a cloud-based software that gives you a complete insight into store operations. With KORONA POS, you can select which access you want to offer individual employees, a wide range of features for inventory management, included 24/7 support, choice in credit card processing, and unlimited product demos and trainings, and zero hidden fees or cancellation penalties. Curious about whether KORONA POS is a good fit for your retail store? Click on the link below for a demo with one of our product specialists.
FAQs: Third-Party Payment Processors FAQ
1. How do I change my POS system?
Before switching to another POS system, ensure you follow these steps:
– Determine your current POS problems and business needs 
– Verify the compatibility of your payment processor and POS software
– Discuss the different rates
– Request demos and training
– Order new hardware or configure your existing hardware
– Determine if you need new hardware
– Assess the customer support of the POS software provider
2. Can I transfer my data from a current POS to a new POS software system?
If the current software can export customer and inventory details, it can transfer the data to your new system. Each case must be evaluated individually. The company's technical support team can help you determine if you can transfer your data into your new system during onboarding.
3. Which company POS is the best?
The best POS software company for your retail store depends on how easy and effective it is for your business. Not all businesses are created equal and have different needs. Some of the best POS software include the following:
– KORONA POS
– Clover
– Aloha Cloud
– Toast
– Shopify POS