As marketing continues to move to the digital world, search engine optimization (SEO) strategies for businesses become more and more important. And it's critical for just about every business type.
It's perhaps most important for eCommerce retailers. Online selling has exploded due to consumer demand. And the landscape is more competitive than ever. It's vital to offer a unique and quality product. But no matter how good your product or service is, it won't be a success without first being seen by the right eyes.
That's where SEO for eCommerce comes in. Getting to the top of search engine results pages (SERPs) will bring your website a whole lot more traffic, and, in turn, a whole lot more sales. In fact, the result in the top position has a click-through rate (CTR) of 31.7%, while less than half of that will click on the second result and less than 1% of users click on anything past the first page.
In the end, the lesson is pretty simple: SEO matters. A whole lot. But how do you do it well? For busy business owners, it's yet another thing to tackle. But even a little bit can go a long way. Check out the rest of this guide to learn how to optimize your eCommerce SEO and bring more shoppers to your website.
Why Is eCommerce SEO So Important?
If the introduction wasn't enough to convince you, let's go over a few additional reasons why SEO is so critical for businesses.
First, it matters for any type of business, from mom & pop shops to multi-national chains.

It's still low-hanging fruit for a lot of businesses.

SEO can be done on a local, targeted level.

It has arguably the highest return on investment of any marketing strategy.

The basics aren't complicated – even beginners can employ helpful changes.

Not only does good SEO help improve your visibility among shoppers, but it also creates a better shopping experience for those that visit your website.
See related: How to Build an eCommerce Website from Scratch
Kill Two Birds With One Stone
SEO strategies require a holistic approach and will serve your business well in the long run. Better product descriptions, a faster and more convenient eCommerce checkout, high-quality product images, and improved site speed will not only increase your organic traffic but will also increase your conversion rates.
Organic Traffic Hypothetical
Just to illustrate how important SEO is for online businesses, let's look at a quick hypothetical.
If you sell kids baseball gloves then the keyword "kids baseball gloves" is pretty important. In fact, it's estimated that that search term alone gets 5,400 searches each month.
Putting aside ads, the top organic spot will receive clicks for 35% of those searches, equaling 1,890 unique visitors. If you have a 10% conversion rate, that means your business is selling 189 kids baseball gloves each month just through organic traffic.
If, however, you rank in the second position, your traffic will be reduced by about half. With 17% of the clicks, you'll have approximately 918 visitors and 92 sales.
Sliding to the bottom of the first page in position 10 and you'll only receive 2.5% of clicks. This translates to about 135 clicks and 13 sales each month.
While ranking at all is better than nothing, it's critical to focus on getting to the top 3-5 spots. Rising just a single spot will result in a marked difference in total sales.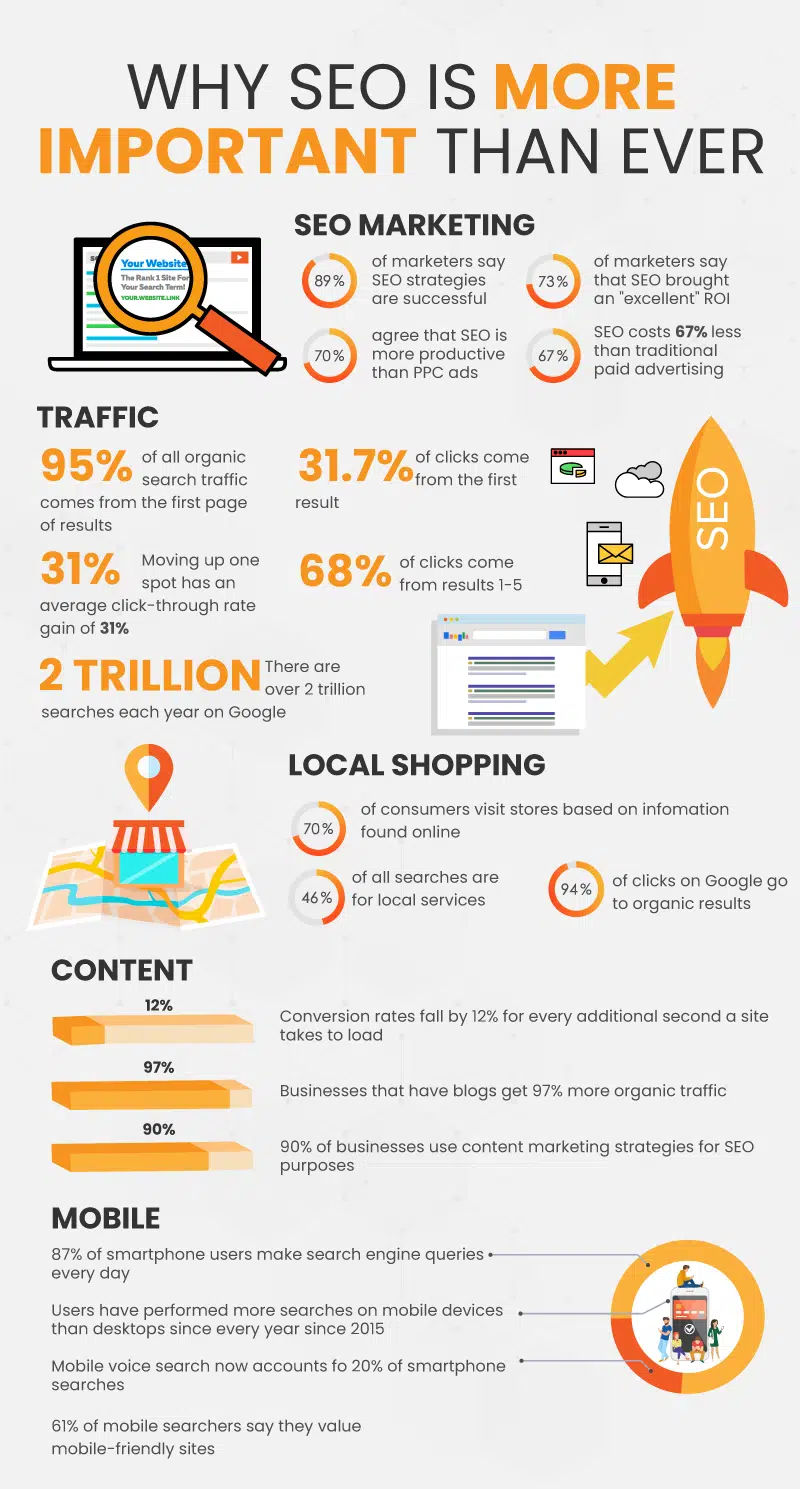 1. Start With eCommerce Keyword Research
Conducting thorough and thoughtful keyword research is the most important first step of this process.
The goal of this is to determine which keywords are easier to rank for but still bring you relevant traffic with high-intent buyers.
Remember, not every keyword will be accessible, especially at the beginning. Ranking for popular keywords can take years to nurture.
And it's also important to remember that it's not worth trying to rank for just anything. It's inevitable that some of your traffic will not be interested in making a purchase, but nonetheless, you want to maximize your relevant traffic.
There are a ton of tools out there that can assist you with keyword research. Some free tools can give you a rudimentary understanding, like the unpaid version of Ubersuggest. Paid options will go much more in-depth and allow you to better plan your keyword strategy, including Ahrefs, Moz, and Keywords Everywhere.
Additionally, you can look at your competition. Figure out which keywords your competitors rank for and add those to your list.
Make a long list of all relevant keywords and any significant variations. Consider their cost per click (CPC), search volume, and competition. Identify the most valuable keywords – those with the highest search volume and the lowest competition. Prioritize those above any others.
Next, identify your middle list of terms. These might have middling competition and search volume or have high volume but high competition.
Finally, categorize your lowest-priority keywords. These are likely extremely competitive keywords or some that are only loosely related to your product.
Once you have your keywords laid out, you'll be in a better position to start writing your content and optimizing your website. As an eCommerce business, the majority of keywords will be products that you sell on your site. So finding trending products to sell in your online store is essential to meeting consumer demand.
2. Optimize Your Website Architecture
You also need to build a simple and straightforward website. Luckily, for most small eCommerce businesses, there are pre-built options for doing so. And a lot of them are free.
Your main focus here should be making the navigation intuitive. You want your users to be able to easily find what they're looking for and finalize a transaction.
A good rule of thumb is that no single page is more than a click or two away from any other page. You want your eCommerce site map to be like a full tree not a single branch.
Think about which pages are most important and which are lesser. You want users to be able to find your top pages easily so that they can navigate to them quickly. For eCommerce stores, the checkout page is, of course, a priority.
Additionally, make your URLs clear. Each should contain any relevant keywords, too.
3. Add a Blog for Your eCommerce Store
Even though you really want people to get to your shop and make a purchase, it's important to have supplementary content, too.
This is most easily accomplished through a blog. And you'll have to go back to keyword research for this one. You want to target your secondary keywords here. These include those that are on topic with your product or service, but not necessarily those that are searched for by high-intent shoppers. Typically, they'll be easier to rank for, thereby generating more traffic and brand awareness.
Additionally, you can use them to link to your top category pages, allowing you to build authority for those within your site architecture.
It's important to be sure that you're adding valuable content to your blog. Google and other search engines reward websites that improve the user experience. Filler content will be easily flagged by Google as such. The algorithm can determine this by bounce rate (the percentage of users that don't navigate to a second page), average time spent on the page, and other secondary metrics, like alt tags, meta descriptions, images, and keywords.
In general, always publish content that you truly believe adds value to your reader.
4. Pay Attention to Some Secondary Factors
In addition to the content, there are some other SEO best practices to keep in mind when optimizing your eCommerce store. These are generally easy to implement once learned.
Keep URLs simple
Don't make them too long and be sure that they include your product keywords. Add secondary categories when appropriate.
Include title tags
Structure your product pages with the appropriate title tags. You want your primary keywords to have an H1 tag at the top. Additionally, include your primary keyword and any secondary keywords in H2 and H3 subheadings.
Add keywords in the body
You don't want to "stuff" keywords but you do want to have your keywords scattered naturally throughout the body of your content.
For eCommerce product pages, this means including your keyword in your product title, description, and URL.
Add relevant images
Any good eCommerce store will also have product images. Any that you do include should have alt tags attached to them that accurately describe the content of the images. Ideally, these descriptions also contain important keywords related to the product.
Write a meta description
All pages should also have meta descriptions. These help the search engine user have a basic idea of the content of the pages prior to clicking on them. All meta descriptions should contain your primary keyword as well.
5. Focus on Your Product Pages
You now need to make sure that your product pages are clear and inspire confidence in the shopper. Though consumers have become more accustomed to online shopping, there often remains an air of uncertainty when making an eCommerce purchase. After all, it affords shoppers less opportunity to interact with the product prior to making the purchase.
For this reason, it's vital that eCommerce merchants display the product in a thorough and accurate manner.
Take high-quality photos
Include multiple photos of each product that you're selling. These should portray the product accurately and give the shopper an idea of its size, texture, and quality.
Add photos from multiple angles as well as images of the product in use.
Make sure you add alt tags to each photo with relevant keywords.
Write great product descriptions
Use your description space to further explain the product and add more keywords. Include all relevant information about the product, such as its size, quantity, color, materials, manufacturer, etc.
Take the guesswork out of the equation for your shoppers.
Include your return policy
Add information about your return policy or product guarantee on all product pages. This is relevant information and will also help assure shoppers that they aren't locking themselves into a purchase in case the product doesn't meet their expectations.
Add a clear path to the checkout page
Help reduce your abandoned carts and bounce rates with a clear checkout button. This will encourage shoppers to move to the checkout page and complete the purchase.
Advertise free shipping
If you can offer free shipping or include free shipping for certain benchmark cart totals, make this apparent throughout the product pages and checkout page. It's a selling point for many online retailers and shoppers will be more likely to finalize a transaction.
6. Improve Your Local SEO Strategies
While more eCommerce sellers will ship across the country and even internationally, there is still value in local advertising, especially if you also have a brick-and-mortar storefront.
Claim your Google My Business page
To improve your local SEO, start with the easiest. Claim your business on Google My Business. This gives Google and its users relevant information on your shop, including store hours, location, website, social media links, and more. And while it's primarily useful for physical retail stores, it will nonetheless bring more traffic to your website.
Add other local citations
Advertise on other relevant local websites, news sources, online magazines, bloggers, social media accounts, and any other geographically targeted outlets.
These will help expand your brand awareness and also add some valuable backlinks to your website, helping your overall SEO strategies.
7. Begin Link Building to Your eCommerce Site
Another important, longer-term strategy will be building links back to your website. This is a tedious process and one that requires a whole lot of patience.
Backlinks to your website serve as an affirmation to Google that your site contains valuable content. And backlinks from high-profile sites will serve as extra affirmation.
There are a number of ways to gather more links to your website.
Buy Them
There are thousands of services out there that sell links. Some are better than others. Any good one will be expensive. Buying links is an option, but it doesn't come highly recommended. It's costly and can be flagged by Google.
Add your site as a resource
A better way is to market particular pages as a valuable resource to related websites. Got a great infograph or high-quality blog post? Great. Share the wealth and ask other bloggers to link to it to improve the quality of their content.
Use influencers
Depending on the nature of what you sell, you might also partner with social media or blog influencers. In addition to the link, they'll also help spread your brand awareness.
Fix broken links
You can also use tools to find broken or dead links across the internet. Reach out to the site owner notifying them of the broken link and suggest one of yours as a useful replacement.
Take your competition's links
Look at links to your competitors and try to poach them. Not only will this give you an additional link, but it will take one away from them.
8. Pay Attention to the Technical Stuff, Too
Lastly, you'll need to make sure that your eCommerce site is up to snuff on the technical side of things. Don't be intimidated though. Most of this is easy enough to complete without having a background in web development.
Perform a site crawl
Check to see if your site is healthy and performing well. Make sure that there are no broken links, no missing metadata, and no unsupported links/content.
Set up Google Analytics and Search Console
Get your website's domain registered with both of these critical tools so that you can measure your traffic and site performance.
Make sure all content is unique
Check for any duplicate title tags, pages, URLs, or other content. Duplicate content will hurt your SEO rankings.
Clean up your backlinks
While getting backlinks is vital, it's just as vital not to have bad backlinks. You don't want your site being linked to by shady or spammy websites. Find any instances of this and disavow them through Google Search Console.
Improve your eCommerce site's speed
Speed is a more important factor in ranking than it ever has been before. Take some steps to improve this by looking at your Google PageSpeed Insights report. This identifies trouble areas, helping users optimize their site for both desktop and mobile users.
Link your eCommerce site with your POS
If you have a brick-and-mortar store you'll also need to be sure that your website is integrated with your retail POS system. This will keep your inventory, reporting, and ordering all consolidated in a single system, helping to improve the speed and accuracy in which daily operations are completed.
Get Started with KORONA POS today!
Tell us a little bit about your business and explore all features that KORONA POS has to offer. And there's no commitment or credit card required.