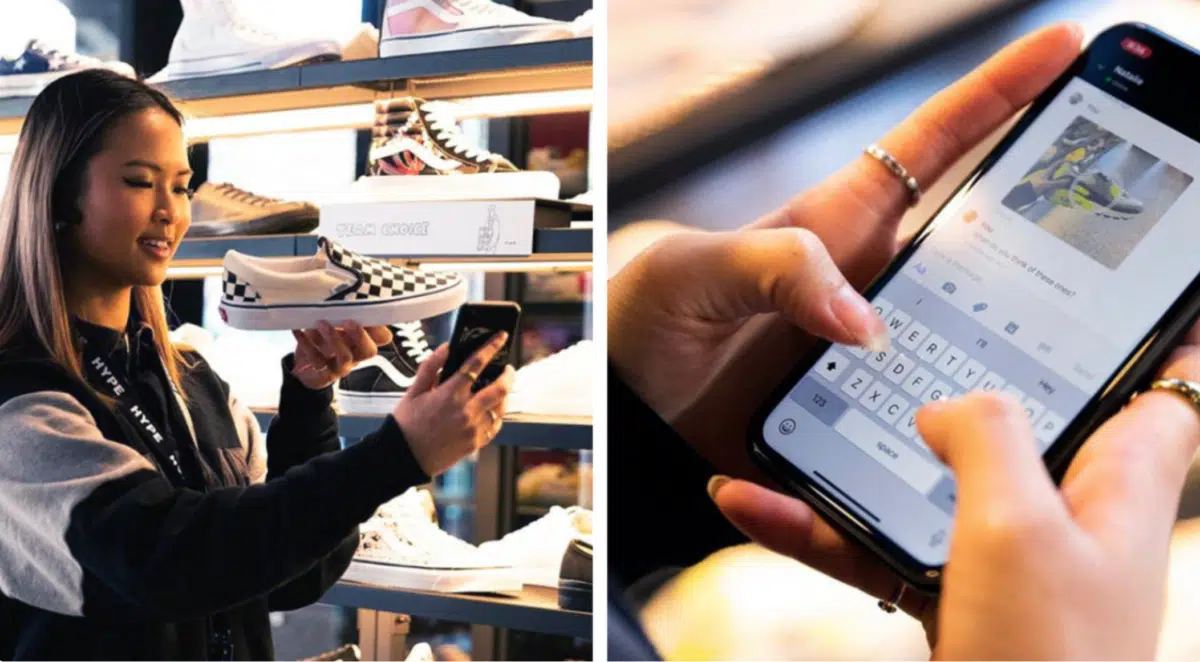 The retail industry is a competitive industry, and one often based on volume. This is especially the case with big-box competition. Small and medium-sized business owners are constantly facing competition from large retail companies such as Walmart and Amazon. So keeping up with the latest retail technology is paramount to delivering an impeccable customer experience, managing a large inventory, and optimizing your ordering and pricing.
In fact, when it comes to customer service, Nextiva found that 89% of consumers have switched to a competitor after a bad customer experience. In addition, companies that excel in customer experience generate 4-8% more revenue than their market.
Retail technology helps brick-and-mortar and eCommerce businesses in many steps of their business processes. QR codes, advanced POS systems, and augmented reality are just some retail technologies attracting more investment and interest. At the store level, retail technology plays an essential role in transforming retail stores from the storefront to the checkout and beyond.
Read on to learn more about the retail technology trends you need to know to better manage your retail business and stand out from the competition.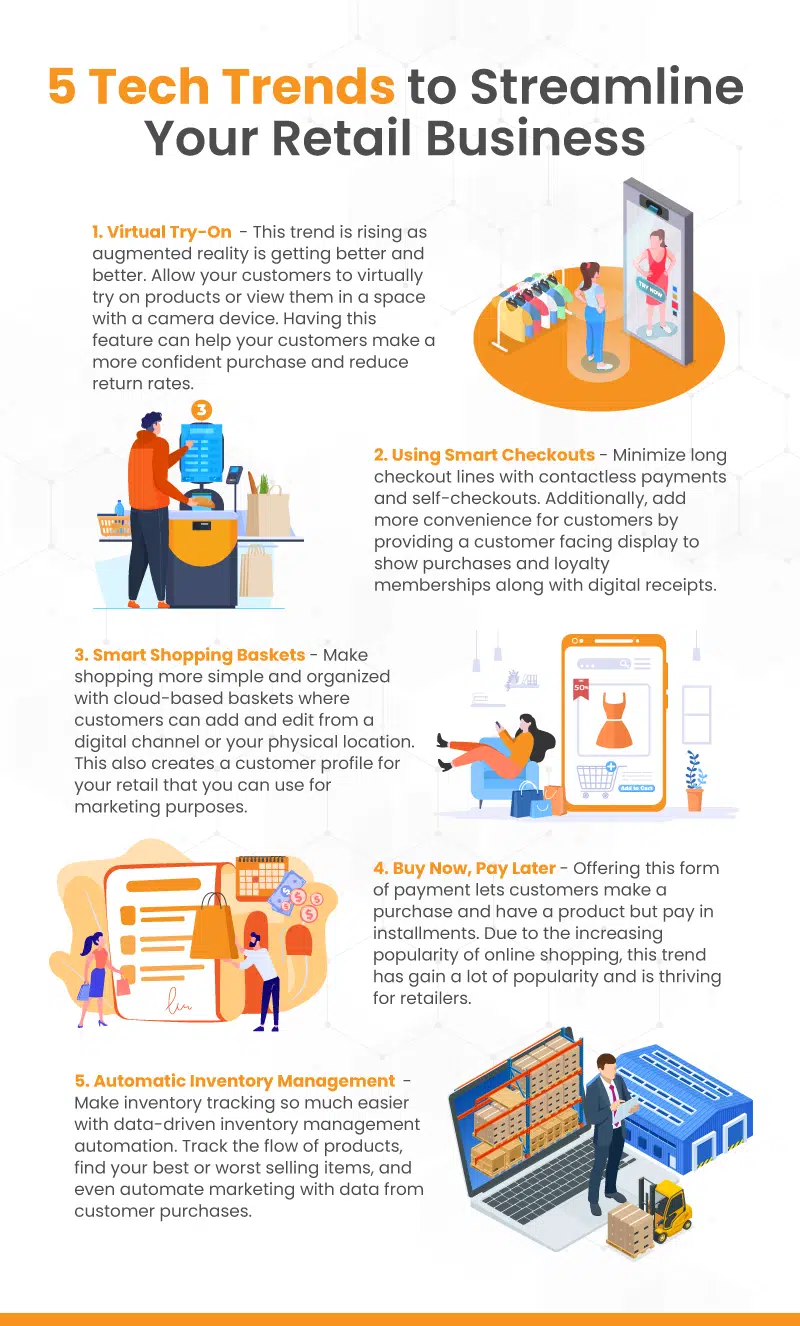 Table of Contents
The Rise of Virtual Try-On
While many retailers are still wary of introducing this retail technology into their businesses, virtual try-on is a solution that is starting to gain some traction with consumers. Virtual try-on is how a customer can virtually "try on" a product through a mobile device or something else equipped with a camera.
Future customers can see themselves in a product on their smartphone screen using augmented reality-enabled technology. Virtual try-on allows consumers to make more confident purchasing decisions, increase sales, and reduce return rates.
A traditional retail store can use virtual try-ons to test demand for specific items, allowing them to implement more thoughtful manufacturing processes and strengthen their sustainability efforts. This can save them valuable time and money.
For thrift store owners or clothing retailers, this technology will allow customers to find the best fit by recommending the right size dress, pants, and shoes. They can also try different colors of a given garment unavailable in their offline store. This makes the shopping and consumer experience easier and more enjoyable. Check out the video below to see how it works.
Smart Checkout To Reduce Queues And Streamline Payments
Using traditional checkouts in retail stores is becoming increasingly outdated and gives way to more sophisticated POS systems that speed up the checkout process and minimize long lines. In fact, 80% of shoppers prefer a non-traditional checkout.
See related: What Is A Retail Cash Wrap? Everything You Need To Drive Sales at the Checkout-Counter
Many retailers are also opting for mobile POS systems because it is so convenient. Instead of waiting for the customer to come to the checkout, the cashier goes to the customer and helps them make their payment as quickly as possible. This retail technology is perfect for stores that often experience long lines.
You May Also Want To Read: The Difference Between POS and mPOS & Mobile Payments Explained
Here are some of the smart checkout features that improve the checkout experience:
Self-checkout

: Self-checkouts, also known as assisted checkouts or self-service checkouts, are installations that allow customers to conduct their own transactions at a retail store without the need for a traditional staffed checkout. Self-checkout reduces personal interaction with employees and other customers and allows customers to shop at their own pace.

Contactless payment

:

Contactless payments

are transactions made by swiping a contactless chip card or a contactless-enabled mobile device at a payment terminal. This allows customers to pay for their items in seconds. When you tap to pay, payment is secure, convenient, and fast.

Customer-facing displays:

Also known as a customer-facing screen or dual screen, a customer-facing display is a digital screen that displays all the information related to the customer's order during the checkout process. The customer can view their order, taxes, discounts, and loyalty information during the checkout process. This retail technology allows the customer to ensure the accuracy of the information, which reduces incorrect purchases. For stores that have a loyalty program, the customer-facing display offers shoppers the ability to sign up or request benefits under the loyalty program

.
Digital receipts: Digital receipts are one way to make the customer checkout experience exceptional. According to a report released by Retail Dive, 89% of respondents would like retailers to offer digital receipts as an option.
Smart Shopping Baskets
Smart shopping baskets are cloud-based baskets that your customers can add and edit from both your business's physical and digital channels. To enhance the experience of using smart baskets, retailers will begin to integrate "omnichannel customer profiles."
These types of profiles are enriched with each new interaction and can be accessed by the customer and salespeople at each touchpoint. They are independent of the channel on which they were created. This allows customers to save their favorite products and recommendations on their cloud-based profiles. This approach to the shopping journey makes it one of the most anticipated retail trends of the year.
In concrete terms, here's how shopping happens with smart baskets: For example, your customer can save a clothing recommendation they like on their mobile app. A few days later, they can go to the store to try on the outfit and add a shoe they want to their smart basket. Finally, They can check out their basket from your online shop a couple of days later.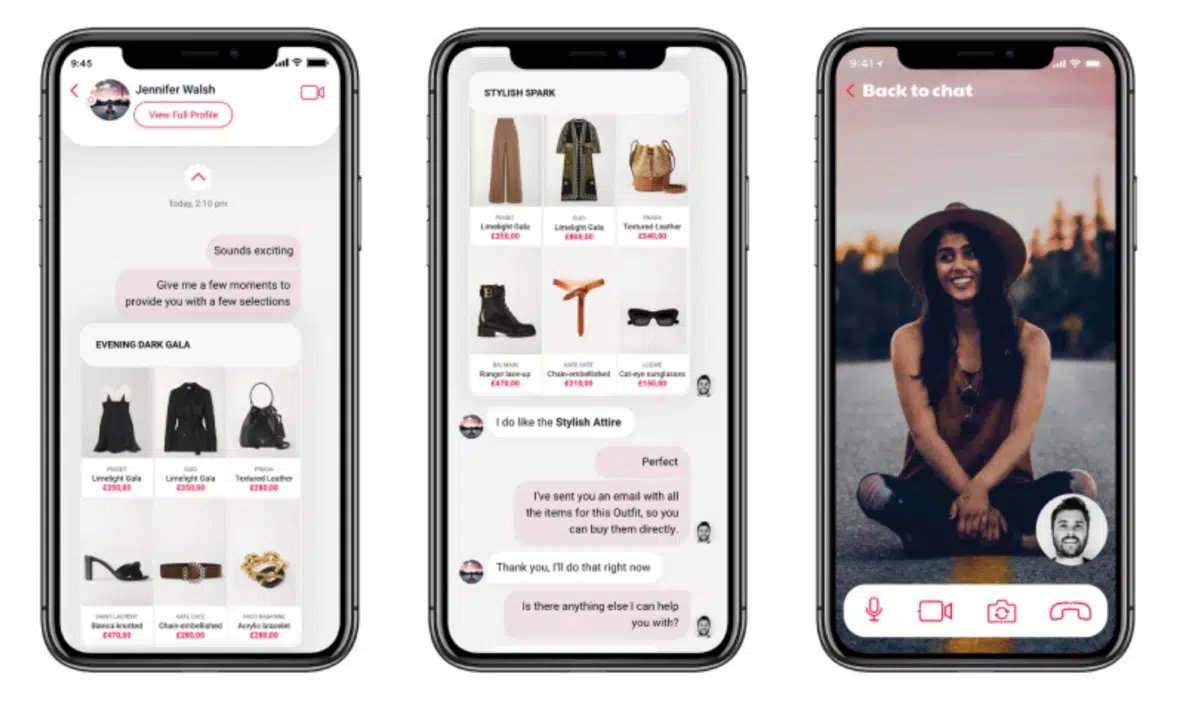 Having access to their basket and profile from all brand touchpoints increases the chances of closing a sale. Also, it helps you build a complete profile of your customers that can be used for retargeting and other marketing purposes.
Buy Now, Pay Later (BNPL)
42% of U.S. consumers admit to abandoning a purchase because their preferred payment method is not available. Therefore, retailers have opted to offer BNPL, which is becoming increasingly popular. As the name implies, BNPL allows customers to make a purchase and receive it immediately but pay in installments. Its popularity exploded during the pandemic as more and more people turned to online shopping.
BNPL is revolutionizing the customer journey by seamlessly integrating with eCommerce as a payment option. With no obvious initial drawbacks, BNPL is thriving, especially among Generation Z and Millennials. Business owners see it as a way to boost sales, improve conversion at checkout, and even save on interchange fees.
Data-Driven Inventory Management Automation
Chances are you've learned the hard way that traditional trend forecasting is not effective enough to find and predict the optimal product mix to meet consumer demand.
Just because "women's shirts" will be trendy next season doesn't mean your customers will automatically respond favorably to them. And even if a group of your customers asks for women's shirts, you need to know the right SKU to offer to the right customer segment on the right brand channel to take advantage of a hard sell.
This is where data-driven analytics and inventory management come in: Your current and past inventory data can help you determine precisely what your audience prefers and how trends change throughout the season.
An automated inventory management system is a must to have access to all this data. It allows you to track the flow of your products, the frequency with which products are purchased, and the best and worst selling items. Intelligent merchandise planning and inventory management help avoid dead stock, thus reducing storage costs.
Marketing automation also helps grow your customer loyalty because your shoppers rarely find themselves unable to make a purchase. They have enough options to suit their desires, which means they keep coming back. So if you're still using spreadsheets or other traditional inventory management methods, then it's time to let a software program take care of all that hassle for you.
Retail Technology in 2022 with KORONA POS
The best way to find the right retail technology for your store is to know your customers and their needs and preferences. Assessing these elements will give you an edge on what to do and what kind of technology will solve your problems.
KORONA POS can help with a whole lot. From implementing a queuing system and managing your CRM to building a customer eCommerce store and providing in-depth forecasting reports, the software adds insight and automation across all areas of your business.
To learn more, click below to schedule a call with one of our product specialists so they can learn more about exactly what your store needs.
FAQs: Checkout Optimization for eCommerce Retailers
What is an example of retail technology?
One of the best examples of retail technology is a virtual fitting room. Retail technology also includes smart checkouts, automated inventory and information management, QR codes, and much more.
What is smart retail technology?
Smart retail solutions, or smart retail technologies, are any software and/or hardware designed specifically for retail. Online retailers and physical store chains can use these tools to provide their customers with a faster, more convenient, and safer shopping experience. The goal is to create a better shopping experience for the consumer.
How has technology changed the retail industry?
Technology has taken the retail industry to a new level. For example, introducing point of sale equipment, barcodes, ABC analysis, and smart payments has made it easier to manage retail stores.
What is new in retail technology?
The biggest news in retail technology is the introduction of augmented reality (AR). AR is a relatively new technology that places graphics in real-world environments. Imagine Snapchat filters – glasses, shoes, jewelry, or items that appear on your face or feet and move as you do.  Retailers will be able to use this to provide a seamless customer experience and identify new target markets.