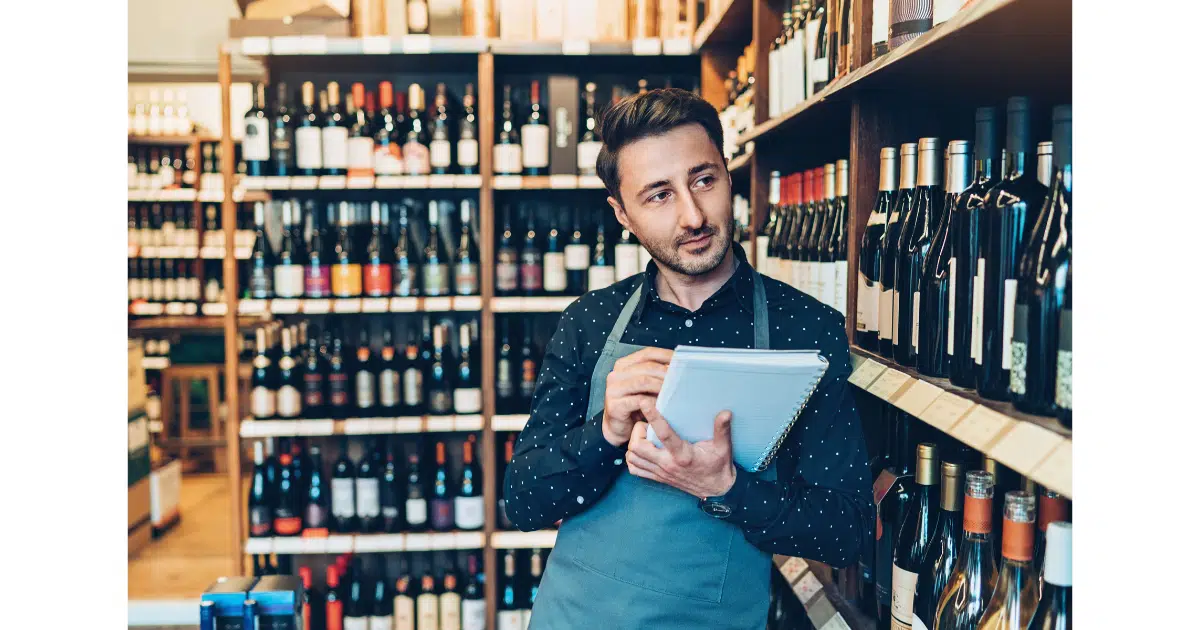 Last Updated: March 23, 2022
Retail inventory management is more often than not a difficult task. Many businesses struggle to track their inventory even when carrying a small number of products. Those with thousands of products can easily be inundated with overwhelming spreadsheets and a frustrating lack of organization. Naturally, keeping accurate numbers can be a daunting task, but one that is integral to the success of any business, no matter the size. Conveniently, our retail POS system can significantly aid in this process.  Here are 7 retail inventory management best practices to improve your business.
How Do Most Retailers Track Inventory?
Many retailers track every item that enters their store or warehouse and then deduct the total sales for each item. Once a quarter or year they perform an inventory count. But what almost all these retailers also have in common is that the differences in each scheduled count from the expected count are astonishing, leaving business owners in a precarious position. Where did the inventory go or where did it come from? This method of inventory management is a tedious process and subject to various points of human error. It also fails to adequately account for waste, promotions, discounts, and other nuances in a business. So, the most important goal in any inventory management is avoiding this and leaving owners with accurate numbers week in and week out.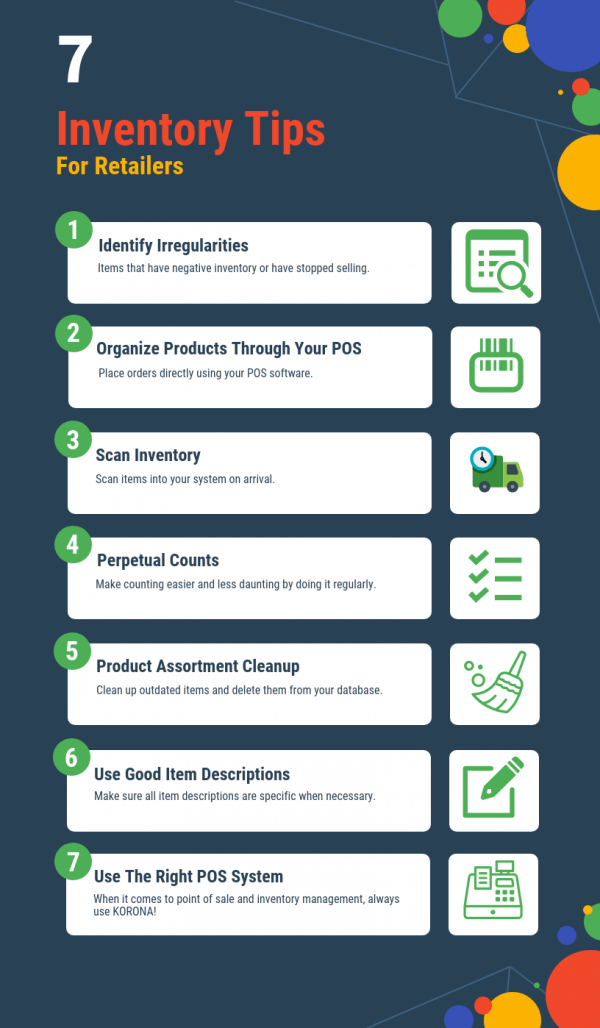 1. Identify Inventory Irregularities
The first and most important step is to identify any inventory issues early on. One of the most common problems in inventory management is duplicate products. This becomes especially problematic when the inventory is received and marked as one product and sold as another, or when inventory simply wasn't received at all.
When identifying irregularities, you need to beware of the following items:
Negative on-hand inventory

On-hand inventory that suddenly stopped selling

On-hand inventory that has never been sold
Finding these red flags can sometimes be challenging. However, KORONA POS's solution offers simple reports that lists irregularities automatically. Once these are identified, you just need to update the count on the items in question and use the stock history to investigate what went wrong.
2. Organize Products Through Your Retail POS System
When inventory is received it is important to get it on the shelves as quickly as possible. Inventory kept in boxes simply doesn't sell. But it's equally important to add new products into the inventory system before receiving. Too often, owners or managers classify new products into existing, but inadequate, product categories. For instance, a liquor store might receive a new craft beer. They have existing products from the brewery but not for this particular beer. Rather than create a new product in their system, they might just categorize the new beer into one of the current categories. This only leads to confusion and poor inventory down the road. When you place orders of new products, add them to your inventory database prior to receiving the items. This speeds up receiving and prevents mistakes.
3. Scan Your Store's Inventory
In addition to categorizing accurately, scanning inventory as it's delivered is also helpful. It more easily allows you to compare your received inventory to your ordered inventory. This will minimize incorrect product drops from distributors, another common cause of poor inventory management and product stockouts. Scanning in-stock receipts can also prevent the common issue of receiving items under a different inventory name. Ultimately you will be using the same SKU number and prevent duplicates from messing up your counts.
4. Perpetual Counts for Better Retail Inventory Management
So we've covered how to spot problematic inventory trends, as well as a few ways to eliminate human error. But what about the annual inventory counts? Most sources advise that retailers count their entire inventory at least once a year. But if you have a large number of products, this can be a monumental task. In fact, many retailers even close down their store to perform this.
However, you can count your entire inventory multiple times per year without doing it all in one shot. KORONA POS offers a perpetual inventory count software. You simply select certain days of the week you want to count your inventory and KORONA POS will calculate how many items you need to count on that particular day in order to count every single item in your store at least once a year. This allows you to perform manageable counts throughout the slow hours of the day or week and make accurate inventory tracking part of a manageable routine rather than a nightmare once a year.
5. Product Assortment Cleanup
Over time most retailers will build up a large product database that includes many products that they no longer sell. Items that you don't carry anymore should be delisted and made unavailable at the POS. This prevents cashiers from accidentally selling an outdated item when they need to use the product search. It also makes receiving more painless and efficient. Fortunately, KORONA POS offers a convenient tool for this that allows you to clean up your assortments automatically. This saves you time and makes business run smoother.
6. Specific Item Names
This may sound like a no-brainer but it is probably the most common cause of inventory mistakes and duplicate items. It's tempting to group several similar products into one category because it seems like it might save time and keep your inventory more concise. Retailers also want to stay away from long item descriptions on customer receipts. However, this practice can haunt business owners in the long run. It's vital to keep track of every difference between your products, even if they're minor. Additionally, KORONA POS allows you to set a unique, simpler receipt description for each item while keeping the important specifics in the back office reporting.
7. Choose the Right Retail Point of Sale Solution
KORONA POS offers each of these features for all of our POS solutions. We have designed our software with retail inventory in mind, making it intuitive and thorough and offering a range of additional reports and analytics for your business.. It's one of the most challenging aspects of running a business, but also one of the most critical. Find out what makes KORONA POS the best retail POS software for yourself with a free trial.
Get Started with KORONA POS today!
Tell us a little bit about your business and explore all features that KORONA POS has to offer. And there's no commitment or credit card required.
FAQs: Barcode & QR Code
What does an inventory management system do?
An inventory management system helps a business by keeping track of products. This saves time and reduces human error in counting stock. The data from the management system will also help in how much and when to reorder more products.
Why is retail inventory management necessary?
A retail inventory management system is necessary for retail businesses to keep track of the goods they sell. Having inventory properly managed creates better organization for what products to keep in stock and reorder. In addition, a retailer will be able to see which products make a profit and use marketing techniques to their customers to get rid of less popular products or order similar products.