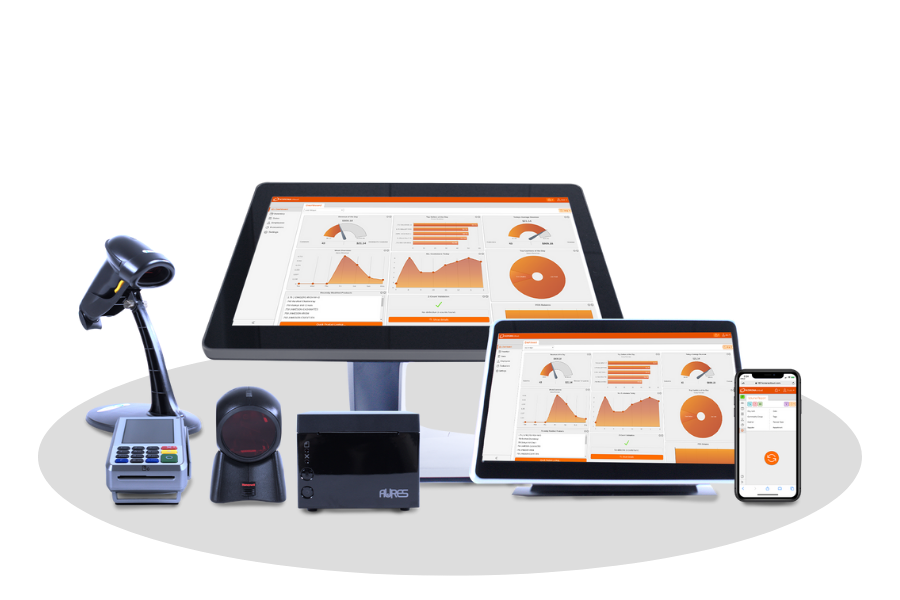 Whether you're a start-up or a well-established retail enterprise, you need more than a cash register to record sales and accept payments at your premises.
For more extensive store management, you need a point of sale system that manages inventory, generates reports, offers promotions and point-based loyalty programs, stores customer contact information, etc.
The modern features of retail point of sale software are numerous and may differ from one retail business to another.
That's why choosing the right POS system for your business can quickly turn into a headache, as there are a plethora of POS providers on the market, and a wrong choice can be detrimental to your business.
Learn how to shop for a new pos system in the video below.
However, whatever choice you make, there are some fundamental features you need to know about. This guide will walk you through the 26 most important features of retail POS software you need to get your retail business running smoothly.
Table of Contents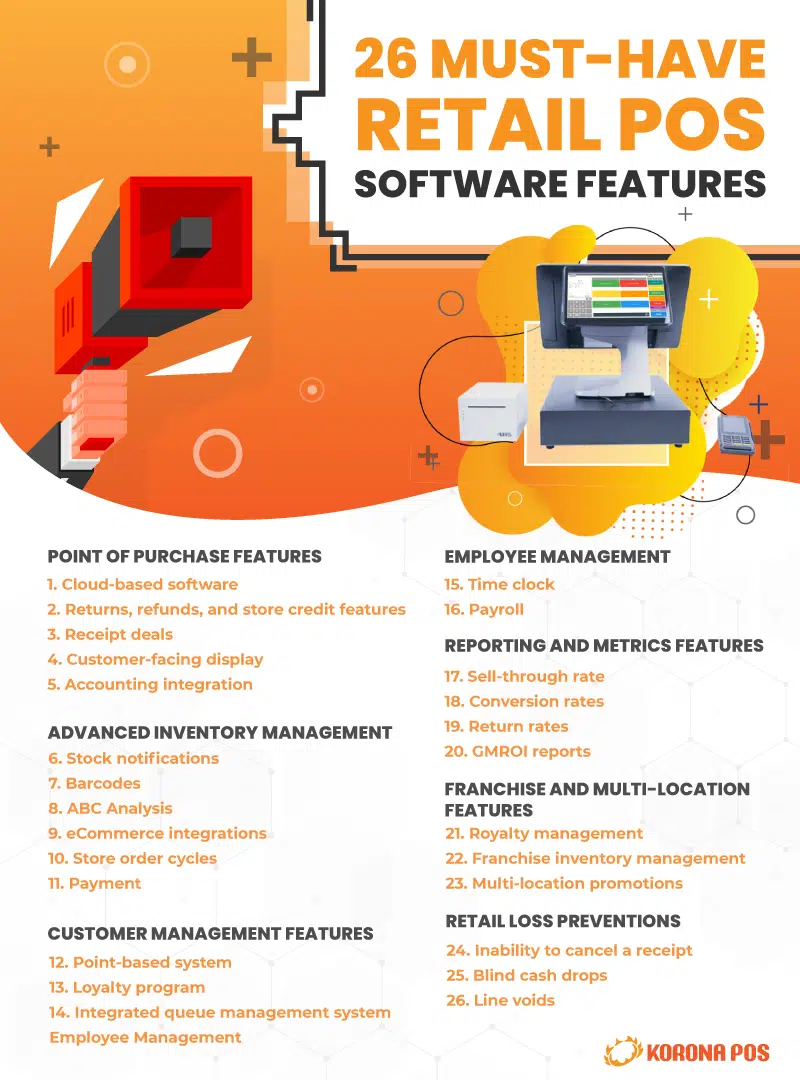 Point of Purchase Features
First, let's look at some of the point of purchase features you'll need. At the checkout area it's important to prioritize convenience, security, and usability.
1. Cloud-based software
Cloud-based point of sale software allows you to track all operations taking place in your store without you having to be there. This feature enables you to easily access sales and product inventory remotely, allowing you to make urgent decisions if needed. All your data is secure and accessible in a remote cloud-based server, making it safe and convenient. As a result, SMBs significantly reduce the risk of fraud associated with credit card processing.
You may also want to read: How to Prevent Data Breach: A Guide For eCommerce Retailers
2. Returns, refunds, and store credit features
Store credit has the power to do many things. These tools have the power to do many things. Store credit, for instance, is not just an additional payment option for retail customers – it can help increase retention and inspire brand loyalty. More consumers are favoring stores with consumer-friendly return policies. So make sure your POS software can help you create the ideal return policy for your store by providing flexible options for returning items for both a refund or store credit.

3. Receipt deals
Discounts spur marketing, so it's imperative that you use them correctly to get the most out of your sales efforts. Approximately 93% of shoppers use a coupon or discount code throughout the year. That means that most consumers are looking for a good deal. Make sure your POS software can add customizable promotions and discounts to each receipt to encourage customers to return often.
​​Note:
Offers or discounts should not only be applied to receipts. Your point of sale system must also have features that allow you to change prices and add specific offers with ease. However, you need to ensure that you have the best pricing strategy to maximize your sales hopefully. Check out this blog to learn the best retail pricing strategy for your business.
4. Customer-facing display
Also known as a customer-facing screen or dual screen, a customer-facing display shows all the order information to the customers during checkout. The checkout experience is one of the steps that will determine whether your customers will come back to shop at your store or not. And opting for a customer-facing display is a great way to streamline the checkout process.
A customer-facing screen allows retailers to increase sales transparency and naturally build trust in the brand. The cashier has a POS screen to add items to the cart and record customer information. They can view items, quantities, tax percentages, and discounts. At the same time, customers can look at the screen to get all the order details without asking the salesperson.
5. Accounting Integration
Accounting integration is a system that combines crucial financial accounting functions into one application. Your next retail POS system must integrate with Quickbooks Online (or something similar), provide inventory recording and office expenses, and eliminate the need for a separate book for billing and accounting.
Learn more about KORONA Retail Point of Sale Software in the video below
Advanced Inventory Management
Inventory management is the next dimension you should explore in retail point of sale software features. A sound inventory management system will allow you to keep track of your products to avoid dead stock, excess inventory, or stockouts.
As the name implies, the inventory component of the system will keep track of all your products and even help you see which products are performing well and which are not. Whether your inventory consists of 500 or 50,000 products, here are the features you need for effective inventory management:
6. Stock notifications
As a store manager or owner, you have to focus on many aspects of running your store. Keeping up on the various stock levels of your products is impossible for more retailers. That's where a stock notifications feature comes in. It allows you to get notifications about your stock levels from your cashier. The goal is to alert you to possible stockouts and overstocks of individual products so that you can make appropriate decisions in time.
7. Barcodes
Your inventory system should be able to print barcodes (or other labeling methods) so that each of your products can be carefully labeled and tracked. This barcode allows the inventory system to know exactly where the item is in your system. You will use barcodes to scan an item when it comes into your inventory, when you ship it to another store, or when you sell it.
See also: How Do Barcodes Work? Barcodes, UPCs, and SKUs for Inventory Management
8. ABC Analysis
ABC analysis is an inventory management tool that allows retailers to determine the value of inventory items based on their importance to the business. "A" items are goods with the highest annual consumption value and are more critical, "B" items are in the middle, and "C" items have the lowest revenue and profit value.
Although it is possible to run the ABC analysis manually with an Excel sheet, it is not recommended as this method can be fraught with errors. A sound POS system can generate an automated ABC analysis and is much more efficient.
See also: How to Run an ABC Analysis: Find Your Top (and Worst) Performing Inventory
You may also want to read: ABC Retail Analysis – Advanced Inventory Management Software
9. eCommerce integrations
Most retailers who sell at brick and mortar stores now sell online. And your point of sale system must make this seamless by allowing automated inventory tracking between locations and real-time data that accurately reflects current stock levels. More and more consumers are shopping online, which makes having an eCommerce store a must to expand your market.
10. Store order cycles
Order cycles describe the cycles in which stores pre-order their products for a season and when they are then displayed in the store. Rather than setting custom replenishment levels for each product, store orders automatically create a single report for all items that need to be ordered. Based on this, the software sends order requests to each appropriate supplier.
Finding the right eCommerce suppliers for your retail business is of utmost importance. A better supplier allows you to buy products at lower prices that can lead to higher marginal profits. But how do you find the best eCommerce suppliers? Find out here.
11. Payment
To offer a better shopping experience to your customers, you must be able to offer almost all payment options available.
In fact, ninety-seven percent of consumers use some type of payment card. Similarly, according to a study conducted by Mastercard on contactless payments, 46% of respondents had placed contactless payment cards at the top of their wallets. In addition, Mastercard found that 82% of respondents consider contactless payment a more secure way to pay.
As a result, your POS system must be able to give you the possibility to use all these payment options.
If you have an eCommerce store, the most popular online payment services available include Paypal, Google Pay, Apple Pay, Stripe, MasterCard, Visa, etc. A modern retail point of sale system easily integrates with all these payment options.
An additional related feature to look for is the ability of the software to design unique gift cards that can be easily redeemed at your point of sale.
Note
You will find some POS providers offering their own merchant service and setting rates that do not suit you. To avoid any inconvenience down the road, it is advisable to choose POS services that can be integrated with any payment processor of your choice. This way, you can negotiate your rates or change payment processors whenever you want without changing your POS provider again.
If you're interested in lowering your processing rates, check this video below.
Customer Management Features
A retail management system will include a streamlined customer relationship management (CRM) tool so you can track all your customer data. Here are some of the features you should consider:
12. Point-based system
The software must be able to integrate a points-based loyalty program to reward your best customers.
13
.

Loyalty program

Full-scale loyalty programs will keep your customers happy and help grow your business. Look for a solution that integrates with loyalty program software, making it easy to implement. KORONA POS integrates with several leading loyalty software programs. In addition, the software tracks your loyalty program data to see which products are purchased most by your store's regular customers and which promotions work best.
14. Integrated queue management system
Queue management is the process of improving your business by managing customer waiting. During the holiday season or promotional events, the likelihood that you will have long queues is high. Look for a POS solution that can integrate with queue management software to help you save time and improve the checkout experience. KORONA POS now integrates with one of the best queue management solutions on the market, LineupApp.
See related: What Is a Queuing System? Why Your Business Needs Line Management
Employee management
Employee management is an integral part of running a successful retail store. The point of sale system allows you to define specific access controls for each employee and track transaction history through team reports. Here are some features that will allow you to better manage your employees.
15. Time clock
A basic time clock is a great place to start. Without a well-organized time-tracking system retailers can significantly impact their bottom line through wasted billable hours. A point of sale equipped with timekeeping software allows you to track each of your employees' start and end times with little or no effort. The result is simplified timesheet evaluations and timely payroll.
Additionally, timekeeping software can track a specific staff member's work history, alerting you to potential attendance issues before they get out of hand and holding your employees adequately accountable for the hours they claim to be accruing.
16. Payroll
Payroll is another critical area to consider when looking for a new point of sale. This streamlines the payroll process and improves the accuracy of payments to your workforce. The POS system can be used to run payroll because it can keep track of the hours worked by each person. With online payment systems and direct deposit, many workers no longer have to worry about receiving a physical check and employers don't need to worry about manually submitting checks each week or bimonthly.
Reporting and Metrics Features
Reporting and metrics features play an essential role in managing a retail store as they allow you to track the performance of your business. Here are some metrics you should look for in your store:
17. Sell-through rate
The sell-through rate measures the amount of inventory you sold in a month compared to the amount shipped to you. The sell-through rate is an important retail metric that allows you to monitor the efficiency of your supply chain.
KORONA POS's retail inventory system lets you segment your sell-through analysis by individual product so you can see which products are selling well and which are selling poorly. Use this data to inform your inventory process and reduce the risk of holding slow-moving products.
18. Conversion rates
Conversion rates are another critical metric to key an eye on. A conversion rate records the percentage of users who completed a desired action. With point of sale software, you can see how often an interested customer makes a purchase to gain insight into your marketing and sales.
19. Return rates
The return rate is the annual income from an investment expressed as a proportion (usually a percentage) of the initial investment. Your point of sale software can help you identify problematic products by generating reports on return rates.
20. GMROI reports
Often shortened to simply GMROI, gross margin return on investment is an inventory profitability assessment ratio that analyzes a company's ability to turn inventory into cash that exceeds inventory cost. It is calculated by dividing gross margin by the average cost of inventory. Use the GMROI inventory report to analyze your sales over time and view information that helps you analyze your return on investment to make strategic decisions for your business.
Franchise And Multi-location Features
These features are designed for retail store franchises and more enterprise level businesses and likely won't be immediately necessary for smaller businesses though nonetheless important for those thinking about scaling in the future
21. Royalty management
Royalty management is the system used to create contracts, define usage rights, and determine what royalties will be paid to the owner, by whom, and how often. A retail POS system allows you to define a customized structure for paying royalties from franchisees to the franchisor. KORONA POS offers you this feature.
22. Franchise inventory management
You'll also need more robust inventory management since there are more moving parts to consider. Having more than one outlet to manage adds to the complexity of the task. Maintaining an optimal amount of inventory keeps your business from running out of product and keeps your warehouses from filling up.
This is just as important because an overstocked warehouse prevents you from ordering more of your high-demand items. The right point of sale solution allows you to keep all inventory and consolidated reports in one system but still be able to measure the performance of each store.
23. Multi-location promotions
Be sure to find a system that enables promotions for multiple locations. You should be able to run unique promotions at individual stores, while also running larger marketing campaigns across all locations.
Retail Loss Preventions
Retail loss prevention refers to all the steps a company takes to reduce theft and fraud. Shoplifting and employee theft make up most of a $61 billion annual problem for the retail industry. And as a retail store owner, it's imperative to find solutions that can help you avoid these problems.
24
.

Inability to cancel a receipt

Start by managing it at the cashier level by limiting permissions. Don't allow cashiers to delete items on a ticket if the customer pays in cash. This makes internal theft too easy and can lead to significant losses in profit.
25. Blind cash drops
This feature prevents employees from seeing the amount of their cash deposit before they count their drawers. This helps detect recurring discrepancies.
26. Line Voids
A line void occurs when a single item is removed or voided from the transaction that was not completed. This can happen when a customer changes their mind about a purchase or when the cashier makes an error during a transaction. With KORONA POS, you can define your own customer settings by specifying who can access a single item on a ticket.
Reviewing the features above should give you an idea of which solutions are right for your stores. Now, use this knowledge to build a list of your top choices, and then contact the software providers to see if they can help you with more information.
A great retail management system will provide all of these features, allowing you to focus on growing your business rather than worrying about what you can't do. Don't settle for less.
Get Started with KORONA POS today!
Tell us a little bit about your business and explore all features that KORONA POS has to offer. And there's no commitment or credit card required.