Updated: October 12, 2022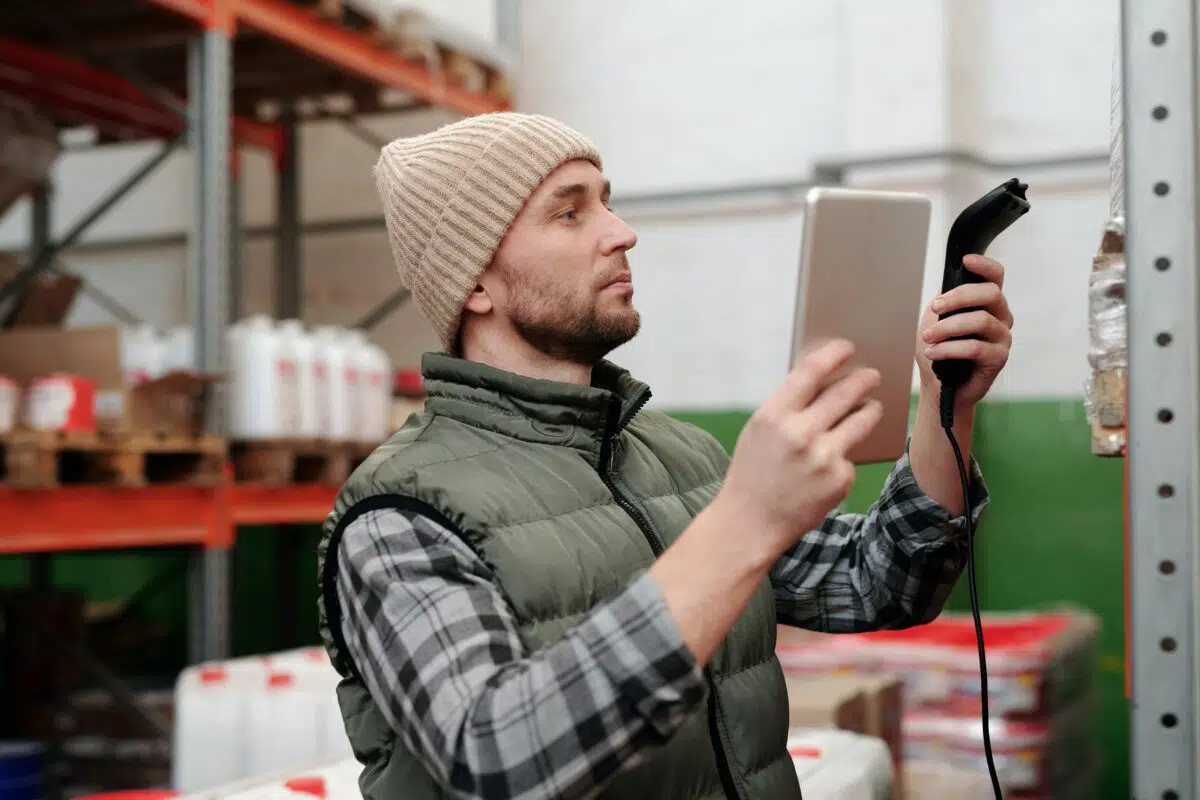 Every retail store must use on an advanced POS inventory management system. Some retailers are actually still using a handwritten ledger, or  Excel file. Others have opted for overly expensive apps and software. But merchants should be looking for real time inventory tracking and management that is combined in their retail POS system.
Not only does this save business owners money, it also makes the whole process more accurate and effective. So what inventory features should you be looking for in your retail system? Today, we'll look at 9 key retail POS features for inventory management that all retailers should look out for when shopping for your point of sale system.
See Also: 12 Essential Point of Sale (POS) System Features
1. Real Time Inventory Management With Automated Ordering and Restocking
For any retailers, it's imperative to avoid stockouts at all costs. Your retail inventory system should make keeping your shelves stocked easy. With automatic order placement, it will be. Just create a stock order in your POS system. When product numbers get down to a certain level, the same system will place a request to your suppliers. For seasonal ordering, this can also be done on a timeline rather than a product level basis. Make sure you have all of the items that your customer want, when they want them.
2. Optimization of All Product Order Levels
Prior to an automatic order being sent out, your retail point of sale software can suggest optimal reorder times. By analyzing the history of your ordering, as well as your sales, the inventory software will set minimum and maximum levels for each item in your inventory. This can be adjusted, but if your business is consistent, it should be perfectly accurate. Order optimization even takes delivery time into account. It's one of the most reliable solutions for keeping your inventory consistent and under control.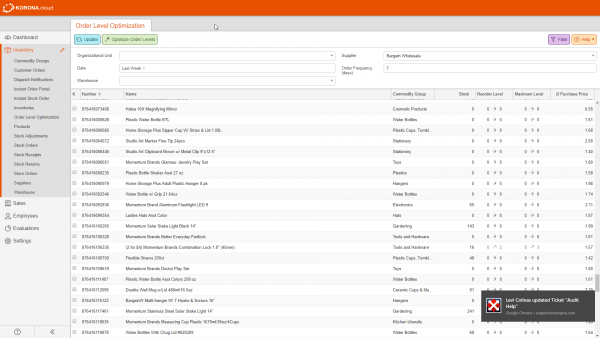 3. Cloud-Based System with Real Time Inventory Updates
Your retail inventory POS MUST be cloud-based. This means that any changes made, whether it's a sale, a return, a delivery, etc. will be updated immediately in your system, allowing for more instantaneous action if need be. All of your stock data will be kept accurate and precise with this modern retail inventory tracking technology.
See Also: Retail POS Technology – The 4 Must-Have Features in 2021
4. Product Variants and Composites
Many retail stores have many different products with just a slight difference. For instance, if you sell 8 identical hats of different colors, perhaps you want to consolidate them into one product, with just a color option cued upon checkout. This is where product composites come in. pr
Product composites allow for faster checkout speeds. If you offer a discount for 6 pairs of socks, you shouldn't have to manually enter the discount. Your point of sale should automatically account for this upon scanning.
5. Barcodes and Handheld Scanners: A Must For Real Time Inventory Tracking Systems
Real time inventory tracking more efficient and accurate using barcodes and handheld scanners. Label each product with a barcode as you enter it into your inventory. This ensures it will be tracked until the final sale. Once in inventory, use the barcode for quick scanning, either for physical inventory counts or checking out guests at the POS. Rather than logging it by hand or inputting the information into a spreadsheet, a scanner enters the product immediately, updating to your inventory count in the POS.
6. Import Bulk Lists and Products
Some retail stores have tens of thousands of products. Manually entering each item is painstaking. A smart, robust retail POS system like KORONA POS can upload groups of them all at once into its system, saving you tons of aggravation.
Your time and labor costs are vital. As such, its crucial to find real time inventory tracking software that automatically imports bulk lists. Our technicians work with all of our clients to help seamlessly migrate product inventory information no matter what type of merchandise you sell or how many different products you stock.
7. Stock Transfers
If your business is growing and it's time to open a second store, make sure that your retail POS can transfer all crossover items to the POS at the new store without issue. With a good POS system, real time inventory transfer is simple and instantaneous. KORONA POS is built for expansion. Our cloud-based point of sale software is fully scalable and ready to add on as many locations as our clients desire.
8. Promotions, Discounts, and Bundles
Have your promos and discounts automated and entered into the system ahead of time. Don't rely on manually entry at the POS from you or your staff. This set up minimizes mistakes, confusion, and keeps checkout times fast. Creating deals with the right price and correct inventory reconciliation is easy to do with KORONA POS. Best of all, you can control these discounts and promos across multiple locations.
9. Check for Inventory Irregularities
A certain level of inventory shrinkage will happen to even the most astute merchants. So when it does happen, your POS should give your insight into how it might have occurred. With a proper real time inventory tracking system, you'll be able to figure out where any discrepancies are happening. If you have a problem with your return policy, internal theft, or supplier errors, figure it out quickly through your point of sale loss prevention and inventory management.
Inventory Management Software: Top POS Features
Your retail inventory system can help your business in amazingly productive ways. If you're thinking about a new retail point of sale, look out for these inventory management features and tools:
Automatic Reorder
Optimized Order Level Suggestions
A Cloud-Based POS System
Variations and Combinations on Products
Mobile Barcode Scanners.
Bulk Import Capabilities
Mass Stock Transfers between Locations
Integrated Promos and Loyalty Programs
Discrepancy Analysis
KORONA's retail POS has all of these features. Give us a call today to learn more about our cloud-based point of sale software and how it can help your retail business.
Get Started with KORONA POS today!
Tell us a little bit about your business and explore all features that KORONA POS has to offer. And there's no commitment or credit card required.
Frequently Asked Questions About Responding To Customer Complaints
What is real time inventory tracking?
Real time inventory tracking is a modern, technology driven system of accounting for all of your retail product stock. Using barcodes, scanners, software, and other tools, your stocking, returns, and sales will be updated automatically across all channels and locations.  A cloud-based, robust point of sale system can actually offer all of the real time inventory tracking that a retail business needs.
What type of system tracks inventory?
There are specific software application systems that track inventory. Nonetheless, many small retail businesses can use their point of sale system to track their product levels. In fact, a smart, modern, cloud-based POS will offer more than enough inventory tracking power as long as it is used correctly.
What is perpetual system of inventory?
A perpetual system of inventor  is similar to real time inventory tracking. Every time there is a transaction or new supply of products to stock, the system will update remotely to reflect the correct numbers. As more and more technology is used by retail businesses, perpetual inventory is likely to be become the standard.