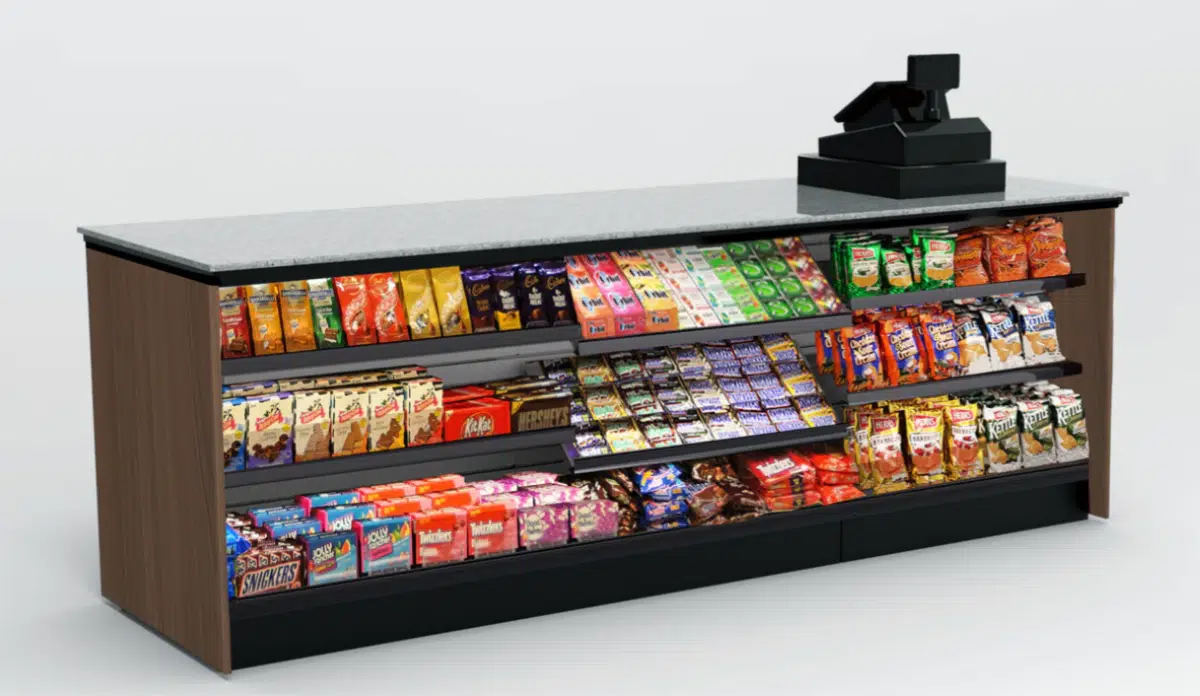 Every retail store needs a point of sale to process and complete transactions. The POS equipment and cash register stands must be installed in a specific area to accept payment from each customer. This location is called the cash wrap. The cash wrap is also the ideal point to encourage customers to make additional purchases, reinforce your brand image, and create a seamless retail checkout experience.
This article will walk you through what makes up a retail cash wrap counter, the different types of cash wraps in retail, and how to build an effective cash wrap counter for your store. Let's dive into it.
Table of Contents
What Is Cash Wrap Counter In Retail?
The cash wrap is a space in your retail store that houses your cash register and allows your employees to accept payments from customers. Each customer must pass through this area before leaving your store, whether they buy something or not. The cash wrap counter may also include the surrounding area, such as retail displays and nearby aisles.
You can leverage the cash wrap area to encourage customers to make more purchases. The idea is not to display large items at the checkout counter but to focus on impulse purchases and maximize your space. Depending on your store, you may consider showing convenience items like car chargers, gift cards, or other everyday items. Unfortunately, most retailers do not leverage the potential of the cash wrap area or even overlook it entirely.
What Are The Aspects To Consider When Designing A Retail Cash Wrap
Building an effective cash wrap counter takes more than just a POS system or a cash register. Aspects such as your retail store layout, the type of cash wrap, and even the effectiveness of your retail POS system are all factors that affect the establishment of a checkout counter. Here are some elements you should take into account:
Consider the available space you have
Some questions you need to ask yourself about your space include:
How much space do you have?

How does the cash wrap fit into the layout of your store?

Is my cash wrap area near the entrance/exit?

How much space does the POS hardware take up?
The space you need to set aside for your checkout counter should be enough to hold at least your cash register, POS hardware, and your customers' purchases. It is often recommended to have a checkout counter length of at least 2.5 to 3 feet for customers.
A length less than this means that the cash wrap counter is not large enough to hold customer purchases, and customers may feel like they are buying too much. A larger space, on the other hand, may subtly encourage them to buy more due to the extra space around the register.
Your checkout counter should also be large enough to display one or two small impulse items, calls-to-action to leave reviews, or opportunities to sign up for your loyalty program. If possible, a small digital sign or kiosk is a good idea so you can highlight new products or promotions.
You should also consider additional space if the products you sell need to be packaged or bagged. It's also a good idea to have cash wraps designed with parallel counters and leave at least three feet between them so that employees have room to move around, bend over to access cabinets, etc. Refer to the Americans with Disabilities Act standards, which requires retailers to provide at least 30 to 40 inches of space in front of the register.
See also: The Retail Debate: POS System vs Cash Register
Choose the right design
When choosing the best cash wraps for your store, consider the available floor space, the kinds of countertop tasks you need to perform, and the number of POS systems you need to meet customers' demands. There are several types of cash wraps available: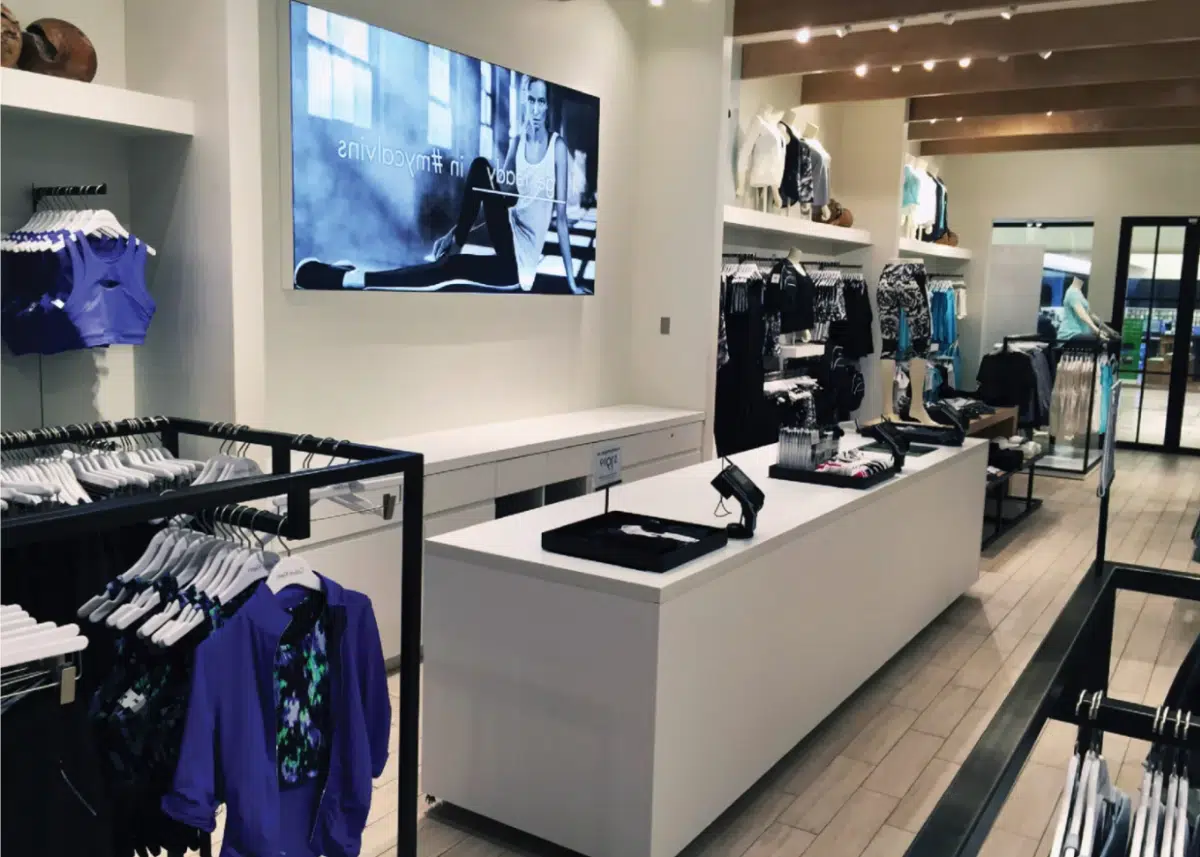 Single counter cash wrap
The single counter cash wraps feature a counter that is usually parallel to a wall. It is the option that requires the least amount of space, making it ideal for small window displays and stores that don't need much space behind their counter. However, this type of cash wrap counter is also used by large retailers who need a long checkout with several registers.
For example, single-cash wrap checkout systems are used by a range of different types of retailers. Grocery stores can use them because scanning and wrapping groceries are the only tasks they need to perform. But so can apparel retailers, such as the one pictured above. You'll need to budget between $400 and $3,000 for this type of checkout space.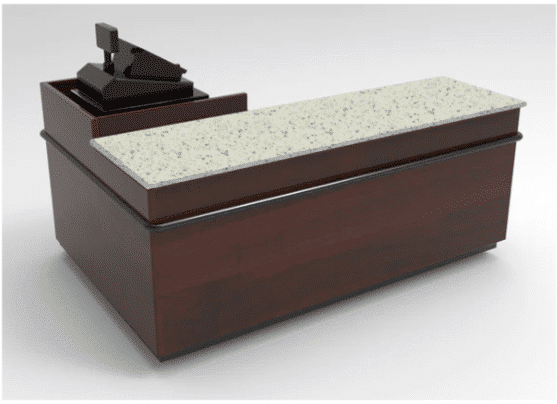 L-shaped cash wrap
Also known as L-shaped or a dual cash wrap, this type of retail cash wrap has two separate counters: one for product display and one for customer checkout. In addition, both counters can be used as cash stations to get people out the door faster.
The dual cash wrap is best suited for stores with a larger footprint, those with higher customer flow, and those that require tasks to be performed at the cash register.
For example, this type of cash wrap counter is most often found in coffee shops, as it allows one side of the counter to take orders and the other to distribute them to customers. You can also find this layout in a fabric store, where one side is used to take orders and the other to cut out custom samples. The price of an L-shaped cash wrap case ranges from $1,000 to $5,000.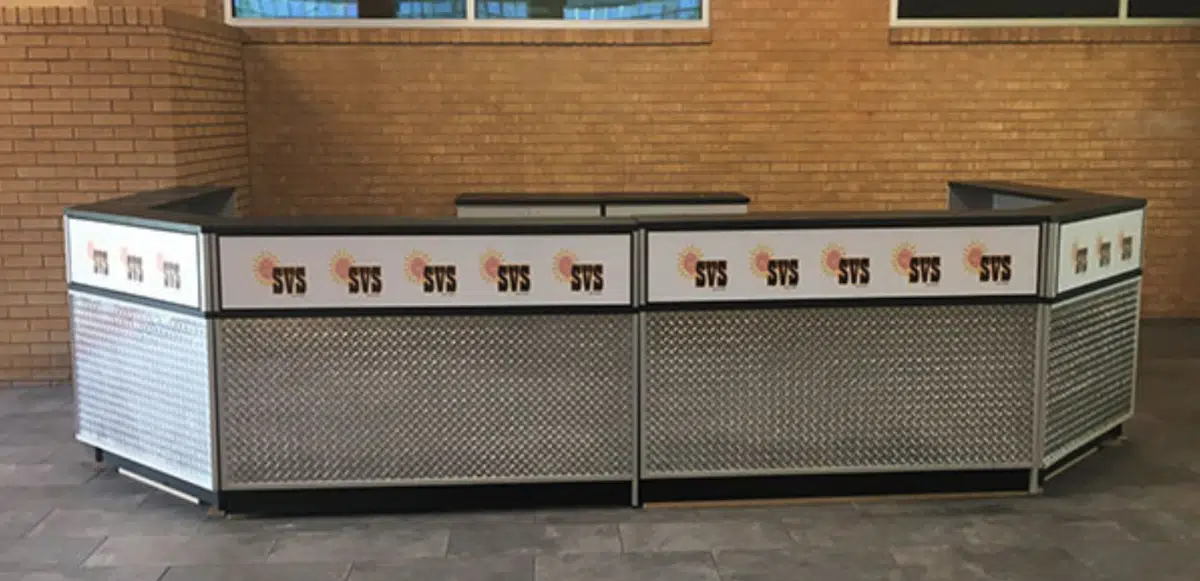 U-shaped cash wrap
Another common type of cash wrap counter is the U-shaped cash wrap counter which has three counter areas that can be used by multiple cashiers. This type of cash wrap counter is ideal for retail stores that require numerous people behind the cash register to help customers or handle other tasks. If you have multiple items to store behind the register, this is also ideal, as it offers the most storage space.
The U-shaped cash wrap is often found in jewelry stores, as it allows multiple employees to stand behind the counter to help customers look at the jewelry. It also gives them maximum space to display their pieces and store supplies. You can also find them in stores that offer gift wrapping or in stores that need space for tasks done in the checkout process. You need to budget between $1200 and $10,000 to get a U-shaped cash wrap.
Custom cash wraps
Some people prefer to have a cash wrap counter customized to the layout that meets their needs. There are several reasons for this choice: an irregular shape of the space, specific usage criteria to be considered, or a desire for a more unique design. Such a solution will inevitably be more expensive and will likely take some time to complete, but for specialty or high-end retailers, the extra cost will be worth it.
Use a top-notch POS system tailored to your needs
Having the best cash wrap counter is one thing. But having an exceptional point of sale software is even better. A cluttered cash register can indicate that your business is not meeting consumers' modern needs, which can negatively impact your checkout experience.
You Might Also Want To Read: 8 Tips for a Fast Retail Checkout Experience in High-Volume Stores
As a retail store owner or manager, you need to ensure that your POS system can process and accept payments as quickly as possible. The software should also be able to integrate eCommerce features in case you want to sell online. A good POS software should also be able to issue electronic invoices and have a queue management system so that you don't keep your customers waiting for a long time.
KORONA POS is suitable for just about any retail business, from convenience stores and grocery stores to coffee shops and QSRs. If you are looking for a POS system or would like to upgrade your current POS software, please click on the button below for a product demo with one of our specialists.
How To Leverage Your Cash Wrap Counter to Drive More Sales?
According to a CreditCards survey, more than 90% of customers have made an impulse purchase, and 79% do so in brick-and-mortar stores. If you are a regular shopper, the chances are that once you get to the checkout, you realize that you forgot to buy something important.
That's why the cash register is the most effective way to attract small, inexpensive items, which can significantly increase your total sales. Here are some tips you can implement to leverage your counter.
Promote impulse sales
According to slickdeals, consumers spend $3,312 per year on impulse purchases. Your checkout is the perfect place to stock relatively inexpensive novelty merchandise that customers will find hard to resist. Many of the most common items seen around cash registers are snacks, jewelry, and cards. Products that attract kids' attention are also a good idea. They can be quite persuasive with their parents.
See related: 8 Ways to Market the Retail Checkout Counter and POS Area
In the end, think about what items complement your product line and what products your customers will like. Just make sure that whatever you choose is small and affordable.
Leverage loyalty programs
Loyalty programs are an excellent way for retailers and other large businesses to grow their customer base and build loyalty by offering rewards, discounts, and other special incentives. At this point, customers have already decided that they like your business enough to make a purchase and especially recommend your products to their friends and family. Use signage around your checkout to advertise your rewards program and offer a QR code or other digital option for getting signed up.
See related: What Is Referral Marketing? 6 Ways for Retailers to Grow Their Business
Cash wraps are about a lot more than just payments. The area is the centerpiece of many vital aspects of your business, helping drive sales, build customer loyalty, and grow your brand. By paying attention to the most important aspects mentioned in this article, you are ready to design a cash wrap counter that suits your business and helps you maximize its full potential.
See related: Cash Handling Procedures in Retail: The Ultimate Guide To Protecting Your Money
Get Started with KORONA POS today!
Tell us a little bit about your business and explore all features that KORONA POS has to offer. And there's no commitment or credit card required.
FAQs: Retail Cash Wrap
How big should a cash wrap be?
The size of your cash wrap area depends on the shape of your store, your floor, and how busy your store is with customers. However, your entire cash wrap area, your counter, and the surrounding space should be at most 15-20% of your store's total area.
What is cash wrap in retail?
The cash wrap area is the place in your store where employees accept payments from customers through a point of sale system. The cash wrap area may also include surrounding areas, such as aisles and retail displays. 
Why are cash wraps important?
An effective cash wrap enables fast checkouts, added sales, and higher customer retention. Only place relevant, moderately priced, and valuable items at your checkout. This will encourage customers to buy more of your products, but it will also make your employees more aware of customer needs.
What is a custom retail cash wrap counter?
A custom cash wrap is a counter that some retailers have designed based on an irregularly shaped space or a need for something more unique. The counter is designed to meet their requirements and needs.