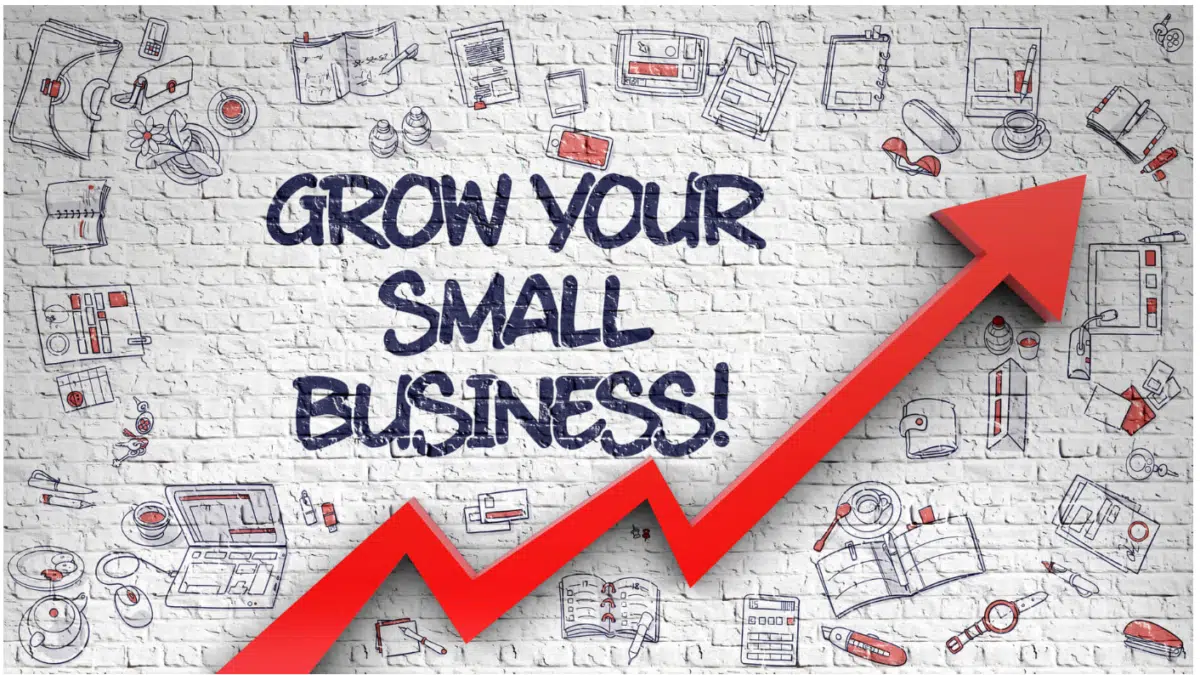 Managing a successful small business takes many aspects into account. Managing your employees, your suppliers, and the company's finances are all challenges. In addition to knowing the basics of small business, you also need to know about financial management, human resource management, technology, inventory, and the laws and regulations pertaining to your business. Check out the following blog to learn more about how to successfully manage a small business.
Table of Contents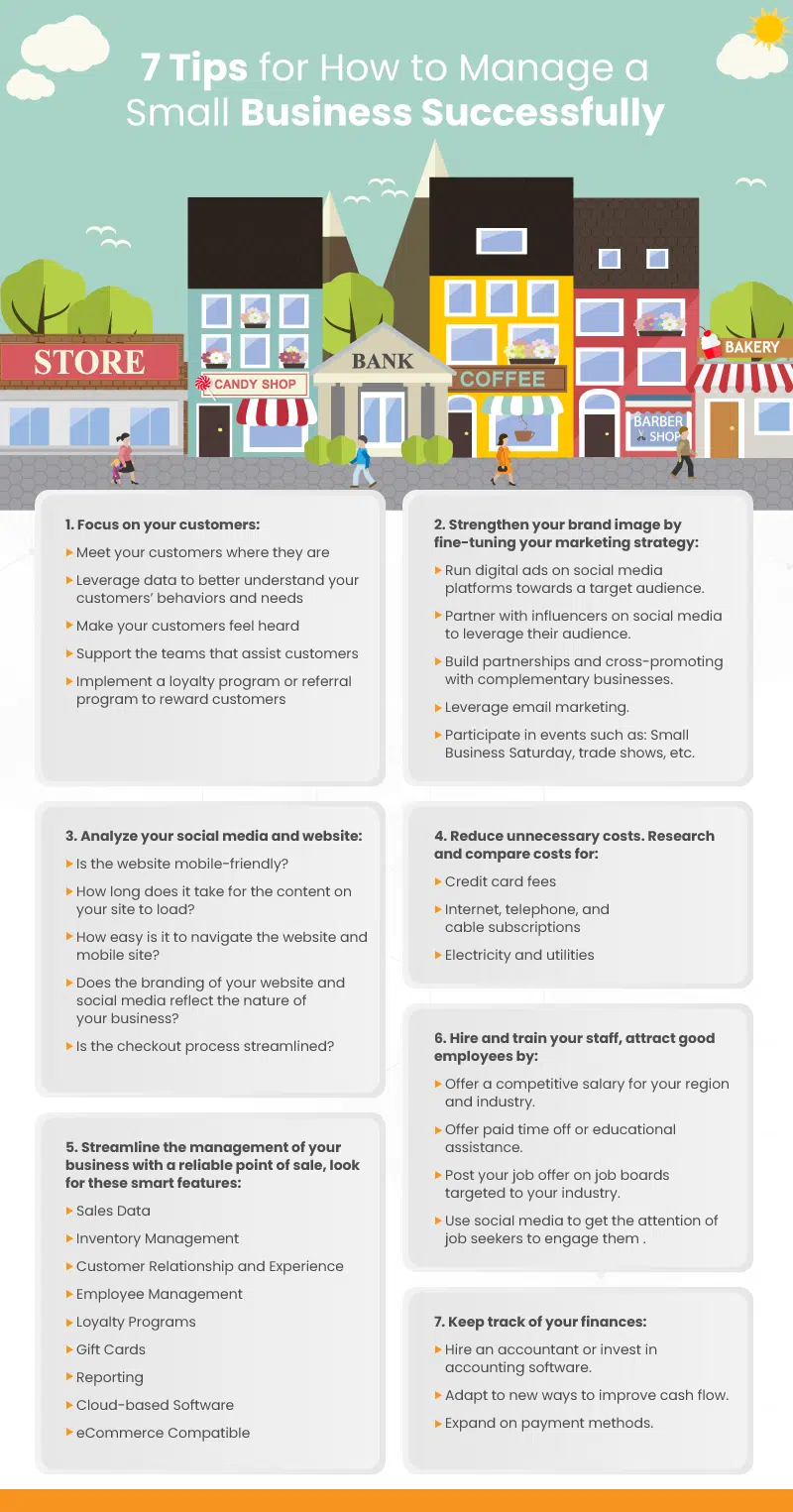 Focus On Your Customers
For a company to be successful, it must ensure that it is customer-centric, which means that it understands the needs of its current customer base and is working to reach a new one. Satisfied customers can generate profits through customer retention and referrals and lower customer acquisition costs.
Lack of customer focus, on the other hand, can drive churn. 61% of customers say they would switch to a competing company after one bad customer service experience, and 76% say they would switch to a competitive company after several bad customer service experiences. Yet there are several strategies to improve your customer focus strategy:
Meet your customers where they are

Leverage data to better understand your customers' behaviors and needs

Make your customers feel heard

Support the teams that assist customers
You can also implement a loyalty program that rewards customers with discounts or other incentives. Launch a referral program to encourage existing customers to tell their friends and family about your business. You might also get customers to fill out a questionnaire to better understand their needs.
Strengthen Your Brand Image By Fine-Tuning Your Marketing Strategy
Running a successful small business is all about growing your brand and making it known to new consumers. And for that to happen, you need to make marketing and advertising your main focus. Online and digital marketing is especially important as more people purchase online. According to a study published by Statista, eCommerce retail sales – including digital services – are expected to exceed $1 trillion in the United States by 2022. This figure represents an expected increase of 16% over the previous year when sales were estimated at $919 billion. After 2022, sales are predicted to continue to grow at a double-digit rate, though with a slight dip in the growth rate toward the middle of the decade.
Here are some of the ways you can expand your marketing footprint:
Running digital ads on social media platforms where your target audience is likely to spend time.

Partner with influencers on social media to leverage their audience.

Building partnerships and cross-promoting with complementary businesses.

Participate in highly visible promotions, such as Small Business Saturday, trade shows, etc.

Leverage content marketing with a blog or website.

Run free workshops or courses if they are relevant to your company's products and services.

Organize giveaways or contests on your networking platforms, rewarding the winners. This will give more exposure to your products.
Always Check Your Website And Social Media Platform
The advent of the COVID-19 pandemic has reinforced the need for businesses to have a website and social media accounts. This is even more necessary for businesses in the retail industry as traditional brick-and-mortar retailers have been caught by online retail outlets.
Such an adjustment can be seen at the pinnacle of the retail world: Costco, Walmart, and Target are among the fastest-growing companies for online retail sales. Small businesses can do the same. By auditing your social media accounts and website, you can ensure that you provide your customers the best possible experience. So, if you've already created a website for your retail business, here are some key questions to ask yourself to make sure you're providing the best possible experience for your customers:
Is the website mobile-friendly?

How long does it take for the content on a particular web page on your site to load?

How easy is it to navigate the website and mobile site?

Does the branding of your website and social media reflect the nature of your business?

Does the content you promote on social media generate positive conversations or feedback?

Is the content on your website easy to share?

Does your content rank well in search engine results?

Is the checkout process streamlined?
You may outsource social media and website content to a social media manager or SEO agency if it significantly increases your sales or customers.
Reduce Unnecessary Costs
Cash flow management is another common characteristic of successful small businesses. And, in such times as 2022, where inflation is at an all-time high, it's crucial to consider what you can cut to keep your cash flow positive. For example, in the retail industry, owners face many operational expenses. While some of them are essential, others are not, and you need to get rid of them. Take stock of these expenses and compare their cost to the value they bring to your retail business. Some of these expenses to cut might include the list below:
Credit card fees – There are fees associated with accepting credit card payments from customers, and these fees can eat into your profits. However, that doesn't mean you have to abandon this payment method altogether, especially considering the global trend to move to cashless consumer spending. Instead, you should find out exactly how much your payment processor is charging you. Sometimes the payment processor is also your POS provider. In such a situation, opting for a POS system that allows you to use any payment processor of your choice might be better. This allows you to negotiate your rates better and have a clearer idea of the costs associated with credit card fees.
Upgrade Your POS System With KORONA POS
Internet, telephone, and cable subscriptions – Ask yourself if you actually use these services. If so, how important are they to your daily business interactions? Check for cheaper plans, including special promotions or rates for small businesses, and find out if the same services are more affordable with another provider.
Electricity and utilities – Brick-and-mortar retailers can find ways to reduce the cost of keeping their business running. Consider turning down the air conditioning in the summer; opt for energy-efficient light bulbs. Small actions can add up to big savings over time.
Streamline The Management Of Your Business With The Right Technology
The benefit of investing in technology is that it will save time and money. Technology tools are crucial to successful small business management. The more you can streamline your business operations, the easier it is to focus on tasks that can drive growth. A customer relationship management (CRM) system allows you to store information about customers, which you can then use to identify sales opportunities or refine your marketing efforts. Cloud-based accounting software can simplify file management and financial management for your business. Instead of using traditional cash registers, consider replacing these outdated technologies with a sophisticated point of sale software to improve the customer experience and potentially boost sales. Upgrading your POS systems, for example, could speed up the checkout process. Again, for retail owners, using point of sale software is a must for streamlining their store operations. There are some general POS features that all retail small business owners should look for:
Sales Data

Customer Relationship and Experience

Employee Management

Loyalty Programs

Reporting

eCommerce Compatible
Hire And Train Your Staff
The human factor is, above all, the most important resource for the successful management of a small business. Having the right employees can make a difference in your success. A rude or poorly-trained person can repel customers and give your business a low reputation. On the other hand, an employee who treats customers well and goes above and beyond to meet their needs can keep customers coming back.
Recruiting the right employees starts with setting clear expectations for the role(s) you are hiring for. Once you know what you're looking for, you can create and promote job postings to attract talent that fits your list of ideals. As a small business owner, you need to know how to retain valuable employees by offering benefits such as flexible hours, happy hours, and team-building activities. To attract top talent to your company, you can also try the following tips:
Offer a competitive salary for your region and industry

Offer paid time off or educational assistance

Post your job offer on job boards targeted to your industry

Use social media to get the attention of job seekers to engage them
Training your employees is a critical part of your company's success. While you may hire the smartest people in the world, it will take some time for them to understand the ins and outs of your business and how to set things up to achieve long-term goals. That's why it's vital for a small business to train its employees well.
Develop a training plan that will make your employees feel more competent and empowered in their work. There is no point in hiring employees and letting them go after a while. Make sure you can keep them by increasing benefits over time or by promoting career development.
Keep Track Of Your Finances
When you start a new business, it's easy to keep track of the money coming in and going out of the business. However, this task can become a real headache as your business grows. That's why you should either hire a full-time accountant or invest in easy-to-use accounting software that helps you track your finances and save your dollars.
You can open business financial accounts and keep receipts in accounting software to track your small business expenses. Also, think about how you can improve your cash flow. For example, if you have customers who often pay late, you might consider charging a late payment penalty to encourage them to pay on time. You could also expand the range of payment methods you accept to make it easier for customers to pay without waiting for the money to arrive.
Wrapping Up: How Do You Successfully Manage a Small Business?
The first step to successfully managing a small business is to put customer satisfaction at the heart of everything you do. Hire and train your staff to your expectations, and above all think of a way to retain them. If you are a brick-and-mortar store, that's fine. But it is not enough. With online shopping becoming more and more inescapable, it is imperative that you also have an online store to meet the demands and requirements of your consumers.
A good small business management strategy is also to reduce unnecessary operating costs. This will enable you to be cash-positive. Finally, streamline the management of your business with the latest technology. Point of sale systems, accounting systems, and CRM are all software that can save you time and keep track of your business.
Get Started with KORONA POS today!
Tell us a little bit about your business and explore all features that KORONA POS has to offer. And there's no commitment or credit card required.
FAQs: How Do You Successfully Manage a Small Business
How do you run a successful small business?
To run a successful small business, you must first have a clear idea of what your customers want and who they really are. You also need a marketing strategy to better sell your brand and products through marketing campaigns and social media. Hire competent people to work for you, and use new technologies to manage your business better. Control your budget and constantly seek to have a positive cash flow. 
When should you hire someone for your small business?
Getting someone to work for your small business can make sense if you're a one-person business and need help managing everything you need to do. You can delegate tasks to employees that you would otherwise do yourself to free up time to focus on growth projects. Knowing how to retain your employees once they are working for you is also important. 
What is the most common reason for a small business to fail?
According to several sources, the most common reasons small businesses fail are a lack of capital or funding, an inadequate management team, a faulty infrastructure or business model, and unsuccessful marketing initiatives.
How do you attract customers to your retail store?
There are several tricks to attract consumers to your retail store. You can offer your customers the buy online, pick up in-store strategy. Provide constant information about online inventory. For this, you will need an eCommerce POS integration to synchronize your online and physical stores. Optimize your website for local searches.