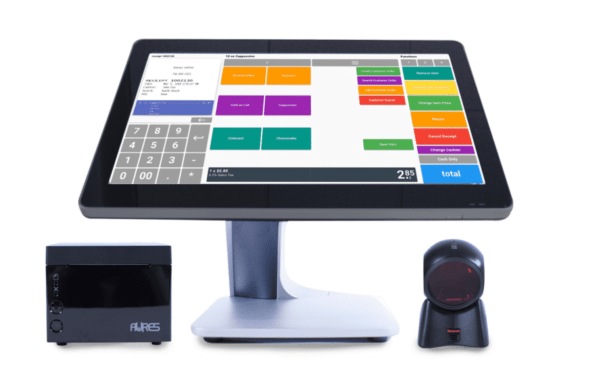 ---
If you're a retailer, you already know the importance of having an efficient point of sale system. But what is a POS integration, and why should you care? Simply put, retail POS integration is the process of connecting all the components and systems of your retail business – from payment software to inventory management – into one unified system.
A POS integration aims to create a seamless collaboration between your POS system and the associated systems and devices. This allows retailers to collect, store and analyze data in real-time. It also makes transactions more efficient by streamlining numerous steps. For example, with an integrated eCommerce POS system, customers can purchase items online and pick them up in-store without any additional paperwork or processes.
Such efficiency was impossible before a POS integration. The process unifies all aspects of your retail operations into one coherent platform, such as inventory management, customer loyalty programs, payment processing, and analytics. Therefore, investing in the right retail POS integrations can help improve your bottom line and make running your business easier.
Table of contents
Benefits of Integrating a POS System
Having a retail POS that can be integrated with other applications in your ecosystem is a game-changer. By having a seamless connection between all your applications, you can do so much more:
Automatically sync data between the applications, eliminating the need for manual entry by staff
Create an efficient workflow to ensure accuracy and productivity
Streamline data from multiple sources into one single report
Monitor sales and inventory and generate more accurate reports
Integrating a POS system offers even more advantages for retailers with an eCommerce store. With an eCommerce POS integration, you can create a unified commerce environment where your customers can access products from both your physical and online stores. This allows you to manage inventory across multiple locations in real-time and easily track orders placed at both locations. Last but not least, hardware integrations, like barcode scanners and credit card terminals, streamline the checkout process and make transactions smoother and faster.
Selecting POS Integrations for Your Retail Store
Selecting the right POS integrations for your retail store can significantly affect how efficiently you manage your business. You want to ensure that the integrations you choose fit your business's needs and have a good reputation in the marketplace.
Here are some of the top POS integrations you should consider for your retail store:
Inventory Management
Inventory management is an integral part of any retail operation. If you don't have a good system in place, it can be challenging to stay on top of orders and keep track of inventory levels.
Integrating your POS with inventory management software enables you to manage your stock more efficiently. This way, you can also keep track of sales analytics and gather essential data about customer preferences, which will help you make better decisions for your business.
Payment Processing
When it comes to payment processing, having an integrated solution is essential for ensuring a smooth checkout experience. With an integrated payment processor, your customers can pay with their preferred payment method—credit cards, debit cards, or even digital wallets—without waiting in line or signing up for special accounts.
See also: Payment Processing: Integrated Payments vs. Non-Integrated
eCommerce Integration
If you want to take advantage of online sales opportunities, ensure that your POS is integrated with eCommerce software, too. This enables customers to shop online while still getting in-store experiences, like product recommendations based on their purchase history. It also helps synchronize data between online and offline stores, making it easier for retailers to see the big picture regarding sales and marketing insights.
Employee Scheduling
Integrating a POS system with employee scheduling software is often overlooked. Scheduling time off or managing overtime becomes far more straightforward when staff is synced up electronically—plus, there are even more features, like payroll tracking, time tracking, and leave management.
Accounting
Accounting is another important area to consider for integrations. Keeping your accounting and sales in the same system will save time and allows retailers to complete taxes much more efficiently and accurately.
Hardware Integrations to Consider
Another critical component of a successful retail POS integration is hardware. You should consider many hardware integrations to improve the customer experience and ensure your POS system works well.
Here are a few of the most common hardware integrations for retailers:
Barcode scanners: Barcode scanners are essential for retail stores to quickly and accurately identify items. With a barcode scanner, you can smoothly check out customers, manage your inventory, and update your prices easily.
Card readers: Card readers allow customers to pay with their credit or debit cards, providing an extra layer of convenience for your customers.
Cash drawers: Cash drawers provide quick access to cash transactions, making it easier for customers to pay and keep everyone organized.
Handheld POS terminals: Handheld POS terminals are great if you have multiple checkout stations or need more mobility in your store. They make it easier for employees to move around while still being able to check customers out quickly and easily.
These are just some of the hardware integrations that can make your retail POS system more efficient and effective. For retail businesses with an eCommerce presence, eCommerce POS integration is also essential—it makes it easier for retailers to manage both their physical and online stores without switching back and forth between different systems or constantly updating prices across channels.
See also: Choosing The Right POS Kit: A Guide For Retailers
Transitioning to an Integrated System
Upgrading to an integrated system not only saves you time but money too. Having a single, unified system ensures minimal mistakes and maximum efficiency. With an integrated system, you can rest assured that all sales are tracked accurately and that no data slip through the cracks. Plus, tracking overall revenue is much easier if you have a physical store and sell online.
When transitioning to an integrated system, there are a few key factors to consider. Firstly, you need to decide which software is best for your business – the number of features offered comes into play here. You should also think about hardware integrations such as cash drawers and barcode scanners – these will help streamline the sales process for customers in-store. Finally, consider eCommerce POS integration for retailers with an online store; most POS systems now offer this feature as it's become essential for merchants who serve both brick-and-mortar and digital customers.
With these things in mind, you'll be ready to transition your retail business from manual processes to an integrated POS system that's tailored to your business needs.
How to Choose a POS Integration
Choosing the right retail POS integration for your business can be overwhelming and time-consuming, but it doesn't have to be. With a few steps, you can find the right POS integration for your business.
Step 1: Assess your business needs
The first step in choosing a POS integration is to assess your business needs. What type of software or hardware do you need? Does it need to integrate with an inventory management system or have eCommerce capability? Understanding what features you need and what integrations are available will help narrow down your options.
Step 2: Make a list and explore your options
Once you've assessed your business needs, list possible POS integrations that fit those needs. Then, explore each option – read reviews, compare pricing models, and check out the software's features. Doing so will help you determine which POS integration best fits your specific situation.
Step 3: Do your due diligence
After narrowing down your list of potential integrations, make sure to do some due diligence on each one. Research customer reviews, reputation, and their technical support team before making decisions. This will ensure that whatever integration you choose is reliable and provides good customer service when needed. Don't hesitate to hop on demo calls with product specialists to explore all the options available to you.
Step 4: Check compatibility with your POS software
Finally, ensure your integration is compatible with your existing point of sale software system. It won't be useful if it doesn't work with the existing system. Checking compatibility ahead of time is key to getting the most out of any retail POS integrations.
By leveraging an integrated POS system, such as KORONA POS, businesses can drive sales growth while improving efficiency and customer satisfaction. KORONA POS integrated retail solutions offer businesses the ability to seamlessly manage sales at multiple locations while providing real-time visibility into all parts of their operations – from inventory to sales performance.
Some KORONA POS Partners and Integrations
KORONA POS offers its users a well-integrated and omnichannel experience. Check out some of the most popular integrations to KORONA POS:
springbig: springbig is the leader in marketing technology for highly-regulated industries, such as cannabis and liquor. Our platform allows retailers in these industries to create effective marketing campaigns that bring new customers in and keep them coming back while remaining compliant with the ever-changing regulations that govern marketing practices.
Bottlecapps: Bottlecapps is a cutting-edge solutions company focused on bringing beer, wine, and liquor stores into the eCommerce era. Bottlecapps is a connection and communication tool that helps liquor stores stay in touch with their customers, build loyalty, and increase sales. If you have a liquor store and want to go digital, Bottlecapps is a great solution. KORONA POS offers your beer, wine, and spirits stores an integration with Bottlecapps, allowing them to better manage their marketing strategies.
bLoyal is directly synced with all KORONA POS and eCommerce transactions. Customer loyalty and membership benefits apply automatically, with no additional hardware required.
LineupApp is for any retail business that needs to manage queues to speed up service and streamline waiting lists. Integrated with KORONA POS, this integration makes the checkout in your retail store fast and improves customer service.
TimeForge is a labor-management platform developed to include integrated timekeeping, sales forecasting, and human resources (among others) – all working together to proactively keep companies in compliance with the latest labor laws. It can easily integrate with KORONA POS, allowing you to effectively track the efficiency of your teams and payroll.
mapAds is a software that allows brick-and-mortar retailers to display their products online to local consumers. mapAds automatically displays ads to a locally-targeting audience through Google, Facebook, Instagram, and YouTube. You can activate mapAds for free as a widget through KORONA POS.
BLUbeem by Brink's partners with third-party payment providers to simplify cash processing and digital payment processing, creating an easy and accessible total payment solution for businesses.
Wondering what other software can be integrated with KORONA essential for your store management? Book a demo with one of our product specialists to find out and learn more about KORONA POS.
Conclusion
In short, if you're a retail business owner, you should consider a POS integration solution for your store. It'll save you time and money, and you'll have access to a comprehensive system that can help you streamline operations, improve customer service, and make more data-driven decisions.
Plus, regardless of whether you're a small business with a single store or an eCommerce business, you'll have a variety of integration options to choose from, so you can customize your system to meet the individual needs of your business. With the right combination of hardware and software, you'll have a reliable and efficient POS system to help your business stay competitive and thrive in an increasingly digital marketplace.