Last Updated: 9/21/2023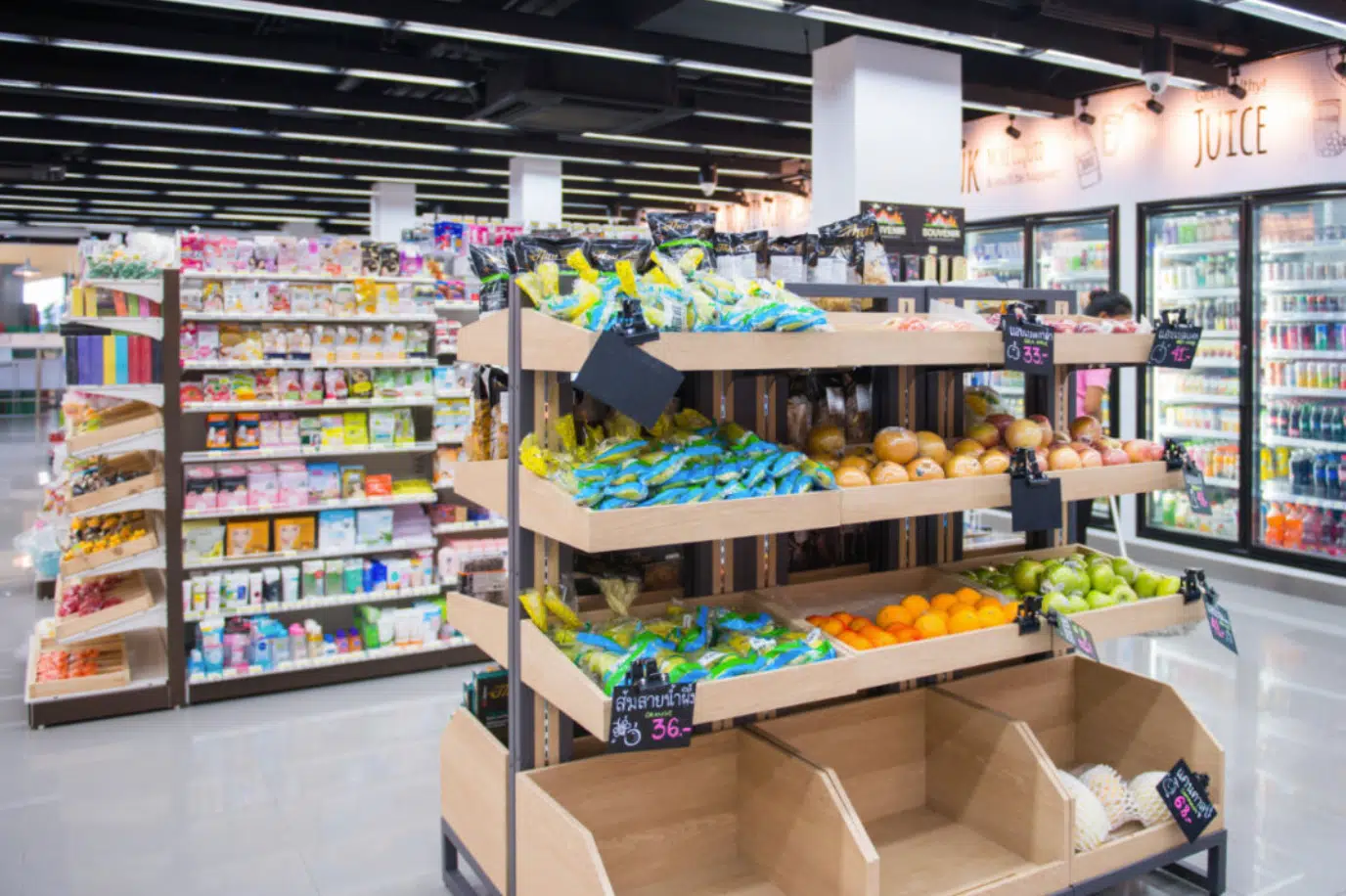 Starting a convenience store can be nerve-wracking, but it's easy to pull off if you know the most important steps to get there. The first step is to come up with a detailed business plan. Next, look for an ideal location for your store, one that is ideal for foot traffic. Make sure you have all the required licenses and permits before you open your store. Choose your product line and finance your project.
If you're considering becoming a convenience store owner, you've come to the right spot. According to a 2023 study by NACS Magazine, there were more than 150,000 convenience stores in the United States. The majority of them were independent stores and the overall convenience store sector in the United States had sales of 814 billion U.S. dollars that year.
Overall, convenience stores recorded an average 9% increase in sales in 2022. This sales growth is an essential indicator of the profitability of convenience stores. And if you are thinking of opening one, chances are you will succeed if you follow the best practices, get the right technology, and follow the proper legal procedures. But the million-dollar question is how to start up a convenience store. In this guide, we'll walk you through the steps to follow and how to run your convenience store. Here are the major points we'll cover:
Table of Contents
1. What Are The Steps to Successfully Open And Manage a Convenience Store?
Before you consider opening a convenience store, you need to conduct some research to ensure you've made the right choice. It's essential to use every trick to run your operation profitably. Here are seven tips to increase your chances of success in your c-store.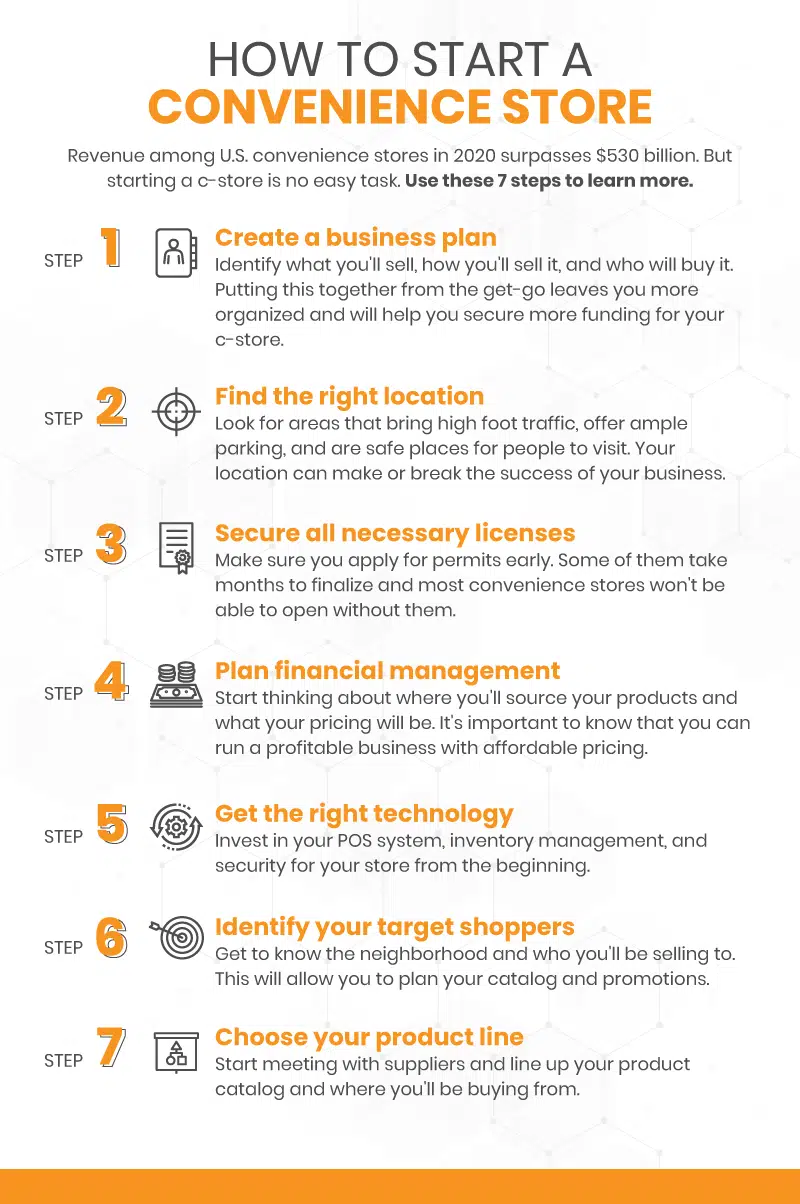 Step 1: Create a business plan for your convenience store
As an entrepreneur, it is essential to develop a clear business plan, which can help you pinpoint the specifics of your business's operation, uncover the blind spots, and better guide your budget. Since running a convenience store involves paying close attention to margins, creating a business plan before you start is a good idea.
The business plan is a must if you need bank financing to open or purchase the store. This prerequisite for opening a convenience store will help you be more successful and is worth investing time into it from the beginning.
Before making this plan, you must study and understand specific business parameters such as the products you'll sell, prices, foot traffic, and revenue projections. Another couple of critical parameter to take into account are your competitors and your ideal customer profile.
In your business plan, a part will be dedicated to establishing your start-up costs and your operating costs. You need to put all this together in the form of a financial forecast in order to convince the bank (or other less traditional financial lenders) to grant you the funds necessary to open your store.
Step 2: Pick a good location for your c-store
No matter how good your product or marketing strategy is, a bad location will not bring you enough customers, thus threatening the future of your business. This is true whether you are opening a brand new store or buying an existing convenience store. The first thing you need to do to make sure you have chosen the right location is to measure the foot traffic. Here is how you can go about it:
Count the customers outside for several hours or hire someone to do it for you. Although this strategy is tedious, it is effective.
Get in touch with the existing store owner to get a clear idea of the number of customers per day or week.

Use the service of a company that can help you track foot traffic in a location using cell phone data.
See related: 8 Marketing Ideas To Drive Foot Traffic to Your Retail Store
Alongside that, there are some other good general rules of thumb to ensure more success:
Don't be surrounded by more than two or three stores such as drugstore chains or large grocery stores.

Do not choose a location hidden at the end of an alley in an office building complex.

A good location can get regular customers, such as a neighborhood corner, a large office complex, or a school zone.

Your site should also offer ample and suitable parking and be easily accessible.
Learn More About How To Find a Good Business Location here.
Step 3: Get the right licenses before you open your convenience store
Before opening a convenience store, you must fulfill several administrative formalities to comply with the laws of your state or county. This includes obtaining licenses and permits to ensure the legality of your operation and avoid stressful and costly issues down the road.
See related: Types of Business Licenses for Small Businesses
The typical licenses and permits you will need for your convenience store are the following:
Employer identification number (EIN)

Occupation permit

Alcohol and tobacco license

City or county business license

Health permit

Lottery license

Gas permit
However, obtaining these items can be time-consuming and tedious. For example, you must demonstrate that your building and facilities comply with your state's regulations to get an occupancy permit. This whole process can take quite some time, especially in certain densely populated areas, so be sure to plan well in advance to avoid delays to your store's opening.
Step 4: Focus on financial management
Be in the driver's seat with your finances rather than waiting for problems to arise. Check each product's sales ratio and gross profit margin to see cost-efficient products and optimize your purchasing and pricing better.
One important area to consider is retail shrinkage. When you see mismatches between sales and inventory, you need to be on your toes as this may indicate theft.
Also, keep a close eye on your cash flow. A great way to control your finances is to constantly look for ways to reduce production costs by negotiating the purchase price of your items from your suppliers and eliminating order inefficiencies that cause poor inventory management.
Remember to continuously optimize sales volumes and prices as the profitability of convenience store businesses are based on high volumes and low margins.
Step 5: Invest in sound technology and security systems
For better financial and inventory management of your convenience store, it is essential to have an up-to-date cloud-based retail point of sales (POS) system. A cloud-based POS system helps you access all data and reports remotely as long as you have an internet-connected device adding much-needed convenience and flexibility.
As a convenience store owner, you don't constantly need to be on your premises. You can therefore track everything related to operations and other business activities remotely. Elite convenience store back office software helps you manage, track sales, vendors, store profits, inventory management, revamp your marketing strategies with your retail store analytics. Also, a POS system protects you from fraudulent transactions.
In addition, you should also invest in other tools more suitable for security, such as surveillance cameras, alarms, and cashier monitors. All of these devices will help prevent loss and maintain a healthy business.
Step 6: Get to know the customers of your convenience store
It's a big mistake to think that everyone is your customer, given the shared nature of convenience stores. There are things to consider about your customers. Here are a few of them:
Are your customers' regulars in your convenience store, and are they one-time buyers of the products you sell? For example, a woman who stops every morning to buy cookies for her daughter before taking her to school can be considered a more valuable customer as opposed to one who is just stopping by once for an item they need.
Are the customers who come to your store from the area where your store is located? If so, you'll want to make the interior of your store more inviting. You may also want to offer a standing lunch counter, hire great employees, train them to be very welcoming, and make the customer experience more pleasant.
Do your customers spend enough time in your store or are they in a hurry to get out? If so, make the most popular last-minute products such as bread and milk visible and accessible. You must have a staff willing to serve your customers, efficient line management, and a fast checkout system.
Step 7: Decide which products you want to sell in your c-store
In convenience stores, you will find most of the following items:
Fresh fruit and vegetables
Alcohol and soft drinks
Dairy products such as butter, yogurt, cheese
Desserts and cakes
Sandwiches
Freshly baked goods
Fast food to go
Takeaway coffee and other hot drinks
Newspapers and magazines
Cigarettes and tobacco
Many household and grocery items such as toilet paper, tea, coffee, and pet food
Determining your c-store product inventory is no easy task. After all, convenience stores are typically small spaces but their customers expect a wide variety of products. It's important to maximize your product catalog without overwhelming your stockroom or shelves. Listen to your shoppers and don't be afraid to improvise as you go.
2. Is Owning a Convenience Store Profitable?
No entrepreneur wants to start a business that is not profitable, and there are plenty of profitable convenience stores out there. But can you make $1 or $2 million annually running just a convenience store? Well, the short answer is yes, but it depends on how well-run your business is.
As a convenience store owner, you constantly face high fixed costs of your products and other expenses such as your inventory, rent, and your payroll. You also have to deal with operating expenses such as utilities while optimizing your product catalog and pricing and attracting foot and car traffic. Convenience store margins are 10-20% higher than a regular grocery store and can be even higher for high-demand products.
To improve your profit margins, it is advisable to calculate and know the best-selling products' margins to better strengthen your inventory and marketing strategy around these products. Make sure that these products are available and well-presented in your store.
See related: KORONA POS ABC Retail Analysis
Tobacco products, beer, wine, gas, and automotive supplies are considered one of the products that should be prioritized to maximize profit margins. You should also think about those products around your point of sale. Don't waste an opportunity to promote impulse purchases and pad your average sale value.
So, are convenience stores profitable? The answer is yes, but only if you're very strategic in your financial management, i.e., reduce unnecessary costs and expenses and maximize your efforts on the items your customers most desire.
3. How To Run A Successful Convenience Store?
A convenience store is a quick way for many consumers to get in and out with what they need in a short amount of time. It's often an oasis in the highway desert, allowing visitors to stretch their legs, refresh themselves and focus on the journey ahead. Although your customers may only visit your store for a few brief moments, you can still come up with ideas to make their experience positive and enjoyable within your store, thus increasing your chances of growing your sales down the road. Here are some tips to help you to upgrade and run a successful convenience store:
Keep track of your inventory and offer more items
Most customers expect convenience stores to be stocked with a wide assortment of products. Track your inventory at least once a day and replenish it as needed. If you want to succeed, you should never be out of stock; short-stocked items mean missed sales and lost customers.
Therefore, it's important to understand good inventory management practices to avoid dealing with excess inventory, stockouts, or dead stock. This is also why it is imperative that you use appropriate inventory management software. Do not hesitate to think outside the box and bring in a wider array of products. You never know what might grab a customer's attention!
Keep Checkout Simple
Several factors influence the efficiency of a POS system. In addition to product layout and accessibility, streamlining the checkout experience requires a simple and easy checkout interface. It also required effective planning to ensure that you have the requisite staff to handle your sales volume. These factors can be effectively managed with back-office software solutions for convenience stores.
Keep your bathrooms neat
When customers walk into a cluttered bathroom, they may think your business is just as unimpressive as your cleaning skills. If you want to keep your customers happy and coming back, make sure your bathrooms are clean and well-stocked. Spot cleaning, daily cleaning, and having supplies on hand around the clock can help ensure that your restrooms don't slow down your business.
Increase the visibility inside for your cashiers
When talking about the interior of your store, it's a great idea to give your cashiers a clear view of what's going on in the store. Choose shelves that allow your cashiers to see where each shopper is at any given time. Also, display small items where your employees can easily see them. This also helps to prevent shoplifting.
See also: What is Trade Spend in Retail: Profitability and Success
4. How to Open a Convenience Store: Bottom Line?
Opening a convenience store is a process that requires money, time, and planning. With a good business plan, choice of location, products on the shelves, and affordable prices, you can make your convenience store profitable.
Read more: Opening a Retail Store? Here are 4 Questions To Answer Before Starting
Running a successful convenience store also means using a point-of-sale system that can facilitate your transactions, manage your inventory, provide payroll tracking for your employees, and much more. And that's where KORONA POS comes in. Our convenience store pos system can provide you with the following features:
Real-time data & analytics

Automatic reorder levels

Product evaluations and metrics

Theft prevention features

Cashier action tracking and reports

C-store POS cashier evaluations

Quickbooks accounting integration

Time-sensitive sales reports

Multi-location scalability

Stock inventory transfers

Scanned inventory capabilities
Click on the button below now to try KORONA POS for free, and check out our other How to Open… guides if you're curious:
Get Started with KORONA POS today!
Tell us a little bit about your business and explore all features that KORONA POS has to offer. And there's no commitment or credit card required.
FAQs: How To Start A Convenience Store
How much does it cost to start a convenience store?
There is no exact amount of money to start a convenience store as there are many factors involved, such as your business location, whose price depends on the area or state you are located in. However, starting a convenience store usually costs between $50,000 and $100,000. This amount can go up to $1 million, depending on the size of your store, initial inventory, and equipment.
Is owning a convenience store profitable?
Typically, convenience stores are profitable businesses, with average gross margins of over $450,000. Businesses that make more profit may have the opportunity to open additional locations in a city or region, therefore increasing your potential profits even more.
How can I make my convenience store profitable?
One of the best ways to make your convenience store more profitable is to find ways to cut down on costs. This includes reducing the number of employees and your hours of operation to a reasonable level for your city (for example, you should avoid being open 24 hours a day in most cases). Offering some sort of drive-thru to sell food and coffee will give you an upper hand in the competition. Last but not least, always think about what can be helpful to save your customers' time, such as having an ATM in the store for them to use.