Running a convenience store can often feel like a neverending balancing act. Whether you're a new or seasoned convenience store owner, here are some of the common problems you probably face:
Complex inventory management
Multiple supplier relationships
An endless stream of transactions
Payroll for non-salaried employees
A less-than-streamlined customer experience
Theft of all kinds
These pain points can be overwhelming, particularly without the right tools. This is where an efficient point of sale (POS) system comes into play. The best POS system for convenience stores isn't just a cash register. It's the operational heart that can address and mitigate these challenges, ultimately increasing profitability and enhancing customer satisfaction.
In this post, we're diving deep into the world of POS systems, offering insight into the best ones specifically designed for convenience stores.
We will examine the top C-store POS options, and their best features, compare cost-effectiveness, and highlight user-friendly interfaces that make managing your convenience store less of a juggling act and more of a well-coordinated performance.
KORONA POS: Best Overall Convenience Store POS System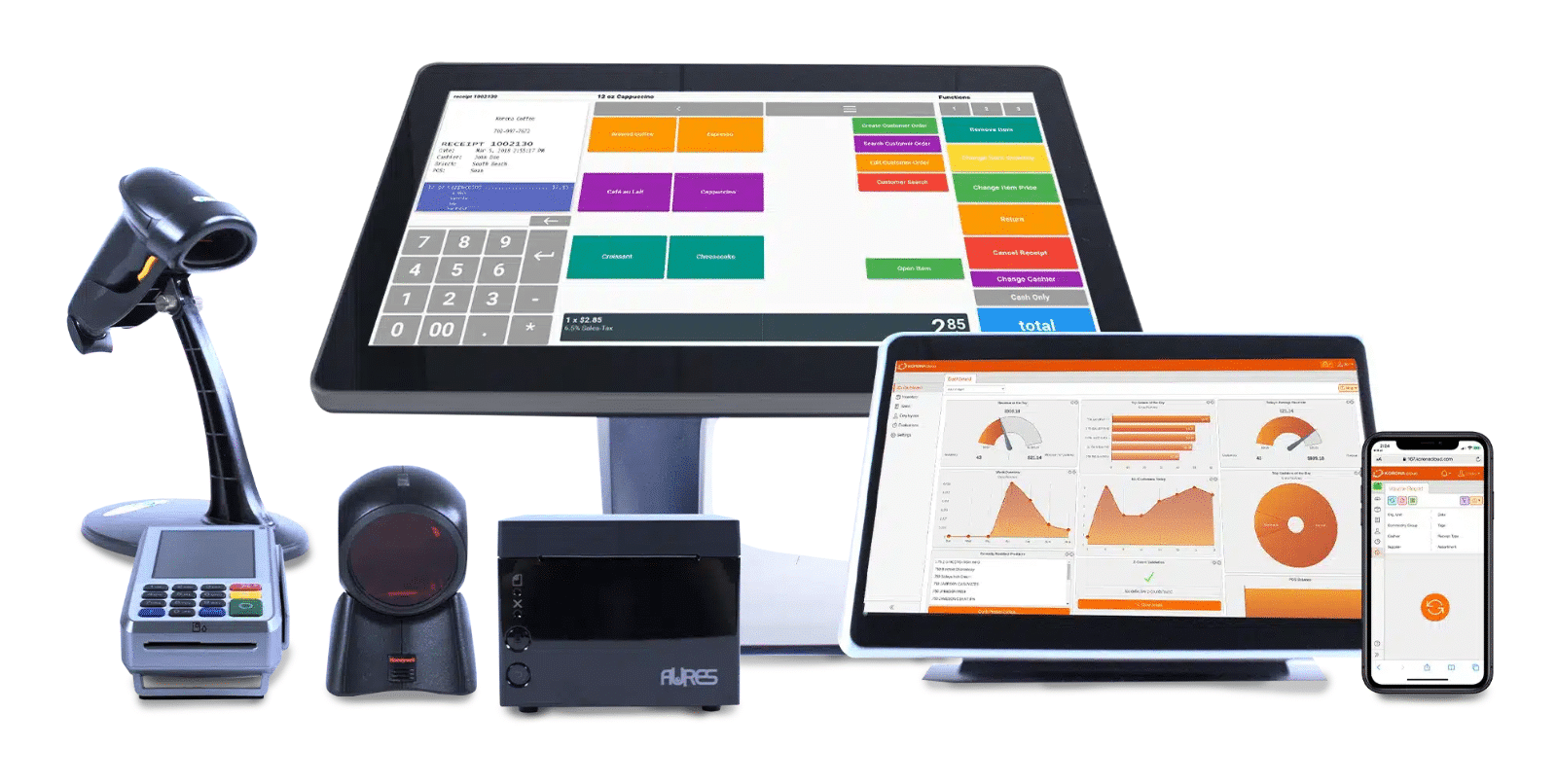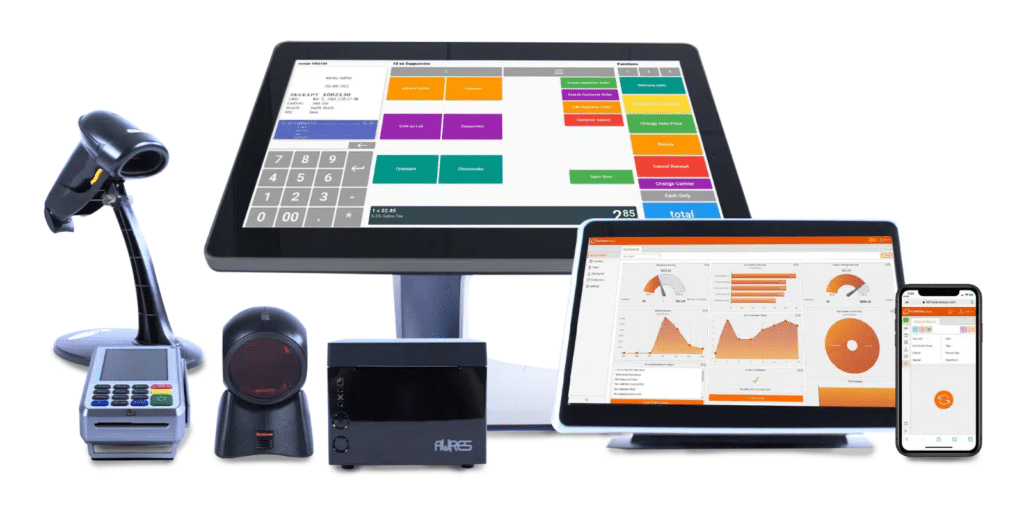 With its high-tech, feature-rich, and customer-centric approach, KORONA POS is an ideal choice for convenience stores. Here are some of the reasons you should choose KORONA POS:
Employee permissions on the cashier point of sale
Cashiers can log their hours by clocking in and out directly on the KORONA POS system. Following this, the software produces a comprehensive summary of hours worked, an overall summary of sales, and other details. Store owners can utilize this report as a seamless integration into their payroll system, ensuring cashiers are paid accurately.
Age verification features
Since convenience stores often sell age-restricted items, KORONA POS's built-in age verification feature adds a layer of protection. It prompts cashiers to verify the customer's age during applicable transactions, ensuring compliance with legal requirements.
Automatic reorder levels
KORONA POS stands out by its capability to automatically generate minimum and maximum stock levels thanks to its order-level optimization feature. Simply put, order-level optimization scrutinizes the sales history over any specified date range and tracks the frequency of supplier orders. The software intelligently suggests your stock's minimum and maximum levels with this data. Instead of any manual headaches, this laborious task is performed automatically in mere minutes. This saves you valuable time and lets you focus on other essential facets of your business.
C-Store theft prevention features
KORONA POS offers sophisticated theft prevention features. You can proactively deter internal and external theft with inventory tracking, void transaction tracking, and receipt verification.
Receipt modifications
KORONA POS allows the modification of item details directly on the interactive receipt display. Cashiers can easily select, edit, or remove products, enhancing the operational speed and improving the customer's checkout experience by reducing button presses. Completing a transaction is as simple as pressing the total button to move to the checkout screen.
This distinct feature, emphasizing speed and convenience, makes KORONA POS particularly suitable for convenience stores. To better understand its practical application, you can sign up for a free demo with a product specialist.
Cloud-based real-time data & analytics
KORONA POS offers real-time data and analytics. It ensures a constant, up-to-the-minute view of sales, inventory levels, and customer behaviors. With the cloud-based feature, you access your data anywhere, anytime, and make informed decisions on the go.
CRM & loyalty programs
KORONA POS integrates CRM and loyalty program capabilities, enabling you to capture customer information, track purchase histories, and run customized loyalty programs. With these features, you can deepen customer relationships and foster repeat business.
Note: Some retail businesses may find gift cards to be a hassle. Even though they're crucial to have, they can cost these businesses 2-5% per card. Many point of sale (POS) systems, due to their contract with a specific processor, force you to use their gift card module and charge you for each one used. However, with KORONA POS, things are different. Its gift card module comes built into the solution itself. This feature is included in your subscription; using these gift cards won't cost you a penny extra.
Multi-location convenience store scalability
KORONA POS covers you if you're running a multi-location convenience store operation. It can scale seamlessly, providing centralized control over all stores for chains and franchises. Manage inventory, sales, and employees from one central system across all locations. KORONA POS is not just a tool; it's a strategic partner that helps you streamline operations, increase efficiency, and enhance customer satisfaction in your convenience store.
You may also want to read: C Store Back Office Software: A Guide for Convenience Store Owners
Cons of using KORONA POS
New users, particularly those unfamiliar with professional business software, might face a steep learning curve in comprehending and utilizing the various capabilities of the system.
Some users have reported difficulty in locating the reports section, needing to resort to assistance frequently. Using KORONA POS may necessitate additional time and effort for users to familiarize themselves with its operation.
Moreover, KORONA POS system currently doesn't support fuel integration, meaning it doesn't directly manage gas station transactions at convenience stores.
Clover POS: Best for Single-Location Convenience Stores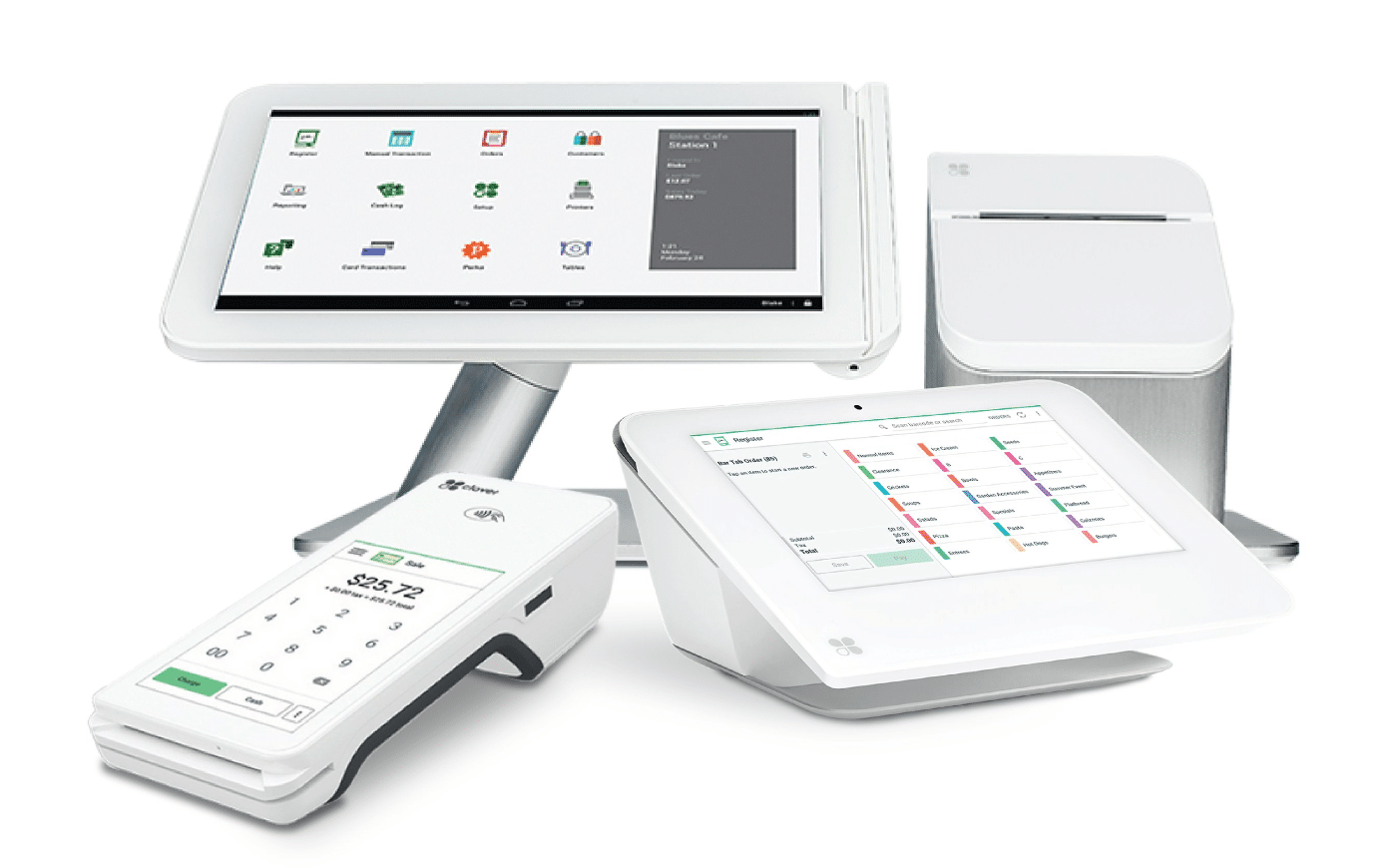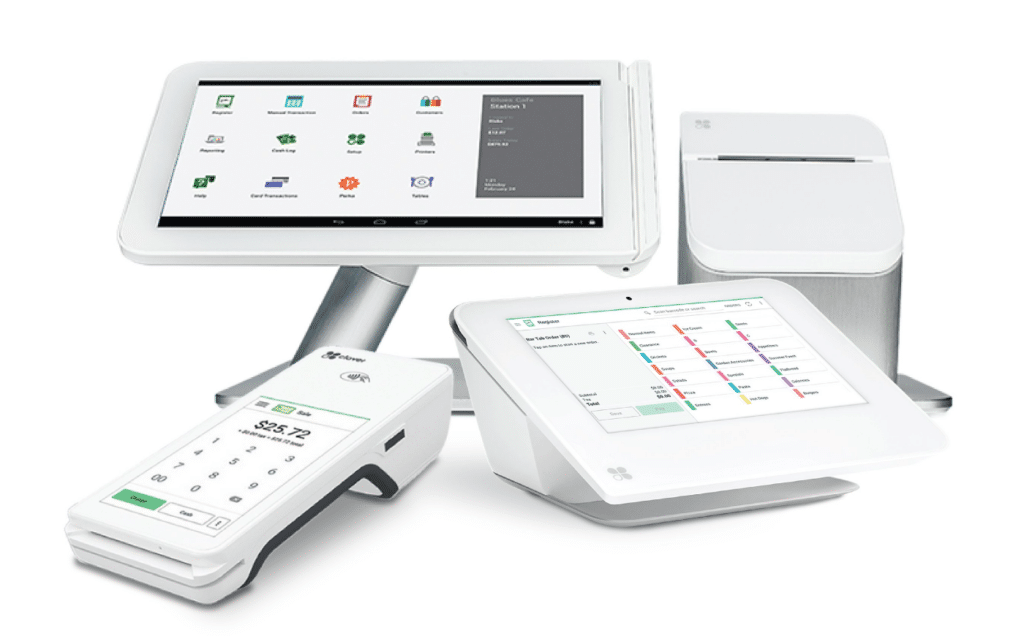 Clover POS offers an innovative solution beyond just processing payments when choosing a POS system for your convenience store. Clover POS provides tools to gain valuable insights into your customers and boost engagement. It offers a variety of hardware options, like countertop terminals, handheld devices, and customer-facing displays.
Their software comes with some standard features:
Loyalty programs
Marketing tools
Analytics
Apps and integrations
Inventory management
Easier payments
With Clover's retail POS software, convenience store owners can accept various forms of payment, including credit, debit, and gift cards, as well as NFC and mobile payments. This ensures customers can pay using their preferred method, enhancing convenience for the store and its patrons.
Seamless offline payment processing
One of the standout advantages of Clover POS is its ability to operate without relying on WiFi. Even when no WiFi is available, convenience store owners can still accept payments in offline mode. The system securely stores the transaction details and processes them automatically once an internet connection is re-established. This feature ensures that businesses can continue seamlessly, even in areas with unstable or unreliable internet connectivity.
Efficient refunds and store credit
Processing returns can be time-consuming, especially when dealing with multiple payment methods. However, Clover POS allows convenience store owners to process refunds quickly and efficiently. The system is designed to easily and quickly handle returns, even on orders with multiple payments. Additionally, the Clover app offers the option to provide store credit, providing flexibility and customer satisfaction.
eCommerce integration
An online presence is crucial for the success of any business, including convenience stores. Clover POS enables convenience store owners to quickly expand their business by adding an online store. The pre-built integration with BigCommerce makes launching an online shop quick and straightforward. Store owners can manage their inventory from a single dashboard and use a unified payment processor, streamlining operations and saving time.
Increase visibility and reach
Another impressive feature of Clover POS is the ability to sell products on Google. By leveraging the integration with Pointy, convenience store owners can make their inventory visible to potential customers searching on Google. This increases the chances of attracting new customers and expanding the store's reach.
Sync sales, inventory, and customer data
Clover POS allows convenience store owners to maintain control over their business by seamlessly synchronizing sales, inventory, and customer data between their physical store and online shop. This synchronization is made possible through the app partner SKU IQ, ensuring that data remains consistent and up to date across all channels. By having a centralized system for managing these crucial aspects, convenience store owners can focus on providing excellent customer service.
Cons of using Clover POS
One of the cons of using Clover POS is that you can't scan IDs or sell lottery tickets.
Pricing, while transparent, can take time to understand. Clover, a company owned by First Data, requires using First Data's card systems for processing payments. The charges you may encounter vary based on where you get your Clover system since many resellers have unique Clover contracts. You could be paying up to a 3.5% fee per card payment, but it's hard to be sure due to Clover's lack of clear information.
For customer support, Clover relies on phone calls. However, this might be challenging when their lines are busy, which customers report is often the case. Clover does not offer a live chat feature or email options to address issues or questions.
Epos Now: Best for Flexible C-Store POS Software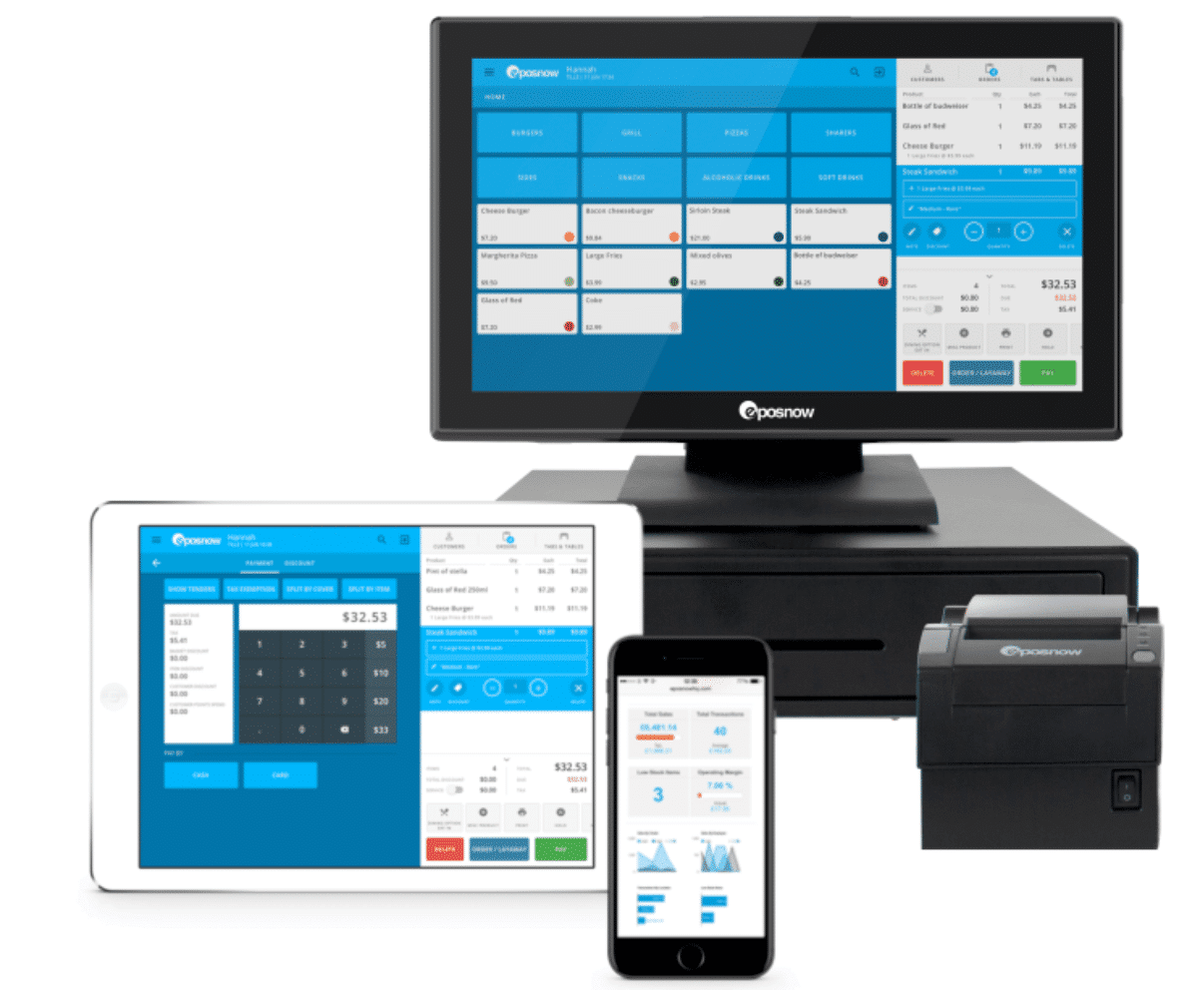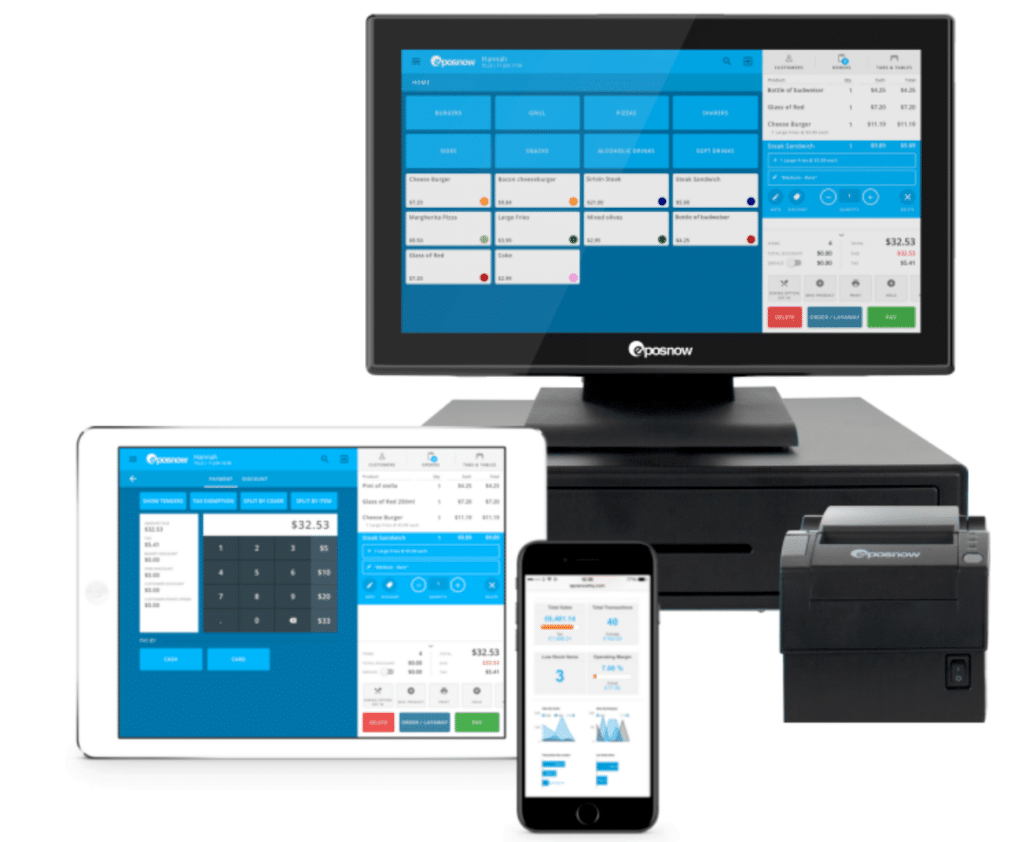 Epos Now is a popular cloud-based POS system for convenience stores and small businesses. With Epos Now, you get an easy-to-use, flexible solution to help streamline your operations.
Access Anywhere
Epos Now is entirely web-based, so you can access your sales data, reports, and more from anywhere with an Internet connection. This means you have insight into your business even when you're not physically in the store. You can check sales numbers, see how much inventory is left of a product, review employee hours, and more, whether at home or on vacation.
Affordable Pricing
Epos Now is offered at an affordable monthly subscription price. There are no upfront costs for software or hardware. All features and updates are included for one low monthly fee. Epos Now integrates with many payment processors, so you can choose a processor with rates that work for your business.
User-Friendly Interface
Epos Now is designed to be intuitive and easy to use. The interface is clean, uncluttered, and simple to navigate. This makes the system easy for you and your staff to pick up. With drag-and-drop features, you can quickly add or remove menu items, change layouts, set up promotions, and more.
Robust Reporting
Epos Now provides over 50 essential reports to gain insight into your sales, profits, inventory, employees, and customers. You get sales summaries, payment summaries, product mix reports, and more. You can export, print, or convert all reports to graphs. You can also set up automated reports to be emailed to you on a schedule.
Integrated Payments
To streamline payment processing, Epos Now integrates with major payment processors like Worldpay, PayPal, and Square. Your customers can pay with credit cards, debit cards, gift cards, and contactless payments like Apple Pay. Transactions are processed quickly and securely right in the Epos Now system.
Epos Now aims to provide convenience store owners with an easy-to-use, full-featured POS solution at an affordable price. With web-based software, integrated payments, robust reporting, and an intuitive interface, Epos Now has much to offer small retailers. The system is flexible enough to work for just about any convenience store.
Cons of using Epos now for your convenience stores
The main concerns about Epos Now are related to payment and billing control issues, as customers have faced difficulties in managing their billing agreements and continue receiving bills despite attempting to close their accounts.
Additionally, customers have expressed concerns about the communication and support services, including many "Do Not Reply" emails that hindered their ability to seek assistance.
Epos Now's software functionality may come at an affordable monthly subscription. Still, extra costs can be incurred through add-on connector programs. The company also charges additional fees for support services.
Lastly, terminating the service may involve steep early termination fees and continued monthly charges even after deciding to leave. Overall, Epos Now's POS system may suit smaller retail businesses, but users should be aware of the mentioned concerns regarding billing, customer support, and potential additional costs.
POS Nation: Best for Convenience Stores with Fuel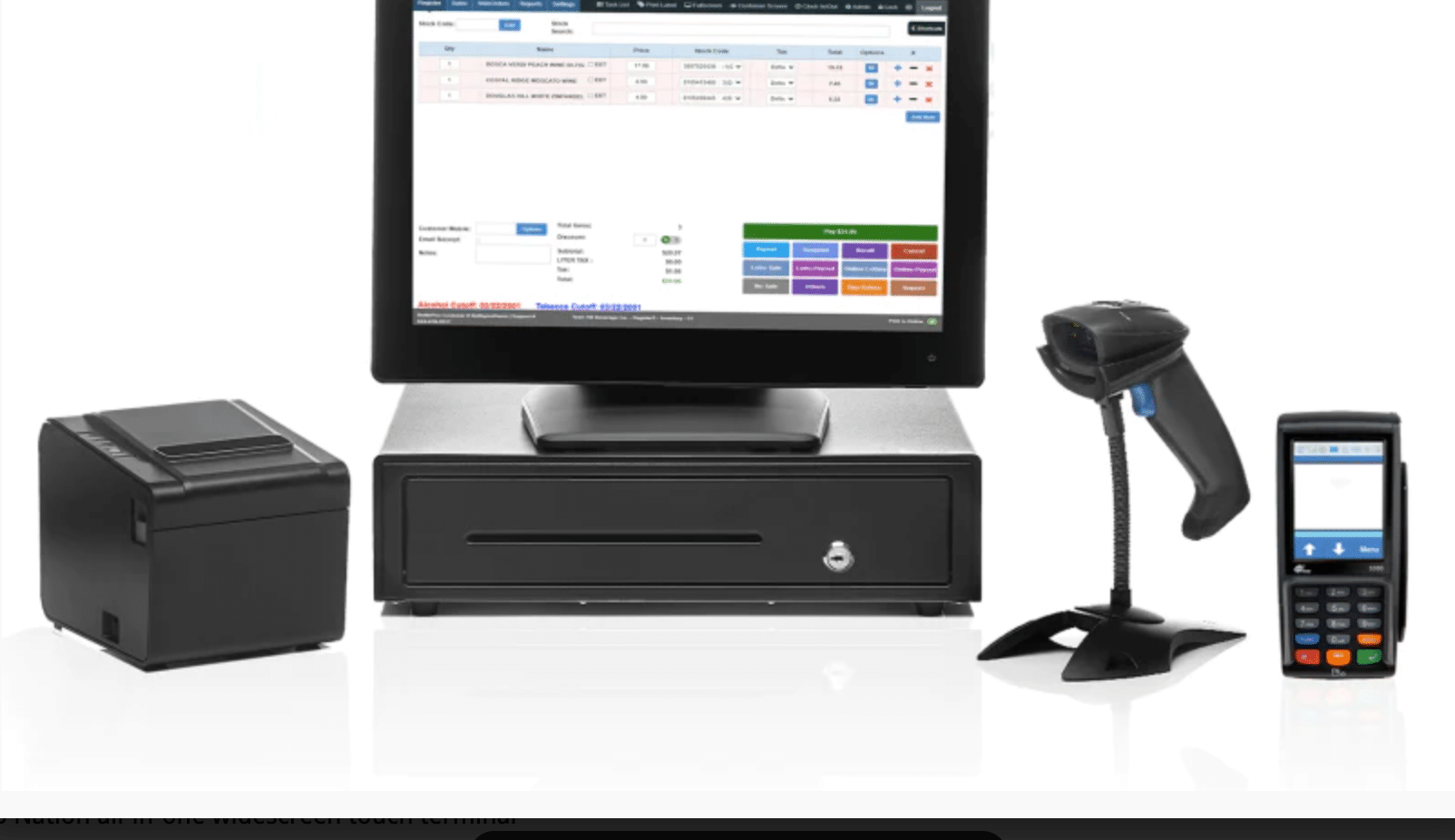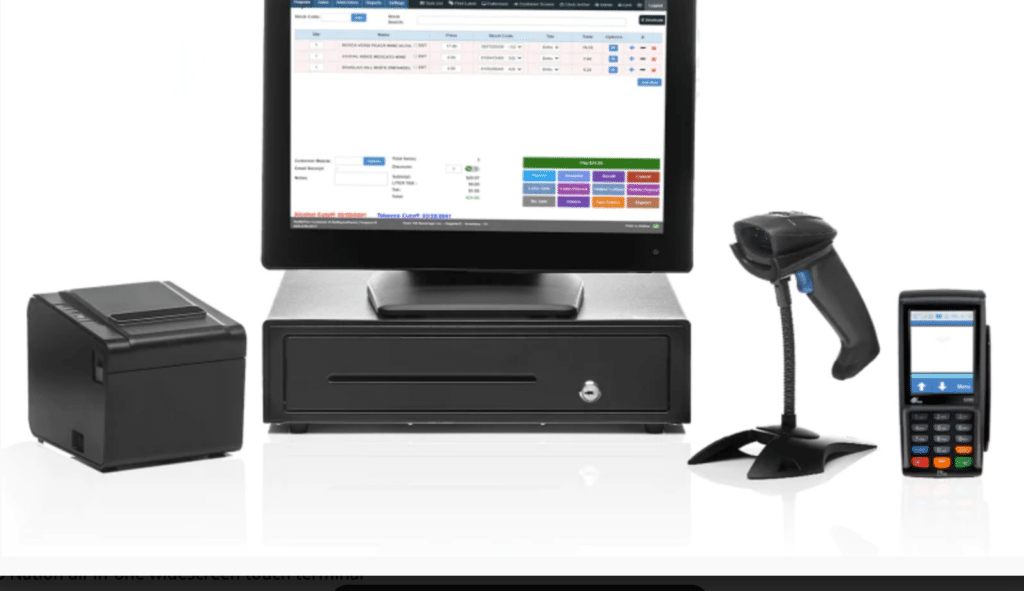 POS Nation is a comprehensive solution specifically designed for convenience stores. It accepts various payment methods, from credit and debit cards to mobile payments, EBT, and gift cards, ensuring seamless transactions. Other distinctive features include a cash discount option, lottery ticket sales capability, and ID scanning for age-restricted items, all designed to streamline operations and improve customer experience.
Flexible ways to pay
POS Nation uses several payment methods, including EBT cards. But, if you choose their bundled plans, you must use POS Nation's payment system.
Cash discount option
POS Nation has a special feature that lets you offer discounts to customers who pay with cash. This can help you save money on the charges that credit card companies often apply. This feature is unique to POS Nation, but other systems might allow you to create a similar setup with their general discount features.
Support for gas and lottery
POS Nation can handle gas pump payments and manage lottery and Lotto ticket sales.
Liquor management features
POS Nation has some neat tools for businesses that sell alcohol, like ID scanning, specific reports for alcohol regulations, and different product options.
Free online store
More people like to order things in advance or online to collect them later. Having this feature could attract more local customers. POS Nation gives you a free online store."
Cons of POS Nation
While being a solid point of sale system for convenience stores, POS Nation has some notable drawbacks.
First, it entails longer-term contracts with the Flex plan, which may restrict business flexibility.
Second, it lacks price transparency, as payment processing and individual hardware costs are estimated rather than clearly stated.
Acquiring support and cloud backup comes at an additional cost, which can be inconvenient for businesses seeking comprehensive assistance.
Common mistakes when choosing a POS for convenience stores
Here are some of the common errors retailers make during the buying process for a new point of sale:
Not considering your specific business needs
Every store is different, so find a POS system tailored to convenience stores that suits your unique requirements. You may need strong inventory management, a loyalty program, or custom pricing options. Make a list of must-haves before you start shopping.
Getting dazzled by fancy features
Don't get distracted by bells and whistles you'll never use. Focus on core functions like fast checkouts, seamless transactions, and valuable reports. Extra features are excellent, but not if they complicate the system.
Ask the POS companies for references from other convenience store owners and call them. Get the inside scoop on customer support, reliability, and how well the system handles busy periods.
Not considering the total cost of ownership
Look beyond the upfront cost to fees for support, additional hardware, payment processing, and software updates. Make sure ongoing costs fit your budget before taking the plunge.
See a demo of how the POS software works. Ensure the interface is easy to navigate and can handle everything your business needs operationally.
How To Find The Best POS System Convenience Store
Evaluate Your Current Point of Sale System
First, take a detailed look at your existing POS system. What are its pros and cons?
Consider what features could improve your workflow efficiency.
If you're new to POS solutions, consider your inventory management needs. Given convenience stores' wide range of products, a POS system allowing unlimited product entry is crucial.
Beware of POS providers who limit product entries or charge extra for additional entries.
Consider the level of support you need, including set-up assistance, staff training, and ongoing customer support.
Ask about the provider's onboarding, training processes, and tech support availability.
Before you start conversations with POS providers, list your needs and expectations. This clarity will help you make an informed choice.
Create a Shortlist of POS Providers
Next, identify the providers who meet your requirements. Instead of a generic search, use review websites such as Capterra and G2 to see genuine customer feedback.
Check online reviews to see what other customers say about the quality and responsiveness of the support team.
Based on reviews, compile a shortlist and then dig deeper. Examine the provider's website.
Ask if their solution is tailored for convenience stores. Some providers cater to both retail and restaurants, which may not be an ideal fit for your store.
Request a Software Demo
Only invest in a software solution after testing it first.
For the shortlisted POS providers, request a live software demo.
Have a list of features you want to see during the demo. This helps assess the software's user-friendliness and allows you to ask any lingering questions.
Look for a POS provider that offers 24/7 support in case you experience any issues. As a convenience store, you operate long hours, so you need support available whenever you need it.
See what third-party integrations the POS offers, like accounting software, payment processing, and loyalty programs. Such integrations can save you time and improve connectivity between systems.
Ensure any necessary integrations are available and work well with the POS system. Some providers charge extra fees for certain integrations, so check the costs.
POS system costs include the initial software purchase or subscription fee and ongoing support and maintenance. Make sure any system you consider fits your budget.
Watch out for hidden fees for additional features, integrations, and customer support charges. Get a clear picture of the total cost of ownership before signing a contract.
Best POS System for Convenience Stores: Wrapping Up
Selecting the most suitable POS software for your convenience store is critical. The most effective way to determine whether point of sale software fits your needs is to try it out. This hands-on approach is the only surefire way to confirm your decision is the right one. Don't worry about being annoying – schedule as many demo sessions as necessary until you discover what fits your requirements.
KORONA POS, a point of sale software, is tailored specifically for retail businesses, including convenience stores. It may or may not be the perfect fit for your store. The most reliable way to ascertain this is to arrange a call with one of our product specialists for more insights into its functionality. Click the button below to begin your journey.