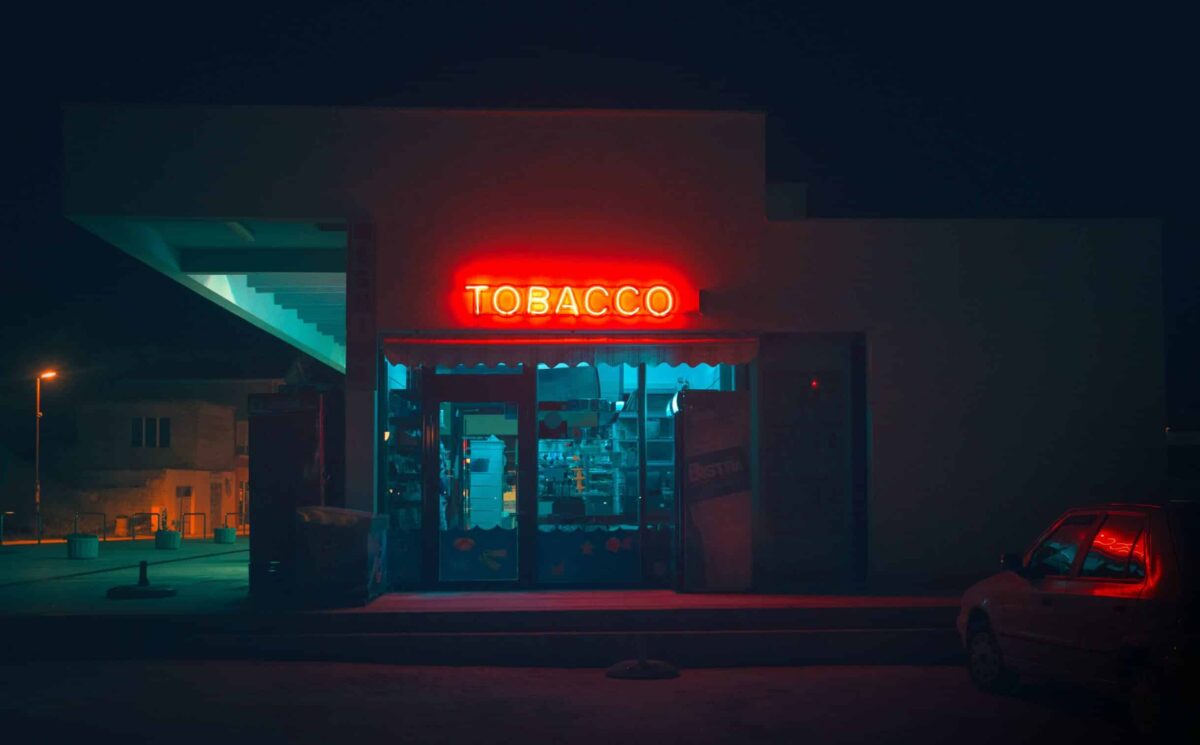 Smoke shops seem to be everywhere these days. They are actually relatively cheap to open compared to other commercial businesses, such as restaurants. In addition, there are many different types of merchandising focuses that businesses can choose in order to fulfill their targeted niche.
But how profitable is a smoke shop? An average successful smoke shop makes about $300,000 a year in profit. Prospering in this competitive industry relies on utilizing multiple strategies to ensure healthy, consistent cash flow. Below is a detailed guide on how profitable a smoke shop is and how to improve your smoke shop profitability.
Opening A Smoke Shop: First Determine Your Niche
Before you get started opening your smoke shop, figure out what kind of shop you want to open. Opening a profitable smoke shop demands detailed market research. Who is your target audience? What other similar businesses operate within the general area of where you are looking for real estate? Who are your direct competitors?
This type of research should go beyond the scope of simply knowing how many shops there are within a specific radius. Prospective smoke shop owners must analyze what kind of products those stores are offering and at what price. Why would smokers choose your store over others?
Smoke Shop Merchandising: Different Themes
Smoke shops vary on what kind of items they focus on. They generally focus on stocking items that would be considered typical for either head shops, vape shops, or traditional smoke shops. Depending on your location, target niche, and local competition, you can design your shop to cater to one or more of these categories.
Smoke shops that identify more like head shops will offer more cannabis-related paraphernalia like water pipes, rolling papers, herbal vaporizers, and more.
More modern smoke shops generally cater to younger clientele, and frequently have less old school tobacco inventory, like raw shag or pipes. Instead they stock a considerable amount of e-cigarette products alongside leaf tobacco goods.
Finally, traditional smoke shops typically carry more cigarette and cigar options, often with a walk-in humidor. Many tobacco stores offer a mix of all of these products, with varying ratios to satisfy the needs of shoppers.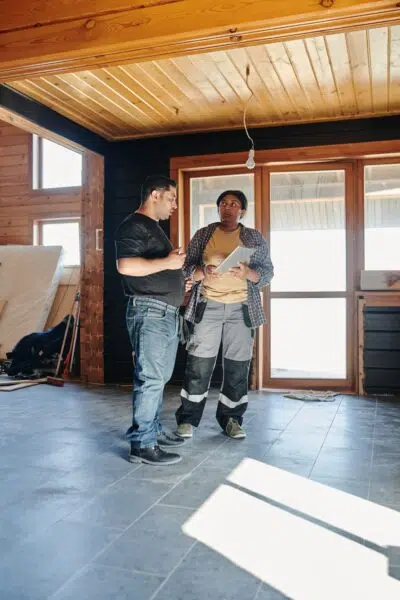 Building Out Your Store: How much does it cost to open a smoke shop?
Determining how profitable a smoke shop is requires taking into account the costs of opening and operating. Depending on what type of building or structure you are taking over, you will have to do some work on building out your smoke shop. This means installing the obvious, like shelving and glass cases. For smoke shops that want to stock a large selection of cigars, you will need to build a custom humidor room.
Additionally, your store will need to be secured so that you can avoid break-ins and theft. Your branding and decorations should make people feel comfortable and welcome in your store. While these details will cost you more money, they can help with greater customer satisfaction and retention, as well as brand recognition.
When all is said and done, you can expect to pay between $10,000 to $50,000 for your smoke shop remodeling. Your local labor costs, quality of materials, and degree of branding and customization will affect the final price of this build-out.
Smoke Shop Ongoing Costs
Remember that once you get up and running, you will have additional overhead costs to run your smoke shop. No matter what scale or style of store you plan on opening, there are some unavoidable expenses to think about.
Rent
Expect to pay between $2,000 and $5,000 dollars per month for renting your smoke shop real estate. Obviously a rural West Virginia roadside mini-mart will cost less than a SoHo cigar lounge. However, keep in mind that picking a better location for more money will typically pay dividends down the road with increased foot traffic and higher basket values.
Staffing
Many smaller smoke shops are operated by the proprietors themselves. However with multi-locations and increased scale, owners will need to hire staff to work as cashiers and floor salespeople. Depending on the state and city, these employees will be making about $10 to $15 an hour. For a medium size smoke shop this would add up to about $200,000 a year in labor costs.
Inventory
Acquiring inventory will be one of the most expensive investments for your smoke shop. Nonetheless, it's crucial to keep a steady stock of all of the products your clientele desire. High-end cigars certainly cost much more than vape e-liquid. Even for marijuana-related water pipes, prices range immensely. For a 1,200 square foot smoke shop, you will have to spend between $30,000 and $50,000 for a complete inventory.
However, you do have the option of starting with less inventory and building your way up.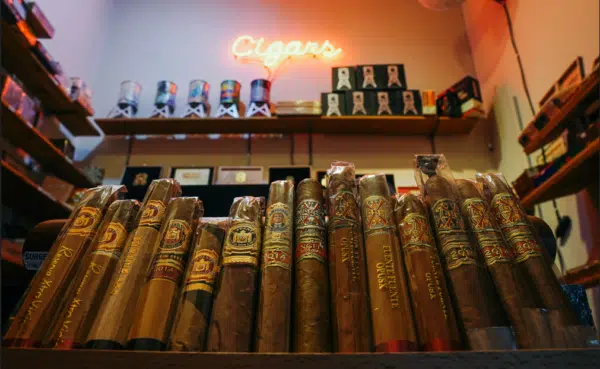 Investing In A Good POS
Retailers in this industry need the right POS systems to break down sales analytics, automate processes, and streamline day-to-day business operations. Actionable insights into product performance and inventory management will ensure that you are stocking the right items at the right prices.
Thus, your point of sale software is indispensable for a smoke shop. KORONA POS offers a competitively-priced solution for retail smoke shops with no long-term commitments or hefty sign-up fees. Plus, our point of sale comes pre-built with ID scanning technology to ensure that all of your customers are of legal age.
Smoke Shop Business Profit And Gross Revenue
Smoke shops can be extremely profitable as long as owners take the right steps to promote and merchandise their store. According to one industry study, an average successful smoke shop will make as much as $810,000 per year in gross revenue.
As previously mentioned, getting an idea of your target customers and local competition before opening plays a huge part in ensuring that you actually draw people to your shop. Once you're open, you can continue to increase your sales and acquire new clientele using several retail strategies.
How To Ensure Substantial Profit
Overall, you are looking at up to $100k to get a smoke shop business up and running. It's no great secret that many businesses will fail in the first year. Therefore, it's crucial to make sure that you are taking as many steps as you can to optimize your business from the start.
Dealing With Smoke Shop Inventory
Part of using a great point of sale system means determining which items are selling the most, and which products offer the best margins. Smoke shops generally have a huge amount of inventory and types of products. Therefore, using sales data over time will provide owners with the ability to taper their inventory and promotions so that they can increase cash flow, foot traffic, and overall revenue.
KORONA POS tracks stock levels with perpetual inventory counting, no matter if you're interchangeably selling cartons or individual packs. Our software comes with a stock optimization tool that automatically determines how much you need to reorder and when. Never run out of your best-selling products again.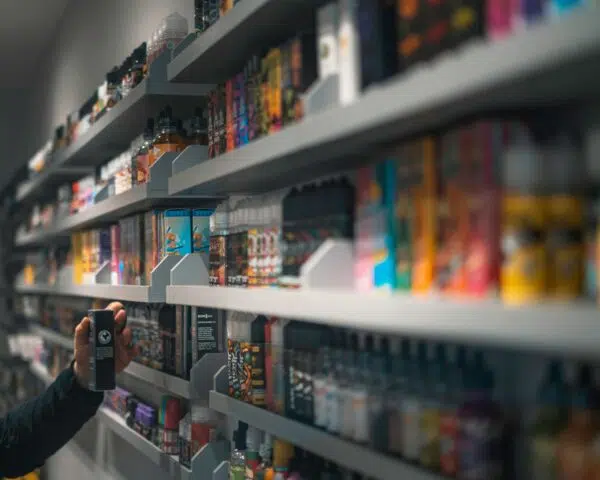 Which products are selling the best?
With POS analytics, you might discover that your store follows trends of the wider tobacco world. Lately, this trend is a move towards more e-cigarette use and less dependence on legacy tobacco brands. Use this information to inform your inventory management, trying out even more vape brands to sell in your store and promoting vape products through your marketing channels.
On the other hand, you might operate a store in an area close to beaches or golf courses. This could actually increase the amount of customers that are buying premium cigars during spring break, or summer holidays. With KORONA POS reporting, you can isolate and analyze specific times of year to plan better promotions and optimize order levels.
Customizable KPIs
KORONA POS offers a fully customizable KPI dashboard to examine everything you need to know about your product performance. Eliminate blind spots from your inventory with indicators such as ABC analysis and gross margin return on investment (GMROI). Use whatever KPIs make the most sense for you, and allow these insights to drive your business decisions.
Smoke Shop Marketing
Get the word out about your shop. Let your local community know everything they possibly can about what you sell and where you're located. Make use of any marketing strategy and platform you can find. Many of these tools are more or less free to use for small businesses.
Google Listing and Local SEO
First and foremost, increase your local searchability by making a Google Business profile. Check that your phone number, addresses, and hours are accurate and up to date. Be sure to include a relevant profile description about the items you sell so that your business pops up when people search for local smoke shops.
Website / Blog
Open up a domain with information that matches your Google profile. Upload details about your store's products, as well as any other business-related announcements you'd like to make. Consider writing a blog that is relevant to your merchandise. This can be anything from stories about cigar craftsmanship, new vape technology, or an interview with a featured glass pipe artist. All of this supportive content has the potential to funnel interested viewers into your brick-and-mortar store.
Social Media
Platforms like Facebook and Instagram can be a great place to promote your business. Showcase new products that you just got in stock. Post pictures of your smiling shoppers or any content that highlights the personality of your staff. Remember to respond to your followers' questions and comments as well as direct messages on these platforms.
Loyalty Programs For Tobacco Shops
Acquiring new customers is one of the hardest feats in retail. Ideally, smoke shops want to create as many regulars as they can. Thus, they should give their customers a reason to keep coming back.
Loyalty programs provide shoppers with rewards for the purchases they make. KORONA POS integrates with bLoyal to deliver a state-of-the-art digital rewards program for your smoke shop. A sleek, intuitive, and genuinely rewarding loyalty program will give a smoke shop the edge over competition.
KORONA POS For Smoke Shops
Our cloud-based software is the best point of sale for smoke shops. We offer 24/7 hands-on customer support from in-house technicians. Our system comes with an open API and works seamlessly with all of the newest credit card processing technology, such as NFC readers.
Best of all, we are credit card agnostic. Whichever credit card payment processor offers the best and most affordable option for you will work for us. Give us a call today to learn more about KORONA POS and schedule a demo!
FAQs: How Profitable Is A Smoke Shop
Is a tobacco shop profitable?
Yes, tobacco shops can certainly be profitable. To be sure, not all stores will find long-term success. However, with the right merchandising and customer niche, tobacco shops have the potential to make hundreds of thousands of dollars per year. 
What is the profit margin on a smoke shop?
The profit margin for smoke shops varies depending on the type of merchandise the store sells. Cigarettes have the lowest margin, at close to 5%. On the other hand e-cigarette products can sell at an almost 400% markup.
What is the purpose of a smoke shop?
The purpose of a smoke shop is to provide consumers with a place to purchase all products related to tobacco, nicotine, vaporizers, and cannabis paraphernalia. While different stores fulfill different niches, there are usually at least a handful of items from all of these categories in every shop.
What industry is a smoke shop considered?
A smoke shop is considered part of the retail trade industry. These retail shops focus on tobacco items as well as e-cigarettes and cannabis-related paraphernalia. The smoke shop industry sector currently has 18,000 registered businesses with about 50,000 employees.