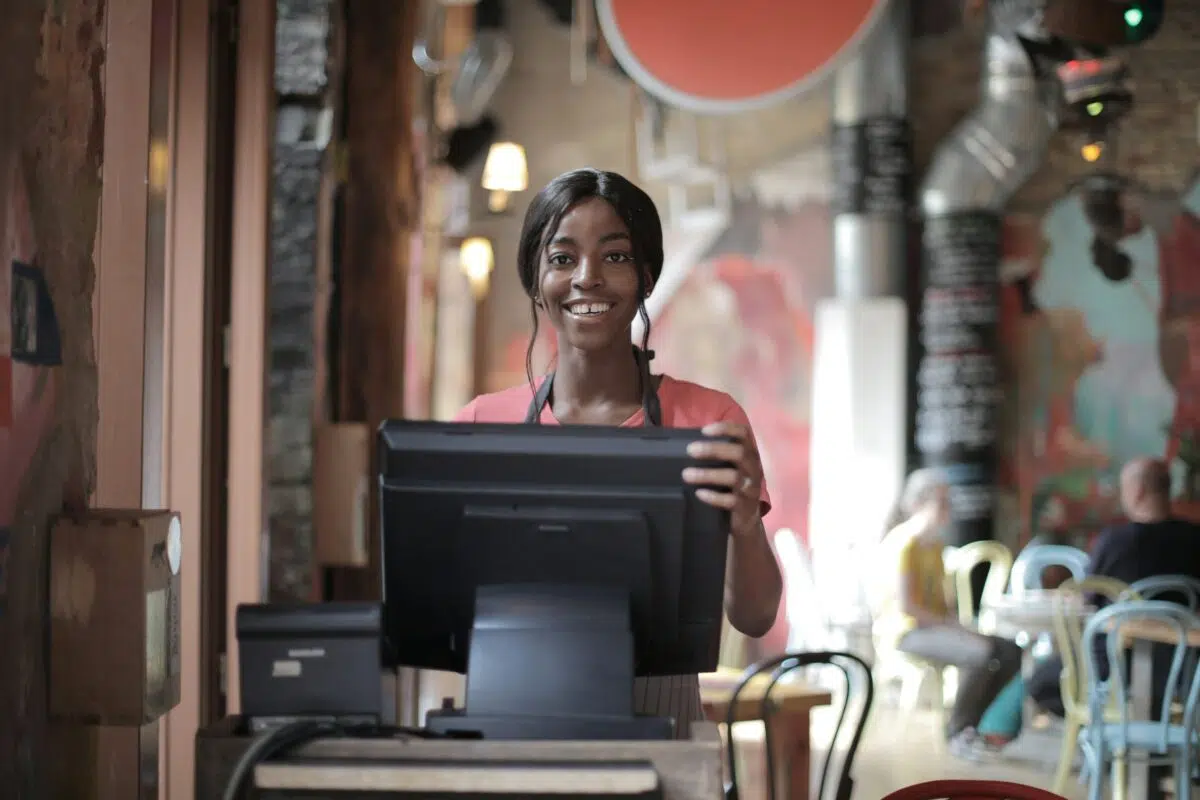 Being a cashier may seem like an easy job, but it actually takes a lot of training as well as general people skills. While the primary job of a cashier is processing payments, they are also responsible for greeting customers, making suggestions, and answering questions.
The best way to prepare your cashiers to be efficient, courteous, and reliable is to train them properly and treat them as valued employees. Below is a guide to cashier training for retail businesses.
Create A Written Cashier Training Manual And Instructional Multimedia
Creating written training booklets to give your cash register workers can save you steps in the long run and standardize your operating procedures. See if your point of sale solution offers any written materials that you can either use directly or incorporate into your pamphlets. Better yet, record some video material so that your employees can look at exactly how your POS workflow operates in real life.
Establish a standardized, practical, and thorough training repertoire for your cashiers that can be used over and over again. A scalable program will do wonders for your retail company if you want to add more locations and expand your business.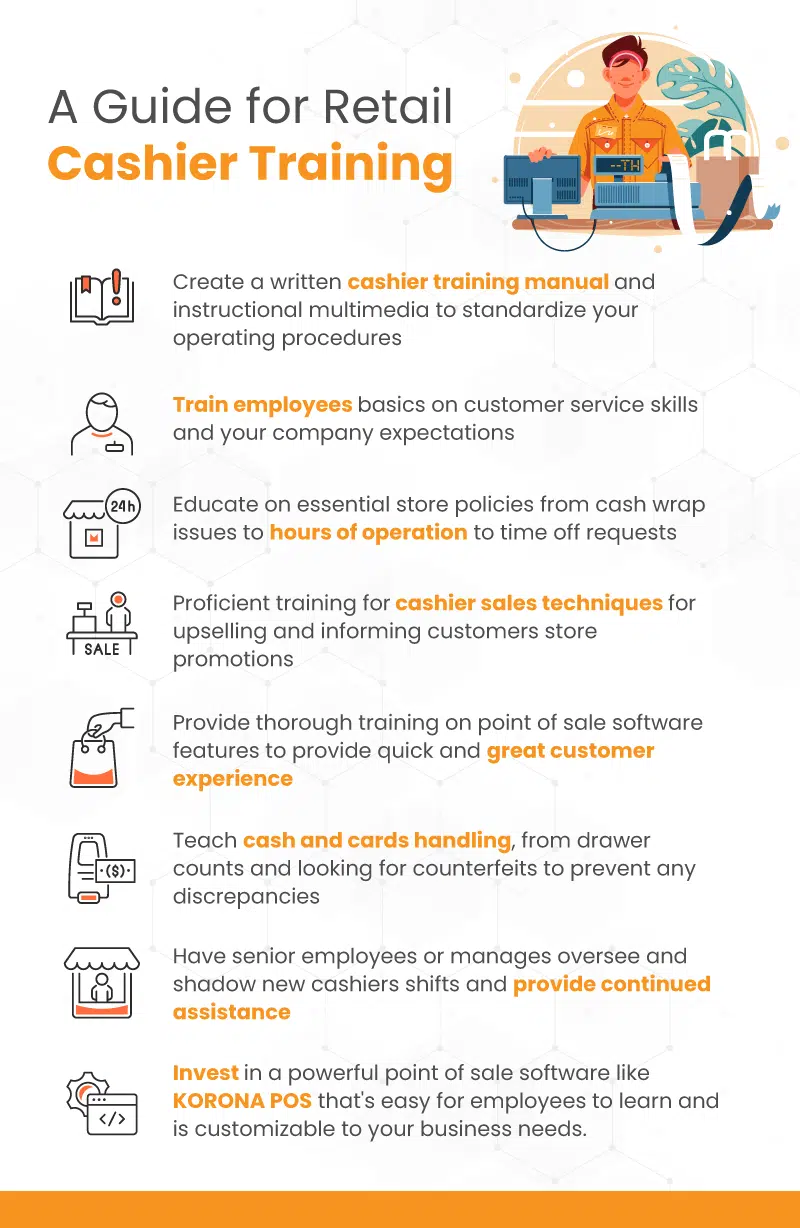 Be Personable
Training your cashiers in the basics of customer service is the first step. This includes some kind of company-wide standard for greeting guests at your brick and mortar store. Honest helpfulness and a warm smile will ensure that your customers feel welcome in your establishment.
First impressions are big. And your cashier will probably be the first and last person your shoppers will come in contact with. Basic customer service skills like making eye contact, active listening, and sincerity will go a long way. But, be sure to remember, you should be treating your employees with the same respect and care that you expect them to pass on to your clientele.
Knowledge of Store Policies
Ensure that you cover all of your essential store policies in your training program. Remember to specify exactly how your store operates in every aspect of running the register and assisting guests at the cash wrap area. Your policies should clearly encompass everything from bagging of items, hours of operation, store-layout, and where to look for help in case of a problem a cashier doesn't have the authority to attempt to resolve.
These policies should also include guidelines that will make their lives easier as employees. For example, clearly delineate how to properly request time off and ask to trade shifts. Store policies should make everything streamlined, from the owner to the newest employees. This will, in turn, create a better shopping experience for customers.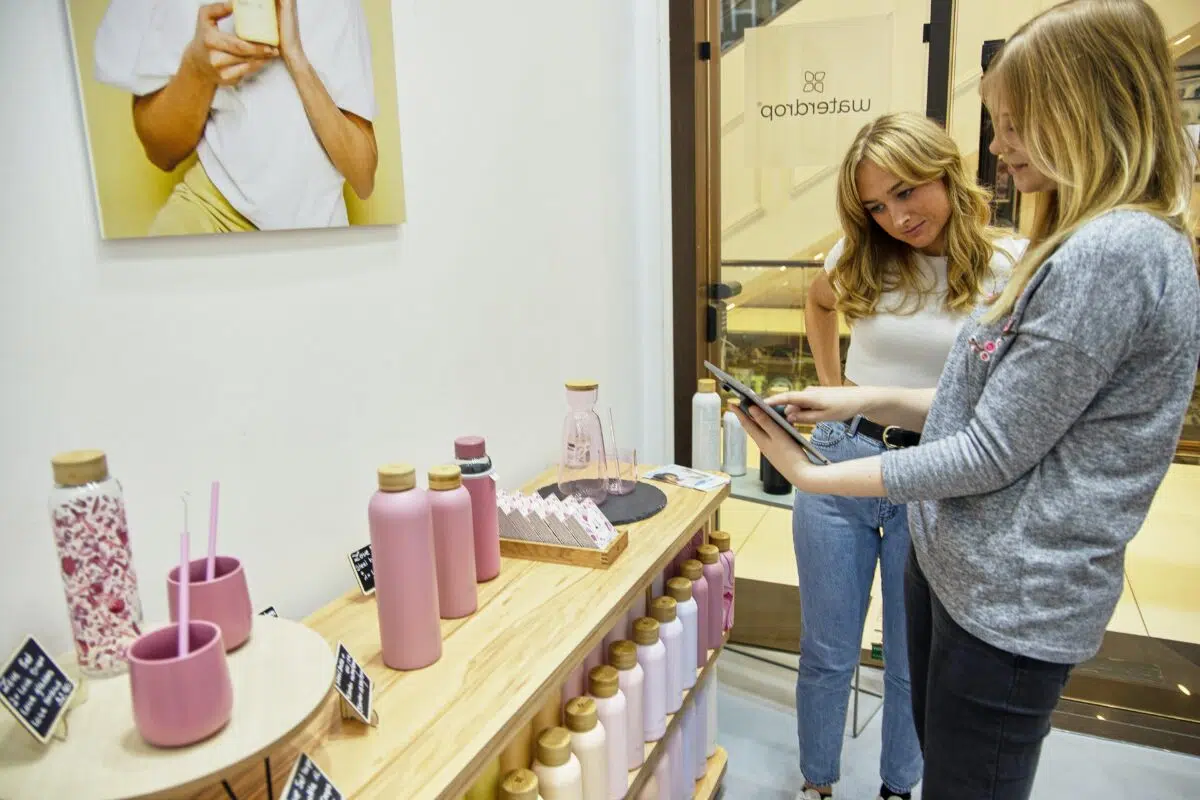 Proficiency In Basic Sales Techniques
In certain situations, cashiers will be able to put sales techniques to good use. At the very least, they should be trained in asking guests whether they found everything they were looking for, explaining the store layout, and informing them about promotions, discounts, and seasonal sales. Depending on the size of the shop, your cashier and your sales person could be somewhat interchangeable.
For big box stores like Walmart and Target this obviously wouldn't be the case. However, if you own a smaller shop and have an employee checking someone out, you should consider training them in cross-selling and upselling to better assist your clientele and increase your basket size and value. Such informed, suggestive selling is beneficial to both parties, and helps increase revenue over time.
Using The Actual Point Of Sale Software
Teach your cashiers to be completely familiar and proficient with all of the features of your POS software. These include, but are not limited to, the following:
Signing in to their profile

Executing a sale

Completing credit card,

NFC

, and gift card payments

Searching for products

Using a

barcode scanner

and receipt printer

Finding shopper purchase history

Making a return

Managing the cash drawer

Adding discounts and promotions
In the modern retail environment you're likely to need to use many of these functions frequently to get the most from your point of sale system and optimize your business. With a smart, intuitive system like KORONA POS, training your staff will be fast and easy.
Handling Cash And Cards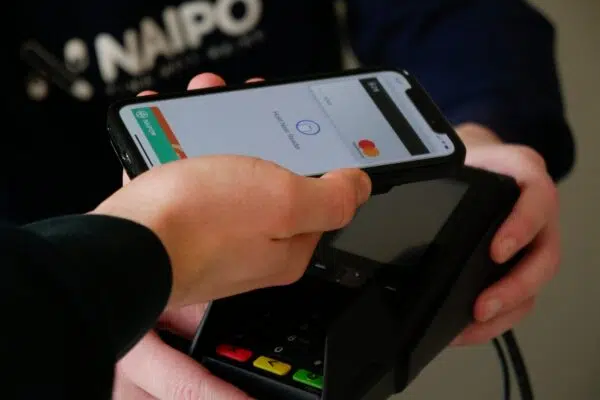 All retail stores should have standard operating procedures for handling cash to reduce leakage and secure revenue. Cashiers should be instructed and trained with opening and closing practices for counting the till. Remember to instruct all cash-handling employees in spotting fakes and preventing fraud with counterfeit bill detection. And inform your cashiers of your policy regarding discrepancies in drawer reconciliation. 
Credit Cards
The same goes for processing plastic. Your cashiers should be asking your store guests to dip their EMV chip or use contactless NFC payment every single time. If there happens to be a guest requesting to use their card's magnetic strip or attempting to use a credit card over the phone (card not present), your store should have a policy on whether they accept them and how to go about keeping everything legit.
Have A Trained Cashier Sit In With Them
Have one of your more senior cashiers or managers sit in with your recent hires to oversee and shadow their first couple shifts. This way they can answer questions in real time about real life situations using the cash register.
This type of training will prepare your cashiers for the real thing, eliminating hiccups during store hours. Just remember to do this type of shadowing during a quieter time when the retail store isn't overwhelmed with shoppers.
Continuously Provide Assistance And Training
Keep checking up on your cashiers to make sure they are comfortable and up to speed with your business's checkout flow. Smart, cloud-based point of sale like KORONA POS offers broken down analytics for employee performance to give you an in-depth picture of your efficiency.
Look over this POS data to see which staff members are processing more shoppers and who's lagging behind. Chances are, a little bit more training and support will help them feel more familiar and confident with your check out process.
Use A Great Retail POS
KORONA POS is intuitively designed with a fully customizable dashboard to make sense for your business. Our software offers the best workflow available that will allow you to train your staff in no time. With built in KPIs, full integration capabilities with loyalty programs to CRM, and remote access to monitor all of your operations, KORONA POS has it all. Give us a call today to schedule a demo!
FAQs: Cashier Training
What skills should a cashier have?
Having basic people skills and polite customer service training is a must for retail cashiers. Experience working in fast paced environments is also a plus. While modern POS systems will do most of the work at the register, the ability to do basic math is also a huge plus. 
What does a cashier need to know?
A cashier must know how to use every necessary feature of your point of sale system to be able to smoothly process all types of transactions. In addition, they must be trained to have a firm understanding of how your store operates. This includes a sufficient knowledge of store layout, discounts,  company philosophy, and business policies.
What kind of training does a cashier need?
First, having a standardized training manual for your cashiers is essential. This way all of the information that your employees need regarding operating procedures will be clearly spelled out. You will also need to go through practice demonstrations on using the POS software, keeping a cash drawer, and more. Having a seasoned cashier shadow your new hires is a great way to eliminate any fuzzy areas where that could present hiccups during business hours.
How can a cashier avoid mistakes?
Having a friendly attitude and working towards honestly helping customers will take cashiers a long way. Additionally, being super careful counting money, and following steps to avoid fraud will ensure that your cash reconciliation will add up. Finally, being honest if you happen to run into snag will ensure that your problems are remedied without issue.