As we progress further into the 21st century, more and more retailers are embracing various types of technology to aid in their retail business operations. Loyalty programs, digital marketing, inventory management, sales metrics, and modern payments are just a few of the ways that business owners are taking advantage of modern tech advancements. And with competition in retail this fierce, it's important to do so.
The modern retail POS machine is an integral part of each of the above business operations. Many consumers use a point of sale on a daily basis but have no idea what it can do. But it's critical that business owners and managers know just how powerful these machines really are. Sure, a POS is still a machine that processes transactions and facilitates basic business operations, but there is so much more that a modern point of sale machine can do. Check out some more of the specifics through this brief history of cash registers, see what makes the best retail POS machine, and how it can benefit your business.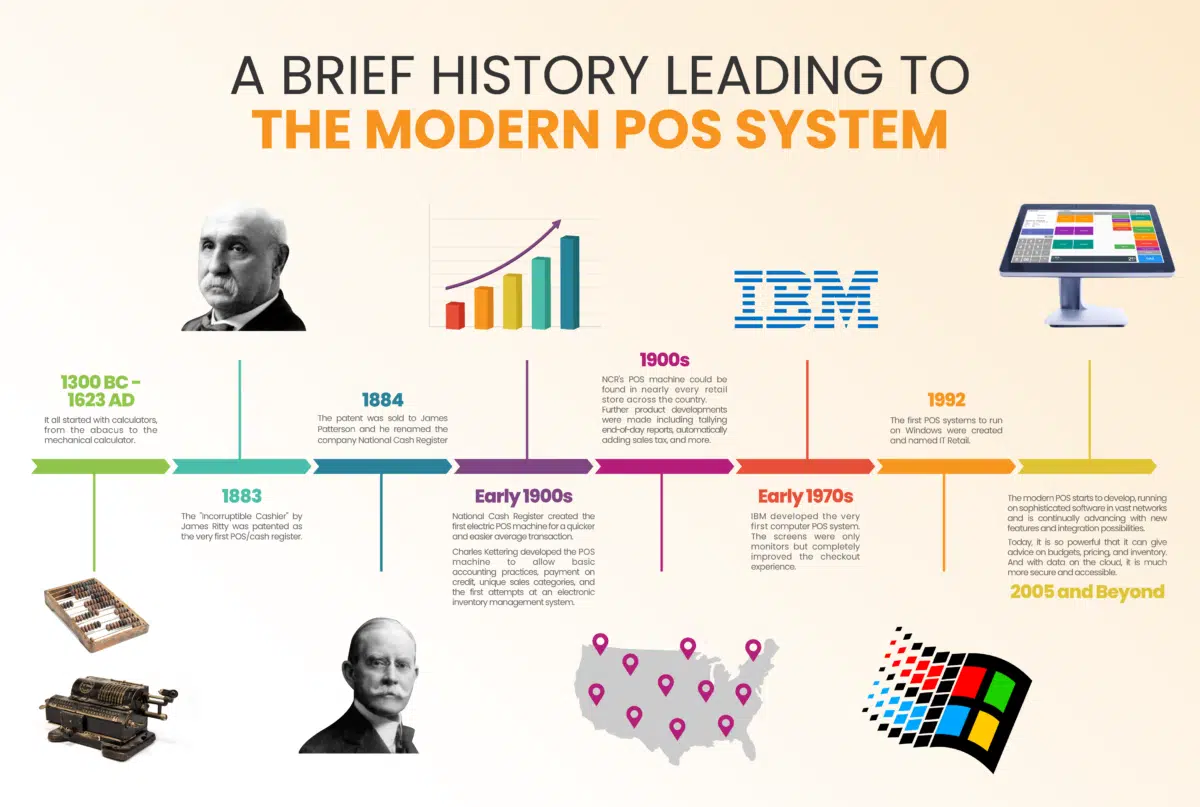 1. It All Started with Calculators
Humans have been devising machines that can count, track, and tally for millennia. For example, the abacus was invented as a sort of ancient calculator. Centuries later, more in-depth calculators were developed to perform complex, though still rudimentary, operations.
John Napier made a tool capable of multiplication, division, and square roots in the early 17th century; William Gunter proved the rules of logs with a device in 1620; Willhelm Schickard designed a mechanical calculator in 1623. Shortly thereafter, more "calculating clocks" were created and advanced.
And, of course, the 20th century would rapidly advance calculators, transitioning them to the electronic and digital world.
2. When Calculators Were Made Into POS Machines
First off, well before this technology took off in the direction that we know it to be today, the development of the calculator influenced the very first POS machines. Its inventor, James Ritty, was inspired while observing a device that counted propellor rotations of a steamboat on which he was aboard.
Back home, Ritty owned a whiskey, wine, and beer saloon that had some issues with slippery fingers among a few of the staff. From conversations with other business owners, Ritty knew that he wouldn't be alone in benefiting from such a machine. His cash register not only kept cash more safely tucked away, but it also rang out with the now classic cha-ching! each time it opened, discouraging any tricky business.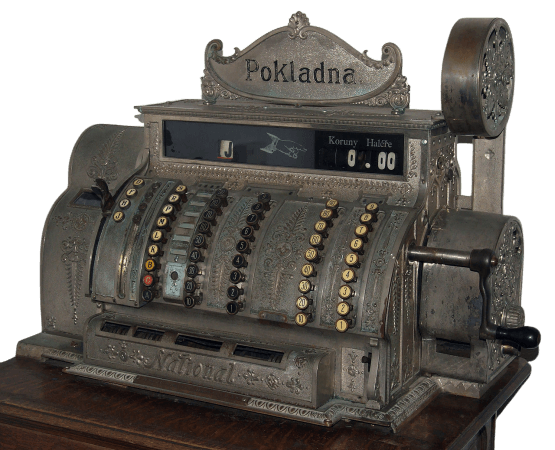 The rest is history. Ritty applied for the very first POS/cash register patent in 1883, coining it the "Incorruptible Cashier." The newly invented POS machine didn't fly off the shelves, but Ritty's first customer saw enough potential in the product that he offered to buy the company. Thus, the patent was quickly sold to John Patterson. Renaming the company National Cash Register, Patterson's business had some initial hiccups but would go on to be wildly profitable.
3. The Electronic POS System Is Invented
By the early 20th century, National Cash Register created the first electric POS machine, making the average transaction much quicker and easier. Furthermore, part of their success hinged on the creation of several features that everyone associates with cash registers today: printed receipts and customized features. But the real turning point came at the hands of engineer Charles Kettering.
The first electronic POS machine allowed for basic accounting practices, payment on credit (via nearly instant communication with NCRs corporate office), unique sales categories, and the first attempts at an electronic inventory management system. Kettering credited much of his success on his close proximity to the consumer: "[I] lived with the sales gang [since] they had some real notion of what people wanted." He moved on to work with automobiles for the rest of his career, but his point of sale developments would revolutionize the industry.
By the mid-century, NCR's POS device was found in nearly every retail store across the country. Further product advancements made it an easy sell. They could tally basic end-of-day reports, perform more advanced calculations, and automatically add sales tax, to name a few new features too. However, the personal computer's invention would turn the machine into the POS that we know today.
4. Computers Revolutionize the Point of Sale
IBM developed its very first computer POS systems in the early 1970s. The terminals were each wired back to a mainframe computer that processed all incoming information. For instance, this allowed for digital screens at each register. Even though the screens were only monitors (and certainly not as sleek as the monitors we see today), they improved the checkout experience for both employees and shoppers.
As computer technology progressed, so did the point of sale machine. Thus, new advancements led to more powerful and remote operations as well as useful integrations. The first POS system to run on Windows (just like KORONA does!) was created in 1992 and named IT Retail.
Of course, it's the last 10-15 years that introduced the modern POS system. Today's points of sale are incredible machines that run on sophisticated software in vast networks. They've also been developed to perform or integrate with a slew of other business operations:
In-depth sales metrics
Inventory management systems
Customer relationship management (CRM) and loyalty programs
Staff management
Accounting services
Credit card processing
5. The Last Step to Modern POS Machines
In fact, a modern point of sale system has become so powerful that it can serve as a business advisor of sorts. They offer actionable reports that can even give business owners advice on budgets, pricing, inventory, and ordering. Particularly, all of it is done over the cloud, meaning it's secure and eminently accessible.
Overall, POS hardware machine has evolved just as much. From the old trusty cash register, retailers have more options than ever, from handheld devices and mobile tablets to advanced ticketing machines and full checkout setups with all POS peripherals. Laser receipt printers speed up checkout time, reliable scanners make inventory a breeze, and modern payment machines offer each customer flexibility.
While we don't know exactly what the next breakthrough in POS technology will be, we do know that we're always working hard to improve KORONA POS. Our software is subscription-based so every update is automatic for each of our customers. If you think KORONA POS would be a good fit, sign up for a free trial so you can be sure. Find out more below!
Get Started with KORONA POS today!
Tell us a little bit about your business and explore all features that KORONA POS has to offer. And there's no commitment or credit card required.