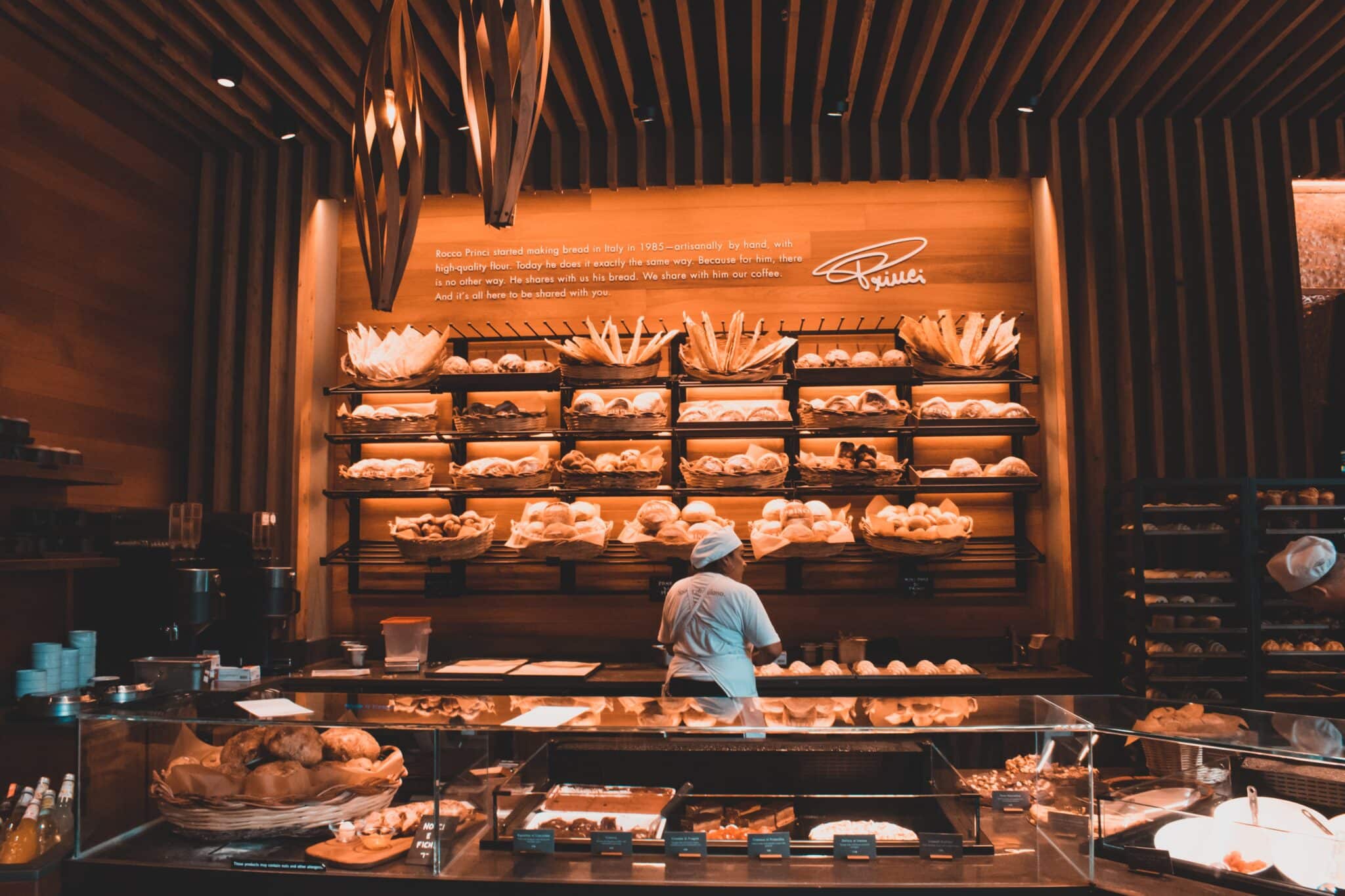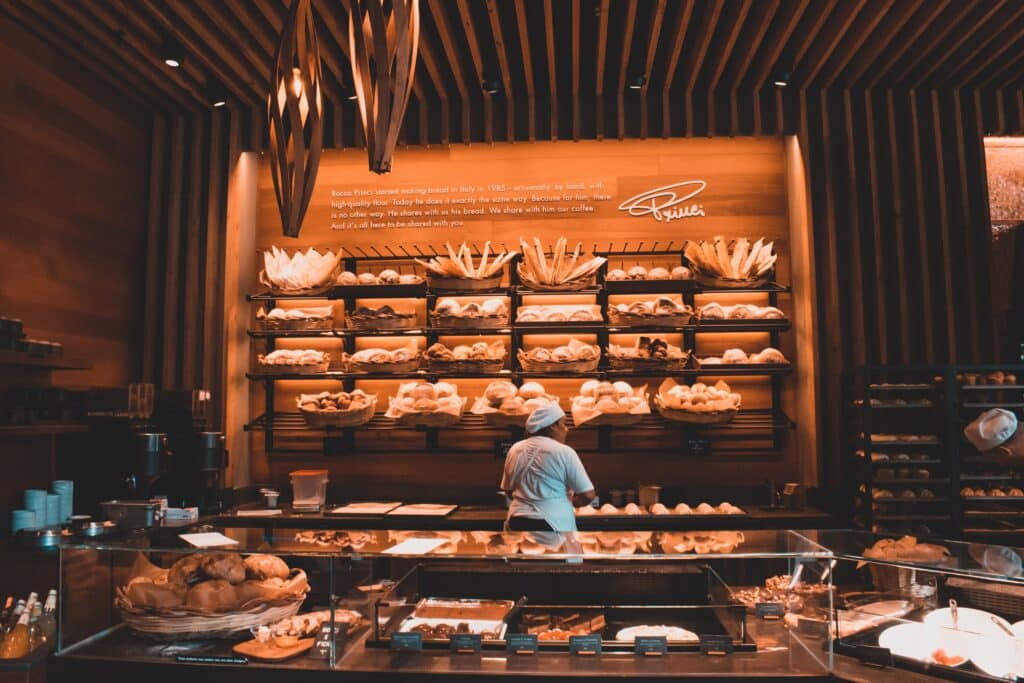 In the United States, bakeries are a $400 billion industry with a compounding annual growth rate of over 5%. There are baked goods for all types of consumers, and the business is seemingly recession-proof. Bakeries come in all shapes and sizes. Neighborhood bread shops can be slightly smaller than a counter and a few shelves. Others serve breakfast and lunch, with full dining rooms.
Plus, the variety of items served at bakeries is endless. So asking how much does it cost to open a bakery is a hard question to answer. Nonetheless, with some analysis, we can develop a general understanding of national average costs. Read on for more details.
What Is The Average Cost To Open A Bakery?
The average cost to open a bakery is between $20,000 and $100,000 dollars. This number varies depending on several factors. These include location, size of bakery, amount of renovations, quality of machinery, and more. Below we will go into more detail about how this total number is determined.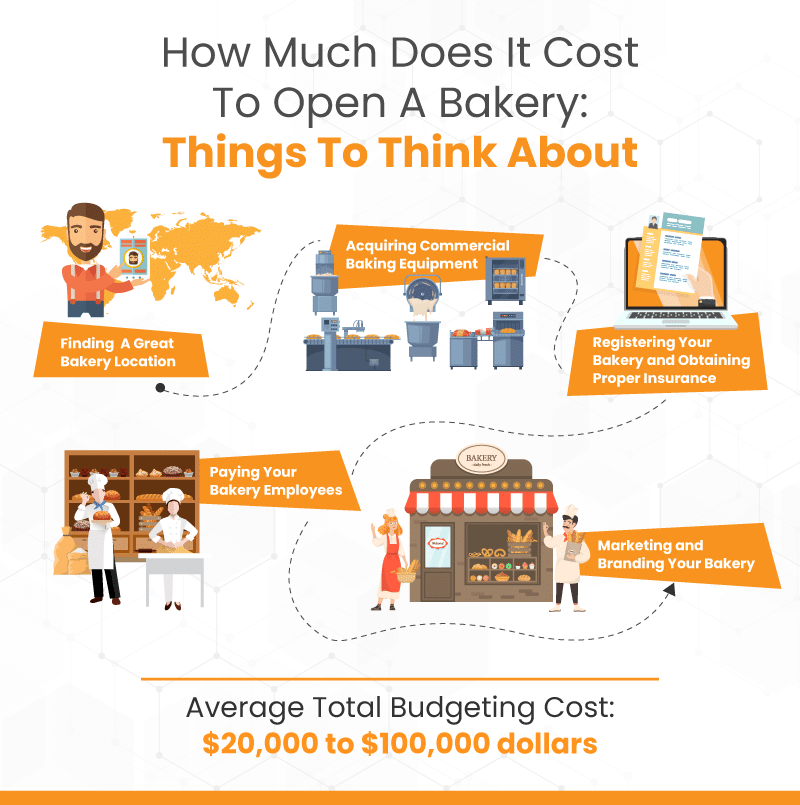 Finding A Bakery Location
When choosing the perfect location for your bakery, there are a few key factors to consider. First, you'll want to look for areas with high foot traffic, as this will help to increase your visibility and attract more customers. Especially if you choose to open a bakery in a city, close proximity to a subway or train station can help increase foot traffic.
On the other hand, if you are in a suburban or rural area, consider the availability of parking, as this can be a significant factor in whether or not people choose to visit your bakery. It's also essential to look for a mix of residential and commercial spaces in the area to ensure a steady flow of customers throughout the day.
Finally, you'll want to consider the overall vibe of the neighborhood. Does it match your products and target clientele? By considering all of these factors, you'll be well on your way to finding the perfect spot to bring your bakery dreams to life.
Cost of Rent
Remember, desirable locations, and turnkey setups will cost more. Depending on what you are selling, it may make sense to allocate more funds to the rent portion of your budget.
For example, if you sell muffins and croissants to morning commuters, it is likely necessary to set up your location in a transportation hub. On the other hand, if you specialize in a unique item, you can take more leeway in being off the beaten path.
In addition, buying a pre-outfitted bakery with all of the necessary equipment, hardware, and storage will cost more upfront. But it can save you some money and headaches in the long run. Bakery equipment is expensive to purchase and install. We will talk about this in more detail in another section.
All in all, expect to pay between $2,000 and $10,000+ per month for rent. A small kiosk in a rural town could cost less, while a French bakery in SoHo could certainly pay up to $30,000 a month in rent. However, for most bakeries, you will find real estate prices to be within this range.
Renovations
Transforming a bakery space into your own retail shop can vary from simply putting up signage to the complete gutting of a building. As previously mentioned, acquiring a pre-existing bakery may cost more. However, it can save you from the need to make drastic changes to the building.
You will need a kitchen setup with proper floors and adequate plumbing. You will likely need storage rooms, a walk-in refrigerator, ventilation systems, and more for larger-scale operations.
Additionally, you'll want to create a welcoming and comfortable atmosphere for your customers. This may involve updating your seating areas, lighting, and decor. Finally, consider making your bakery more eco-friendly by investing in energy-efficient appliances and reducing waste wherever possible.
Ultimately, the specific renovations you'll need will depend on the size and scope of your bakery and your business goals. As capital is crucial in the first months of opening a business, you can also consider making plans for improvements later on down the road.
Bakery Equipment Cost
Selecting proper equipment is a vital aspect of opening a successful bakery. Bakeries typically use commercial-grade kitchen equipment such as mixers, ovens, proofers, and refrigerators. The specific equipment needed can vary depending on the type of baked goods you produce and the volume.
Oven prices range immensely. Some smaller, more basic models are a couple of thousand dollars. Other fancier, more powerful bakery ovens can cost over $40,000! You will also need to consider buying a professional mixer, and a walk-in refrigerator if one doesn't come with the space.
Don't forget smaller equipment such as mixing bowls, measuring cups, spoons, and baking sheets. Finally, many bakeries will also sell coffee. Decide whether you will use a basic drip, or a commercial espresso machine. While the espresso machine is much costlier, it could potentially bring in more customers, depending on your target audience and niche.
If you are starting from scratch or looking to upgrade, here are some average prices to think about when it comes to bakery equipment.
Ovens – $2,000 to $40,000 +
Professional mixer – $1,000 to $9,000
Proofer – $2,000 to $20,000
Refrigerator – $2,000 to $17,000
Smaller equipment – $500 to $1,000
Coffee equipment: $500 to $7,000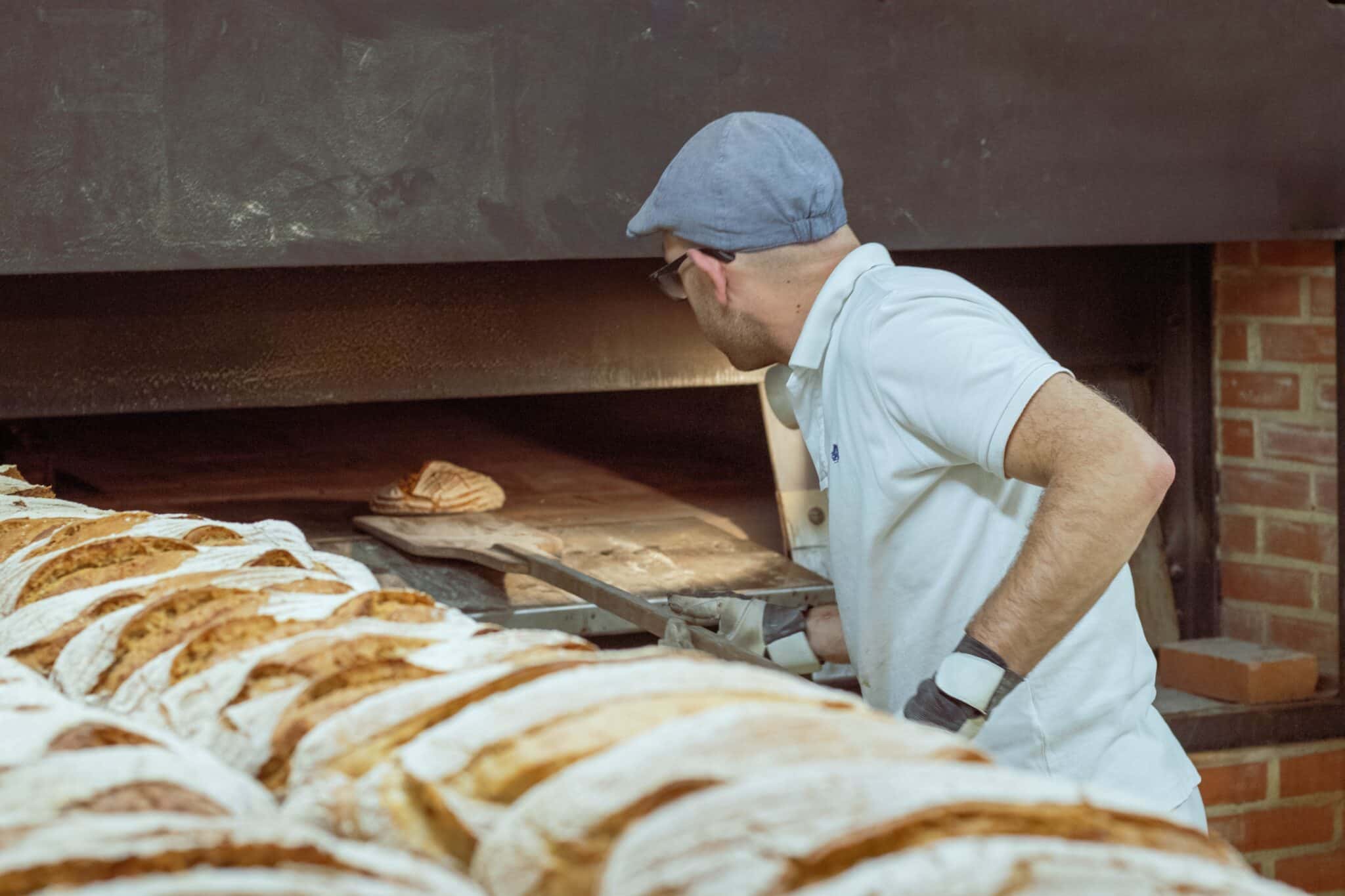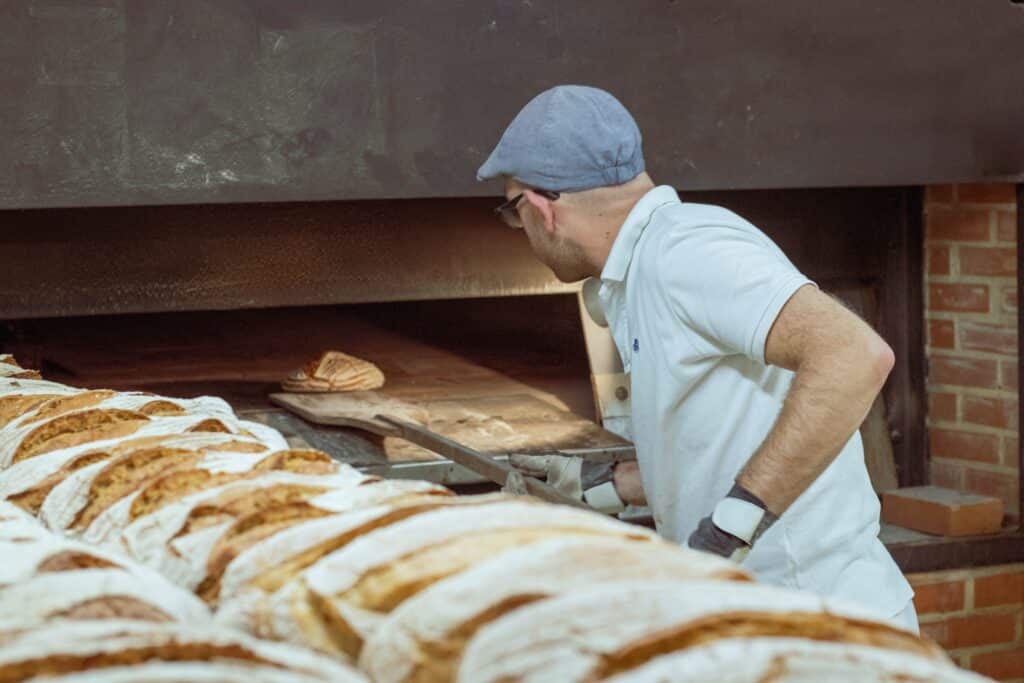 Cooking Ingredients
Opening a bakery requires a variety of raw materials. The most obvious are flour, sugar, butter, eggs, yeast, salt, and water. Depending on what you plan to bake and your price point, you may want additional ingredients such as chocolate chips, nuts, or dried fruit.
If you plan on using organic ingredients these items will be more expensive. It's important to source high-quality ingredients to ensure your baked goods taste as delicious as possible. With the right ingredients, you can create a successful bakery that customers will love. Here are a couple of typical cooking ingredients used by bakeries.
All Purpose Flour – $300 to $400
Yeast / Salt / Sugar – $60 – $100
Eggs – $500 – $750
Chocolate / Nuts / Dried Fruit – $200 – $300
Butter – $300 – $500
Getting Your Paperwork in Order
It's imperative for all businesses to file the necessary paperwork. Bakeries must follow some basic steps to be fully official and legal. These include registering as a business and obtaining licenses and insurance.
Registration
Decide what business structure works best for your business – LLC, sole proprietorship, or corporation. Then register your business with your Department of State. This cost varies per state. For example, registering an LLC in New York costs about $250.
However, in California, these registration fees are more involved. First, there is an LLC tax of $800 for all businesses. In addition, for companies with gross sales over $250,000, the state charges a sliding scale LLC fee based on expected income. Be sure to add these costs to your budget depending on the desired location.
Insurance
Most states and municipalities require all businesses to have some type of insurance. Producing baked goods involved heavy sacks of flour, manual labor, and hot ovens. It's better to be safe than sorry. Bakery insurance will cost you between $50 to $500 a month depending on the location, amount of employees, and whether you operate delivery vehicles. Think about getting the following types of insurance coverage:
Business Liability
Commerical Property
Worker's Comp
Commercial Vehicle
Business Owners Policy Bundles
For more on this topic, read: Bakery Insurance Cost: A Retail Guide
Bakery Staffing and Salaries
A typical bakery will require a team of skilled and dedicated staff members to ensure its success. Depending on the size and scope of the bakery, this may include bakers, pastry chefs, kitchen assistants, servers, cashiers, and managers.
Each staff member will play a critical role in the bakery's day-to-day operations, from preparing and baking goods to interacting with customers and managing inventory. When hiring staff for your bakery, it's important to look for individuals who are passionate about baking and customer service and have the skills and experience to handle the demands of a busy bakery environment.
Some bakeries can operate as a super bare-bones operation. For example, the owners can do most of the cooking with just one cashier or storefront person.
Who will be doing the bulk of the work at your bakery? How many employees will you need?
Pastry chefs and managers will be on the higher end of the pay spectrum. They earn between $50,000 and $100,000 per year.
Cashiers and counter people generally make about $10-$15 per hour, depending on location. In some places, like San Francisco, that number is higher. In other remote, rural areas, that number could actually be less.
Bakers earn slightly more than cashiers. They have a more labor-intensive, skill-oriented job. Expect to pay bakers at least $15-$20 an hour.
Branding and Marketing
Your bakery will only be successful if people actually know it's there. Thus, you must allocate some funds to marketing and branding your business.
Creating Your Labels and Logos
Depending on your level of craft and illustrating experience, it is possible to create your own brand label and art content. If you feel confident then go for it.
Otherwise, you must do what most retail small businesses do and hire a third-party branding agency. These agencies specialize in working with clients to create an appealing brand identity that will help them stand out.
Expect to pay between $2,000 and $10,000, depending on the level of branding you desire. These prices fluctuate whether you create a website, request multiple brand images, or desire other design options.
Social Media Marketing
Fortunately, retailers can do a ton of marketing through social media. This is the cheapest option, as it is mostly DIY through the work of business owners and employees. Baked goods are naturally photogenic. Show off your shop's personality and highlight what makes your bakery different from others.
For more on social media in retail, read: How to Use Social Media in Retail: 5 Social Media Networks to Consider
Email Marketing
Email marketing is a powerful tool for retailers to connect with customers and increase sales. By sending targeted and personalized messages, retailers can build relationships with their customers and keep them engaged with their brand.
Email marketing also allows retailers to promote new products, sales, and events, and provide valuable content like product reviews and tips. Through email marketing, retailers can reach a large audience at a low cost and measure the effectiveness of their campaigns through metrics like open and click-through rates.
Investing In Powerful POS
Fortunately, getting the best bakery point of sale technology is affordable for small businesses. KORONA POS is a cloud-based platform that operates as a software as a service (SaaS), with low upfront costs.
Our straightforward monthly subscription includes all the tools you need to run a successful bakery. These include customer relationship management, loyalty programs, gift cards, in-depth sales reports, and more. We also offer a 24/7 in-house emergency customer support team to make sure your system is always up and running.
Click the button below to schedule a demo and learn more about KORONA POS for bakeries!
FAQs: How Much Does It Cost To Open A Bakery
1. How much does bakery equipment cost?
Bakery equipment costs anywhere from $4,000 to $25,000 dollars. The cost depends on what kind of equipment you need, the desired quality, and the volume of baked goods you intend to produce. 
2.
What mistakes do startup bakeries make?
Many startup bakeries make the mistake of producing too many different types of products. Creating a menu that caters to target clientele, and investing in marketing will ensure that your bakery is successful from the start. 
3. How long would it take to open a bakery?
Bakeries that are already outfitted with cooking equipment can be opened in a couple of weeks. However, other bakeries require gut renovations with the installation of new walk-in refrigerators and industrial ovens. These types of bakeries can take months to open.