The point of sale world has evolved rapidly over the past decade. And many of the changes are universally beneficial; whether you own a coffee shop/bakery or a retail apparel store, there are certain POS features that every business needs.
But every industry has some specific tools that might be of particular utility. Bakeries are no exception – here are 8 of the most important POS features for bakeries.  Push your shop to the next level with a great bakery point of sale solution.
1. Customer-Facing POS Displays
Before we get into software developments that are great for bakeries, let's look at a few pieces of hardware that are quickly growing in popularity. More and more POS hardware terminals have a screen which permanently faces the customer.
First, this adds some sleekness to the POS area. A high-quality desktop POS that fits well into your space adds to the overall experience.
It also makes life easier for both your cashiers and your customers. Cashiers won't have to constantly read back orders or flip screens back and forth. Instead, the customer can see the order being input in real-time, allowing them to check the accuracy of the order immediately. This will greatly reduce mistakes, which result in wasted product and extra time.
A customer-facing POS screen also allows for easier tip management. Customers can enter a custom or suggested tip without having to fumble for cash for the tip jar, or sign and do the math on a paper receipt. Keeping it all digital makes it faster, cleaner, and more organized.
2. Tablets: A Bakery mPOS
While many businesses are taking advantage of powerful desktops, smaller operations are going the other direction: tablets. These will not be quite as powerful, but they are remarkably convenient. Tablets can be moved anywhere on the POS counter or onto the floor, allowing your associates to finalize transactions wherever makes the most sense.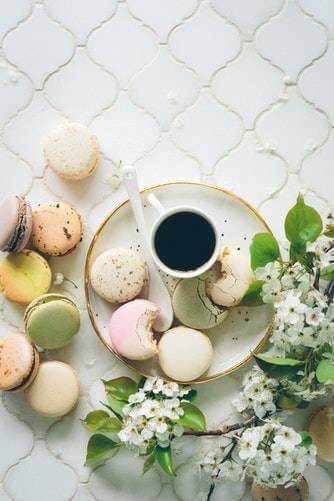 Tablets also make it easy to open a new line if your morning rush is crazy. Finally, tablets save precious space that bakeries are in short supply of. An uncluttered and organized POS area is crucial for getting through long lines.
3. Menu Management and Updates
While the display and size are important for your cashiers and customers, the POS software is where the owner and managers will see the biggest impact. First, great POS menu management is an essential part of the process. Quickly being able to update menu changes, 86'd items, prices, or daily specials saves you time for more important tasks.
What's even better is that these can be updated in real-time with your inventory levels built into the system. Your staff will immediately see when certain products are running low or out of stock. This is just one less thing that you'll need to worry about.
4. Bakery Gift Cards
Integrate gift cards into your POS system to increase your sales. Gift cards are a great thing to offer your customers who already love your shop. Not only is money spent on gift cards money in the bank, but it's also a free form of marketing. Your bakery regulars will give gift cards for holiday and birthday gifts to their friends and family. There is no better way to increase business than by word of mouth.
Plus, gift cards often go unredeemed (some estimates are as high as 15% of total gift card sales are never spent). Shoppers using gift cards are also likely to spend more than the total on the card. Every bakery should offer gift cards that are easily integrated into your bakery POS.
5. Mobile Loyalty Programs
Loyalty programs, in general, are increasingly important for all businesses. In fact, you've probably noticed that more and more brands are pushing their loyalty registration. After all, it's a great way to reward your regulars, glean valuable data on your customers, keep order histories, and incentivize more spending.
But mobile loyalty is even better. It's fast, simple, and convenient. Your bakery regulars don't have to worry about bringing a punch card every morning. And your cashiers don't have to wait for them to dig around for one while checking out. Digital, mobile loyalty programs are also easier than ever to develop. A simple branded app is more accessible for small businesses than many think. Moving operations into the digital realm is a great way to go, and loyalty is no exception.
6. Multi-Location Technology
If your bakery is taking off and you're thinking of expanding you shouldn't be held back by a POS system that can't scale with you. Think of the future and get a point of sale for franchises or multi-locations that can grow with you from the beginning.
Keeping inventory straight between all locations is the biggest battle. It is much easier when you keep it all in one system. The data can be accessed from any device, in any location. With a cloud-based bakery POS, you'll never have to be on-site to get important sales reports and inventory levels.
If you have multiple bakeries, it's also important to get data that is representative of the overall picture, but also have access to more site-specific reports. All of this is easy to do with the right point of sale solution.
7. Ordering Options and Modifications
Though slightly more advanced, offering new ways of ordering might be worth considering as a longer-term addition. Bigger businesses are now offering pre-ordering so that a beverage or pastry is ready upon arrival. It's convenient for your customers and helps keep your lines shorter. Selling baked goods online can speed up your checkout and open up your sales to additional channels.
Others are adding in-store self-ordering kiosks. Like the customer-facing displays, these reduce mistakes and give your customers more freedom and control over the process. Allowing unlimited modifications will make life easier for everyone.
8. Mobile Payment Choice
We've already written about what mobile payments are, and why they're important for all retailers to consider investing in. Most experts estimate that half of all U.S. consumers will be using them by 2020. For bakeries, mobile payment options add convenience to the customer experience, making the checkout process less problematic.
It's also a more secure payment method. Mobile payments use dynamic encryption, unlike a traditional swiped transaction. Mobile payments also go hand in hand with mobile loyalty programs. Keeping the entire process on the customer's phone will encourage more users of each service.
Finally, it's becoming a way to attract new customers; Google is getting more and more queries along the lines of, "bakery that accepts mobile payments." At the very least, accepting mobile payment options will increase your online visibility. Stay up to date with all of the latest tech and keep your bakery prepared for the next big thing.
What Other POS Features for Bakeries Could You Use?
These 8 features cover some of the most bakery-specific features for your POS, but what else could you use? To find out what KORONA has for bakeries, click below to register to a free trial and personalized demo from our great tech support and development team.
Get Started with KORONA POS today!
Tell us a little bit about your business and explore all features that KORONA POS has to offer. And there's no commitment or credit card required.