Last Updated: February 22, 2022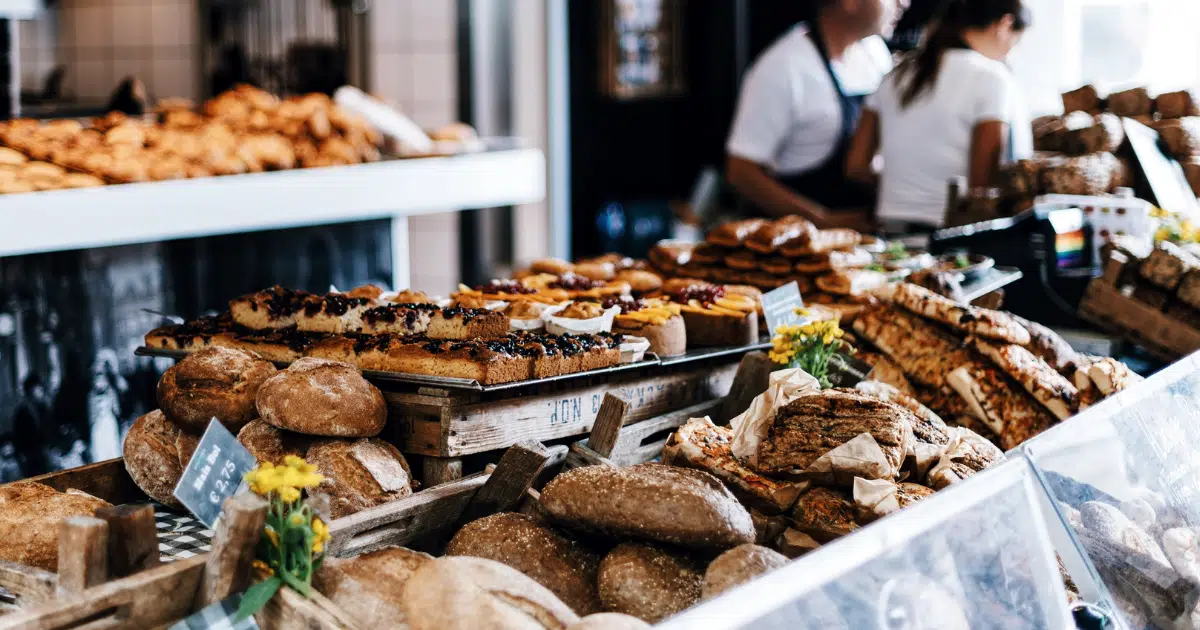 The food and beverage business is undoubtedly one of the toughest businesses to get off the ground and in the black. While statistics of closures are often exaggerated, it's still difficult for many restaurants to get past the 3-year hump.
The main reason any restaurant, bakery, coffee shop, etc. struggles is because of their enormous overhead costs: there is a lot of expensive equipment required to open; staffing costs have consistently risen over the last several decades; a thriving business typically depends on the unpredictable hipness factor; they're frequently located in some of the highest valued real estate areas.
As if that wasn't enough, their inventory can easily be spoiled – old food is thrown away at an alarming rate. To emphasize, bakeries are no exception to this. The overhead costs might be a bit lower for your average bakery than a 1,000 seat steakhouse, but running a successful bakery is as challenging as getting those flaky layers in your croissants.
So, how can you stay profitable and competitive? From creating a rewards program, your customers will love to choose the right point of sale system. Here are 4 quick tips on how to run a successful bakery: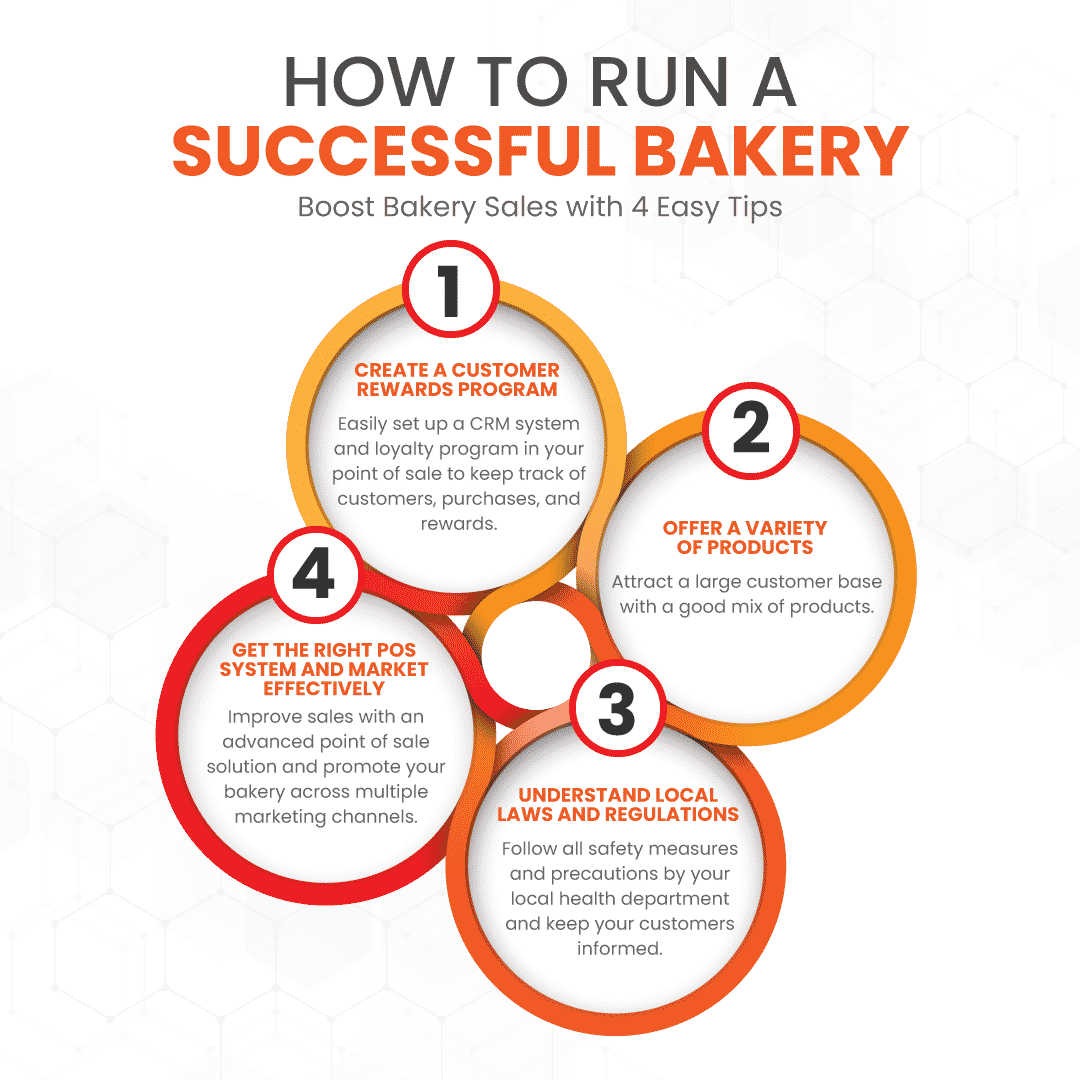 1. Create a Customer Rewards Program
Your best bakery customers are your regulars. As a result, when there are so many choices of delicious bakeries and coffee shops, you need to give each customer that extra reason to keep coming back. Instituting a loyalty or rewards program is one easy way to keep all of your regulars extra happy.
It doesn't have to be complicated or over-the-top. Using your bakery POS system, you can easily set up an efficient customer relationship management to keep track of purchase history, rewards, email/phone numbers, and much more. In short, it's just one more step to forming a more personal relationship with each of your customers.
2. Offer a Variety of Products
You never want to waste food or drink, so this is a bit of a balancing act. But you want to make sure you're providing enough variety to attract a larger customer base. Some people stop by bakeries quickly just for their morning coffee. Others come in for a pastry and a paper. Not to mention, some even post up and study for hours, eating several meals in the meantime. Catering to each client will expand your base and improve your business.
Once you figure out the menu and what your kitchen can produce, keep careful track of each item. Using your inventory management system, see which products are selling at certain times of the day or days of the week. The more you analyze this data, the better you can plan your baking, ordering, and production schedules.
More advanced points of sale can also give you more detailed KPI reports, like ABC retail analytics. Utilize these tools to perfect your menu offerings and pricing. Running specials is also a great way to test new creations. Altogether, you get immediate feedback and the customer feels involved and important.
3. Understand Local Laws and Regulations
Beware of any issues that could result in immediate closure or suspension. In particular, food and beverage establishments are constantly under careful scrutiny from local health departments.
Make sure your bakery is up to the building code and that all safety regulations are in place. Keep any area that serves or prepares the product for consumption immaculately clean. Additionally, pay attention to allergies on your menu and keep customers informed.
Train your staff on these, as well as other safety precautions, in case you aren't on the premises. Not only will these measures keep the Department of Health happy, but they will also reflect well in the eyes of your customers.
Finally, check with local laws to see what kind of insurance you need. Bakery insurance can be costly but is worth the investment. Plus, many states and municipalities require it.
4. How to Run a Successful Bakery and Market Effectively with KORONA POS
Get on social media early and try to build a base of people excited about your bakery. Keep your design and aesthetic consistent, whether it's on your cups, pastry pouches, or bakery eCommerce website. The more you brand yourself, the easier it will be for people to mention your bakery to friends and family. Email marketing campaigns are another way to cheaply reach a large group of people. Stay updated with the latest strategies in effectively building your email list.
It will also be helpful to spend time with your in-store experience so that it's cozy and welcoming but also maximizes the space you have. Take careful measures of real estate around your bakery's point of sale system. POS marketing is a key area for padding sales with a few extra dollars.
Also, check us out at KORONA POS by clicking below to find out more about how your POS system can help improve sales at your local bakery. With this in mind, take a look at our other guides to starting/running a successful business.
Get Started with KORONA POS today!
Tell us a little bit about your business and explore all features that KORONA POS has to offer. And there's no commitment or credit card required.

Frequently Asked Questions About How to Run a Bakery
Is it hard to run a bakery?
Cooking and baking are not for everyone, as it requires creative skill and a lot of patience. However, someone who is passionate about baking and has a knack for creating delicious baked goods can thrive in the business. Although baking is one part of a bakery, there are different sets of challenges behind the scenes in managing a bakery. With knowledge and by making smart business decisions, a bakery can easily be run successfully.
What are the disadvantages of a bakery business?
A bakery does face a unique set of challenges. Most bakers need to be up extremely early to start creating goods to sell for the day as customers are ready to purchase freshly baked items during morning and lunch hours. Bakeries also strictly need to determine how much product to make, as baked goods that do not sell are perishable, therefore possibly losing revenue.
Why is a bakery a good business?
You will find that pretty much every culture has its own type of sweets. Everyone loves them, especially freshly baked cookies, bread, and pastries. Cakes are also a huge part of a bakery business, as they are purchased and reserved in advance for special occasions. Most people don't have the skill or knowledge to make delectable creations, so it is rewarding to share that talent with people.