Running a successful bakery is much like baking the perfect loaf of bread—it requires the right mix of ingredients and careful attention to the process. Among the ingredients for success, mastering inventory management, great hiring techniques and employee management, and strategic menu planning certainly top the list. Yet these can often be pain points, leading to inefficiencies, cost overruns, and missed opportunities in your bakery business.
Just as yeast is essential to a well-risen loaf of bread, a robust point of sale system is crucial to handling these challenges effectively. This secret ingredient keeps your bakery rising above your inevitable challenges. A good POS system keeps a sharp eye on your inventory, helps manage your diligent bakers and servers, and even offers insights to create a menu that keeps customers coming back for more.
In our quest to help your bakery business rise to its fullest potential, we've kneaded together a list of the best POS systems specifically tailored for bakeries. In this article, we'll explore how these systems can help transform your daily challenges into opportunities for growth.
1. KORONA POS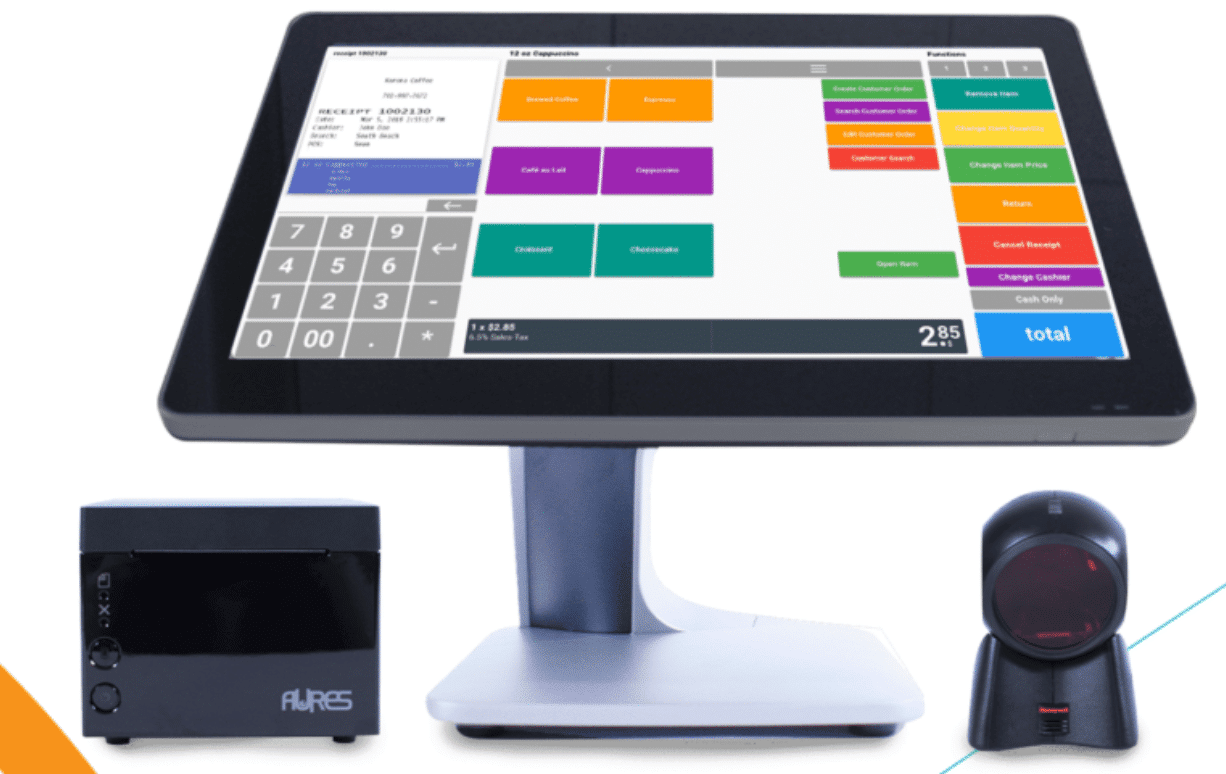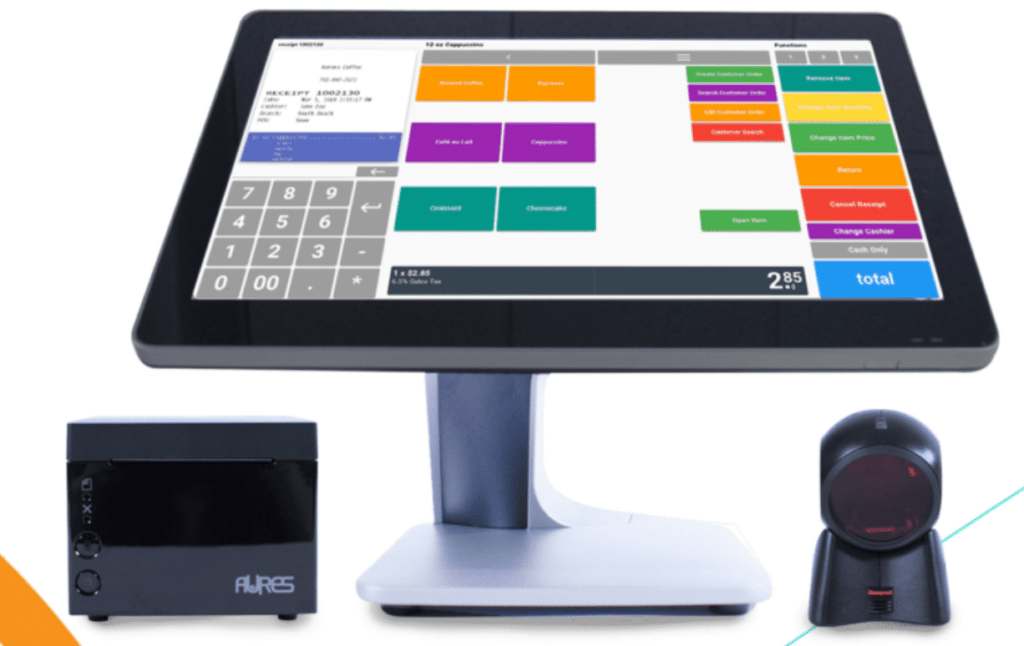 ---
KORONA's POS system for bakeries tops our list because of its end-to-end functionality to support the most diverse range of bakery businesses. This user-friendly POS lets you easily customize your order screens, and the basic system includes billing tools perfect for catering, custom cakes, or bulk orders. Here are the features that make KORONA POS one of a kind.
Simple orders and modifiers
Customers at bakeries often have specific requests or changes to their orders. It is important for a bakery's POS system to make it simple to input these special orders and ensure smooth communication among all staff members. With KORONA POS, you can reduce order errors, minimize stress, and satisfy your loyal customers.
Native loyalty points system
Having loyal customers is both incredibly rewarding and vital for the success of a bakery. To build and maintain a strong customer base, bakeries must consistently deliver a passion for the products and service, high-quality baked goods, and exceptional customer service. However, a CRM is also important for this. KORONA POS provides a built-in loyalty points system that rewards regular customers, making them even happier.
Combining products and offering discounted prices
Many bakeries provide special deals on product combinations, and KORONA POS can simplify this process for you. KORONA POS bakery's point of sale system allows users to effortlessly create product bundles, adjust prices automatically, apply discounts, and ensure accurate inventory management.
No fees for using gift cards
Gift cards benefit bakery owners by boosting sales, attracting new customers, and fostering loyalty. However, using gift cards often leads to financial burdens due to fees imposed by most point of sale systems.
KORONA POS offers a solution to this problem. Unlike other POS systems that require you to use their gift card module and charge fees for each gift card used, KORONA POS integrates its gift card module into the solution. This integration comes at no additional cost as it is included in your subscription, meaning you can use these gift cards without any expenses.
Fast bakery POS transactions
KORONA POS offers the fastest checkout speed among all available point of sale solutions. By providing swift transactions, you can ensure customer satisfaction with shorter lines during your morning or lunch rushes. A speedy bakery POS system also saves you time and brings long-term benefits to your business.
KORONA POS offers an unlimited free trial version; you can use the system free of charge for up to 30 transactions per day, free of charge, for as long as you like. The free trial version includes all basic functions, with the exception of integrated payments.
Time tracking and payroll assistance
Typically, not all employees in your bakery are paid via salaries; many are paid hourly. KORONA POS allows cashiers to clock in and out of the system. The software then provides a summary report of hours worked, which store owners can use to import into their payroll system to pay cashiers the correct amount.
KORONA POS software simplifies tracking working hours and helps bakery owners prepare their pay slips.
Flexing payments processing
KORONA POS is not a payment processor. However, it offers the possibility of integrating any processor of your choice. This allows you to negotiate the best rates and gives you greater flexibility in your choices. KORONA POS facilitates checkout by enabling contactless smart card payments, kiosks, and more.
How much does KORONA POS Cost?
KORONA POS offers a range of pricing plans to cater to different business needs. The pricing is divided into three main plans: Core, Advanced, and Plus, with an additional Enterprise plan that requires a personalized quote.
The Core plan starts at $59 per month. It provides access to essential features such as basic inventory management, ordering, reporting, integrations, cashier permissions, advanced pricing options, and other essential operational features. It is a solid foundation for businesses looking for a comprehensive point-of-sale solution.
The Advanced plan is available for those requiring more advanced functionalities at $69 monthly. This plan includes all the features of the Core plan and offers additional capabilities tailored to meet the needs of growing businesses, most importantly, advanced inventory management. It provides increased flexibility and expanded options to optimize operations further.
The Plus plan, priced at $89 per month, is designed for businesses that require even more advanced features and functionality. It encompasses all the features offered in the Core and Advanced plans, providing a comprehensive suite of tools to streamline operations and enhance productivity.
Customers receive a personalized product demo to ensure a smooth onboarding experience and a 60-day money-back guarantee, allowing businesses to try out the system risk-free. There are no credit card processing agreements and flat rates are applied, ensuring transparency in pricing.
Customers can rely on 24/7 in-house support from KORONA POS, ensuring assistance is available whenever needed. The system supports multi-location and vertical functionality, making it suitable for businesses with multiple branches or franchise models.
Cons of using KORONA POS
While KORONA POS offers feature-rich software designed for businesses like bakeries, one potential drawback is the steep learning curve it may present to those who are unfamiliar with such comprehensive systems. This learning curve could potentially require additional time and effort to train and familiarize themselves with the system.
KORONA POS also might not be the best option for mom-and-pop shops. Most of the smallest bakeries don't require any advanced features, which makes it not worth the steeper learning curve. The solution also lacks a kitchen display system (KDS). This makes it a less-than-ideal fit for bakeries that operate with a larger food menu and a separate kitchen.
2. Toast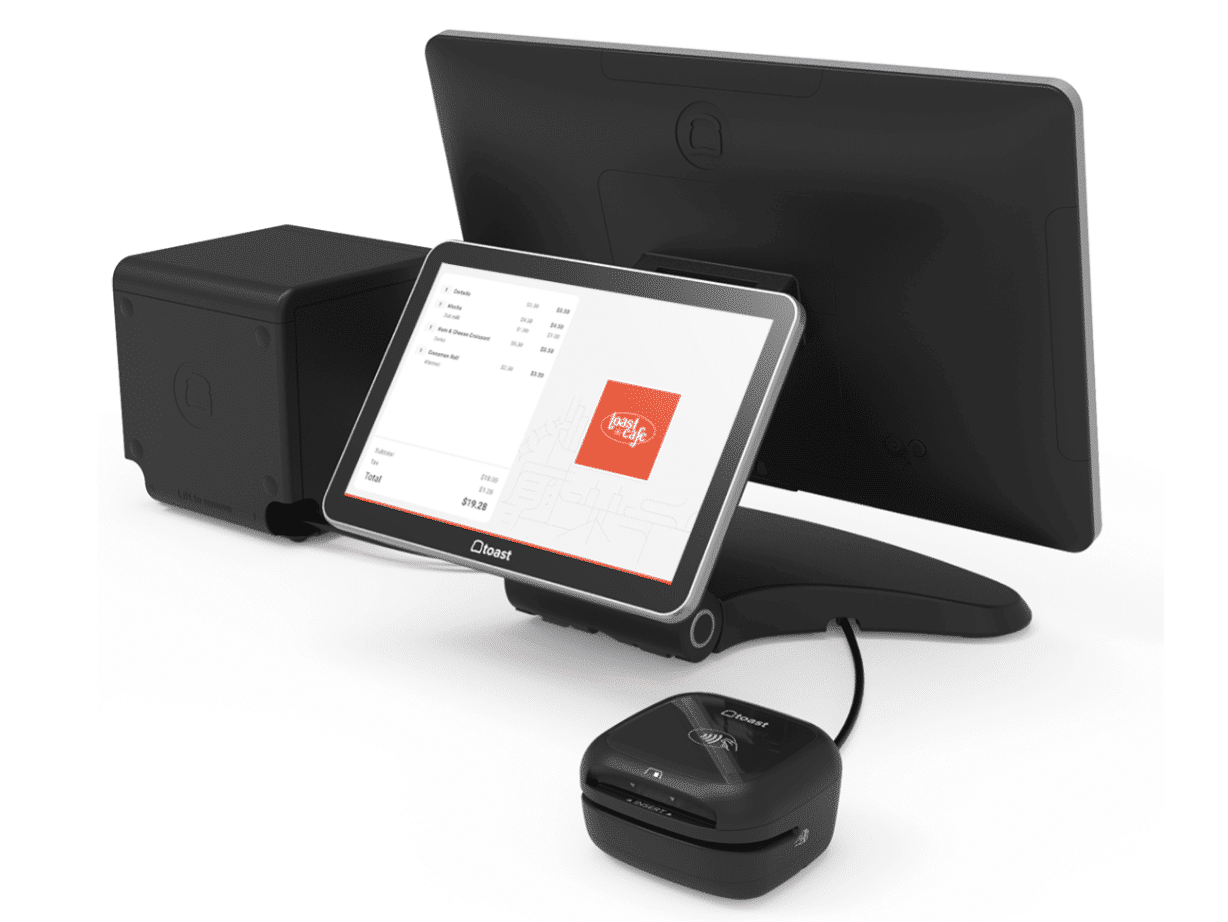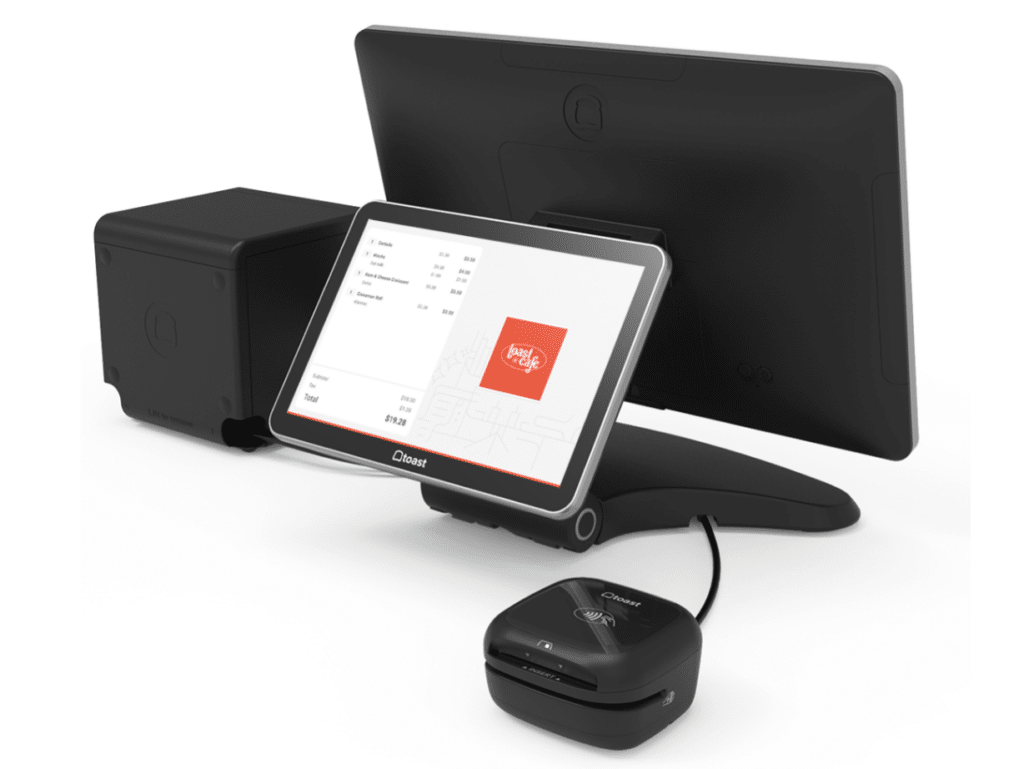 ---
Thanks to its durable hardware and flexible software, Toast is an excellent choice for a bakery POS system. The tablets can handle a bakery's heat, steam, and dust, ensuring they last longer than most other systems.
Toast also simplifies billing for events, offsites, and special orders from the POS system. Beyond hardware, it excels at loyalty programs, email marketing, and employee management, making handling staff tasks in a high-volume bakery easy. Toast also offers many well-liked features for bakeries.
Below are some of its most popular features:
Restaurant Self-Ordering Kiosks
Toast kiosks reduce waiting times and give customers control over their dining experience, freeing up staff for other tasks. This feature allows customers to order independently and personalize their meals as they wish. Orders are sent directly from the self-service kiosks to the line.
Kitchen Display System
Toast has a special feature called a Kitchen Display System (KDS). This tool helps smooth out the process by linking your front-of-house and back-of-house operations for bakeries that offer a full-service dining experience.
It's also smart enough to send orders directly to the correct station, letting you know when food is ready. This is helpful for bakeries with many different items on their menus.
Online Ordering
This feature allows bakeries to take and handle orders from the Internet, which can turn new customers into regular ones without any extra fees for online orders. Toast even lets your customers order through Google and provides its own delivery services. Plus, you can change the fonts, colors, and images to match your brand, letting your customers know they're ordering from their favorite restaurant.
Third-Party Delivery Integrations
Toast's third-party delivery manages the delivery tablets and order entry. Orders are transmitted directly to the kitchen. This feature solves the chaos of missing, delayed, or incorrect orders.
How much does Toast for bakeries cost?
Toast's initial costs for hardware and implementation vary according to your specific hardware and installation requirements. Flexible payment options are available, including paying a percentage of your sales or a fixed monthly payment using their third-party financing partner.
As part of their Starter Kit, they also offer the "Pay-as-you-Go" plan, which reduces your initial hardware and installation costs with all-in-one platform pricing.
The Essentials plan, starting at $165/month, gives you a customized hardware setup, a cloud-based point of sale, and digital ordering and delivery tools.
Cons of using Toast
Using Toast as a POS system for your bakery can be problematic, particularly regarding customer support. Small business owners have expressed frustration with Toast's lack of efficient support solutions. Merchants often wait weeks for solutions or spend their time finding answers after Toast fails to assist them.
This lack of support can leave bakery owners feeling disappointed and considering alternative POS solutions that offer more timely and reliable assistance. Additionally, according to some reviews on G2, Toast is suitable for simple menus but not the best for complicated ones.
3. Lightspeed Restaurant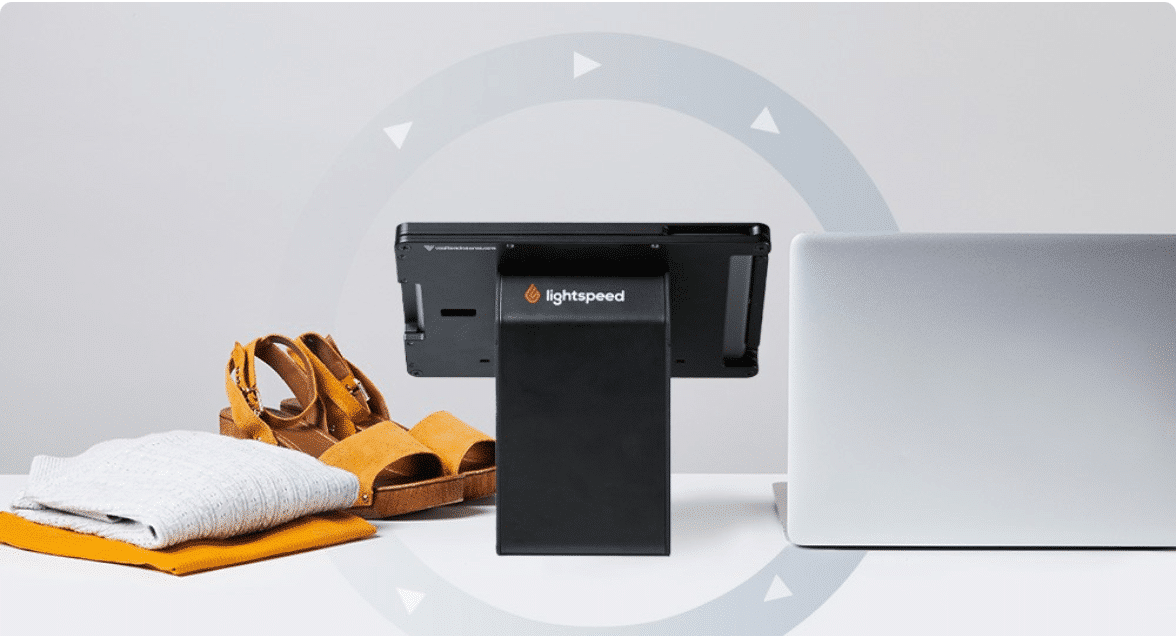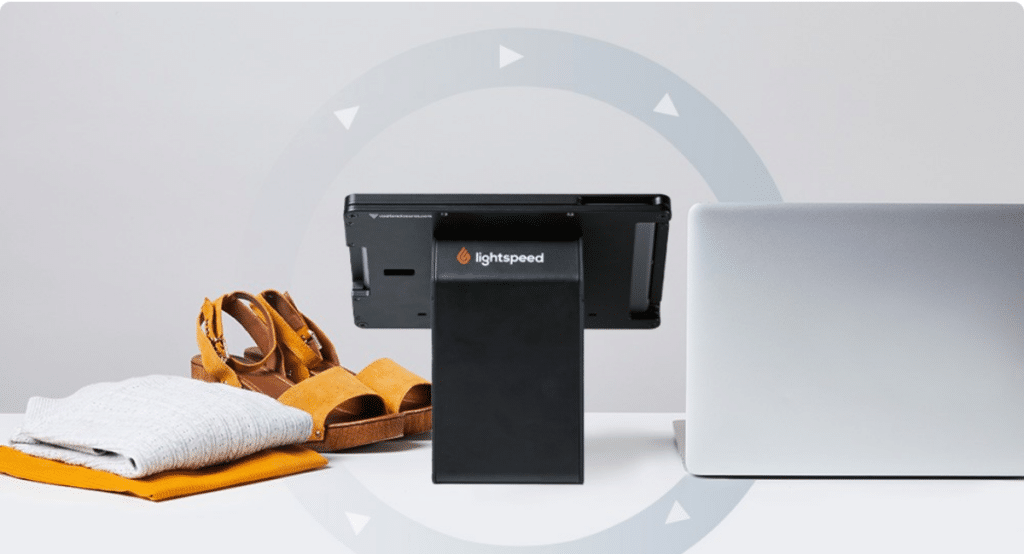 ---
The counterpart to Lightspeed Retail, Lightspeed Restaurant is a modern POS system that operates through the cloud and offers essential features specifically designed for restaurants, bakeries, and coffee shops. It includes convenient tools such as integrated payment processing, precise inventory management at the ingredient level, and basic functions for managing employees and customers.
Easy Customization
This system is particularly beneficial for bakery businesses that have busy lines. One of its standout features is the ability to customize it according to specific needs. For instance, it provides speed order screens that simplify the ordering and payment process by combining both functions on a single screen, making it more efficient for cashiers.
Kitchen Display System (KDS)
The kitchen display system for bakeries includes a display that tracks how long it takes to complete any given order. The orders are also color-coded, making it simple to see which ones are currently being prepared and which ones are ready to be served. This feature helps to streamline your bakery operations and reduce paper waste, minimizes mistakes, produces production data, and keeps order management efficient.
Online Ordering
Lightspeed has a feature known as Lightspeed Order Anywhere, which accepts online orders just like Toast. It allows you to adapt to your customers' new habits and meet them online. You can offer a contactless ordering option for eat-in or takeaway meals.
Lightspeed Delivery
With Lightspeed Delivery, you can take your menu on the road, synchronize it with leading food delivery apps and grow your business with easy-to-implement delivery integration. The feature lets you receive orders from UberEats, Skip The Dishes, or DoorDash directly at your point of sale. It lets you consolidate online orders on a single screen.
How Much Does Lightspeed Restaurant Cost?
Lightspeed Restaurant offers several different pricing options:
Starter: This plan is priced at $69/month. It is a basic package with essential features to keep your restaurant running smoothly.
Essentials: The Essentials plan costs $189/month. It offers a comprehensive set of features designed to meet the needs of most restaurants. This plan provides you with a robust and efficient system to manage your restaurant operations effectively.
Premium: The Premium plan is priced at $399. It includes advanced features and functionalities to support larger or more complex restaurant establishments. This plan allows you to access additional tools and capabilities to enhance your operations.
Enterprise: The Enterprise plan is available by requesting a custom quote. It offers a high level of customization and tailored software and hardware solutions to meet the unique requirements of your bakery. Additionally, this plan provides unlimited launch and consulting services to ensure your success.
For the Starter and Essentials plans, Lightspeed Restaurant charges a payment processing of 2.6% of the transaction amount plus an additional 10 cents per transaction. Opting for a third-party processor results in Lightspeed, increasing your monthly rates.
Cons of using Lightspeed Restaurant
Using Lightspeed Restaurant may come with some drawbacks:
Higher-priced subscription for inventory: A higher-priced subscription is required to access inventory management features. This means that if you want to manage your inventory using Lightspeed Restaurant effectively, you may need to invest more in the subscription cost.
Limited employee management functions: Lightspeed Restaurant seems to have limitations regarding employee management functions. It may not offer comprehensive features for managing your restaurant staff, such as scheduling, time tracking, or other essential employee-related tasks.
Restricted scheduling: The system allows scheduling orders only one week in advance. This limitation can be inconvenient if you need to plan and schedule orders further in advance for larger orders such as custom cakes.
Poor customer service experience: According to many business owners, the customer service provided by Lightspeed Restaurant is lacking. One even described it as "diabolical." They mentioned issues like lost sales due to system glitches and difficulty in reaching customer support. Many have also mentioned how hard it is to get anyone on the phone.
Premium pricing plans: Lightspeed also makes it financially unrealistic to use any processing solution other than their own. And their own processing is slightly inflated compared to what many third-party service providers offer.
4. Touchbistro Point of Sale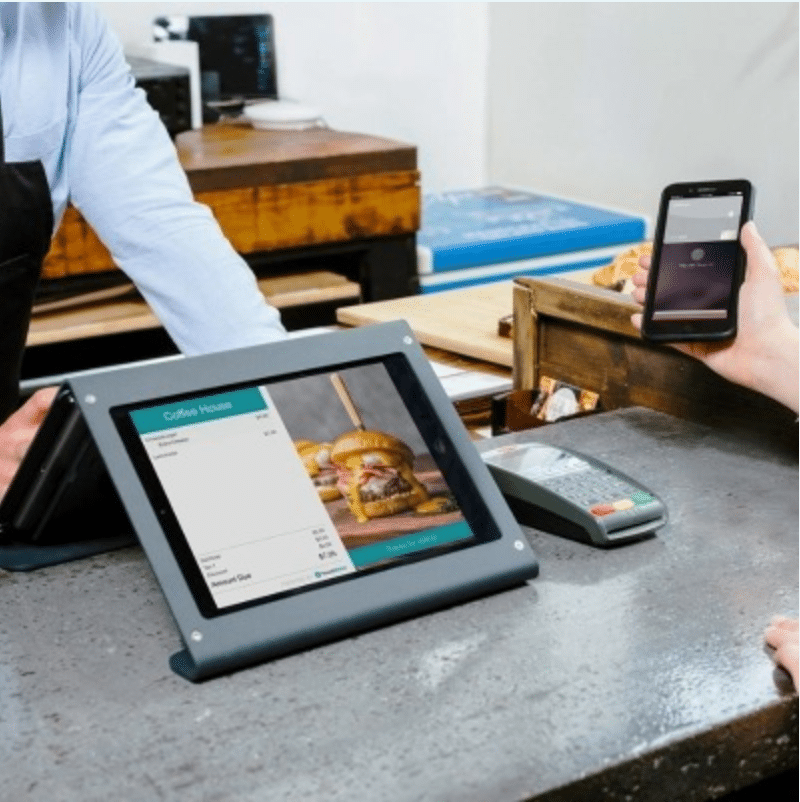 ---
TouchBistro is a fantastic choice for bakeries because it's budget-friendly, simple to operate, and easy to handle complicated bakery orders. If you're a bakery looking for a modern tablet-based system that keeps your data secure right on your premises, TouchBistro is a solid iPad POS option for you.
The software offers features such as a customer-facing display, online ordering, loyalty programs, reservations, gift cards, and a Kitchen display system.
Online Ordering
TouchBistro's online ordering solution helps you reach locals by selling food and related products through your website and the TouchBistro Dine discovery platform. With no commission fees, you keep 100% of the profits.
Reservations
TouchBistro makes it easy to accept reservations, manage capacity and give every customer star treatment with TouchBistro Reservations – the comprehensive reservations and customer management platform.
Various payment methods
Whether you wish to accept cash or cards, Touchbistro provides bakery owners with the latest trends in the most popular payment methods, both on the premises and online.
Loyalty
Touchbistro POS offers loyalty programs by registering with your rewards program. Online order integration allows customers to earn and redeem rewards for every online or in-store order.
How much does Touchbistro POS cost?
TouchBistro offers various pricing plans tailored to your specific needs. The basic plan begins at a cost of $69 per month. However, you can enhance your plan with various premium features, each carrying an additional charge.
For instance, if you want to add online ordering for your bakery, this will increase your monthly fee by $50. If you'd like to offer gift cards, you can do so for an additional $25 monthly. The reservation feature adds $229 to your monthly bill. And finally, if you want to reward your customers with a loyalty program, this feature is available for an extra $99 monthly.
In essence, you can build your own custom plan by adding features to the base plan, and each feature you add will change the total monthly price.
Cons of using Touchbistro POS
Customer reviews indicate several cons of using Touchbistro:
Unsatisfactory customer service experiences: Customers have expressed dissatisfaction with the level of support provided by Touchbistro. Issues such as non-functioning payment devices and delays in device replacement or repair have been reported.
Difficulty in canceling contracts: Customers have shared experiences where they felt locked into contracts due to salespeople providing misleading information. While they were told they could cancel anytime, finding supporting documentation can be challenging. Such a lack of flexibility can be frustrating for users who are dissatisfied with the product.
Lack of support for multi-units: Touchbistro appears to have limitations when it comes to managing multiple locations. Users have mentioned that every change needs to be repeated several times for each store, including in-store and online modifications.
Lack of timely notifications and short response windows: Touchbistro users have mentioned that the system does not send timely notifications, particularly regarding chargebacks. This can be problematic as users only have a short window of 5 days to respond, making it challenging to address payment issues promptly.
5. Square POS
Square POS is an excellent choice for bakeries due to its comprehensive range of features and user-friendly interface. With its free eCommerce platform and simple processing, Square enables bakeries to manage their online presence and streamline payment transactions seamlessly. The inventory management feature ensures that bakery owners can keep track of their ingredients and supplies while customer loyalty programs foster repeat business.
Below are a few other benefits of Square POS:
Analytics and Reporting
The analytics and reporting tools provide valuable insights into sales trends and customer preferences, allowing bakeries to make informed decisions. Square's integration with other bakery tools, such as accounting software and online ordering platforms, further enhances its utility.
Free POS System
Additionally, the availability of a free version specifically designed for restaurants makes it an ideal solution for smaller bakeries looking for food service-specific features like table maps and team management. With its intuitive hardware options and extensive feature set, Square POS empowers bakeries to manage their operations and enhance customer satisfaction efficiently.
How much does Square POS cost?
Square POS offers three pricing plans: a free version, a PLUS plan, and a Premium plan. The PLUS plan is specifically designed for restaurants and includes advanced features. It starts at $29 per month, plus a processing fee.
It's important to note that when you subscribe to Square POS, you will encounter various processing fees. Recently, Square has announced an increase in these fees, so it's crucial to be extra careful when deciding.
Square provides four types of payment processing options:
In-person: This applies when a customer taps, swipes, or inserts their card physically. Visa, Mastercard, Discover, and American Express all charge the same rate for this method: 2.6% of the transaction amount plus 10 cents.
Online: When a customer makes a purchase through your online store, online checkout, or eCommerce API, the processing fee is 2.9% of the transaction amount plus 30 cents.
Manual entry: If you manually enter your customer's card details or use a card on file, the processing fee is 3.5% of the transaction amount plus 15 cents.
Invoices: Square allows your customers to pay their bills online, in person, or from their phone using a credit card, Apple Pay, Google Pay, or ACH bank transfer. For this payment type, the processing fee is 3.3% of the transaction amount plus 30 cents.
If you plan to use gift cards, remember that there is an additional surcharge per card, ranging from $0.81 to $2, depending on the package you choose."
You may also want to read: Are Square POS Fees Too High? Understanding Your Processing Rates
Cons of using Square POS
There are a few drawbacks to using Square POS that are worth considering. Firstly, occasional fund holds can be a hassle for businesses due to interrupted cash flow.
Second, high processing fees can be a significant concern, especially for high-volume sellers. These fees can eat into your profits and make it difficult for small businesses to grow and expand sustainably.
Additionally, because Square doesn't work offline, you may be scrambling to establish an ad hoc system to continue processing payments if your bakery loses a WiFi connection. This can be potentially catastrophic if it happens during a busy time of day or for an extended period of time.
Lastly, some managers have expressed concerns about the cost of the software itself. While Square POS offers many features, the price may not suit all businesses, especially those with tight budgets. Therefore, it's essential to carefully consider these factors before deciding if Square POS is the right choice for your business.
See also: Customers Face Square Issues: Entire POS Goes Down For 12 Plus Hours
Overall, what are the best POS systems for bakeries?
In conclusion, the selection of the best point of sale system for bakeries depends greatly on the specific needs and constraints of the business. While KORONA POS boasts numerous useful features, its lack of a Kitchen Display System (KDS) makes it less suitable for bakeries with a separate kitchen.
Toast, on the other hand, offers KDS and online ordering options, but its simplicity may limit its effectiveness for more complex menus, and its customer support could be improved.
Lightspeed Restaurant, with its customizable interface, online ordering, and KDS, is another strong option; however, the relatively poor customer service, limited employee management capabilities, and higher-priced inventory subscriptions could be potential drawbacks.
Touchbistro Point of Sale stands out with its varied payment options and loyalty programs, but the difficulty in canceling contracts and lack of support for multiple units could be significant cons for some businesses.
Square POS, providing comprehensive reporting, analytics, and e-commerce capabilities, presents a solid choice for bakeries seeking a data-driven approach. However, the occasional fund holds and high processing fees may deter some users.
POS system offers a unique blend of features and potential drawbacks. It is crucial for bakery owners to carefully assess their specific needs, startup costs, budget, and operational constraints before making a final selection. Whichever system they choose, the ultimate aim should be to optimize operations, enhance customer experiences, and drive business growth.
---