Running a retail business is hectic. Owners have a lot to worry about, from accounting and payroll to ordering and inventory management. Managing every little detail can quickly become overwhelming and affect your overall business performance. And with over 30 million small businesses in the United States, it's crucial to keep up with the competition. But there's one item that can make a huge difference: a complete POS system. A robust, modern POS system comes with a variety of tools and features to make your business run more smoothly and effectively. Aside from single-employee stores, a reliable point of sale is essential.
So what are those point of sale tools and how can they improve your business? Check out this definitive list of what makes a complete POS system.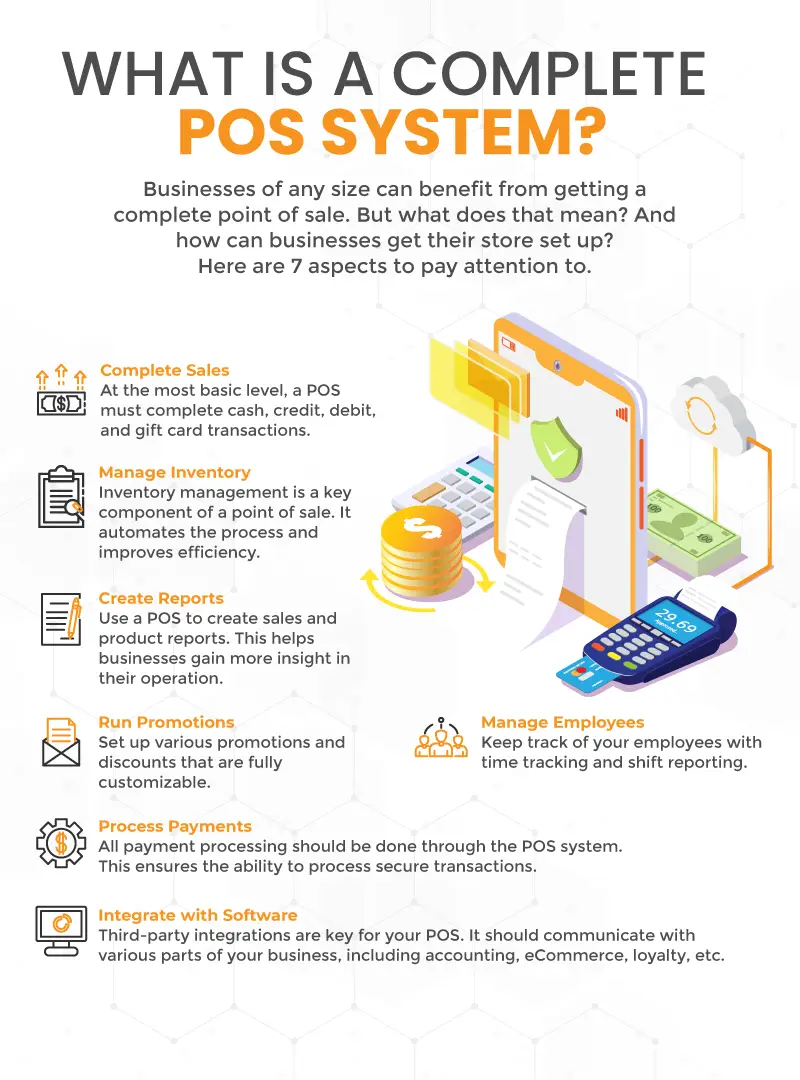 1. Process Sales
At the most basic level, a point of sale system processes your sales, though this has become more complicated in recent years.
The cashier rings up the sale by either scanning the item or manually entering a product code. The product's price shows up on the POS screen and is added to the bill. Once all items are tallied, the customer must make the proper payment.
Payments can come in various forms. Cash transactions are simply added to the drawer. Same with personal or traveler's checks if your store still accepts them.
But, of course, the much more common form of payment is by card. Your POS must accept all modern forms of payment, including each major card network brand, EMV, contactless, and Apple Pay/Android Pay. Not only do customers expect the convenience of offering each, but these payment methods are more reliable and secure, too.
Finally, sales processing must also include ease of returns, refunds, and exchanges. Setting a return policy must allow for smooth transactions and convenience for both your customers and your staff. Your point of sale is crucial for facilitating this.
2. Manage Inventory with a Complete POS System
While the sales are the front end of things, your POS system must also manage everything behind the scenes. Your inventory is the most important aspect of this.
Powerful inventory management can help your business on a number of levels:
Vendor relations
Automated reordering
Stock notifications
Custom par levels
Real-time updates
Cloud remote access
Product imports
Label and tag printing
Scanned counting and receiving
Mobile data entry
Together, these inventory features can vastly improve your store's operations. Running out of stock frustrates your shoppers and carrying too many leaves you cramped for space and cash. Optimizing your inventory and order levels is one of the most important places to start growing your business.
3. Create Reports
Once your payments and inventory are in order, you'll be ready to start processing detailed sales and product reports.
With a complete point of sale system, you'll get in-depth reports and analytics on your store's performance. This means that you'll have a wealth of insight into your business just a few clicks away. And each of these reports can be made custom to your preferences.
Compare sales between certain time frames.
Measure in-store foot traffic and conversion rates.
Break down profit margins by product.
Analyze overall success of a promotion or sale.
Detail product return and refund rates.
Grade individual products by revenue and profit (ABC retail analysis).
Determine inventory turnover.
Generate individual employee reports.
With KORONA, you can do much more. Such reports are easy to generate and interpret, allowing you or your managers to quickly analyze store performance. This is critically important to measure the success of any change that you make to your business. If you run a new promotion, order a new product, rearrange your shelves, etc. it's important to know what kind of impact it had on your store. This way, you can continue to make adjustments and optimize your operations.
4. Run Promotions and Sales
For any retail store, a major part of your marketing efforts will be your sales and promotions. They are great ways to reward regular shoppers, as well as attract new customers.
But any promotion, whether it's one product or store-wide, should be carefully tracked and monitored. A promotion that seems to go too well probably is. Too often, retailers run a big sale only to discover that they lost way more money than anticipated. For small businesses, such a mistake can be crippling to business and lead to cash flow problems and even store closure.
Your point of sale must first make this process simple. Changes in pricing can be done in bulk and it's easy to create product bundles, time-sensitive discounts, store-wide promotions, and more. These changes are reflected in the point of sale for each transaction and also shown in the back-end so that all sales reports are accurate.
Second, promotion reporting must show you exactly how each marketing campaign performs. It's important to break down overall revenue and margins for each product so that you can determine the success of each campaign. POS product reports make this easy to read so that you can make adjustments to promotion before it's too late.
5. Employee Management
A complete POS system must help you manage your staff in addition to your products. Employee management can come in a variety of forms.
Individual employee reports are the most important place to start. Your POS can track all employee actions at their terminal to see overall sales, average transaction amount, comps and voids, etc. This gives you a better idea of their performance and helps you identify any troubling behavior.
A top point of sale can also help prevent internal theft. With KORONA, it's simple to set custom permission levels for each team member. This can control drawer access and front-end actions from the cashier screen.
Finally, you can integrate your point of sale with scheduling and payroll apps. Quickbooks links up directly with your sales and makes accounting and taxes a breeze.
6. Credit Card Processing
While you need payment hardware to integrate with your POS software, you also need integration with your merchant services provider. More commonly referred to as credit card processing, this service makes sure each credit/debit transaction is properly and securely completed, from the initial swipe/tap/dip until the money is deposited in your business bank account.
Some point of sale solutions are also payment processors (such as Square). Though the entire service is bundled into one service, it's much more costly than choosing your own payment processor.
Adding a third-party credit card processing company complicates nothing as long as your POS software integrates with the service. KORONA integrates with nearly every processor on the market, allowing each of our retailers the chance to find the very cheapest solution available. Even better, you'll never be locked into any long-term contracts.
7. Software Integrations
Lastly, third-party software integrations are crucial. You need your point of sale to be as versatile as possible. And integrating with other software is essential. There are a few key areas to inquire about when shopping for your point of sale:
eCommerce – Most retailers have embraced the omnichannel selling experience and sell both online and in their brick and mortar stores. Therefore, it's important that every sale be reflected in a single inventory system. Trying to manage multiple streams of sales with separate inventory and sales tracking is a nightmare. The same goes for retailers that have multiple locations.
Accounting – As mentioned above, an accounting integration will save you a whole lot of trouble with taxes at the end of the year.
Loyalty and CRM – While many points of sale come with a simple point-based loyalty system, it's important to have options for more robust systems. In these cases, an integration with a third-party is critical. Check out more here.
KORONA's Complete POS System
KORONA software comes with everything you need to run a successful store. Whether you have a liquor store, specialty retail, gift shop, QSR, or museum, KORONA has you covered.
Unique software features have been designed for all of our verticals, so if you see your store type on our website, we have each of the point of sale tools needed to make it a great fit for your store. Check out our unlimited free trial to learn more and see how it will improve your business. There is zero commitment and one of our product specialists will walk you through a demo of each feature so you can learn the product well prior to making a purchase. Check us out!
Get Started with KORONA POS today!
Tell us a little bit about your business and explore all features that KORONA POS has to offer. And there's no commitment or credit card required.