Inventory management is arguably the most important aspect of any retail business operation. An efficient system will ensure your store that you always have the right amount of stock on hand for any given item. Keeping an optimal amount not only prevents your business from running out of stock but also keeps your warehouse and storage spaces from filling up. This is equally important since an overstocked warehouse prevents you from ordering more of your other items.
All of this is so much more difficult for business owners that run a multiple-store operation. Having more than one store makes it harder to stay organized and also more critical that you do so. Luckily, with the right multi-store inventory management software, you'll be able to do so with ease. The right operational tools streamline your operations, automate processes, and help you make more informed business decisions. Read more below to see exactly what features can help you better manage a growing retail operation.
A POS with Multi-Store Inventory Management Software
For most retailers, a point of sale with great inventory management is the best way to run a multiple-store business. It's also the best way to scale and continue to grow your business.
KORONA offers a custom option to its users, with vast inventory management features to help minimize how much time is spent on keeping track of your products. And with vast automation and optimization, business owners can rest easy knowing that they'll always have the right amount of products on hand at any given time.
So let's get into a few of the more specific features that KORONA POS offers multi-store and franchise retailers.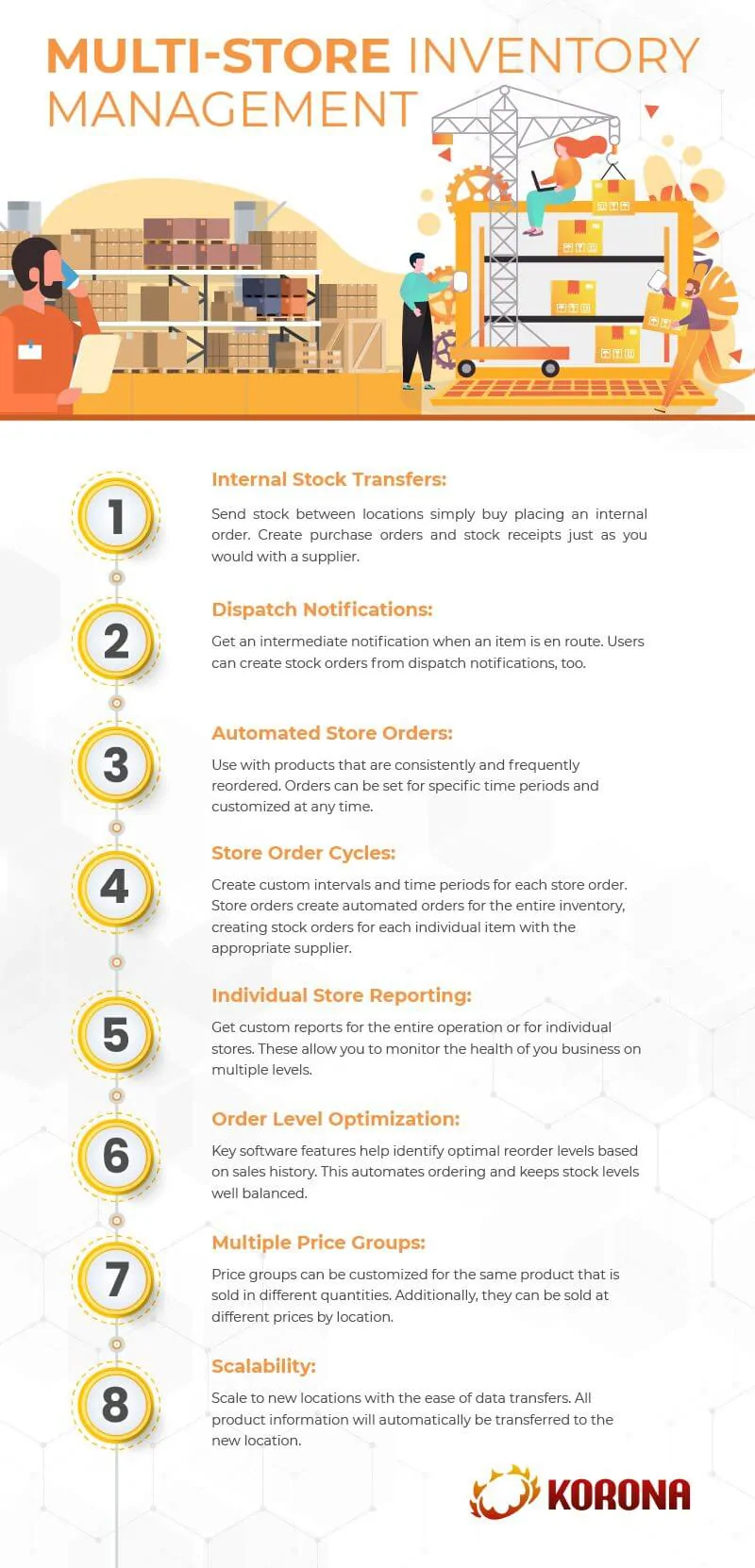 1. Internal Stock Transfers
With businesses that have multiple stores, especially if they're in the same vicinity, it's likely that at some point you'll want to send stock between different locations.
With KORONA you can create internal transfers through your stock order feature. Choose a warehouse or location that will receive the transfer. Simply identify that the transfer will be internal by checking the appropriate box.
Once the order is received at the other location, navigate to your stock receipt section and you can create a new stock receipt to accurately mark the successful transfer.
You're also able to view internal transfer reports. As with any report, this is customizable and can be filtered by source location, receiving location, commodity group, date, or status. From here, the order can also be edited and updated in any way you'd see fit.
2. Dispatch Notifications
Dispatch notifications serve as an intermediary step between placing and receiving an order. Users can again choose between external or internal dispatch notifications depending on if the item(s) are coming from the supplier or another location. If internal, you'll simply need to choose the source warehouse. If external, choose the supplier.
Additionally, you can create stock orders from dispatch notifications.
3. Automated Store Ordering
The automated store ordering features help facilitate the process for items that are frequently and consistently ordered. Again, these can be created between locations or through a supplier.
Users can finalize an order and assign it to a supplier or warehouse, order from a single supplier, or order from a single warehouse.
Additionally, these automated stock orders can be made in the backend or at the POS itself. Together, these significantly reduce wasted time and order mistakes.
4. Store Order Cycles
Store order cycles also assist in the automation and optimization of your ordering processes. These cycles can be created with custom intervals and set time periods.
Store ordering also saves its users a great amount of time. Rather than place individual stock orders for each product, a store order will create a report of all items that need to be reordered and then automatically create unique stock orders with each appropriate supplier.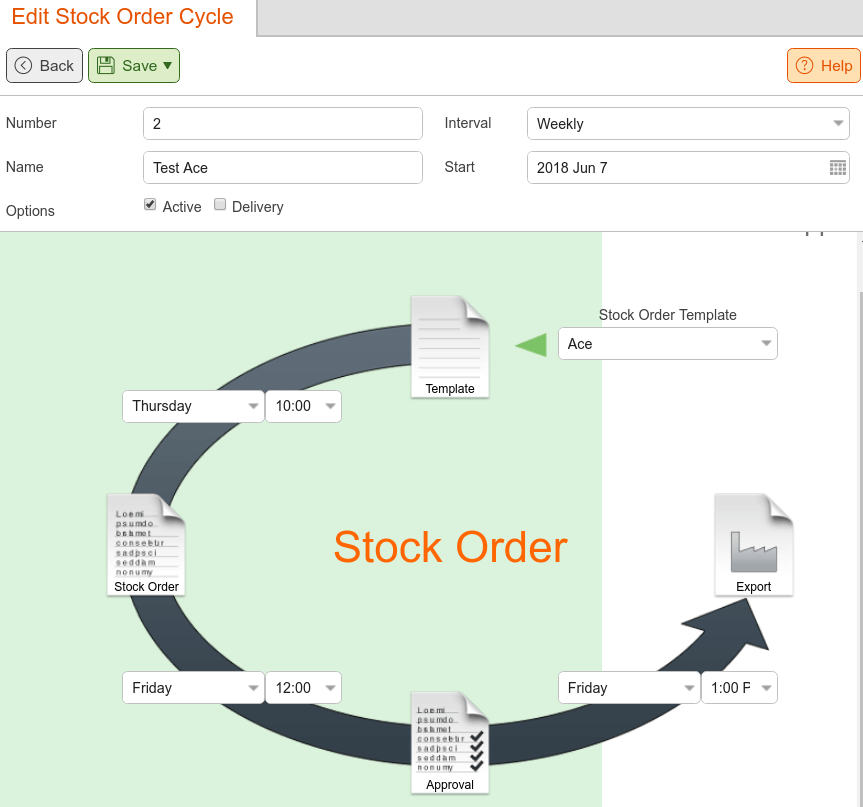 5. Individual Store Reporting
With advanced sales metrics and reporting, multi-store operations can again completely customize the experience. It's just as easy to create a report for a single store as it is for your entire operation. The same goes for franchises.
With the ability to produce unique reports, business owners can seamlessly get more in-depth information on their business's performance, allowing them to make critical changes to ordering, pricing, promotions, etc.
6. Order Level Optimization
KORONA can also create order level optimization for any unit in your store. Based on previous ordering and sales history, the software can generate optimal orders with just a click of a button. These can also be customized once created. It's another feature that adds to the automation the software offers.
7. Multiple Price Groups
Price groups can be set for the same product based on location. Retailers with multiple locations are able to set unique prices at different locations.
Additionally, you can adjust prices based on quantity, case, bundled package, etc. Rather than have to create individual new products based on price, you can simply adjust price groups to make adjustments.
8. Multi-Store Ease of Scalability
Finally, KORONA makes scaling your business by adding a new location, whether it's online or a brick and mortar store, remarkably fast and easy. Once your first location is open, a business doesn't even need to transfer data to open a new spot. Upon turning on and logging in to the backend of the software, the product data will automatically be present and inventory connected. Users can customize the data in any way they'd like for each new location, including adding or subtracting products, pricing changes, unique promotions, etc., but your product database will be shared between all locations.
A single cloud-based database has the additional benefit of avoiding local servers at each location. The setups are time-consuming and they're costly to maintain.
To learn more about how a multi-store POS system works, click below to start a free trial and speak with one of our product specialists. They'll set up a demo with you to walk you through each of these features so you can see how they actually work with your inventory uploaded.