With the extent of competition among small businesses, it's important to find ways to make yours stand out from the pack. In-store and online merchandising is the most important way to do so. But the term merchandising is vague and broad, making it hard for retailers to come up with a plan. So let's look at what merchandising is and then go over some retail merchandising tips that small business owners can use to grow their brand and sales.
What Is Retail Merchandising?
The term refers to the overall strategy that businesses take to make more sales. This blanket term refers to all promotional strategies, product placement, store layout, retail design and decoration, and pricing.
Merchandising can range from many-minute changes around your store to big-picture strategies.
Most businesses, whether they know it or not, are already using a merchandising strategy. But it will help to make a more intentional and cohesive effort.
So, to get started we need to consider what goes into a successful merchandising technique and how retailers can track the data to make the best changes for their stores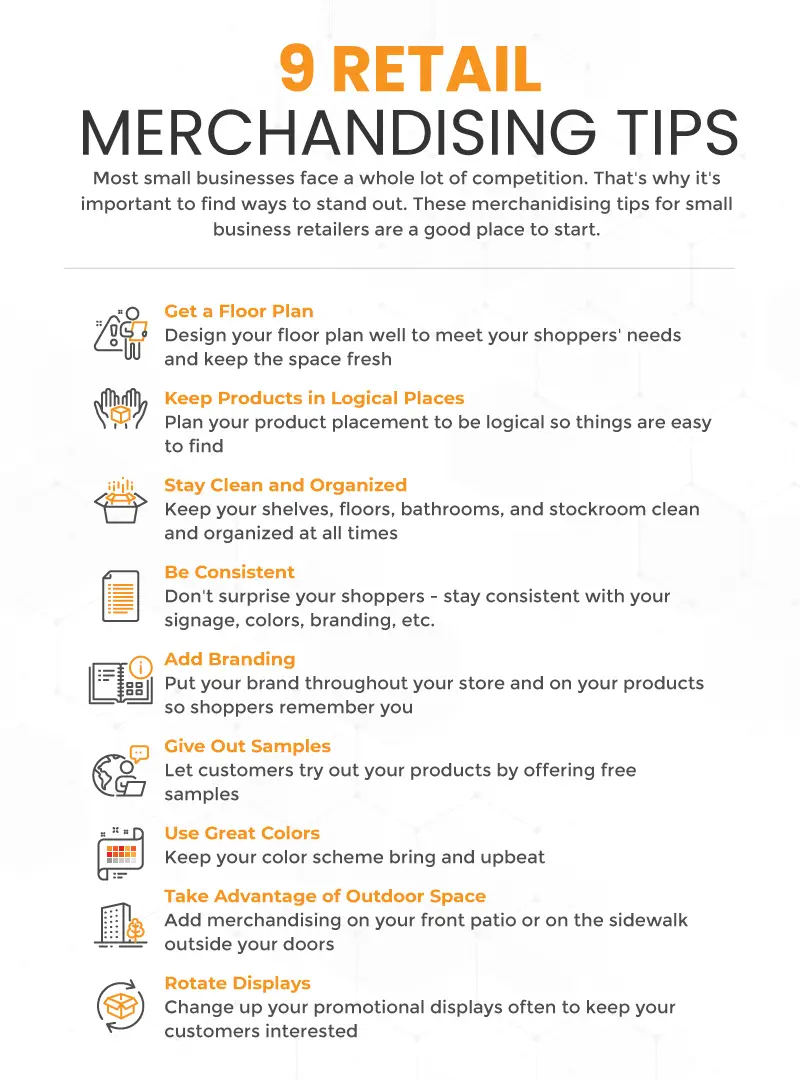 1. Optimize Your Retail Floor Plan
Designing a great floor plan is critical. With retail real estate at a premium in most places, it's important to maximize the space that you have. You don't want it to feel cramped, but you need to be able to display each of your products.
Keep as much in the back as possible. Most stores don't need to have 20 of a certain item on display, so keep a few up front and the rest of the inventory in the back storage area.
Pay attention to psychology. For instance, most shoppers like to turn right when they walk in the door. Add important products to your display in this area. Also, keep products with high margins at eye level so they're more visible.
2. Be Logical with Product Placement and Shelving
Make your products easy to find. Most shoppers want to be in and out of a retail store quickly. While you want shoppers to browse (offering sample, for instance, is a great way of doing so), you also want to cater to those who are in a rush.
Make your shelving and product layout intuitive. Your signs and floor map should aid in this, too. You can also use this as an opportunity to cross-promote certain items. Put related items next to each other to remind shoppers of other things they might need or want.
3. Keep Things Clean and Organized
Cluttered aisles, dusty displays, and an overall lack of organization will quickly get customers shopping elsewhere. It's important to keep your store organized and pristine at all times.
Dust shelves regularly.
Face product displays several times each day.
Keep floors squeaky clean.
Return misplaced products to their proper location.
Pay special attention to the entrance/exit since it's both the first and last impression for each shopper.
4. Stay Consistent
You want the shopping experience to be consistent throughout your store. You don't want to surprise or frustrate any shoppers. Instead, it's best to make your store uniform and predictable. The same goes for stores with multiple locations. Each spot should be the same.
Keep price labels the same.
Use familiar discount or promotional pricing signage.
Set up each POS terminal in the same way.
Use a single point of sale software between locations.
Fold clothes in just one way.
Make return policies consistent.
Implement similar branding and color schemes.
Design parallel eCommerce merchandising if you have a website.
All of this will create a sense of familiarity among your shoppers, helping to build your brand identity and foster a more comfortable shopping experience.
5. Add Branding to Areas Around Your Store
Branding across each of your sales channels and marketing strategies is critical. You want shoppers to recognize your brand and have a positive reaction when they see it.
To make your brand more recognizable, add your identity at various places around the store, especially near the storefront and point of purchase. Many retailers also leave shoppers with a small branded item to take with them. They might pass it on to a family member or friend.
6. Offer Samples or Freebies
Who doesn't love sample day. Give your shoppers the chance to try out certain items in your store.
Liquor stores will benefit from bringing in a rep to offer samples of beer, wine, or liquor.
Convenience stores might give out snack samples.
Beauty retailers could offer perfume or lotion samples or put out testers.
Samples allow shoppers to interact directly with the products and make sure it's something they want before buying. Even better, sample might convince a shopper to purchase an item they had previously never even thought about buying.
7. Use the Right Colors
The psychology of colors is a fascinating topic. It can be applied to many areas of life including retail merchandising.
This is true for both in-store and eCommerce merchandising. Retailers benefit from using color to get certain areas of their store stand out.
Additionally, colors can be used to emote certain feelings:
Blue for peace and tranquility
Green for freshness and nature
Yellow for energy and cheer
Purple for spirituality
Pink for romance and love
White for purity and cleanliness
There is actually a whole lot that goes into all of this. Check out this great piece on color theory in retail for a more in-depth look to optimizing your store for more sales conversions.
8. Add Retail Merchandising Outside
Outdoor merchandising is also important. Don't overdo it, but it's helpful to add items that will help shoppers identify your store and bring in additional foot traffic.
Add a funny or creative sidewalk sign.
Put some merchandise outside for passersby to look at.
Improve your front window displays.
If the weather is nice, keep your doors open.
Play music.
Add great lighting to highlight your facade.
Make your name and logo clear.
9. Rotate Through Displays
Keep displays fresh by cycling through them often. Try to create new displays at least once each season. This helps highlight different products in your catalog, giving you a better understanding of what is popular and what might need to come off the shelves.
Keep careful track of your display performance with product analysis in your retail point of sale. Typically, display items are on sale so it's important to find out exactly how productive each sale is. You need to be able to make quick adjustments to ensure maximum profit.
For more advice on retail merchandising and how your POS inventory management can help make it easier, give KORONA a try. We offer a no-commitment free trial for each customer. You can even upload your own product catalog into the system so you can see exactly how it will work before making any decisions. Sign up today!
Get Started with KORONA POS today!
Tell us a little bit about your business and explore all features that KORONA POS has to offer. And there's no commitment or credit card required.