Last Updated: January 29, 2020
Returns are a crucial cost that retailers always need to plan for. Having an appropriate refund and exchange policy in place is a huge factor that will determine whether a retailer can stay in business.
Even the most successful retail stores will have an influx of product returns. It's unavoidable. And the numbers are staggering. About 10% of total retail sales amount to returns. So if your store makes $1 million in sales in a year, that equates to $100,000 in returns!
With this sort of scale, it's important that all retailers focus on how to minimize returns and efficiently deal with the retail returns that do happen.
To make the most of your returns, find ways to prevent too much loss, keep good track of all transactions, and maintain excellent customer service. Let's go over some more best practices to follow and things to keep in mind when dealing with returns in retail.
Retail Returns Are Costly, But Only on the Surface
There are several ways that retailers can accept returns: in-store, through a distribution center, or with a third-party service. No matter which route works best for your business, it will cost you money.
First and most simply, the sale is lost. A full refund means that money is taken straight from your business account and sent back to the customer.
Returned goods might be opened, or even damaged. While many retailers have return policy stipulations concerning damaged goods, this will still result in elevated costs.
For online retailers, covering shipping and handling fees will add more to the cost.
The money spent on labor to handle and process the returns can quickly add up as well.
Inventory that is sold and then returned is no more useful or productive than something that has sat on your shelf for that same time period. And slow-moving stock costs you money.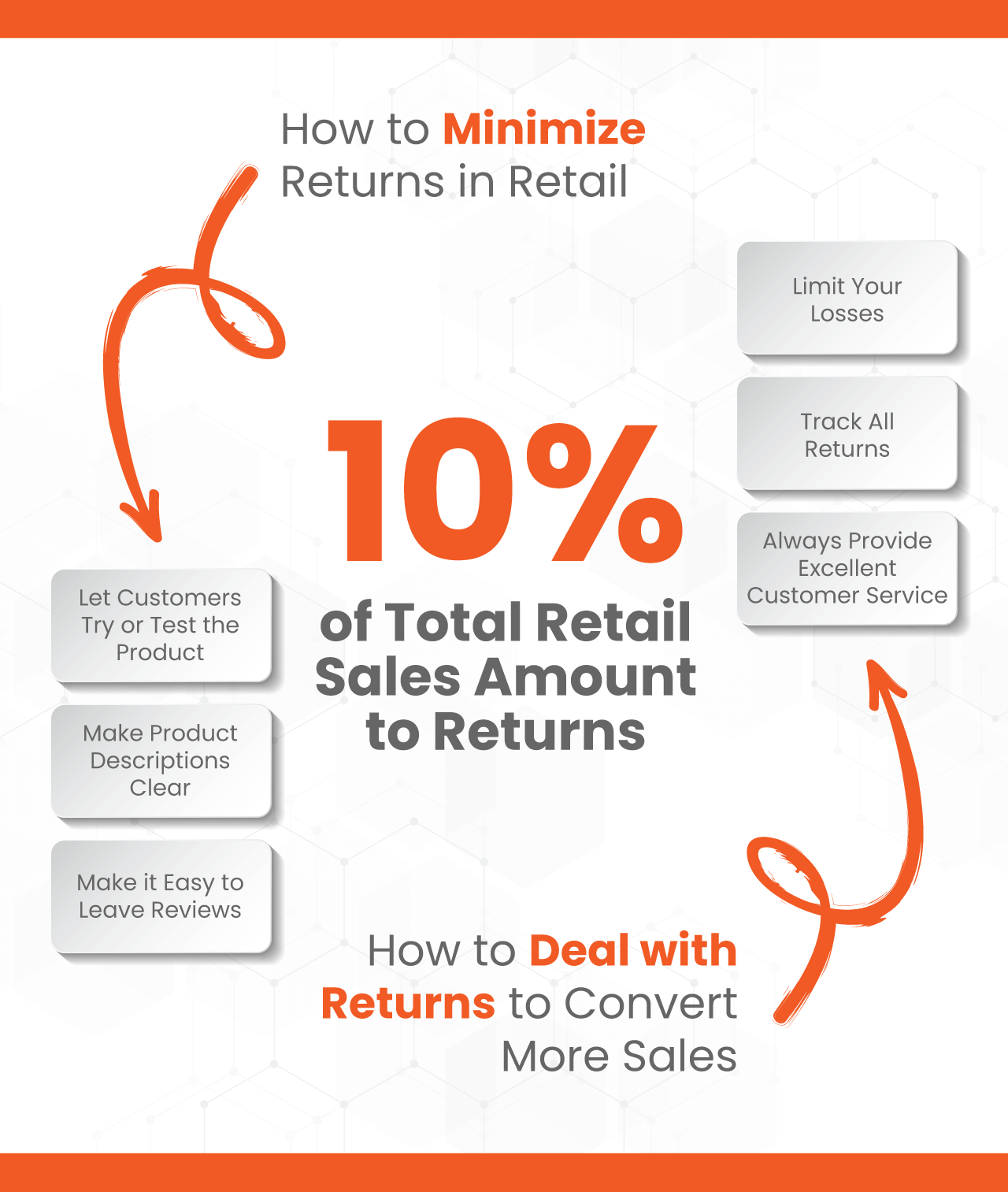 4 Ways to Lessen Returns, Refunds, and Exchanges in Retail
Not only is it outrageously expensive to track the data necessary to identify serial returners, but it's important to focus on how you can prevent a significant portion of these returns from happening:
Let customers try the product before purchasing. Sample day at Costco is a destination in and of itself. The customer will know exactly what they're getting. Of course, this doesn't always work as well as it does with frozen spring rolls, but it can be a useful approach for many retailers.
For those retailers that can't offer samples, find other ways for shoppers to interact with your products. Cosmetics and skincare retailers often set out testers for many of their products; toy and game shops let people play before buying; car dealerships let customers test drive as many cars as they want.
Make your product descriptions as clear as possible. This is mainly critical for eCommerce shops. Describe every detail of each item. Take great photographs and describe characteristics that you might find obvious. Leave no room for surprises. Many online stores allow user-submitted photos to make it even more clear.
Make it easy to leave feedback and reviews. In the words of the great negotiator, Michael Scott, this is a win-win-win: it gives the shopper a feeling of importance, helps give direction to future shoppers, and lets you know what products might need to be tweaked or replaced.
Inform Your Customers of Your Return Policy
Some companies have taken a much tougher stance on retail returns. To be sure, there are some bad apples making this problem worse than it's ever been. More and more consumers are shopping with the intent to return some or all of the products that they purchased. To combat this, many retailers have a zero-tolerance policy for "serial returners." Without being explicit, Amazon announced that these shoppers would be banned from the eCommerce giant for life. Others have followed suit. This is understandable, but an extreme solution, and one that most small businesses should avoid.
For most retailers, a simpler way to keep your policy straightforward, clear, and accessible. Make the information apparent near your retail POS system, on receipts, and through your cashiers and associates. 90% of shoppers say that a retail return policy is important to them.
Answer these questions before putting together your policy:
Do customers understand what your final sale is?

Do you offer gift receipts and how are they distinguished from other receipts?

How will the return be compensated? Will it be cash, store credit, or a product exchange?

What items do you require for a refund or exchange? Tags, receipt, ID, credit card?

How will you manage complaints and reviews?

What is the time frame for possible returns?
3 Tips to Make the Most of Your Returns in Retail and Convert More Sales
It's also beneficial to use your return policy to convert more sales in the future. Like our post on the value of customer complaints, there are ways to turn this lousy situation into a better one. It's important to keep in mind that your return policy is meant to increase your conversions and sales, not simply appease an unhappy customer.
1. Keep Your Losses As Low As Possible
Minimize your losses with return stipulations. Many retailers add fees for items missing their tags or opened packaging. Others refuse to accept damaged products. You might also consider only offering store credit for returns, thereby ensuring that the money is still spent with you. Such conditions need not be applied across the board either. It might only come into effect for items on sale, for instance.
You can also use the opportunity to sell more. You don't want to be pushy, but you might suggest a similar product to try instead of the one they are returning.
2. Record All Returns, Exchanges, and Refunds in Retail
Track everything in your cloud-based point of sale system. Returns, refunds, or exchanges must be easily tracked with your POS. Inventory should be returned to the stock levels, and any losses in product need to be accounted for.
Require identification for all returns. Most purchases are made by credit card, so checking ID and the card used to make the purchase ensures that the return isn't fraudulent. This also allows you to build a database of returns, making it easier to identify any shoppers who are abusing the system.
3. Make Sure You're Always Providing Excellent Customer Service
Stay calm and polite throughout the process. A retail return policy is an important aspect of customer service. Train your staff well to handle difficult customers and remedy the situation. This doesn't mean that you can never say no to a return, but default to the customer when in doubt.
Make the process fast and easy. Most shoppers are already unhappy that they need to make a return, so a long line at the return counter can be extra frustrating. It's usually best to avoid frustrating your customers. In order to expedite the process, devote a special window or aisle to returns (if your store is big enough to do so) and be sure to have a point of sale that makes returning an item to stock is easy to do.
Don't ask too many questions about the return. As long as you feel confident that it's not fraudulent and the product is undamaged, accept the return and limit yourself to just one question: why would you like to return the product. This is valuable information for you to know without prying too much into the customer's space.
Train all employees to process returns. The process will be faster and less of a hassle. Keeping this to a minimum will make it much more likely the customer will return. And it's much cheaper to keep an existing customer than it is to recruit a new one.
How COVID-19 is Changing Return Policies
COVID-19 has caused some temporary changes to retail policies in general with return policies included. But when you look at return policies specifically, we may be looking at some permanent change and shift in strategies.
Because of fitting rooms remaining closed and orders being delayed, many retail stores are coming out with more flexible return policies. A common example is expanding return periods from 30 to 60 days. But what this is actually resulting in for some businesses is a reduction in the rate of total returns.
Does this mean retailers will stick with wider return windows in the future? Possibly. The key takeaway, however, is to focus on accommodation (while of course still accounting for the cost of returns). Shoppers are more likely to shop with a brand that is fair and accommodating in their return policies. A sale that can be potentially returned is better than no sale at all.
Make the Most of Your Returned Products Overall
Don't take retail returns too personally. Remember, excellent products will still be returned. Instead, use it as an opportunity to impress your customers, learn about your product line, and increase your retail sales. And make sure you have the very best point of sale system to make it all fast, easy, and organized. Click below to learn more about how KORONA can benefit your small business.
Get Started with KORONA POS today!
Tell us a little bit about your business and explore all features that KORONA POS has to offer. And there's no commitment or credit card required.