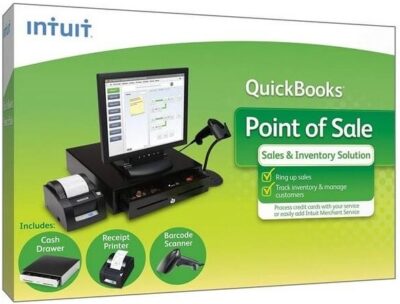 ---
On February 23, 2023, Intuit announced on its QuickBooks blog that it is phasing out its QuickBooks Desktop Point of Sale. The company will stop selling its POS software effective immediately. By October 3rd this year, Intuit will no longer offer updates, support, or payment and gift card services. In addition, QuickBooks POS discontinued integration with eCommerce management platform Webgility as well.
What is QuickBooks POS?
QuickBooks Desktop has been a highly popular business tool since the early 1980s. QuickBooks Desktop Point of Sale was one of the leading on-site POS solutions before the rise of cloud-based solutions. It was designed especially for brick-and-mortar retailers who use QuickBooks Desktop for their accounting services. This QuickBooks software mini-suite offered users a native integration with an industry-leading accounting platform.
Intuit released the last QuickBooks Desktop POS update, Version 19, in 2020. However, they cited software maintenance and difficulty developing new features as too complicated and costly to move forward.
In fact, Intuit is discontinuing service for the entirety of its locally-installed "Desktop" service. This suite includes applications for accounting, accepting payments, sending invoices, tracking taxes, connecting to apps, and paying bills.
What's Next For Their POS Users?
With QuickBooks POS discontinued, Intuit support is encouraging and instructing customers to take steps to migrate towards QuickBooks Online service. This move is part of a much larger industry shift from legacy on-site point of sale `into an entirely cloud-based software solution.
Technically, it's still possible to attach the Desktop POS as a point of sale interface to a separate merchant services account, but this is not recommended. There will no longer be security patches, leaving too much risk for retail companies to be hacked or attacked. Also, working with any integrations will be much more difficult without fully functioning updates and optimization. And with no customer support, troubleshooting issues will be nearly impossible.
Luckily, modern, cloud-based point of sale systems integrate with QuickBooks' current accounting and inventory management software. These systems cost much less upfront and hold all data in encrypted, off-site storage.
In addition, some POS providers allow retailers to shop around for the best processing rates available, whereas QuickBooks POS locks in its own processing fees. Unsurprisingly, many bigger POS providers are pushing to acquire the current QuickBooks Desktop POS users while optimizing integration with Intuit's cloud-based accounting programs.
QuickBooks POS Discontinued – Other POS Solutions?
If you're an existing QuickBooks POS user and curious about KORONA POS as an alternative, click below to schedule a product demo. KORONA POS fully integrates with QuickBooks Online, making the transition seamless. We offer free migration tools and advanced 24/7 technical support.