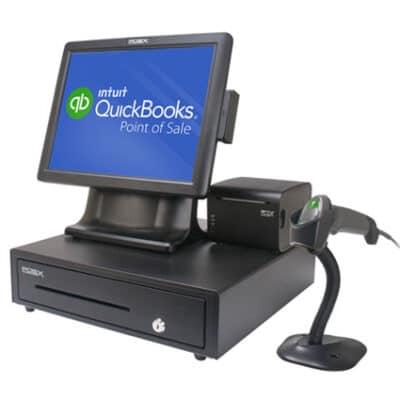 Last month, Intuit, the company behind QuickBooks, announced that they will be discontinuing their point of sale, known as QuickBooks Desktop POS. The move is somewhat unsurprising, as most on-site POS providers are either becoming increasingly obsolete or transitioning to a cloud-based SaaS model.
As of May 2023, QuickBooks POS will stop issuing updates and patches or offering customer support. All of their users will need to think about shopping around for a different point of sale. There are certainly a lot of options and providers out there, and selecting the best solution will depend on your vertical, budget, and desired features. Here's a guide on the best QuickBooks POS alternatives and what to look for when searching for new point of sale software.
Table of Contents
QuickBooks POS Discontinued
The sunsetting of QuickBooks POS comes is part of their discontinuation of the QuickBooks Desktop suite. This suite included applications for accounting, bill pay, and more. Intuit is not releasing a next generation product for their point of sale and appears to be done providing that service as part of their suite.
However, as for other accounting software, Intuit does offer a comprehensive package called QuickBooks Online. This platform operates as a cloud-based SaaS subscription service that can be integrated with capable point of sale software. Intuit explains the process of migrating their QuickBooks Desktop to Online on their website, making the inevitable transition to a new POS a little bit easier for businesses.
When Does QuickBooks POS End?
Intuit will stop selling the point of sale software effective immediately. As for security patches, updates, and customer support, Intuit will discontinue all of those services by October 3rd, 2023. That date will also mark the end of their payment processing, git card platform, and eCommerce integration with Webgility.
What POS Should I Get After QuickBooks POS Ends?
So much of your business runs directly through your point of sale. Everything from employee management and inventory to sales reports and scheduling are powered by your POS – it's not an aspect of your business to overlook. You want to make sure you have the most updated and advanced point of sale that is cloud-based and integration-ready, with low-processing fees. In addition, look for providers with powerful inventory management and reporting features. Here's some more in-depth info to think about.
Move To Cloud-Based POS System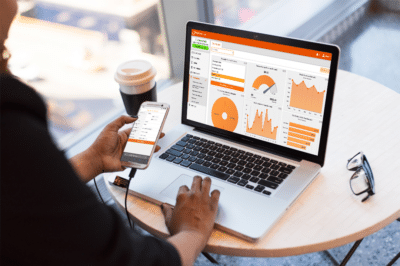 Don't make a lateral move by opting for an on-site point of sale. All modern point of sale software is cloud-based. That means all of your inventory, customer data, and sales reports are kept in a secure, off-site server. All of this information is encrypted so that you don't have to worry about hacks, attacks, floods, or fires.
Another advantage of cloud-based systems is that you can access all of your data and monitor your business from anywhere with internet access. That means you can manage your brick-and-mortar stores on-the-go or from the comfort of your own home. Also, cloud-based systems are built for scalability to multiple locations, perfect for those who plan to grow their business.
Find A QuickBooks POS Alternative That's Integration Ready
One of the most important features to think about when choosing a new point of sale is its integration options. The most powerful point of sale systems offer advanced integration capabilities for all aspects of running your business, such as loyalty programs, compliance, eCommerce, cash protection and more.
Some integrations are specific to certain verticals. So, if you own a brick-and-mortar business selling wine, cannabis, or coffee, for example, there are platforms that will be more useful and applicable to what you sell. Be sure to confirm that your next point of sale provider offers these integrations for your industry or niche.
QuickBooks Online Accounting Integration
Most QuickBooks POS users chose to work with Intuit because of its native integration with QuickBooks Desktop accounting. If you fall into this category and plan on using QuickBooks Online accounting, then limit your POS software search to providers that are readily compatible. Reducing the need for manual migration of information will save you considerable time, money, and headache.
Credit Card Fees: Find Better Rates Than QuickBooks POS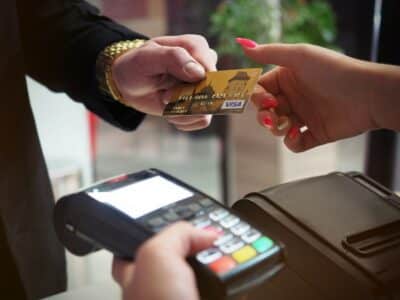 All point of sale systems have different policies regarding how their payment processing works. QuickBooks POS has their own payment processing service – QuickBooks payments. These fees were locked in at either 2.4% plus 30 cents per swiped transaction for their users who paid no monthly fee and"1.6% plus 30 cents per swiped transaction for those who subscribed with a monthly fee.
Many of the modern all-in-one point of sale solutions, such as Square and Clover, have similarly non-negotiable transaction fees. For some businesses, this structure is worth paying for. For example, businesses that process few transactions but have a high average value will likely be more amenable to such an agreement.
However, for businesses processing a higher volume of transactions, these fees add up to huge amounts of lost revenue. In this case, retailers should instead look for POS solutions that are credit card agnostic. For example, KORONA POS allows clients to shop around for the best processing rates available. Lowering the cost per transaction can save companies significant amounts of money over the course of the year.
Inventory Management Features That Exceed QuickBooks Point of Sale
QuickBooks POS had a powerful and advanced inventory management system. In fact, one commenter on GetApp reviews mentioned that the system could handle their product list of over 2 million items. Fear not, though – whatever inventory capabilities that were available on QuickBooks POS can be found with an improved and modern POS. Cloud-based point of sale systems now offer extremely adaptable inventory solutions for importing from suppliers, tracking omnichannel sales, and optimizing stock levels. With systems like KORONA POS, you can enjoy features, such as auto-reordering and stock optimization, and fully grasp your inventory with tools like ABC analysis.
Point of Sale Reporting and Analytics
Point of sale systems should not only execute your transactions; they should also provide detailed reports and analysis on sales, customer preferences, as well as employee and product performance. The best solutions offer native programs for breaking down data into actionable insights for business owners.
In particular, KORONA POS features a fully customizable key performance indicator (KPI) dashboard. There, retailers can choose exactly what metrics they wish to use in order to measure different aspects of their business's health. These tools are highly useful for informing owners and managers on where to make improvements and changes. They also help power decisions on promotions, merchandising, marketing, and more.
Don't Forget Hands On Customer Support
One of the most prominent themes among QuickBooks POS' negative reviews centered on their customer service. Hands-on support cannot be overvalued. When your retail location is busy and you run into an issue, you need to troubleshoot and resolve your issues as fast as possible.
Retailers should look for 24/7 technical support that's included in their subscription in order to guarantee that they can keep their businesses running smoothly. Take care to perform due diligence when shopping around for POS providers. Ask for a demo or a free trial month, and then call directly to see how fast you can get their support on the phone to assist you.
Try KORONA POS Today
If you are confused or curious about how to best transition away from your now obsolete QuickBooks POS, give us a call. Our in-house technicians are equipped to help guide you on merging your database onto our award-winning, cloud-based system.
KORONA POS fully integrates with QuickBooks Online, so you can use the same trusted accounting tools in conjunction with our POS software and eCommerce integration. Best of all, you can try our point of sale risk free. Reach out today for a demo!