Last Updated: March 31, 2021
Whether you are a one-person operation or have forty locations across the country, your point of sale solution is one of the most critical decisions you will have to make for your business. Point of sale software has become so much more than just a cash register with many POS system features available; pen and paper or Excel are no longer cutting it. Simply having a POS system is a necessity, and having a great system is a significant long-term advantage. Unfortunately, the pricing and services that come with it can be convoluted and full of financial pitfalls. It doesn't have to be this way, however.
Let's take a look at what services your POS can offer, some ranges of what to expect for your point of sale price, ways it can make your small business more successful, and how to choose a POS system for your business.
Software Subscriptions
Over the past decade, the point of sale industry has quickly become dominated by software-as-a-service (SaaS) models instead of Application Service Provider (ASP) or "Legacy" models. At the most basic level, SaaS provides more scalability and flexibility for its users. It also allows for your POS solution to be cloud-based. Such a system provides remote data storage that can be located from any device or location. This ensures more secure data, unlimited space, unfettered access, and real-time reporting.
Prices for a cloud-based POS solution subscription vary widely. Most start between $50 and $100 per month with various additional fees and offers attached. KORONA's base monthly price is $59 per terminal. This includes an unlimited number of users, unlimited product listings, and access from any compatible device. Our cloud-based point of sale system software is built to make data storage and access easier.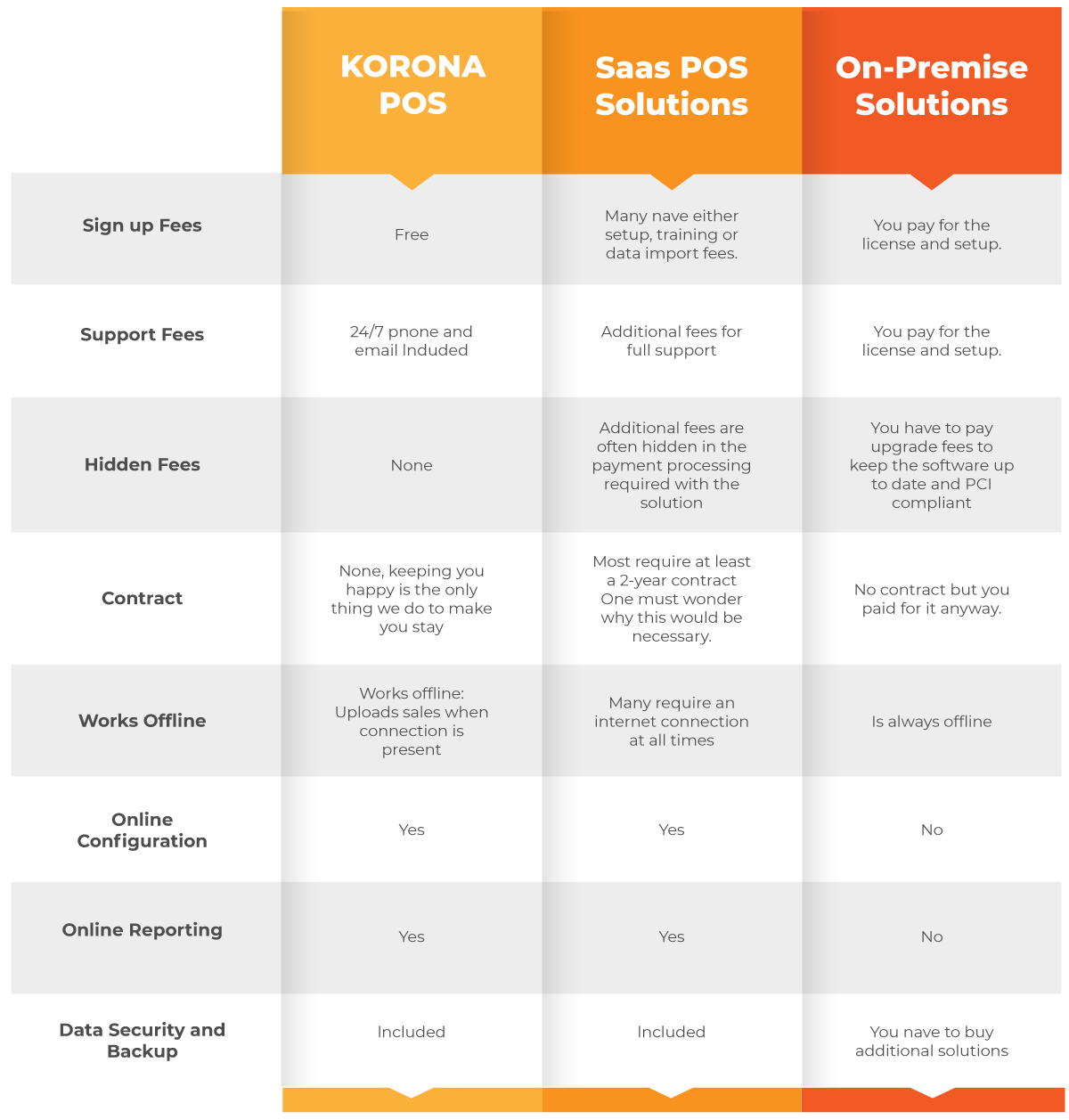 Hardware Options
Hardware prices vary even more. Several companies require the use of their own hardware, others give each customer the option. Be careful of free hardware offers; many of these come with long-term subscriptions to high credit card processing fees or hiked SaaS subscription prices down the road.
See Related: How Does Credit Card Processing Work? – The Ultimate Guide for Retailers
KORONA offers hardware for sale or leasing options, but our software is compatible with most current hardware options. Whether you purchase hardware from KORONA or have your own, the monthly subscription fees will remain unchanged and you'll never be bound by a contract.
More rudimentary POS hardware options will cost $400-$500, while advanced systems can run as high as $2,000. High volume receipt printers generally range from $150-$300 and credit card machines from $100-200. Whatever option is best for you, make sure it doesn't come with any hidden fees or subscriptions down the road.
Processing Fees
Credit card processing fees can easily be the most costly aspect of your point of sale solution. Basic processing rates generally range from 0.25% to 4% per transaction (a HUGE difference if your business has significant sales). Some also require a flat $0.10 to $0.25 fee for each transaction, decimating profits for smaller purchases. Interchange rates can also be an added blow to your fees with each transaction.
Certain POS companies like Clover and Toast require that their customers use their credit card processor. Claiming that this "allows us to offer unique POS features and functionality," this is how they make up costs (plus a lot more) for offering free or heavily discounted hardware.
KORONA POS does not offer an internal credit card processor and will never take a cent off of any sale from our users. We leave the decision up to you and are compatible with whichever processor you choose to go with.
Installation and Training Fees
Many points of sale solutions charge a fee for terminal installation and any training that come with it. These can often cost thousands of dollars. Installation and training are included in KORONA's flat monthly subscription. Our software is intuitive and easy to use and we'll be there to help with any questions you have along the way.
Customer Support Hours
Like installation, many companies charge per hour of customer support. Some others charge for after-hours calls or only offer a limited amount of support hours per month. At KORONA, we believe that support should be included in your monthly subscription. Moreover, there shouldn't be a cap on the amount of support we provide. That's why we're here 24/7 by phone, chat, or email for whatever issue you need to be resolved.
Long-Term Contracts and Cancellation Fees
Some point of sale pricing includes long-term contracts, many of which come with pricing changes along the way. Others also charge you a cancellation penalty. Whichever POS solution you are thinking about, make sure that you avoid POS early termination fees and payment processing contracts. You should be able to cancel at any time, free of charge. KORONA POS is confident in our product and ethical in our approach. We have no desire to rope anyone into cumbersome contracts.
Some customers looking for a new point of sale are hoping to find a one-time purchase of their software. Unfortunately, such purchases do not come with support included and any updates to the software require an additional fee or a completely new purchase. Our SaaS is month to month and includes free updates and upgrades each month.
Conclusion on Point of Sale Price and Your POS Solution
Long story short, the price of your POS can vary on a vast number of factors. More niche software options will raise your price, state of the art hardware will as well. But make sure that the solution you go with is as straightforward as possible. Be wary of hidden fees, promises of low or no upfront costs, confusing contracts, and limited credit card processor options. And if you have any questions, check us out at KORONA POS. We're proud of the product we offer and how transparent our monthly subscription is.
Get Started with KORONA POS today!
Tell us a little bit about your business and explore all features that KORONA POS has to offer. And there's no commitment or credit card required.