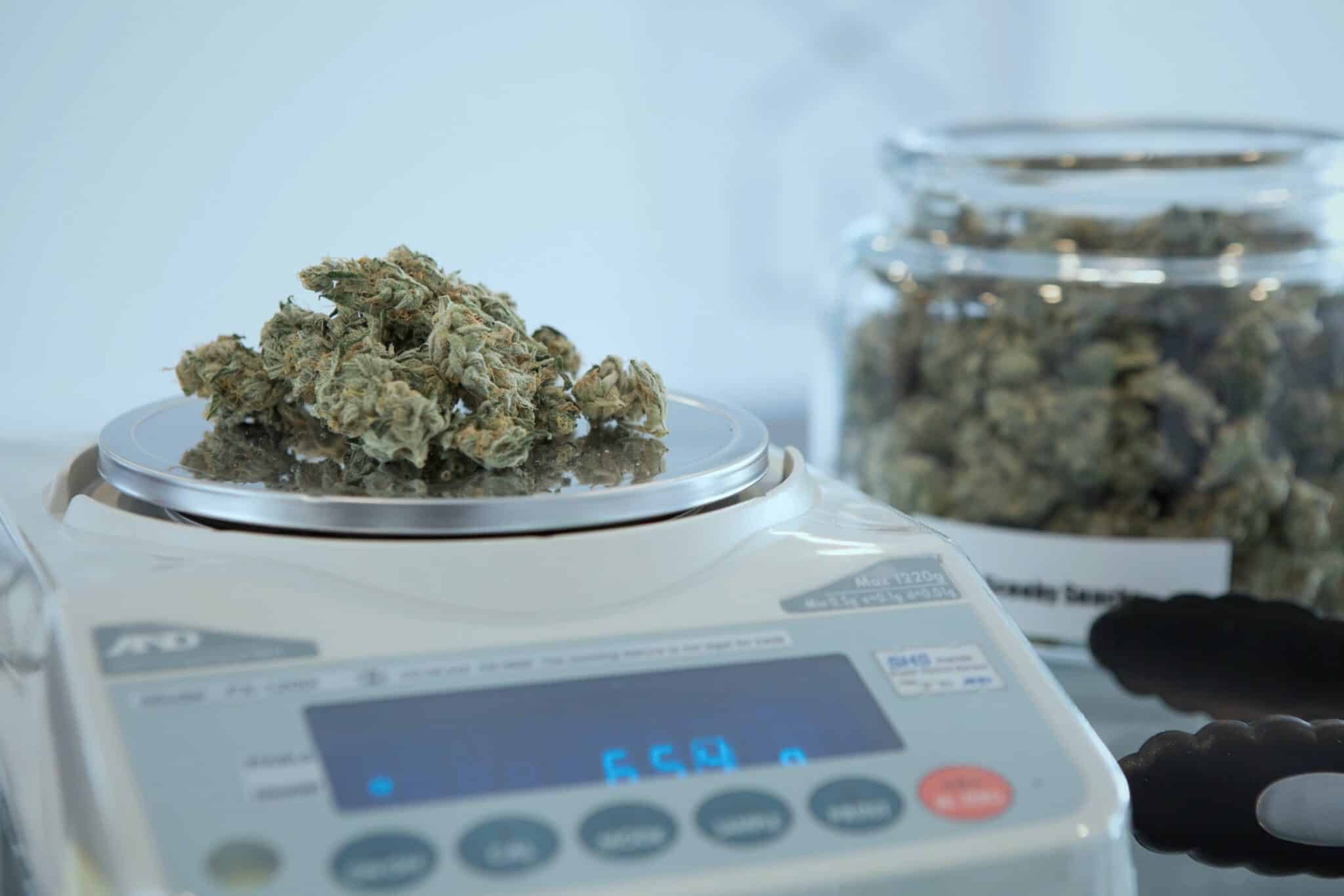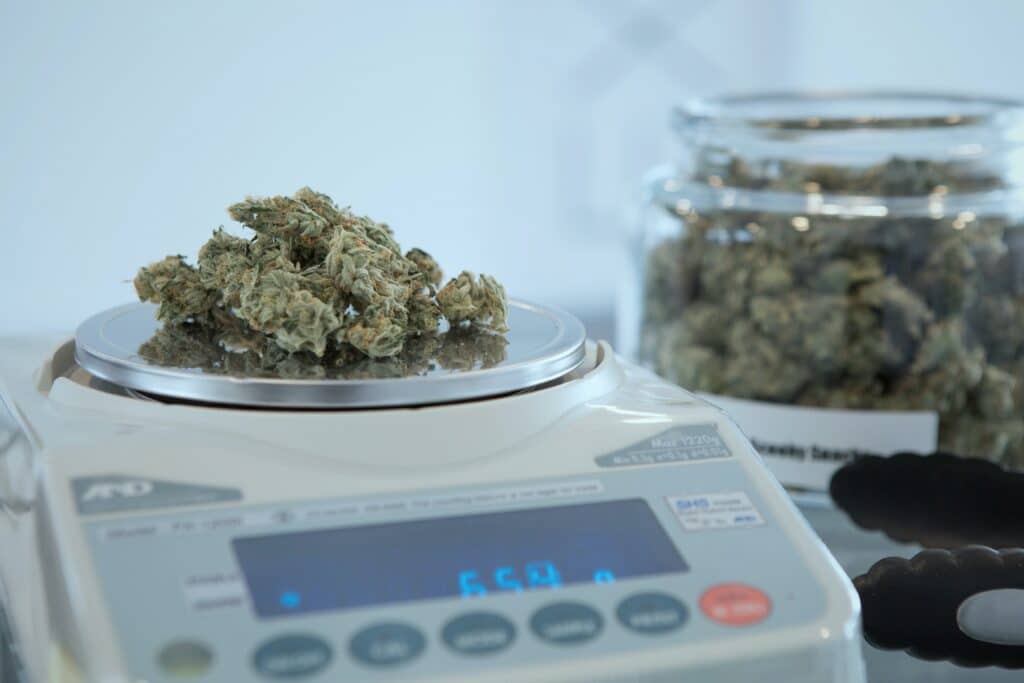 At some point, every retail business owner must take out a calculator and examine how their company is performing. To remain viable and analyze their productivity many companies will utilize what are called key performance indicators (KPIs). These are often, but not always, simple equation-based analyses focusing on both broad and specific aspects of running a retail business.
Marijuana retail businesses operate similarly to other brick-and-mortar shops in many ways. As such, it can be very helpful to use KPIs in order to optimize your dispensary's efficiency. Considering how competitive the cannabis industry is, these indicators offer crucial insights, guiding business owners on how to increase their profit margin, customer retention, and more. Below is a guide outlining the best KPIs to use in order to thrive in the cannabis retail world.
Table of Contents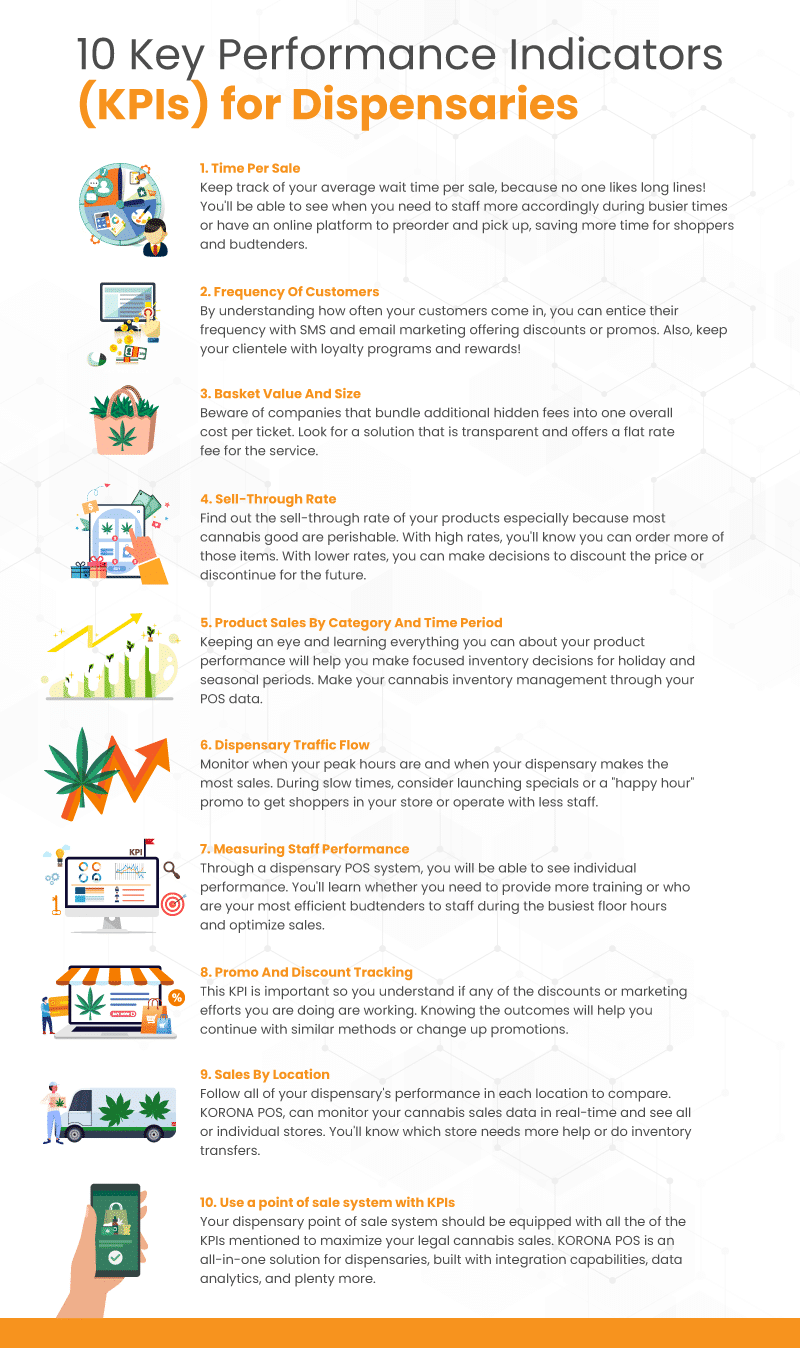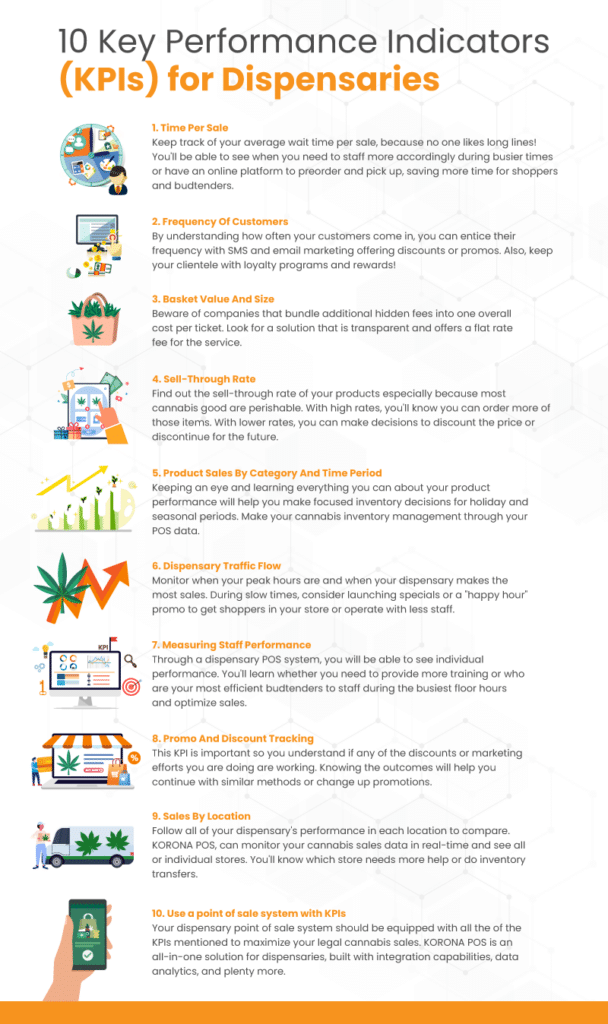 Time Per Sale
Regardless of what a store sells, no one wants to wait in long lines. Keeping your check out flow quick and efficient is crucial, and will have a huge impact customers' perception of your dispensary. Track the time it takes for shoppers to check in until they complete their sale at the register. This will give you a good idea of the average wait time per sale at your retail location.
Using a powerful, smart dispensary point of sale system will make your process a whole lot faster, allowing your budtenders to expedite checkout and increase customer satisfaction. In addition, by using built-in sales data to illuminate your busiest hours, you can choose when to staff more budtenders in order to easily handle upticks in foot traffic.
With the KORONA POS eCommerce platform, you can also encourage your shoppers to buy right off the website. That way your clientele can simply check in, pick up their pre ordered bag of goodies, and cash out saving both them and your employees crucial time. In turn, this will drastically cut down on overall wait time for other shoppers.
Frequency Of Customers
Another great KPI to examine is how often your customers are coming into your dispensary. It gives you a tangible goal from which to try to increase your overall sales. Is your clientele visiting once a month? Once a week?
Think about strategically targeting your customers to get them back into the store. Loyalty programs with substantial rewards will entice shoppers to buy from your dispensary more frequently. KORONA POS works seamlessly with the loyalty and text message marketing software springbig to do just that.
Try asking your customers to opt into SMS messages to offer them a discount code or remind them that their favorite items are back in stock. Attract your clientele to your store by posting photos on your dispensary's Instagram page of the beautiful cannabis buds from the best brands that you stock.
Average Basket Size And Value
Getting shoppers into your store is no easy feat. Therefore, it's essential to make it count each time a new person visits your store. Pay attention to your basket size to learn more about customer purchase habits. This will help you tailor your promos and product ordering and give you insights into your price points and budtender performance.
To increase basket size, try training your staff to upsell and cross sell. Use KORONA POS customer analytics to make strategically targeted offers to your existing clientele when they return to your store. You can also offer bundles like buy one get one free to increase purchase size, or stock impulse buys like pre-rolls and individual edible packs at the cash wrap.
Sell-Through Rate
The sell-through rate measures the units of inventory you sold of a particular product divided by the units you received from your supplier of that same product. For example, if you are ordering 1000 units of strawberry cannabis gummies a month, and at the end of the month you have sold 700 units, your sell through rate would be 70%. (700 units sold / 1000 units = .7 = 70%) Most retailers use a target of 70-80% for their sell-through rate.
This KPI is an important indicator of how well a product is performing, and at times, whether it is even worth keeping that item at all. This is especially true for cannabis goods, considering that most of them are perishable.
In the case of Items with a lower sell-through rate, you might want to think about making some adjustments to move the product off your shelves, such as lowering the price or offering it in a bundle. For the future, consider ordering less stock, or discontinuing that product all together.
Cannabis Product Sales By Category And Time Period
Get to know everything you possibly can about your product performance by looking at your inventory by category to see what's selling more and what's not. Use your POS data to control for time periods and to focus on how specific categories perform during certain seasons and holidays.
Cannabis-infused chocolates might sell more around Halloween or Christmas. Prepare accordingly by having more of those items in stock. In the winter months, when people buy less marijuana infused beverages, you can reduce your wholesale order and free up much needed storage space.
Traffic Flow Trends
Modern POS systems offer built in analytics to provide actionable insights about your cannabis retail location's foot traffic. When are your peak hours? What days do you make the most sales? Are there any weekly periods of bottlenecking at the register or, inversely, drastic downtimes?
Monitoring traffic flow patterns at your dispensary can help you make decisions about staffing appropriately. During particularly slower periods, it might make more sense to operate with a leaner staff. On the flip side, busier periods will demand more budtenders in order to accommodate an influx of customers.
Not to mention, traffic flow KPIs can help you hone in on areas of improvement to increase your sales revenue throughout the work week. If, for example, your store is exceptionally empty on Mondays around noon, consider launching a happy hour promotion campaign to increase shopper traffic for that time.
See Also: 8 Retail Store Floor Plans
Employee And Budtender Performance
Track individual staff performance right through your point of sale system. See which workers are performing best, and who might need a little more training. Having your fastest and most efficient workers on the floor during the busiest hours can help you optimize your dispensary's sales capacity.
Great employees don't just upsell. Encouraging your budtenders to establish a relationship with their clientele can pay huge dividends in the long run. Consider offering staff samples of your cannabis products to better equip them for making suggestions or recommendations. Remember, hiring and retaining great staff requires offering competitive benefits, and proper training programs.
Tracking Promos
What's the point of running promotional campaigns without knowing if they actually work? Tracking your promo performance means keeping a couple of things in mind. First, examine your sales data to see what percentage of your transactions are through promotions. Make sure that those discounts aren't hurting your overall bottom line.
Secondly, when you push your promos to your customers using social media marketing, SMS texting, or third party apps like Weedmaps, you can use unique codes targeted to specific clientele. By analyzing the use of those codes in your dispensary, you will get an idea of how effective those promotions are in getting folks to actually go to your store.
Total Sales By Location
For dispensary retail businesses with multiple locations, tracking performance by location is a must. With KORONA POS, you can effortlessly monitor sales data in real-time across all of your brick-and-mortar stores or you can select individual locations.
If you happen to have a few shops in one city, and two locations in another city, you can create whichever grouping you want to see how your stores are performing against one another. This can help you tweak inventory, tailor your inventory to customer preferences, and design location-specific promos.
Click here to listen to the podcast discussing the evolution and future of the cannabis industry with the CEO of KORONA POS
KORONA POS Offers The Best Built In KPIs For Retail
As competitive as the cannabis retail market is, it's imperative to utilize your sales data in order to measure performance and operate with maximum efficiency. With the best dispensary point of sale system in the business, KORONA POS offers all of the built-in KPIs that your cannabis retail company will ever need. Pick and choose exactly which KPIs you want to keep an eye on with our fully customizable back-end dashboard interface. Give us a call today to learn more about our data analytics, integration capabilities, and competitive pricing.