Perhaps you're part of the rush of entrepreneurs to enter the dispensary market. As more states continue to legalize the sale of recreational marijuana, the business opportunities abound. With incredible profit margins and a largely insatiable consumer market, it's no wonder that cannabis is the gold rush (or "green rush" if you're feeling particular dadish) of present day. In fact, the cannabis market value is expected to triple by 2025 to over $30 billion. The growth of CBD use will add even more to this.
But starting a new dispensary is no easy task. It's costly upfront, with the average dispensary totaling $775,000 in startup money. Plus, it's heavily regulated, meaning business owners must be sure to have all requisite permits and licenses. Failure to operate without them will result in steep fines or even store closure. And, though we'll lay out some of the basics on how to open a dispensary in this blog post, because of these legal issues, it's necessary to seek legal counsel prior to jumping in. Hopefully, this guide will get your started and inspire you to learn more about the first steps towards starting a new cannabis retail shop.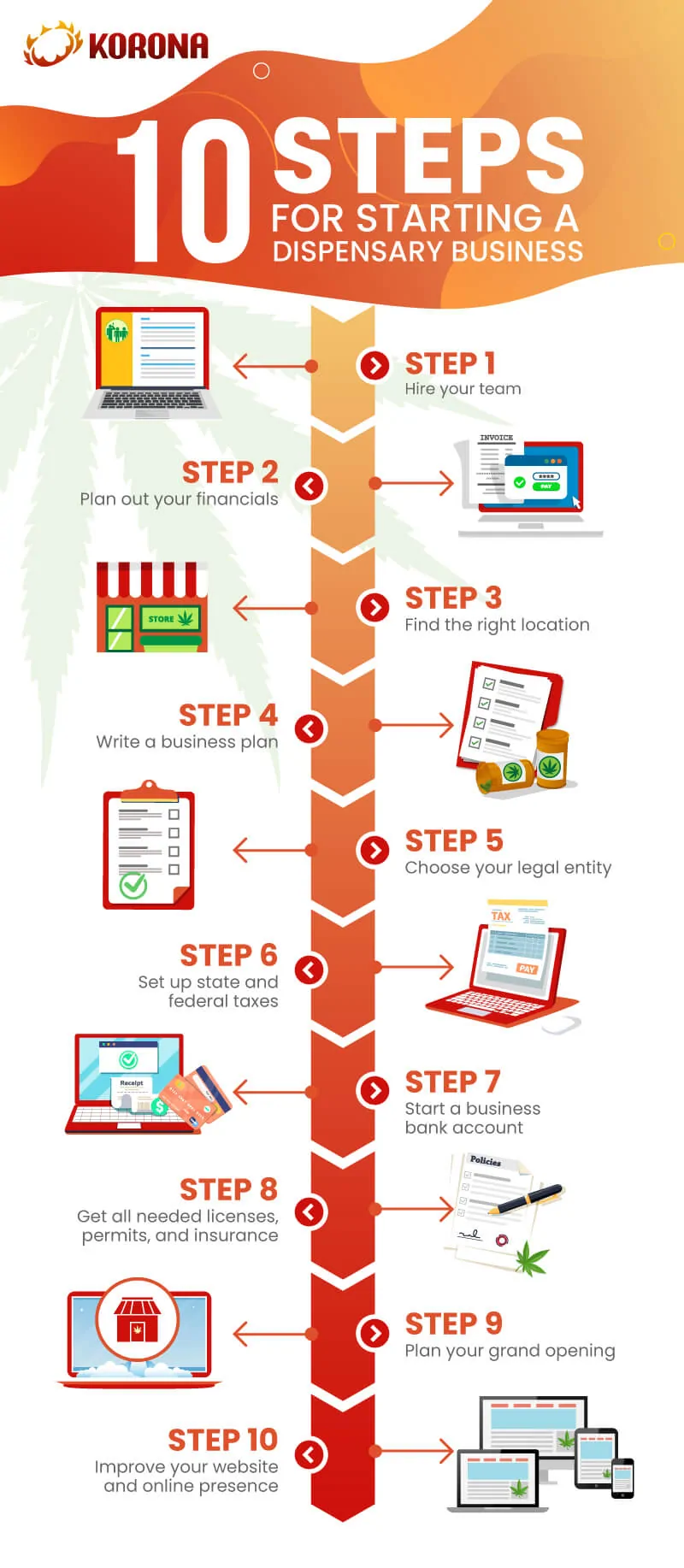 1. Hire a Great Dispensary Team
There are millions of Americans who work in retail. There is a lot of demand for great retail employees so it's not always easy to find the perfect fit for your store. All retailers look for hardworking, passionate, and relatable people to staff their store. This is especially the case for dispensaries. Team members must have a serious attention to detail, extensive knowledge of each product, adherence to stringent regulations surrounding cannabis, and the ability to cater the experience to each shopper. To find the right team to open your dispensary, consider the following:
Use multiple hiring channels
Start by updating your website to make it easy to apply and clear what roles you're looking for. This shouldn't be a step that weeds out potential candidates. Keep it simple, constantly updated, and add essential details.
Additionally, dispensary retailers should look for candidates on other platforms. Not all of the best new hires will find you; instead, you should use tools to reach a larger audience. Use third-party job finding and head hunting sites. Like your website, include essential information on these postings, but don't make them overwhelming or intimidating.
Prepare for interviews ahead of time
Interviewing is a pain. For both sides. You surely expect all candidates to prepare, so you should do the same. Make sure you're able to define your company's brand and express exactly what you're looking for in a team member at your dispensary. It's also important to be able to express the responsibilities and expectations for each role so that candidates know what to expect if/when they start the job.
Ask the right questions
Keep the interview natural and let it flow like a conversation rather than a stiff, formal affair. Don't rush and allow the interviewee time to respond thoughtfully and in full. A cannabis employee will need to work closely with their teammates so introduce them to other employees and your management. They'll also be spending a lot of time face-to-face with customers and need to be fluent in the products your shop offers. Ask them about products that they enjoy to find out how passionate and knowledgeable they are.
Remember, dispensaries want to hire outgoing, personable, and passionate staff. They'll be representing your brand and responsible for how much you sell. This is a critical step in the process of opening a new dispensary so give it the time and effort it deserves.
2. Plan Your Financials
A less exciting phase of opening a new dispensary is setting up your financial information and making sure that you have a viable business in place.
In fact, for dispensaries, state laws require that all new applicants provide proof of capitalization and a certain amount of liquid cash on hand. The more the better.
Opening a new cannabis shop is both extremely competitive and expensive. In most states, entrepreneurs will face a lot of competition from other applicants. And money on-hand at the onset is often a determining factor in which businesses are granted the necessary licenses and which aren't. After all, most banks refuse to provide traditional loans to dispensaries, so the state needs to see that you have the requisite cash to get the business off the ground. Generally speaking, you'll need at least $250,000 to be approved.
Read also: How Much Does It Cost To Open a Retail Store?
3. Find the Right Location for Your Dispensary
Like any retail business, choosing the right location is so important for dispensaries. But, when finding their location, cannabis stores also face the challenge of following additional regulations.
Details vary from state to state, but typically dispensaries cannot be located within 1,000 feet from a school, church, or community center. They also must be situated in their own building and not part of a strip mall or shopping complex.
You'll also need to choose between owning and leasing a building. If you decide to buy a property outright, business owners can choose to do what they want with the space. Under leases, however, dispensaries may be subject to more scrutiny and outright denial from property owners. If you do rent, it's critical that you disclose your intended use of the property beforehand in order to avoid long-term legal trouble down the road.
Lastly, cannabis shops will need to navigate more traditional considerations when it comes to opening a retail location. These include parking, foot traffic, surrounding businesses and competition, and overall busyness in the area.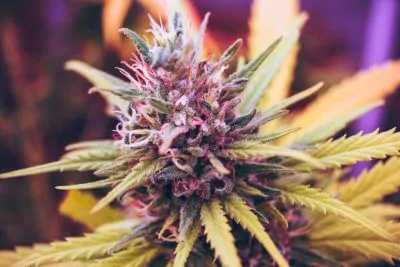 4. Get the Right Business Plan
The part that no one wants to deal with is the business plan. But it's arguably the most important step in the process of opening a new dispensary.
Start by defining the goals of your business and the mission statement for your dispensary. Do you want to focus on providing high-quality medicinal marijuana or will your store be catered more toward recreational users? Do you seek to provide stable jobs and income for local residents?
You'll also need to get into more specifics on the products that you'll offer and who you anticipate will buy them. Again, there is a plethora of competition in the cannabis world and you need to show potential investors and state regulators how your business will stand out from the pack.
Furthermore, you must lay out your operational, marketing, and financial plans. These indicate that you have an idea of the structure of your business, what employee compensation and benefits will be, how you'll hire, and much more. Together, this indicates what your initial plan will be but also contains contingencies in case things don't go quite as planned.
But dispensaries also need additional aspects for their business plan:
Cultivation
This lays out where you'll be sourcing your cannabis and how it will be grown. Remember, cannabis sales must be tracked throughout the entire supply chain – from seed to sale – so applicant reviewers must know how you plan to cultivate the crop.
Environmental
Any business that grows a cultivated crop must follow strict environmental regulations to protect soil, air quality, runoff, etc.
Fire Safety
Greenhouses and dispensaries must also comply with all typical fire safety regulations.
Inventory Control
As mentioned above, cannabis retailers must track each individual seed until its eventual sale. Clearly, you'll need a vast inventory management system to fully comply with this. This is where your dispensary POS system comes in! KORONA partners with Dauntless to fully integrate to all proper tracking software so that dispensaries can follow and report their product from start to finish.
Product Safety
Because you're providing a consumable product, you'll need to follow all safety procedures to ensure that it's a safe product for consumers.
Security and Staffing
All dispensaries are required to hire security guards and an adequate number of staff members to be working at any given time. Because the product being sold may be illegal in neighboring states or counties, it's important to strongly protect against theft.
5. Choose Your Legal Entity
Start by registering your business name and any DBA with your local government. If you want to trademark your name and prevent any other businesses from using it, you'll need to reach out the U.S. Trademark and Patent Office to obtain the proper license.
Any intellectual property that your business has must also be protected under copyright laws. Aside from your business name, these can include creative work, product names or strands, logos, slogans, and more.
Like any business, dispensaries must register with the IRS to get an employer identification number so that employees can file taxes correctly with their employer.
Finally, choose your legal entity. In most cases, dispensaries will have 4 options:
Sole Proprietorship – The most unusual for an operation the size of a dispensary, sole proprietorships mean that a single person owns and operates the business.
Partnership – Businesses have multiple partners, but, like sole proprietorships, taxes will be paid from personal income returns.
LLC – The most common, LLCs protect partners from certain financial liabilities.
Corporation – With no owner, corporations pay taxes through the corporation rather than through a single person or group of people.
6. Set Up State and Federal Taxes
This applies to both recreational and medicinal marijuana. Because medical cannabis can only be recommended and not prescribed, the FDA does not protect it from being taxed.
Because of this, cannabis retailers need to assign a tax to every sale through their point of sale system.
Taxes on cannabis vary widely by state, so check with your local government. For a quick look, this guide offers basic information on the cannabis tax laws for each state in which it's legal.
7. Start a Business Bank Account and Line of Credit
In most cases, traditional banking is not going to be an option. The sale and consumption of cannabis is still federally illegal; thus far, banks have stayed away to avoid any damaging legal battles.
Plus, starting a dispensary is a high-risk endeavor. Banks are insured against default by the Federal Deposit Insurance Corporation (FDIC). This protects banks and its customers by assuring them that money will always be on hand when needed. But if a bank works with businesses that violate and federal laws, the insurance is voided. It's unlikely that lending to a dispensary will shut down any bank, but it's simply not worth the risk to them.
There are alternative ways of gaining funding, however.
Equity Funding for Dispensaries
Equity funding raises money through the sale of shares. A dispensary can sell chunks of ownership in a company in return for cash. Typically, this money can be secured through venture capital, angel investments, crowdfunding, or good ol' fashioned friends and family. If you're feeling adventurous, you can even try to get funding from Snoop Dogg. His Casa Verde Capital has been lending to new cannabis ventures for years now.
Debt Funding for Cannabis Shops
Debt funding is another option. With good credit, it's possible to qualify for substantial personal loans or high limit credit cards. These both come with substantial interest making them less than ideal for many new business owners.
The funding situation is likely to change as cannabis is legalized in more states. Once it's inevitably legalized nationally, banks and other traditional lenders will accept these loans (though they still may be high-risk and harder to obtain), giving new dispensary businesses more options.
8. Get All Cannabis Related Licenses, Permits, and Business Insurance
There are a LOT of laws surrounding the growth, production, sale, and use of cannabis. And it's vital for business owners to strictly adhere to all city, county, state, and federal laws that are required. Proper licensure, permits, insurance are a major component of this.
As of the end of 2019, there are 34 states, D.C., Guam, Puerto Rico, and the U.S. Virgin Islands that allow for at least medicinal marijuana sale and consumption. The remaining 16 states and territories have outlawed any use.
If you're opening a business in an area that allows for it, let's go over some of the usual paperwork items that you'll need:
Seller's permit
There are many businesses that require a unique permit for selling items of a certain niche. Cannabis is no exception. This is the first place to start.
Duration
Most states offer temporary or permanent licenses for selling. Typically, permanent licenses must be renewed every year.
Cannabis-specific seller license
In addition to a normal seller's permit cannabis requires additional licensing with application and annual fees.
Business plan
Most states require a business plan with the items that were discussed above. In some states, the business plan comes with even more requirements. Again, this is an area that's best to consult a legal team about.
The licenses and fees vary widely. In some states they can be under a thousand dollars; in others, they range in the tens of thousands.
Insurance is also required to protect against typical risks.
General
Landlords and states require this to protect individuals against damages or injuries incurred at your business.
Product
This insurance protects your product, equipment, and any other item with substantial cost to your business.
Medicinal
Dispensaries must protect against loss of product in-store or en route during transportation.
9. Market Your Cannabis Shop Grand Opening
Once you have all the hard stuff out of the way, come up with a plan for your pre-opening marketing and grand opening.
Start by getting your store listed on all necessary websites, including any specifically related to dispensaries. But certainly, include Yelp, Facebook, Google My Business, etc. These are so critical for growing brand awareness and image. They also make it easy for prospective customers to find your store and any basic information like reviews, pricing, hours, etc.
Turn your opening day into an event that offers your first-time shoppers a great deal. You want to thank those who show up on the first day, draw a big crowd, and also encourage them to come back soon. Use your inventory management and sales reporting software in your point of sale to measure your margins beforehand – you don't want to offer a deal that is too good to be true.
See related: How To Make Your Dispensary Stand Out
10. Build a Great Website
Finally, it's important to focus on building a great website for your store. Cannabis shops don't need much, but it should provide basic information on your products and store information.
Though shoppers can't use credit cards to purchase cannabis products, making eCommerce shopping impossible, dispensaries should set up online menus that allow remote shoppers to pre-order items. This lets them order something online and pick it up at a later time. It adds convenience to the experience, allowing them to skip lines.
The online menu should integrate with your POS inventory management so that all inventory listed on the site as in stock is accurate. You don't want shoppers to order items that you don't have. This is just one more thing that KORONA and Dauntless integrate with to provide our cannabi retailers with a truly all-in-one solution.
To learn more about how KORONA can help your dispensary succeed and grow, click below to get in touch with a product specialist. And don't forget to check out our other guides to opening a new business!
Learn More: What Is a Dispensary POS System: A Guide for Cannabis Retailers
Get Started with KORONA today!
Tell us a little bit about your business and explore all features that KORONA has to offer. And there's no commitment or credit card required.