It's no great secret that recreational marijuana has become a big business. New dispensaries continue to consistently pop up across the country as more states legalize recreational cannabis use. With such a great amount of new places to buy legal cannabis the race to comes what seems like just as many cannabis tech solution companies.
There is seemingly an endless number of technologies that help to carry out and fulfill the entire process of selling legal cannabis from cultivation to consumption. For the purposes of this article, we will look at technology companies in the retail dispensary space. These companies range from point of sale systems, compliance trackers, wholesale marketplaces for retailers, online menus with price comparisons for customers, and delivery fulfillment companies that do the work to get customers their cannabis products without having to leave the house.
Read on to learn more about how these companies can make selling your cannabis products more efficient and productive.
Table of Contents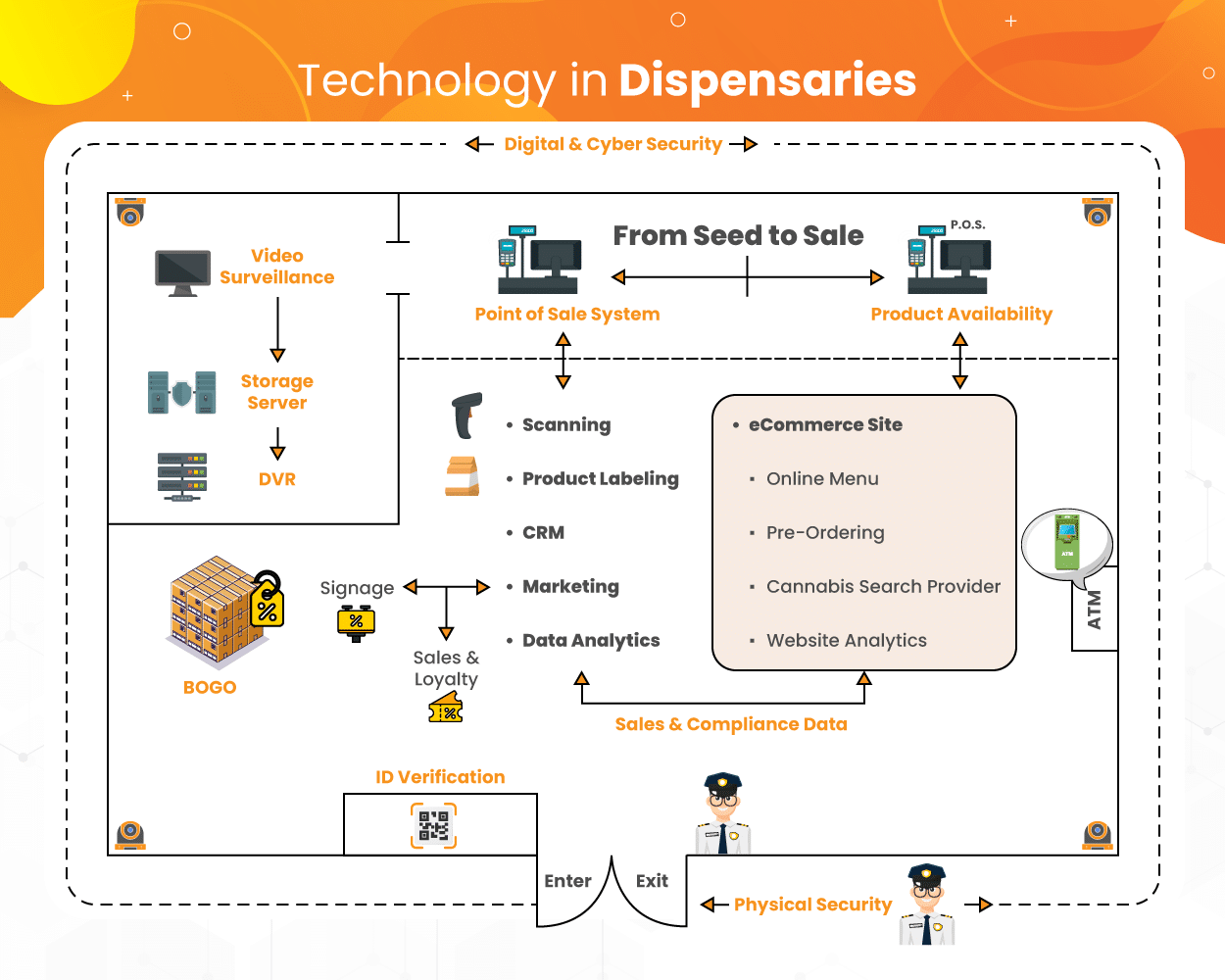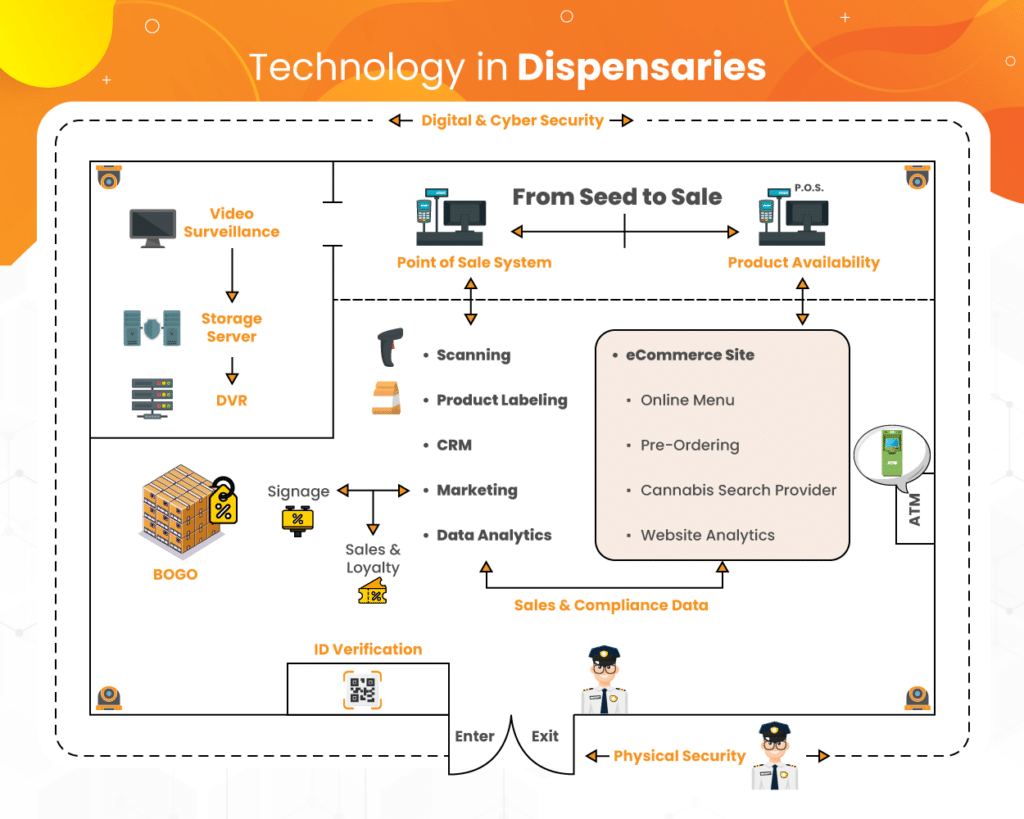 Marijuana Industry Market Research
Similarly to any retail industry, knowing as much as you can about your clientele is a must. Segmented consumer data and trend forecasting helps producers and dispensaries increase sales and build customer retention.
Brightfield Group
Market research and consumer insights are at the heart of what Brightfield Group offers for cannabis companies, as well as CBD and wellness brands. They use AI-driven research to help businesses stay informed about how to most effectively market their products. To put it plainly, they know a lot about who's buying what and why they're buying it. Their software and expertise is a great tool for dispensary retail business owners to optimize sales.
Cannabis Technology Companies For Compliance And Inventory Management
Legal cannabis is tracked from "seed to sale." This means that every aspect of production, from the time the seed is sent to the farm to the moment a final sale is made, is tracked and recorded. There are specific compliance laws for how cannabis is grown, cured, distributed, sold, and consumed depending on state and locale. There are several cannabis tech solution companies that facilitate this process for medical and recreational dispensaries.
Metrc
The overall leader for government-facing compliance technology in the industry is Marijuana Enforcement Tracking Reporting Compliance (Metrc). Metrc was created by the Florida-based technology company Franwell in 2014 to utilize radio frequency identification (RFID) to track and trace marijuana for compliance. After winning a contract with California in 2017, they are now the state sanctioned regulator in AK, CA, CO, Washington D.C., LA, ME, MD, MA, MI, MO, MN, NV, OH, OK, OR, and WV.
Biotrack
BioTrack is similar to Metrc, except that it is built for business-facing seed-to-sale, as opposed to government-facing track-and-trace. In other words, state governments use Metrc to track cannabis within the ecosystem and businesses use BioTrack. Therefore, they integrate with each other to facilitate seamless compliance for dispensaries' inventory and POS systems. BioTrack operates as a tracking system to see where your inventory is and was at every given moment, from the first moment of cultivation until it reaches the consumer.
Akerna
Leading the industry's tracking tech is Denver-based software company Akerna. Their portfolio boasts multiple compliance options including several seed to sale software solutions such as MJ Freeway and Leaf Data Systems. They also offer an anti-counterfeiting solution package called Solo Sciences to help cannabis companies ensure that they can easily and efficiently authenticate all of their products.
Fyllo
Fyllo offers regulatory compliance consulting services for cryptocurrency, the short term rental market, and the cannabis industry. Making sure that your retail shop is compliant with all of the state and municipal laws is no easy feat. Companies like Fyllo help you stay protected with their "hyper-local" focus on regulation. They also offer a data-driven cannabis marketing and promotions platform.
Lucid Green
Using fungible UPC codes, Lucid Green offers a single label system from cultivation through consumption, making inventory management much easier and more streamlined. Lucid Green also uses these codes for consumers to partake in rewards programs, which helps drive customer insight and targeted loyalty marketing.
Dispensary CRM
As we all know, acquiring customers is hard. That's why keeping your clientele intrigued by your products and promotions is essential to maintaining sales and retaining your customer base.
Stemless
Stemless offers a dynamic customer relationship management suite. Starting out as an online ordering channel, they now do so much more for cannabis retail companies. Their tech includes a proven loyalty program, targeted SMS messaging, and analytics for dispensaries.. They integrate with your point of sale system to make the most of your customer and sales data.
Sprout
With some of the most robust technology powering their CRM and marketing software, Sprout is a force to be reckoned with. They were acquired by Weedmaps in September of 2021 and offer a cannabis-specific loyalty marketing platform. Sprouts is especially designed for dispensaries with text messaging, email outreach, coupons, discounts, and more.
Web Based Wholesale Cannabis Marketplaces For Dispensaries
Multiple cannabis tech solution companies now offer smart web-based options for dispensaries to purchase their products. These companies make it easier for retailers to find all of the goods they are looking for in one easily searchable collected place. Check out these options for more info:
Leaflink

–

also offers insights and marketing packages

Roshi – also offers compliance, inventory management, reporting, and accounting
Delivery Tech And Menu Companies
Although many cannabis apps and websites offer similar interfaces for cannabis consumers, they vary by niche, specialty, and execution. If you run a dispensary or plan on opening one in the future, these services can vastly expand your sales potential. Here are a some examples of delivery tech and menu companies to consider:
Delivery-Focused Cannabis Tech
The future of cannabis means being able to go on your smartphone, effortlessly search for dispensaries or specific products close by, and, with the click of a button, get those products delivered to your door. There are already thirteen states that allow cannabis delivery, with software companies linking to local dispensaries and licensed drivers to facilitate easy hand-offs.
Eaze
Based out of the Bay Area, Eaze operates by working with dispensaries in Colorado, Florida, California, and Michigan. Calling themselves the "Uber of weed," they have raised significant capital and expanded their operations significantly since their inception in 2014. They also run Eaze Momentum, a "cannabis business accelerator designed to support under-represented founders."
Emjay
Emjay is a free and fast delivery service that operates in Los Angeles and San Diego. They guarantee cheap prices, no markups, and one hour delivery time. They also pride themselves in having the best variety of a wide range or products.
Online Marijuana Menus
Simply offering information on what's out there and where to find it can drive so much traffic towards your app and retail storefronts. Leveraging this information into consumer data, and advertising through the same menu is also a big part of what makes these companies so powerful.
Weedmaps
Weedmaps is one of the original marijuana technology apps. It offers location searches for different types of dispensaries, products, and strains. The company has evolved and expanded their portfolio into including their own point of sale, wholesale purchasing, and CRM.
Still, they are best known for hosting weed menus that integrate with the POS and/or eCommerce your dispensary is using. They also offer the option to purchase ad spaces on those menus to beef up your dispensaries presence and increase sales and visibility.
Leafbuyer
Customers can scour dispensaries to see which coupons and deals are available on Leafbuyers website. The company also offers ad space for different cannabis retail products and stores. They act as both a marketing platform and retention program by working with dispensaries to send customers deals and promotions.
Wikileaf
Similar to Weedmaps, Wikileaf offers an interface to see what strains are available. They are more focused on strain information above all else. Their website has an elaborate profiling system to describe each type of cannabis flower strain for potential customers. Below are images taken from Wikileaf's iPhone application showing the flow from searching for a strain to finding a dispensary that offers that strain in their inventory.
Dispensary Point Of Sale
The cannabis POS space has opened up significantly over the past couple years. There are now plenty of options to compare.
Consider the pros and cons of each before making a decision since a point of sale can be an extremely crucial aspect of running your dispensary business. It's particularly important to consider what integrations the software can provide. As we've seen, the tech landscape available for dispensaries is vast. It's critical that your POS check certain boxes to be a good fit.
KORONA POS
KORONA POS offers the most robust, powerful, cloud-based point of sale system on the market. Preloaded with KPI and ABC analysis, KORONA POS is built to turn your raw data into actionable insights. The software offers easy integration with multiple state-mandated compliance systems like Metrc, BioTrack, and Leaf Data System.
Overall, KORONA POS is a retail POS, first and foremost. The software was initially developed decades ago and has evolved since, including its key integrations into the dispensary realm. With its focus on retail, inventory management, and in-depth reporting, the solution has helped countless dispensary businesses understand and meet their customers' demands. Click here to listen to the podcast discussing the evolution and future of the cannabis industry with the CEO of KORONA POS.
Blaze
Operating as a full-on enterprise resource planning (ERP) platform for both cultivators and retailers, Blaze offers seed-to-sale compliance, point of sale technology, delivery fulfillment services, inventory management, performance insights, as well as cash free payment options. They currently operate in thirteen states and offer integration options with multiple big name cannabis software companies like Weedmaps, Metrc, and Leafly.
Like many POS solutions in the industry, Blaze is a ERP first and a point of sale second.
Dutchie
Dutchie is another example of a cannabis ERP. However, Dutchie is more known for their eCommerce expertise where they connect consumers to local dispensaries and facilitate sales through their website. Last year, Dutchie acquired dispensary POS software Greenbits to add and in-person transaction execution to their offering. Similarly to Blaze, Dutchie integrates with many cannabis software tools. As of 2021, they controlled almost one-fifth of the dispensary market share.
Flowhub
Flowhub offers a wide array of tech solutions in their suite. This includes inventory management, compliance tracking, and cashless payment integration. A big part of their initial success and brand identity was due to being the first to integrate with Metrc. They now also offer a banking option for cannabis businesses.
Learn More About Cannabis Tech Solutions
KORONA POS works seamlessly with all of the online cannabis menus like Weedmaps, and more. In addition the software offers WooCommerce development option that is fully customizable, and offers online pre-ordering, a real-time menu, and eCommerce retail.
Plus, it comes with included customer support, unlimited training and demos, advanced cash control, and speedy transaction speeds. Best of all, it's offered at the most affordable price on the market. Reach out to us today to learn more about how KORONA POS will help you make the most of your dispensary.