At 98%, text messages have the highest opening rate in the world of marketing. And considering that 80 percent of people use text messages, SMS messaging presents businesses with substantial reachability. All kinds of industries use SMS marketing to increase sales, bring back lost customers, and promote discounts and loyalty rewards. The marijuana retail business is no exception.
SMS marketing in cannabis can be a huge asset if it's done right. It's crucial to stick to the laws and guidelines when carrying out promotions and campaigns. To make the most of your text blasts, consider utilizing segmented marijuana product purchase history to target customers more precisely. Keep reading for a more in-depth guide for how dispensaries can use SMS marketing to their full advantage without breaking any laws.
Table of Contents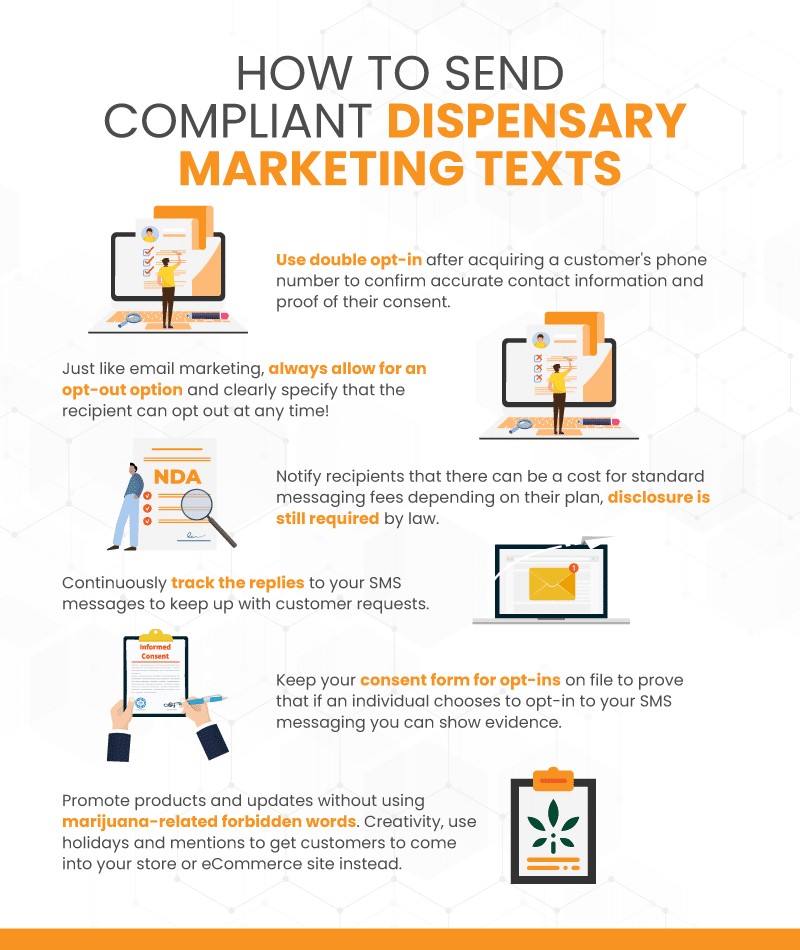 Cannabis SMS Marketing Laws : What Are The Rules?
There are several laws and regulations that delineate how you can target customers with marijuana dispensary SMS marketing. Here's a breakdown of how they affect your options:
Cellular Telecommunications and Internet Association (CTIA)
CTIA is non-governmental, but acts as an overseeing regulation body for the cell phone industry. This association dictates what type of opt-out capabilities and information must be included in your marketing texts. This includes providing options for stopping messages from being received, as well as including info about data rates and the business's privacy policy.
While violating these conditions won't get you fined, the association can recommend to cellular carriers that they stop allowing your company to use SMS marketing.
In addition, the CTIA forbids what they consider to fall under their Sex, Hate Alcohol, Firearms, Tobacco (SHAFT) section, which includes cannabis and even CBD. This means that you cannot mention certain words that are directly related to cannabis, such as weed, marijuana, kush, bud, etc. You can still make it relatively clear what you're selling, but you'll have to use different wording to promote your dispensary through text so time to get creative.
Telephone Consumer Protection Act (TCPA)
The TCPA became law in 1991 and was meant to stop "telephone solicitation" and "unsolicited advertisement." Basically the law means that you cannot reach out to individuals with the intent of marketing products or goods without their consent. Penalties for violations are steep, starting at $500 per message.
Unfortunately, you can't "buy lists" or reach out to potential clients in a cold-call style of outreach to bring people into your cannabis retail shop. However, you can still send marketing SMS messages to people that do opt into your list (to do this, though, use a double opt-in system, which we will get to later).
CAN-SPAM Act
In 2003, the Controlling the Assault of Non-Solicited Pornography And Marketing Act was passed to "can" the amount of spam emails being sent over the internet. It was effectively the internet version of the TCPA with some provisions added that are only relevant to internet content and technology. Once text messages became widespread, SMS outreach was quickly protected by the same laws.
As far as dispensary SMS marketing is concerned, the CAN-SPAM act includes rules about straightforwardness and clarity in messaging. For example, the subject and header must be relevant to the content of the actual body without using misleading or deceptive language. In addition the "from" line must be accurate.
Cannabis Marketing Regulations: Staying Compliant
Having a good grasp of these regulations is a must. Here are some pointers to make sure you are staying compliant when reaching out to your marijuana dispensary customers:
Double Opt-In Is Best
After you acquire a dispensary customer's phone number and opt-in selection, send them a message to confirm that the contact info was accurate and that they do indeed want to partake. This makes the proof of their consent even more solid, and filters out customers that aren't actually fully interested in receiving marketing messages.
Always Allow For An Opt-Out Option
Just like your email marketing, clearly specify that the recipient can opt out at any time! End each and every SMS message with "Reply STOP to end SMS."
Notify Recipients That It Costs Standard Messaging Fees
Disclose to your cannabis retail customers that, depending on their cellular plan, they will potentially have to pay for each message that they receive from you. While data technology has made this much less costly than it used to be, disclosure is still required by law.
Continuously Monitor Replies
Have someone track the replies to your SMS messages to keep up with your customers requests. Whether this means honoring an alternatively worded opt out message, or answering a question about your retail shop, being responsive to your clientele should be your number one priority. Also, when someone opts-out, make sure they are opted out for good.
Always Keep The Consent On File
Keep your consent forms for opt-ins safe and available in case you need them in the future. If you're ever asked to prove that an individual chose to opt-in to your dispensary SMS messaging you can easily show evidence.
Promote Without Using Forbidden Words
Try to creatively entice your clientele, especially lapsed customers, to come into your store with promotions or updates without using banned marijuana-related terms. Mention that you have holiday deals, or plenty of new items in stock in order to drive your customers onto your eCommerce site, online menu, and into your brick and mortar location.
SMS Marketing For Cannabis: How to Get Customers Involved
There are several entry points to encourage your customers to opt-in to receive marketing text messages:
At The Point Of Sale
Ask your clientele to sign up right at the dispensary POS. There they can punch in their number and instantaneously receive an opt-in message to confirm their intent. Keep that relationship going beyond the walls of your shop.
Utilizing Pick-Up Notifications
Have an eCommerce platform for pre-ordering cannabis at your dispensary? Then you probably have a system to notify customers when their order is ready. You can utilize this correspondence by offering SMS marketing updates. 
Loyalty CTAs On Website
Use a call-to-action popup on your website to offer loyalty rewards or discounts for signing up for SMS correspondence. This can be a win-win for both parties – you acquire enhanced communication, and your customer gets discounts and promos.
Make The Most Of Your Pos Data
A robust dispensary point of sale system can deliver actionable analytics to your fingertips. KORONA POS allows you to review dispensary transaction data for specific seasons and holidays, as well as individual purchase information like brands and products that your customer likes to buy.
Use this data to better target your clientele with segmented text messages. For instance, you'll know which of your clientele purchased sativa cartridges in the past, but haven't been in the store in a while. Why not reach out to them with a promo code or an update about exciting new products you have to offer?
Be Strategic About Frequency and Content
Don't send too many messages per week. SMS receivers are much more likely to opt out if they feel overwhelmed or bombarded with too many messages. This is even more probable if the content never changes. Repetitive texts will annoy and push away your potential clientele!
Hone in your strategy by tracking how well you're doing with your SMS marketing plan through analytics. If it seems like you're getting a large number of people opting out then you might be sending too many messages and can consider lowering the frequency.
On the other hand, if you include unique discount codes in the message that your customer can claim in-store, then you can track your return on investment fairly accurately. Monitoring both of these factors will help you judge how your SMS marketing is performing.
Content Ideas
Keep your content fresh and strategic. Reach out to your best customers to thank them for their loyalty. Let recipients know about happy hour specials and daily deals. Remind them how far along they are in the loyalty program and that great rewards are on the near horizon.
MMS Marketing
MMS (multimedia messaging service) marketing refers to using multimedia content in a cell phone message to promote products or services. Although it costs significantly more money to carry out, it can be worth it at certain times.
If your company is making a big push around a holiday, like 4/20 for example, it might help to catch the eye of your clientele at a highly competitive time when customers are known to buy more cannabis.
Perhaps your dispensary just added a delivery option. Putting an image of a delivery truck emblazoned with your cannabis shop's logo might help cement the association with ease of availability in the receiver's brain. We're likely to see more and more MMS marketing, as well as text QR codes as technology and bandwidth continue to strengthen.
Implementing An SMS Campaign With A Loyalty Marketing Platform
Consider hiring experts to help you carry out your SMS marketing campaign. KORONA POS integrates with the customer-loyalty and communications solutions company springbig.
Coordinating your cloud based POS data with springbig can make your text message outreach so much easier and more efficient. Their dispensary marketing automation software allows you to effortlessly create and dispatch tailored and targeted marketing campaigns based off of purchase history and customer journeys. Best of all, springbig are specialists in SMS marketing compliance in the cannabis industry.
Reach out to our team today to learn more about how KORONA POS and springbig can take your dispensary marketing to the next level and increase your sales.
FAQs: SMS Marketing In Cannabis
What is SMS marketing?
SMS marketing is sending standard text messages (short message service) to clientele in order to offer promotions, sales, discounts, reminders, appreciation and more. It is generally used by retail companies to drive customers to their eCommerce or brick and mortar stores. 
What is the difference between MMS and SMS?
MMS (multimedia messaging service) is a form of message sent to cellular phones that includes some form of multimedia, such as a picture or a gif. An SMS (short message service) is a cell phone message that only contains text. 
Is it legal to send marketing text messages?
It is legal to send marketing text messages as long as the recipient has opted-in to receive them. As far as the cannabis industry is concerned, dispensaries are not allowed to include language directly related to marijuana in those promotional text messages. 
Is SMS marketing effective?
SMS marketing is very effective. Text messages have an extremely high opening rate, which leads to higher ROI for SMS marketing campaigns. Many marketing tech companies have examples of success stories carried out for dispensaries in states where cannabis is legal recreationally.