Running a thrift store is fraught with so much unpredictability that can cause business owners a whole lot of stress.
First, you never know what items you'll have in stock from one week to the next.
Second, thrift store prices are mainly determined by the items' quality, condition, and uniqueness.
Third, thrift stores often classify and price items using various labeling systems. These systems may include color-coded labels that indicate discounts or price levels based on the item's arrival date.
Fourth, unlike traditional retail stores, thrift shops often allow bargaining and haggling.
So, if you're looking for the best POS system for thrift stores, these are some factors you should consider. You'll need a POS system that can easily handle a high volume of new, used, and unique items. You'll also need a system that lets you quickly add and remove items as merchandise comes and goes.
Ultimately, this post aims to help thrift store owners get more familiar with some of the best POS systems for their industry and the steps to take to acquire a new point of sale.
1. KORONA POS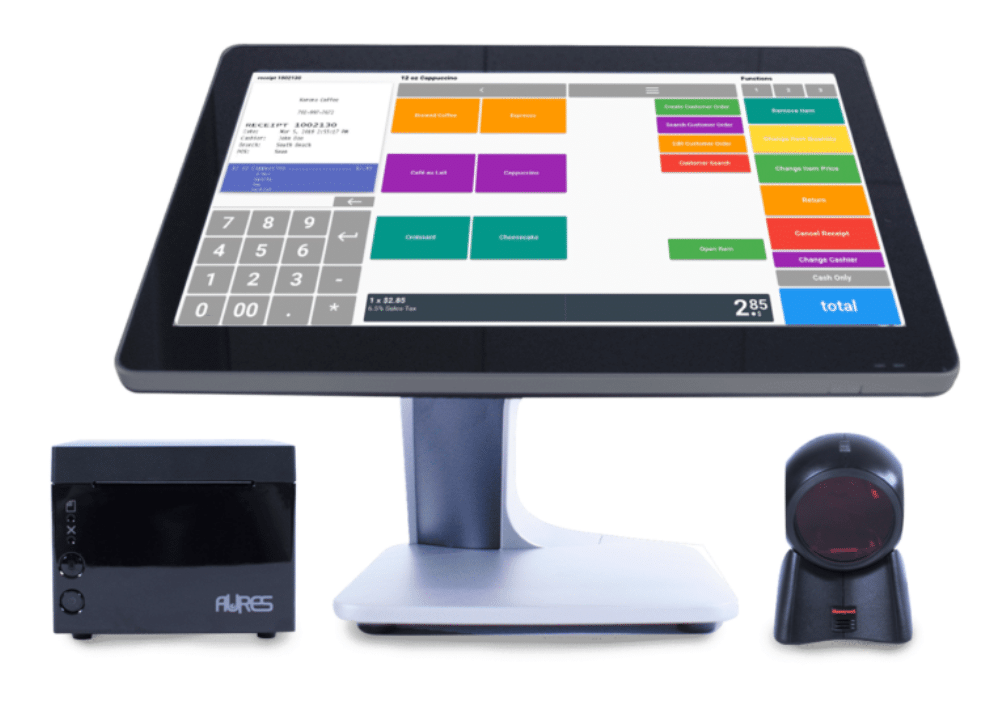 ---
KORONA POS is one of thrift stores' most popular point of sale systems. In fact, it's been specifically designed for thrift shops and consignment stores, both single locations and national chains. Here are some of the reasons why so many thrift shops choose KORONA POS.
Thrift Shop Order Management
This feature enables the owners to track sales and inventory in real-time. KORONA POS allows for easy processing of sales, exchanges, and returns. It also helps manage special orders or consignments, ensuring all transactions are neatly tracked and organized.
Automated Inventory Features
This reduces the risk of human error and saves time. KORONA POS software provides a real-time, automated inventory management system. It can help track the items sold, restocked, or those that need restocking or reordering.
Donations by Category
KORONA POS allows thrift store owners to categorize and track donations by specific categories. You can easily record and manage donations based on their type, such as clothing, accessories, furniture, electronics, etc. This feature simplifies the process of organizing and reporting on donated items.
Native Point-Based Loyalty System
This feature helps build customer loyalty by awarding points for purchases that can be redeemed later. KORONA POS has an integrated loyalty program feature, automatically tracking points within the customer profile, thereby enhancing customer retention.
ABC Inventory Analytics
ABC analytics classifies inventory into categories (A, B, and C) based on importance. This analysis helps you identify best-selling items, prioritize restocking efforts, and optimize your inventory management strategies.
Thrift Shop Product Metrics
KORONA POS provides comprehensive product metrics specifically tailored for thrift stores. You can track sales performance, measure product profitability, and analyze item-level data to make informed pricing, inventory management, and promotions decisions.
Chain and Franchise Management
Large thrift stores like Goodwill, The Salvation Army, and Savers have many of locations. Keeping track of everything that's going on in all these different places can be tough. They need to know what items they have, how sales are going, how their workers are doing, and what their customers like. KORONA POS makes it easy to keep an eye on all the stores in the chain, no matter where they are. It helps track what's in stock, how well things are selling, and how employees are doing.
Special Thrift Stores Pricing and Promotions
Thrift stores often use unique pricing and promotional strategies to attract customers and move inventory quickly. Some common instances include:
Color-tag sales
Daily or weekly specials
Student, senior, or military discounts
Loyalty programs
Bag sales
KORONA POS can handle the most complex discounts based on what is entered on the receipt. Any discount you can think of can be set up as an automatic discount in KORONA POS without cashiers intervening. Setting up discounts may seem complicated or intimidating, but the KORONA POS support team will assist you during onboarding.
Thrift Store Theft Prevention
KORONA POS includes built-in theft prevention measures to safeguard your thrift store. It offers features such as user permissions, security camera integration, and inventory audits, helping you minimize the risk of theft and ensure the integrity of your inventory data.
eCommerce Integration
KORONA POS offers seamless integration with eCommerce platforms, allowing thrift stores to sell their products online. This integration ensures that your inventory, pricing, and customer information remain synchronized across your physical store and online channels.
CRM Integrations
A good POS should integrate with CRM systems. KORONA POS does this effectively, allowing for better customer data management, personalized marketing, and improved customer service.
Self-Checkout Kiosks & RFID Technology
Integrating Radio Frequency Identification (RFID) technology for bulk scanning in thrift stores, particularly larger ones with significant sales traffic, introduces an array of crucial advantages. This technological leap enhances operational efficiency by reducing the incidence of scanning errors, such as duplicate scanning, and significantly speeds up the checkout process.
Due to the nature of thrift stores, where unique, one-of-a-kind items are frequently sold, ensuring an accurate and speedy inventory count is vital. RFID can read multiple tags simultaneously, unlike barcodes requiring individual line-of-sight scans, reducing queue lengths and improving customer satisfaction.
The technology also minimizes human error, providing a more accurate and efficient way to manage high volumes of diverse products. RFID is a game-changer for big thrift stores, offering a more streamlined, error-free scanning process that meets the demands of their heavy sales traffic.
How Much Does KORONA POS Cost?
Pricing starts at just $59 per month per terminal. KORONA POS offers an unlimited free trial, allowing you to enjoy a personalized product demonstration. This way, you can experience first-hand how well the product fits your needs before you commit to anything.
Even after you decide to purchase, KORONA POS provides a 60-day money-back guarantee to ensure complete satisfaction. The are no hidden fees or complex credit card processing agreements. It offers flat rates, which means no surprises in your billing. You won't be locked into any long-term contracts, providing ultimate flexibility. Their in-house support team is available 24/7 to answer any questions or troubleshoot any issues, delivering exceptional customer service every step of the way.
Cons of using KORONA POS
KORONA POS has many features and sophisticated functions, so it can be hard to understand and use, especially for people not used to complex systems like this. New users might need to spend time training and learning to use all the features.
Moreover, KORONA POS does not currently include a sizing matrix capability. This limitation may make it less optimal for thrift stores or businesses requiring specific matrix-based inventory management for variable product sizes.
2. ThriftCart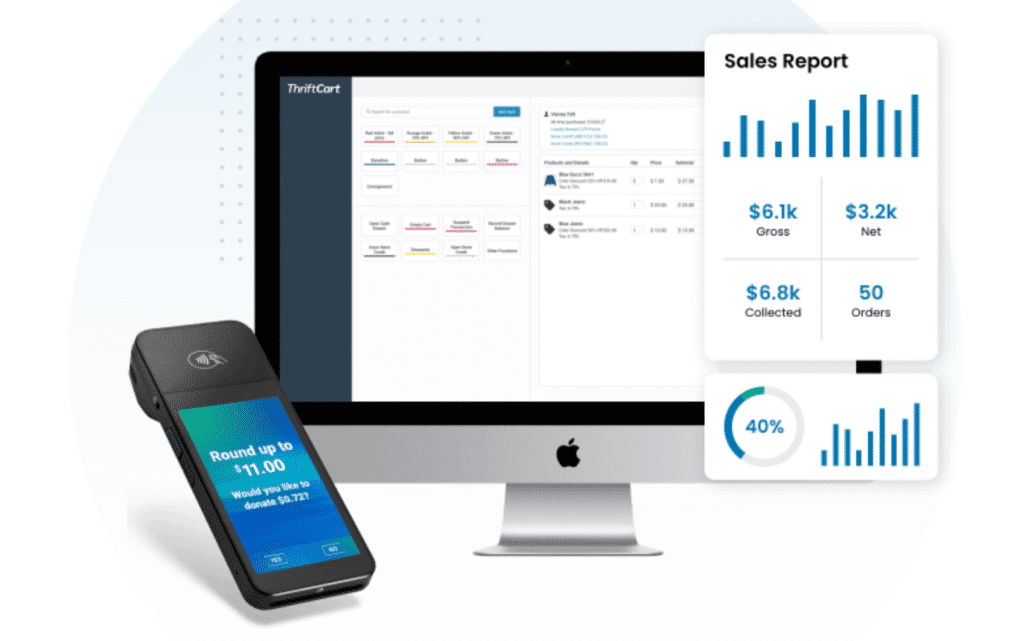 ---
ThriftCart is a POS system for thrift stores, consignment shops, and non-profits. It makes it easy to manage your ever-changing inventory. You can quickly add new donated items, categorize them, and track their location in your store. When an item sells, simply scan its tag to remove it from your records. The built-in barcode scanner makes it simple to check items in and out. ThriftCart also handles item bundling, allowing you to group and sell items for one price.
Here are other advantages of using ThriftCart for your thrift store:
Pricing Flexibility
One of thrift stores' biggest challenges is determining appropriate prices for various used goods. ThriftCart allows you to set prices based on item category, brand, condition, and knowledge of what sells in your local market. You can also run sales and discounts for certain categories or brands to move stale inventory.
Reporting and Analytics
ThriftCart provides reports that help you gain valuable insights into your business. See sales reports for your top-selling categories, brands, employees, and periods. Check reports on your inventory value, margins, and profits. All reports can be filtered for specific date ranges and exported to share with others. Use the data to make better pricing, staffing, and marketing decisions.
Donations
Pickup Scheduling: Managing pickups can be a logistical nightmare for thrift stores. However, the ThriftCard POS Pickup Scheduling widget enables thrift stores to schedule, organize easily, and track pickups. Store owners can schedule multiple pickups, assign staff members to pickups, and set reminders, all from one central platform. This greatly improves efficiency and enhances the customer service experience for donors who prefer pickup services.
Zero-Touch Drop-Offs: Thrift stores primarily source their inventory through drop-off donations, with generous donors providing preloved items. ThriftCart's drop-off donation management tool is pivotal in this process, offering eReceipts and maintaining records of the origin of donations, the items donated, and the time of donation.
Self-Service Kiosks: The self-service kiosk feature offers a physical interface for donors to check in their donations. The kiosks are designed to be user-friendly, allowing donors to quickly enter their details, describe their donations, and receive instant receipts. This feature significantly reduces the staff's workload and speeds up the donation process, improving the donor experience.
Additional features of ThriftCard
Discounting
Colored price tags
Discount entire departments
Sales for volunteers or seniors
Receipts
Print solid slips
Send eReceipts
Schedule thank yous
In-Kind Donations
Trade repeat donations
Geolocate donation areas
Forecast donation cycles
How Much Does ThriftCart Cost?
​​ThriftCrart does not provide a clear response on their pricing on their website. Therefore, you can only know what you will pay by contacting them to get a quote for your company based on the number of sites you have and your additional needs. However, some reviews on the pricing of ThriftCard suggest that it offers reasonable pricing, and there have yet to be complaints in this regard.
Cons of using ThriftCart
According to some reviews, inventory management needs to be easier to update prices/costs when necessary. Getting a stock item to appear in the system is sometimes difficult.
Also, ThriftCard is a cloud-based POS, which is fine. However, you cannot access data or information if your Internet goes down. You'll need to ensure that your data is backed up on your own servers.
Finally, according to some reviews, correcting errors when adding inventory or credits can be difficult, but help is readily available to remedy them. All these cons don't in any way detract from ThriftCard's status as one of the best POS for thrift stores.
3. Loyverse POS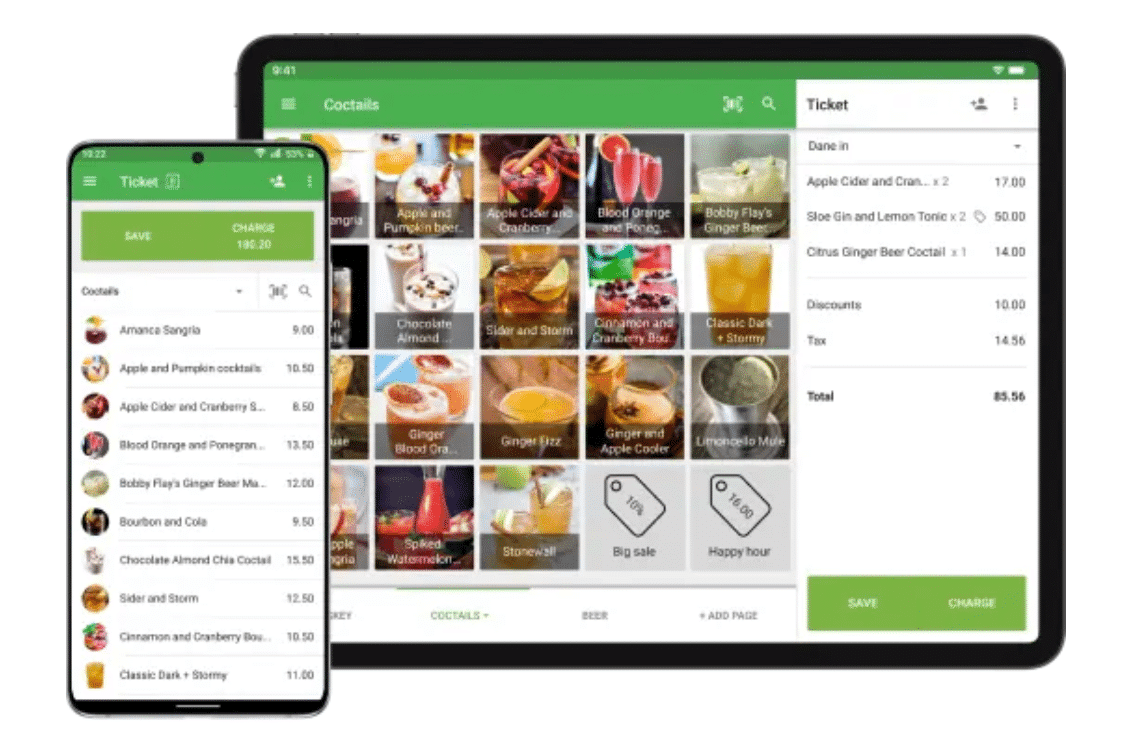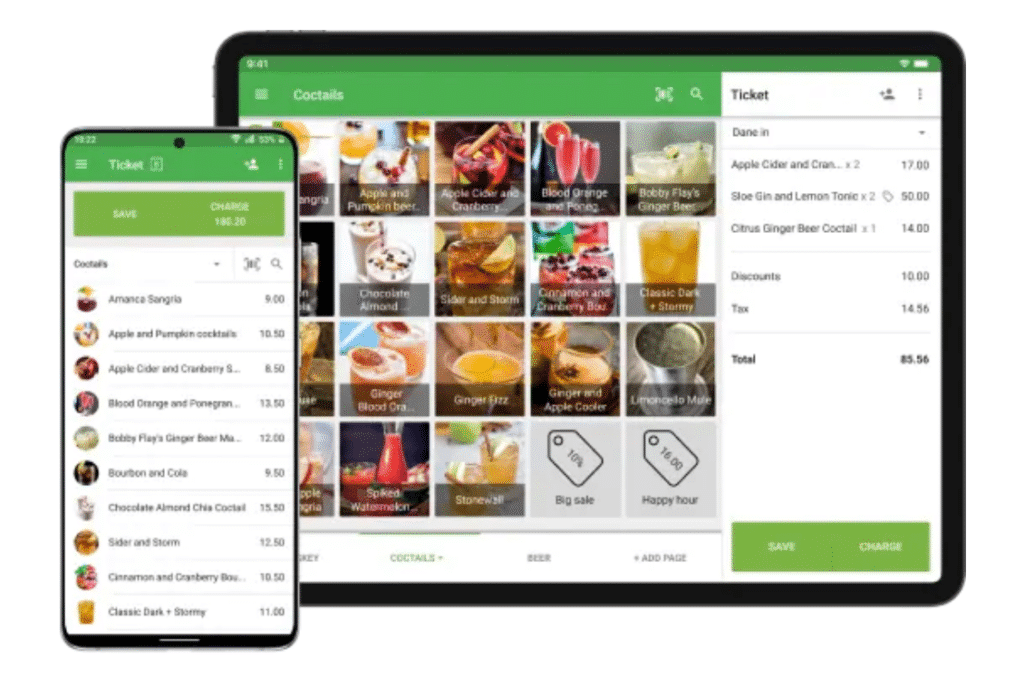 ---
Loyverse POS is a popular free system for small businesses like thrift stores. It provides a simple but efficient point of sale solution to help you run your thrift store smoothly.
Some of the significant features of Loyverse POS include the following:
Easy to set up and use – the interface is intuitive and requires no technical knowledge to get started.
Ring up sales and accept payments quickly – it supports cash, credit card, and contactless payments like Apple Pay.
Track inventory in real-time – you can add, edit or remove items and their details from the inventory list. Get notified when stock runs low.
Insightful reports – gain valuable insights into your sales, profits, inventory, and customer behavior with detailed reports and statistics. Use them to make better business decisions.
Multiple store management – easily manage multiple thrift store locations from a single account.
Integrations – Loyverse POS integrates with many useful third-party services like accounting, email marketing, and loyalty programs. Connect them to streamline your operations.
Loyverse POS is an ideal choice if you're looking for an easy-to-use, full-featured point of sale system for your thrift store that is relatively inexpensive. With its simple interface, omnichannel capabilities, and useful tools to help run your business efficiently, Loyverse POS has everything a small thrift store needs. The best part is it's free to get started so you can try it out risk-free.
While Loyverse may lack certain advanced features of paid POS systems, its core functionality and affordable pricing still make it one of the best POS systems for thrift stores. For a thrift store on a tight budget, it's a POS that delivers solid value.
How Much Does Loyverse POS Cost?
Loyverse POS offers free features for its use. However, to have access to advanced inventory management features, you must pay $25/month. The advanced stock management features allow you to create purchase orders, consult the evaluation report, etc. If you have more than 3 stores, you can contact Loyverse POS for a special offer.
For integrations, Loyverse allows you to connect accounting, eCommerce, marketing, and other applications for $9/month. Third-party application developers may charge additional fees. To learn more about Loyverse's pricing, click here.
Cons of using Loyverse POS
Based on reviews from Capterra about Loyverse, the software seems to have a few potential drawbacks. One of these is that inventory and employee management are billed separately, which can increase the overall cost for businesses requiring both functionalities.
Additionally, some users have found the software overly simplistic, suggesting that the value may not match the cost, particularly when compared to a one-time purchase of equivalent software.
Furthermore, a significant limitation appears to be platform compatibility; Loyverse can't be used with a PC and is only available on a smartphone or tablet. This restriction may limit its usefulness for businesses seeking a more flexible or desktop-centric solution.
4. AccuPOS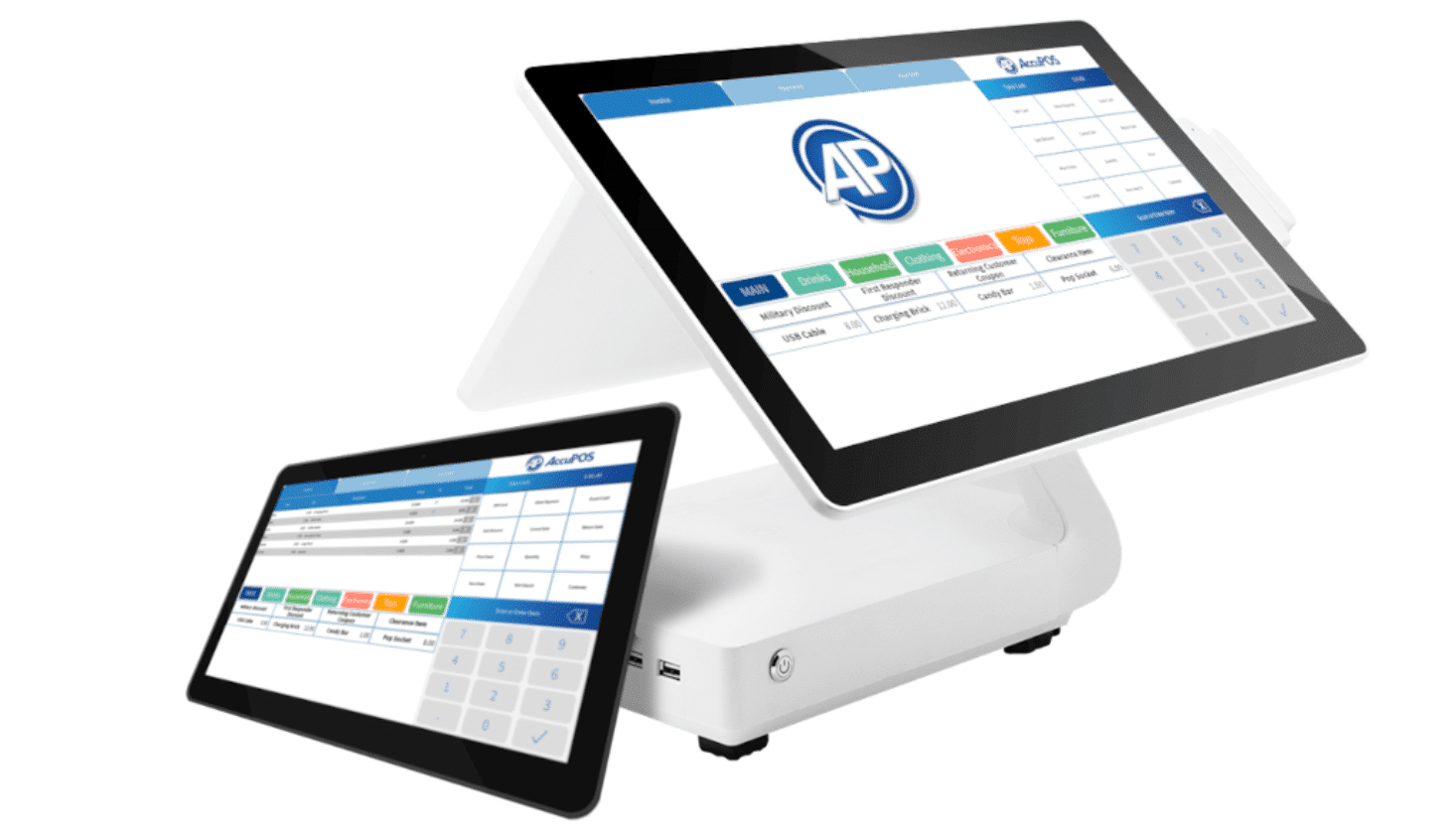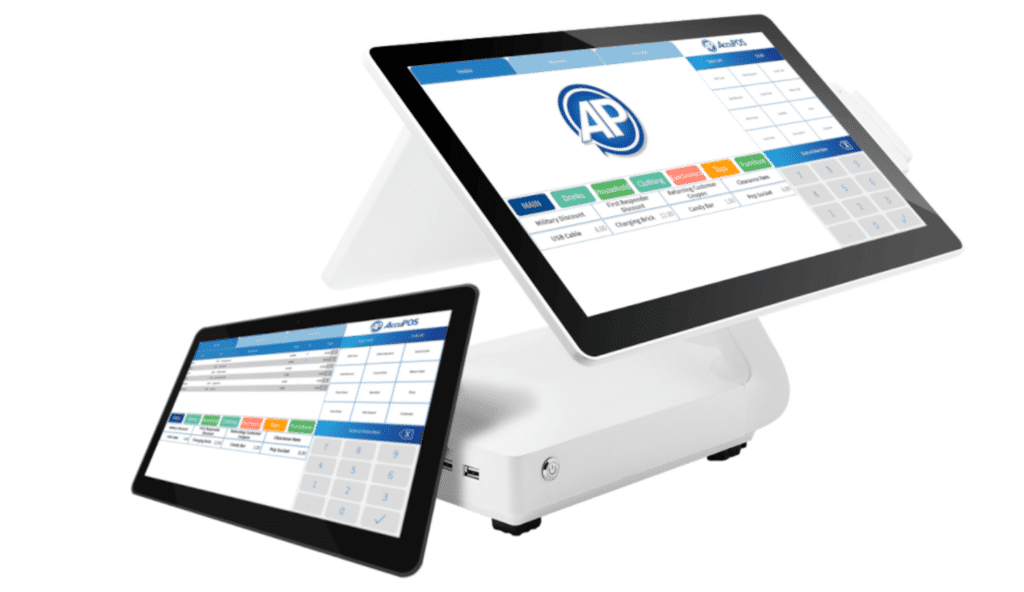 ---
AccuPOS is an affordable POS system tailored for small businesses like thrift stores. AccuPOS offers features like inventory management, customer loyalty programs, and reporting for thrift stores to gain insights into sales and profits.
Efficient Reporting Tools
The reporting features provide an overview of sales, profits, and trends so you can make data-driven decisions to improve your business. See reports on your top-selling items, busiest hours, and more. Make it easier with real-time notifications, daily summaries, and a dashboard with every detail you need.
Quick, Precise Inventory Management
Thrift stores are flooded with daily arrivals, so tracking every item is tough. With AccuPOS Point of Sale and AccuCount, scanning new items, labeling, updating inventory, and managing your space becomes a breeze.
Master Discount Pricing
Bargains and unique finds are your business's backbone. AccuPOS can easily manage special deals and bulk sales using a user-friendly interface. Your customers and cashiers will appreciate the simplicity.
Automated Accounting
AccuPOS offers a top-notch automatic accounting software integration. It sends all sale details to your accounting software, eliminating human error. You can see your financials whenever you want, helping you identify what's selling and what's not. Make informed decisions for your store's future. AccuPOS has topped the QuickBooks User Marketplace for seven consecutive years.
How Much Does AccuPOS Cost?
Pricing information for AccuPOS Retail is provided by the software supplier or extracted from publicly available pricing documents. Final negotiations for purchasing AccuPOS Retail must be conducted with the POS provider. However, the only pricing information on their website indicates that the price starts at $74 per month, plus $35 per additional station.
Cons of using AccuPOS
Issues with system malfunctions and errors are frequent occurrences
Assistance services provided need to be improved
The pricing scheme needs to be more affordable for small businesses
It does not mesh seamlessly with Sage 50
Printing barcode labels involves complex processes and necessitates additional third-party software
5. Shopify POS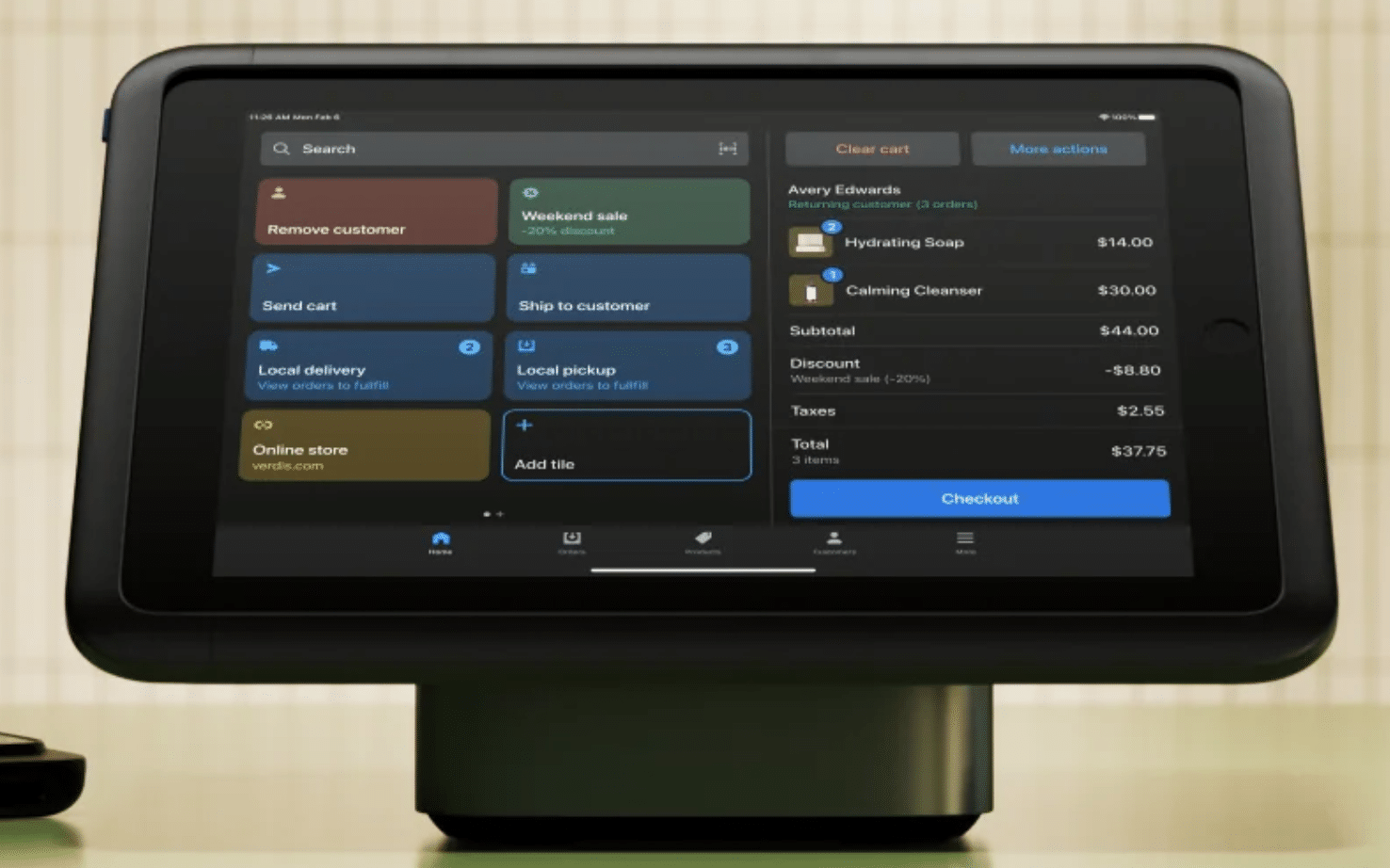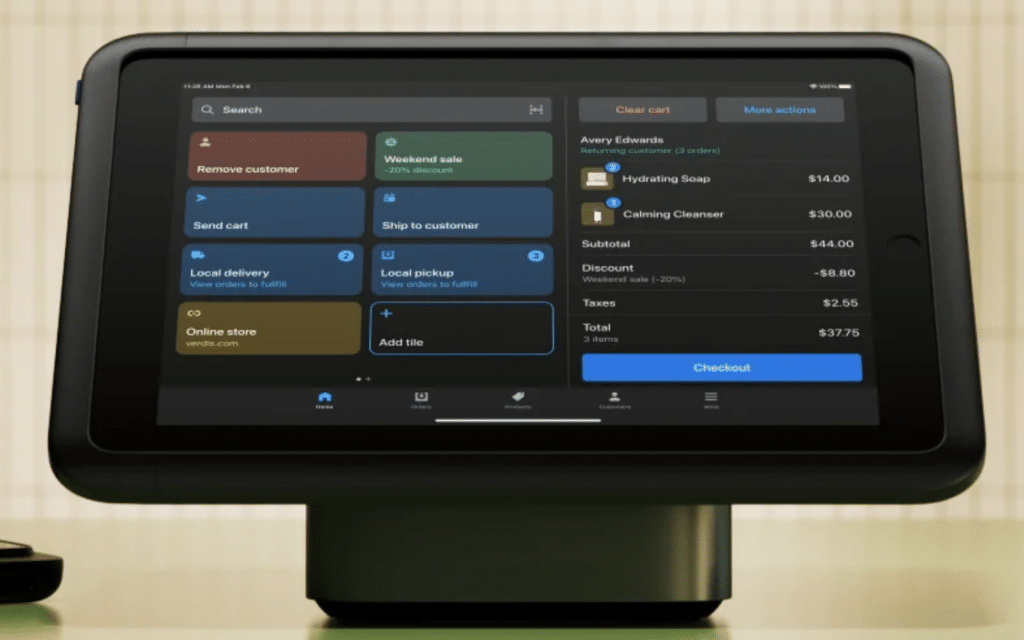 ---
Shopify POS is a top pick for nonprofit or for-profit thrift stores, especially those aiming for online and in-person sales. For charity stores, Shopify offers lower processing fees, unlimited staff accounts, real-time shipping, and the option to receive donations via Shopify Payments.
For-profit thrift stores also benefit significantly from Shopify POS, particularly if they're keen on selling products online, even internationally. Shopify offers many features like managing inventory across multiple channels, a mobile selling app for events, and thousands of add-on apps to extend its capabilities. With these apps, you can handle consignments or donations and set up your own resale/buyback program.
Here are other reasons why Shopify POS is one of the best POS systems for thrift stores:
Integrated payments
Accept chip cards, contactless payments like Apple Pay, and PIN debit right out of the box. Shopify POS uses the same payment gateway as Shopify, with competitive rates.
Inventory sync
Shopify POS inventory automatically syncs with your Shopify store inventory. When an item sells in-store, it is deducted from your overall stock numbers—no double data entry is required.
Discounts and promotions
With a few taps, offer deals like percentage discounts, BOGOs, and fixed-amount markdowns. Discounts you create in Shopify POS will also show on your online store.
Reporting and analytics
Gain insights into your sales, customers, and inventory with reports and dashboards in Shopify POS. Data from your POS and eCommerce sales are combined for a complete picture of your business.
While Shopify POS may cost more than some other systems up front, its seamless integration with Shopify stores, simple interface, and powerful features like inventory syncing and reporting make it an attractive choice for thrift stores looking to streamline their operations. The savings in time and hassle can make the investment worthwhile.
Below are a few other Shopify thrift store POS features:
Sort products flexibly – by category, type, season, sale, and more.
Embrace multichannel selling with options like Buy Online, Pick up In Store (BOPIS), Buy Online, Return In Store (BORIS), and local delivery.
Ship your products locally and internationally as per your business needs.
Integrate with resale and consignment apps for more efficiency.
Create your own sales and discounts directly at the register.
How Much Does Shopify Cost?
Shopify offers a variety of plans tailored to different needs. Their $5/month Starter plan allows you to sell items on mobile and social media platforms. Most thrift stores consider, however, the Basic plan at $29/month. This gives you your own website to sell products online. If you want more features, the Shopify POS Pro package adds extra benefits for an additional $89/month.
Shopify also provides plans for nonprofit organizations. Even though the monthly fees align with regular Shopify plans, they offer lower transaction fees and some extra perks.
They also offer nonprofit pricing:
NPO Lite (No Online Shop): $9/month
NPO Lite With Shop: $29/month
NPO Full (No Online Shop): $79/month
NPO Full: $99/month (lower transaction fees)
Cons of using Shopify POS
One potential drawback of using Shopify POS is linked to Shopify Payments, their payment service. Shopify Payments uses a shared account system, unlike having your own merchant account. This can mean more sensitive security checks, and occasionally, funds might be held back for transactions seen as 'suspicious' by the system, whether they are or not. This could potentially disrupt your cash flow.
According to some reviews, if you have multiple stores in different locations, setting up remote workers might not be an easy task. You'll need to change the inventory for each location every time there's an event, which can be quite tedious.
Second, Shopify POS doesn't allow much room for customization. This means that you might not be able to tweak the system to match the unique requirements of your thrift store.
Lastly, Shopify POS doesn't provide comprehensive reporting and analytics. This could make it hard for you to understand your sales patterns or get to know your customers better.
Steps to Finding the Best POS System for Your Thrift Store
Finding the best POS system for your thrift store involves considering various factors to ensure it meets your needs. Here are the steps to help you in the process:
1. Identify your requirements
Begin by outlining your thrift store's specific requirements. Consider factors such as the size of your store, the volume of transactions you handle, inventory management needs, integration with other systems (if any), and any unique features you might require.
2. Research available options
Conduct thorough research to explore the different POS systems available in the market. Look for systems that cater to retail businesses, particularly thrift stores. Read reviews, compare features, and consider the overall reputation and reliability of the providers.
3. Determine compatibility
Check the compatibility of the POS systems with your existing hardware and software infrastructure. Ensure the system integrates with your current devices, such as barcode scanners, receipt printers, cash drawers, and other necessary equipment.
4. Evaluate inventory management capabilities
As a thrift store, inventory management is crucial. Look for a POS system that offers robust inventory management features. This should include tracking stock levels, generating purchase orders, managing consignments (if applicable), and providing real-time updates on item availability.
5. Consider pricing and affordability
Assess the pricing models of different POS systems. Some providers charge monthly subscriptions, while others offer one-time payment options. Determine which pricing structure aligns with your budget and provides the best value for money. Consider any additional costs, such as hardware, software updates, or customer support.
6. Analyze reporting and metrics
Reporting capabilities are essential for monitoring the performance of your thrift store. Look for a POS system that provides comprehensive sales reports, transaction history, inventory analysis, and other relevant data. The system should offer easy-to-understand analytics to help you make informed business decisions.
7. Assess ease of use
A user-friendly interface is crucial for your staff's efficiency and productivity. Ensure that the POS system you choose is intuitive and easy to navigate. Consider the training and support the provider offers to help your staff quickly adapt to the new system.
8. Seek recommendations and references
Reach out to other thrift store owners or retailers in your network and ask for their advice. Learn from their experiences and ask about the POS systems they use. Additionally, request references from POS system providers to speak with their existing clients to gather more insights.
9. Consider customer support
Check the availability and quality of customer support provided by the POS system provider. Look for phone support, email support, live chat, or an online knowledge base. It's essential to have reliable customer support to address any technical issues or questions that may arise.
10. Test the system with a free trial
Before making a final decision, request a demo or trial period from the shortlisted POS systems. This lets you explore the system's features firsthand and determine if it meets your thrift store's needs. During the trial, assess its performance, ease of use, and compatibility with your workflow.
11. Make an informed decision
After evaluating all the above factors, make a well-informed decision based on your research, trial experiences, and budgetary considerations. Choose the POS system that offers your thrift store's best features, compatibility, affordability, and customer support.
Conclusion on the Best Thrift Shop POS Systems
And that's it, the top five POS systems ideally suited for thrift stores. As you've seen, there are affordable and flexible options designed with thrift stores in mind. The key is finding one that handles your specific needs, from managing unique inventories to seamless checkout.
With the right POS, you'll be ringing up vintage finds and secondhand scores in no time. What are you waiting for? Take your thrift store into the 21st century and choose a POS to help your business and customers thrive. The future of thrift retail is here.
FAQs: How Much Does Branding Cost For Small Business
1. How much do POS systems for thrift stores typically cost?
POS system pricing can range from free to several hundred dollars monthly for a thrift store. The cost depends on the number of features, users, and terminals you need. Many popular systems like Shopify POS, Loyverse POS, and ThriftCart offer free basic packages to get started. Paid plans typically range from $29 to $199 per month.

2. Do I need a POS system that is specifically for thrift stores?
Not necessarily. While some systems like ThriftCart are tailored specifically to thrift stores, many general retail POS systems will work fine for a thrift store. The essential features for a thrift store are a robust inventory management system, the ability to accept cash and card payments, and the ability to scan UPCs. As long as a system includes these capabilities, it can work well for a thrift store.
3. Should I get an iPad POS system or a traditional cash register?
For most thrift stores today, an iPad or tablet-based POS system is preferable to a traditional cash register. Tablet POS systems are less expensive, more mobile, and easier to set up and use. They also take up less counter space and can provide useful features like inventory management, customer profiles, and sales reporting that a basic cash register lacks. However, a cash register can still work for a very small thrift store and may save on costs. It comes down to your specific needs and technical abilities.