For a long time, the retail checkout process was standard and relatively easy. You had a till or drawer and would accept cash and checks. But over time, the process has become much more nuanced in order to save time, add convenience, and protect financial data. Because of this, store owners and managers are forced to constantly come up with ways to improve the retail checkout experience.
Nowadays, consumers have more options than ever. And they expect to have these options at every retail store they visit. Additionally, the ease and speed of the online checkout experience have forced brick and mortar stores to adapt accordingly.
It's important, therefore, that retailers accommodate each customer and keep the process pleasant and seamless. In today's competitive world of retail, it's critical to provide a rewarding experience through the point of purchase.
1. Contactless (NFC) Payment Terminals
This is a good reminder for anyone who hasn't yet made the switch to modern POS payment technology. Tap-and-pay is much faster than EMV chip payments and much safer than a traditional swiped transaction (remember, the retail store is now responsible for compensating all fraudulent swiped transactions).
Contactless payments have been adopted by all major credit cards. Though the technology has been around for some time, it's only recently starting to take off. According to a JP Morgan study from 2017, about 20% of U.S. consumers prefer contactless payments. It is, however, more common internationally.
2. Mobile Payments
Mobile pay is growing even more quickly than contactless. The delay in consumers adopting mobile wallets stems more from infrastructure integration than user skepticism. Mobile Payments World expects an average annual increase of 80% through 2020 for mobile payments in the U.S. If this is accurate, over half of U.S. consumers will be using a mobile wallet.
For retailers who have adopted this form of payment, sales have increased across the board. Not only does the added convenience attract more customers, but consumers are also more likely to spend more when they don't have to touch their card or cash.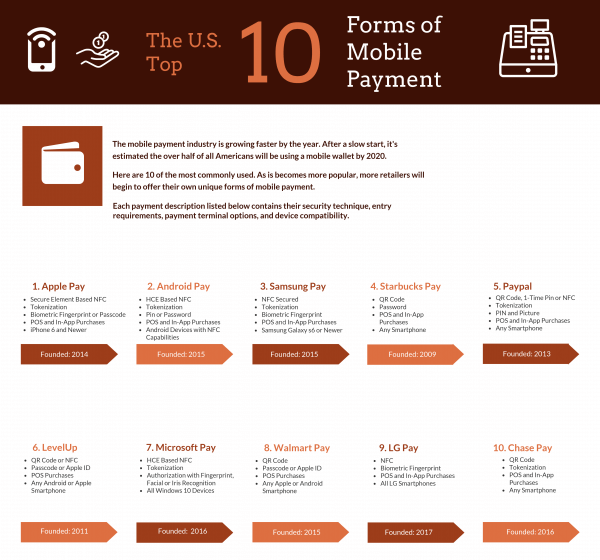 3. Wireless and Mobile POS Terminals
Adding flexibility to the point of purchase is beneficial for your customer and employees alike. Mobile terminals can be taken anywhere in the store, including down the line itself. Long lines mean business is good, but they also serve as a major deterrent to finalizing the sale. For most, the cutoff point is 5 minutes.
Tablets are a great way to do this. They are easy to log into and begin a transaction. They also don't take up any valuable retail real estate. Just make sure your POS system can run on tablets and is mobile-compatible.
4. Self-Checkout
Many grocers across the country began using self-checkout kiosks with a few of their lanes. This trend has permeated all retail niches. People like having control and this leaves the time it takes to checkout in their hands. In turn, it will be more unlikely that they'll have a negative impression on the time it took to complete the payment.
This also enables you to use your staff on the floor more. Adding more customer support and salespeople into the retail space adds to the overall customer experience and results in more converted sales.
5. In-App Checkout
Bigger retailers are now moving toward creating a payment platform within their own app. This keeps the process even simpler and more brand-associated. Amazon, of course, has done this with Amazon Go, but other retailers are following suit.
Sam's Club has the new Scan and Go app that more customers are using. You simply scan items with your phone while shopping. A team member at the door will simply check your mobile receipt prior to exiting.
There are actually an increasing number of solutions of Scan and Go technologies for small business retailers. This technology is poised to have an increasing impact in the near future.
Kohl's now uses Kohl's Pay, an app that you can make your payment through. Retail apps such as this also help with in-store navigation, seamless purchase, less wait time, and coupons/loyalty programs.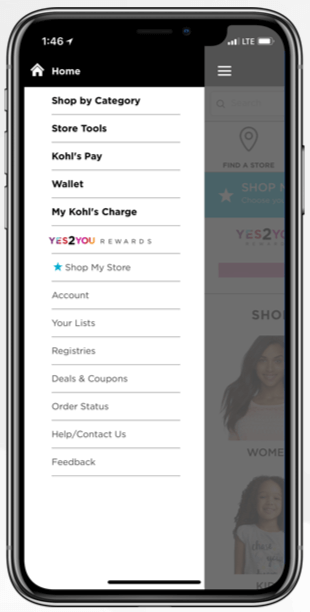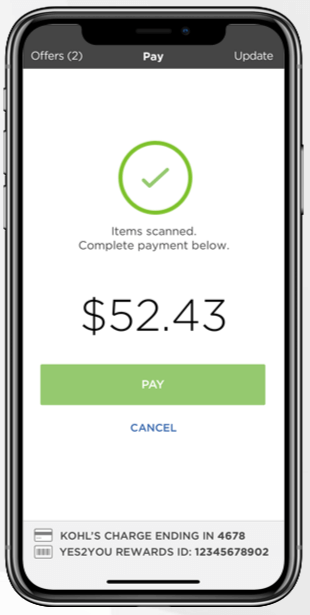 6. Pick-Up In-Store After Buying Online
Most retailers are now offering quick and easy store pickup for any online purchases. This is an easy win-win. It eliminates wait time in line as well as any time spent searching for the item. For you, it's a guaranteed sale, builds your eCommerce presence, and keeps your lines shorter. You can have a separate window devoted to this during busy times or can combine it with your return and exchange area.
Of course, retailers benefit from customers shopping in the store itself. Displays and marketing in your store are important factors to increase sales and improve your average transaction value. But there are some customers that seek shopping experiences that are fast and seamless. It's important to cater to these people, too.
7. Train Your Staff Well
No amount of technology can replace a friendly greeting and short conversation from one of your great team members. Customers still prefer the brick and mortar experience over online shopping because of the human connection involved. The same goes for the checkout experience. Many shoppers still take pleasure in speaking with an actual person throughout their time in a retail store.
So even if you're using the best POS software, make sure your staff knows how to use it well. Set up proper training on the system prior to any new employee going live. Make sure they know how to troubleshoot the system as well. Adequate knowledge of the point of sale will ensure that employees will stay calm through stressful situations. Stressed out staff means stressed out customers.
8. Improve Your Internet
Might be a bit obvious, but if you're using a cloud-based point of sale, accepting all forms of payment, and running a busy store, you need a fast internet solution. Some older areas in big cities are notorious for shoddy internet speeds. Speak with your provider for the best solutions, add extenders to various sections of your retail store, and keep your points of sale near the router.
9. Email Your Receipts
Digital receipts are faster and more environmentally friendly, to boot. There will never be a wait for the receipt to print or for a cashier to refill the machine.
For customers who are keeping track of receipts for business purposes, this is a much more convenient method.
Emailed receipts are also a way for you to continue to stay on each customer's radar. Even if the email is immediately deleted after the purchase is made, it still leaves an impact on the person.
Finally, receipts sent by email are a great way to build your email marketing database. You can entice customers by including discounts and promotions to each receipt, encouraging a return visit within a defined time frame.
10. Get a Better POS System
You need an intuitive POS system that is easy for your staff to learn and use. It also needs to be fully integrated with all forms of payment. It should offer mobile tablets and have customer-facing screens to make the transaction even easier. It also should integrate with third-party apps that are popular with your customers.
Check out our POS guides below and click the button at the bottom to try out KORONA's cloud-based point of sale for free!
Get Started with KORONA POS today!
Tell us a little bit about your business and explore all features that KORONA POS has to offer. And there's no commitment or credit card required.