Last Updated: 7/26/2023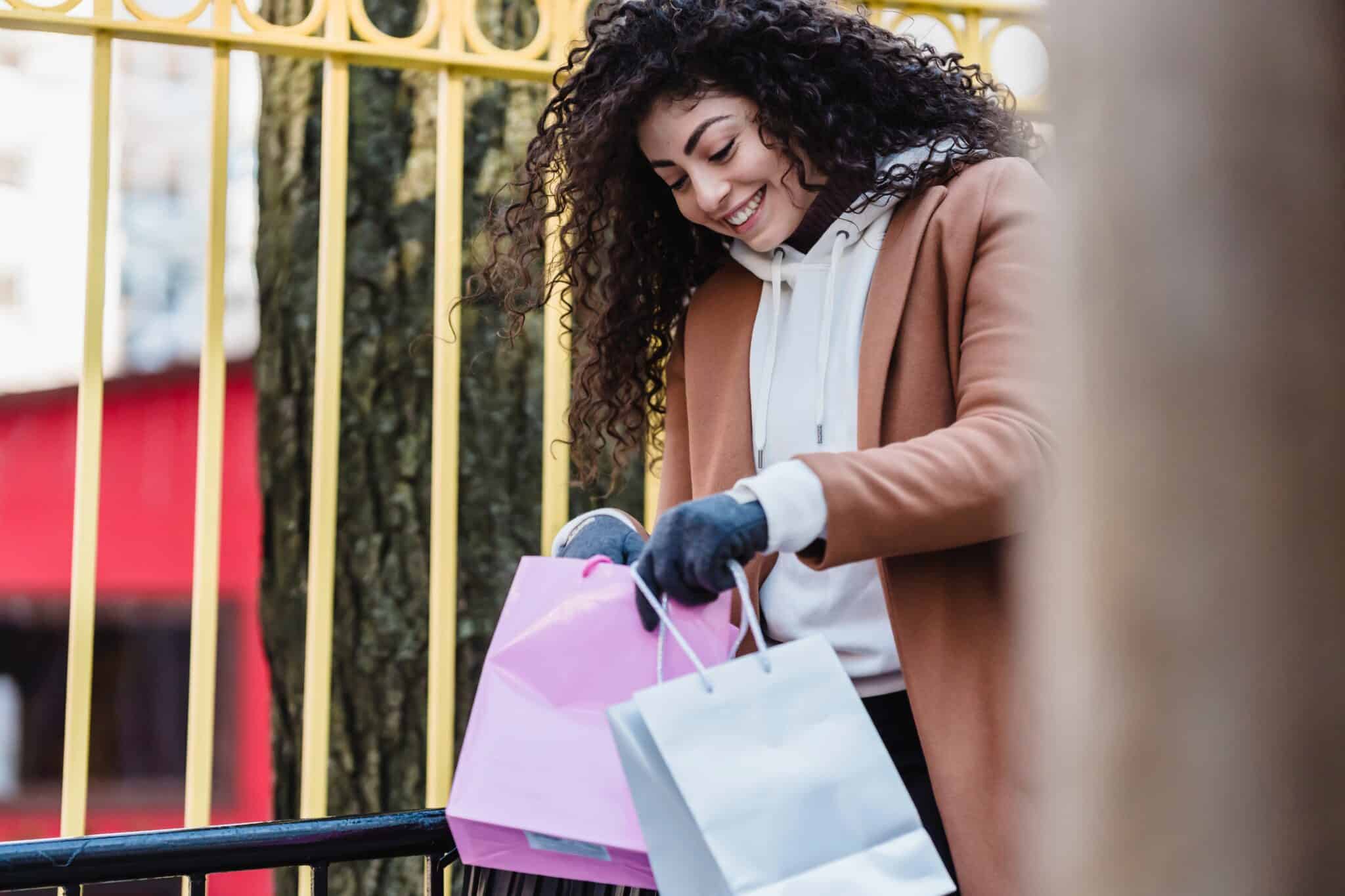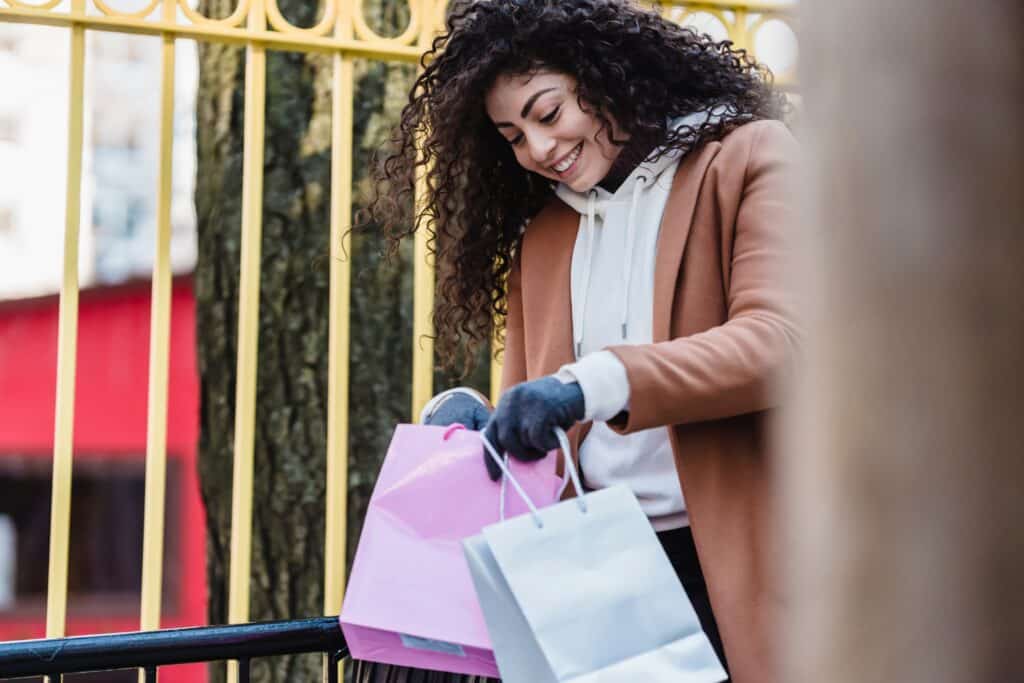 The world of retail is competitive. Putting your small business on the map takes plenty of time, money, and hard work.
You probably use social media, SEO, and advertising to build a presence online. And perhaps you also buy print ads, attend local events, and cross-promote with other brands to build a brick and mortar reputation.
With successful marketing comes more foot traffic. But it doesn't necessarily mean more sales. Any customer that sets foot in your store but walks out empty-handed is a lost opportunity.
That's why it's so important to focus on how to increase conversion rate in retail. From adjusting small details like shelving and store organization to improving customer experience, you can convert more sales for your store.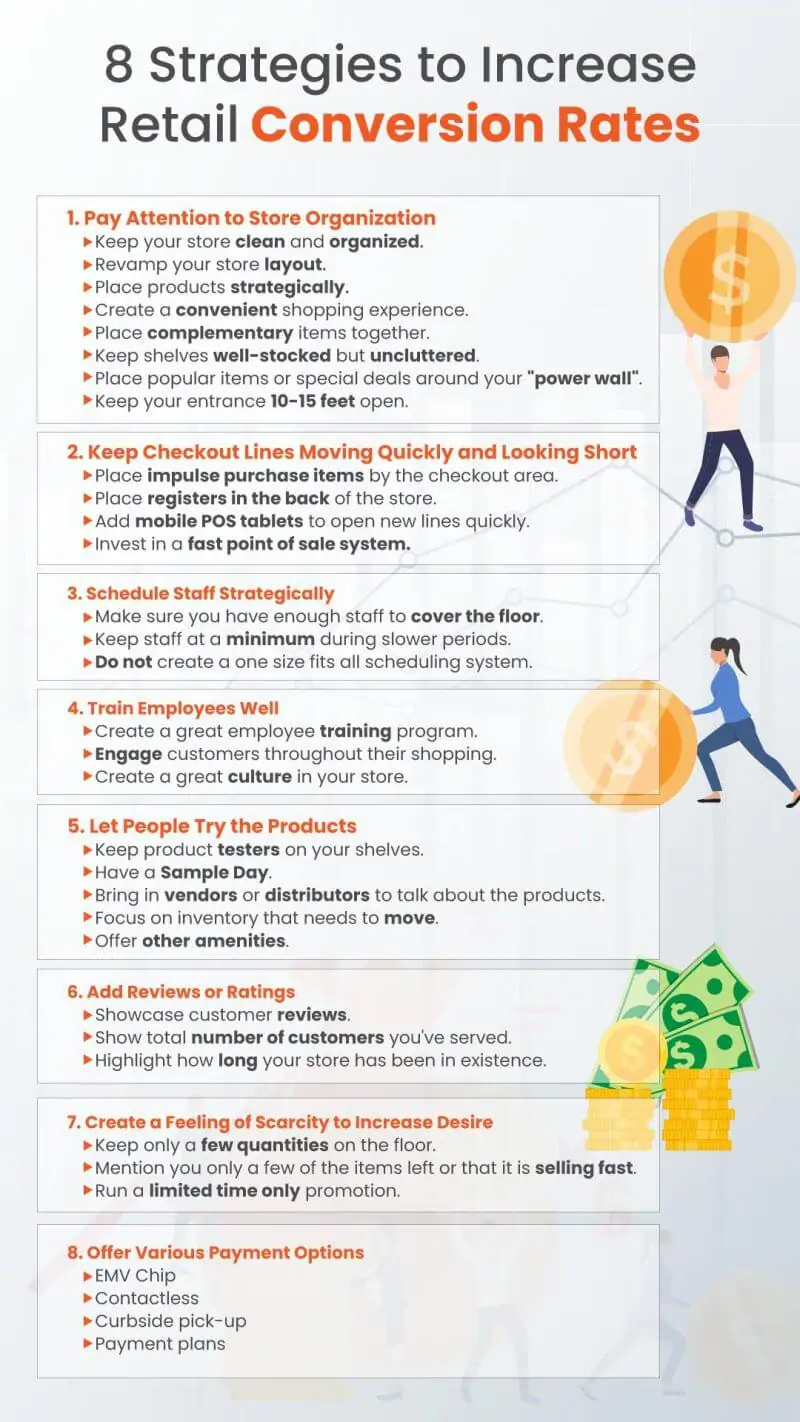 1. Pay Attention to Shelving and Retail Store Organization
Does anyone remember the nightmare of walking into a Toys "R" Us? The only thing memorable about it was its absolute chaos. It didn't work out too well for them. So keep your store clean and organized. Your retail space represents your products, so make sure it's doing it well.
You might also consider revamping your store layout. The products should be placed strategically, which makes for a convenient shopping experience. Finding most items should be intuitive for the average shopper. Placing complementary items together increases your average transaction as well.
Keep your shelves uncluttered. It's important to be well-stocked and have full shelves, but don't leave too much room for customers to make a mess of it.
Pay attention to visual merchandising and displays. Every retail space has prime areas, such as the "power wall" (the space directly to the right of the entrance) or the area around your point of sale. Take advantage of these by placing popular items or special deals around them. A customer will be more likely to grab something, at least.
Finally, keep the entrance and the first 10-15 feet open. Sometimes referred to as the decompression zone, retail design experts contend that this space should be uncluttered so that customers can acclimate to the store and feel less overwhelmed. Shopping can be stressful!
2. Keep Your Lines Moving Quickly and Looking Short
Long lines are a great way to scare off potential shoppers immediately. The average customer is only willing to wait 4-5 minutes in a line before shopping elsewhere. Luckily there are a handful of solutions to keep your lines reasonable and convert more shoppers into making purchases.
Block visibility of your checkout lines – You might put up low walls with impulse buys around at least a portion of your lines. This can hide a long line from sight and improve your POS marketing area.
Place registers in the back of the store – Shoppers don't pay attention to checkout areas if they don't walk near them. Plus, checkout in the back of the store makes it more inconvenient to leave if there is a long line. Many major clothing retailers, like H&M and GAP, use this technique. It simply converts more sales.
Add mobile POS tablets – Many retailers use a combination of desktop and mobile point of sale computers. Desktops are great for large checkout areas, but mPOS systems make retailers more versatile. It's easy to open an extra lane during busy times quickly and allows associates to process sales on the floor if necessary.
Invest in a fast point of sale – The best way to improve your retail checkout speed is with a POS that is easy to use and processes sales quickly. You never want to waste time trying to troubleshoot a problem or wait for a credit card to process. Go with the fastest retail POS solution you can find.
3. Be Strategic with Your Retail Staffing
Using a one size fits all scheduling system is always a mistake. You've likely figured out your busy and slow times during the day, week, month, and year. So it's important to consider this when making your schedule.
First and foremost, having the right amount of staff on the retail floor will mean a better customer experience. Some retailers define their brand by customer service and extensive staff knowledge of the product. If this is the case, each customer must be handled accordingly. Likewise, overstaffing makes for bored and frustrated employees and crowded floor space. Find the right balance for your SMB.
An added bonus to addressing this will be your labor costs. Keeping staff at a minimum during slower periods will save you a lot of money at the year's end.
4. Use Your Employees to Increase Retail Conversion Rates
Consumers still prefer to speak with people face to face and have questions answered quickly. Take advantage of your great team around you! They are valuable resources and are the face of your store.
Start with a great training program. Ensure it is organized and thorough, leaving no room for underprepared staff on the retail floor. Encourage veteran staff to be involved in the training and create an atmosphere of the work ethic and knowledge you expect from every employee.
A great understanding of your products means a better customer experience. This translates to more conversions and better opportunities for cross-selling and up-selling.
Make sure everyone is engaging customers throughout their shopping experience. Greeting at the door or shortly inside the store if key. One staff member might be stationed near the door, folding clothes or organizing shelves that can double as a greeter.

Many shoppers are also apprehensive about conversing with an employee, even if they need

help. This is especially the case at wine and liquor shops, where customers often feel they don't have enough knowledge to have a conversation. Train your team to approach customers while they are browsing to offer assistance.
Creating a great culture in your small business is the most important step. Your staff will be more motivated to work hard and be sincere with guests.
5. Let People Try the Products to Convert More Sales
Another benefit of brick and mortar retailing is that you can easily allow customers to try your products. Whether you have a cosmetics store, cheese shop, or bakery, find opportunities to let people try what you sell. Spending a chunk of change on something you're unsure about is never comforting. Many shoppers will delay or forget about a purchase if it's questionable.
Keep product testers on your shelves.
Sample Day!
Bring in a vendor or distributor to talk about and promote a product.
Focus on new products or inventory that needs to move.
Offer other amenities.
These strategies are easy to implement, fun for customers, and keep people in your store longer. It also allows your staff to become more versed and comfortable selling your products. This will increase retail conversion immediately and down the road.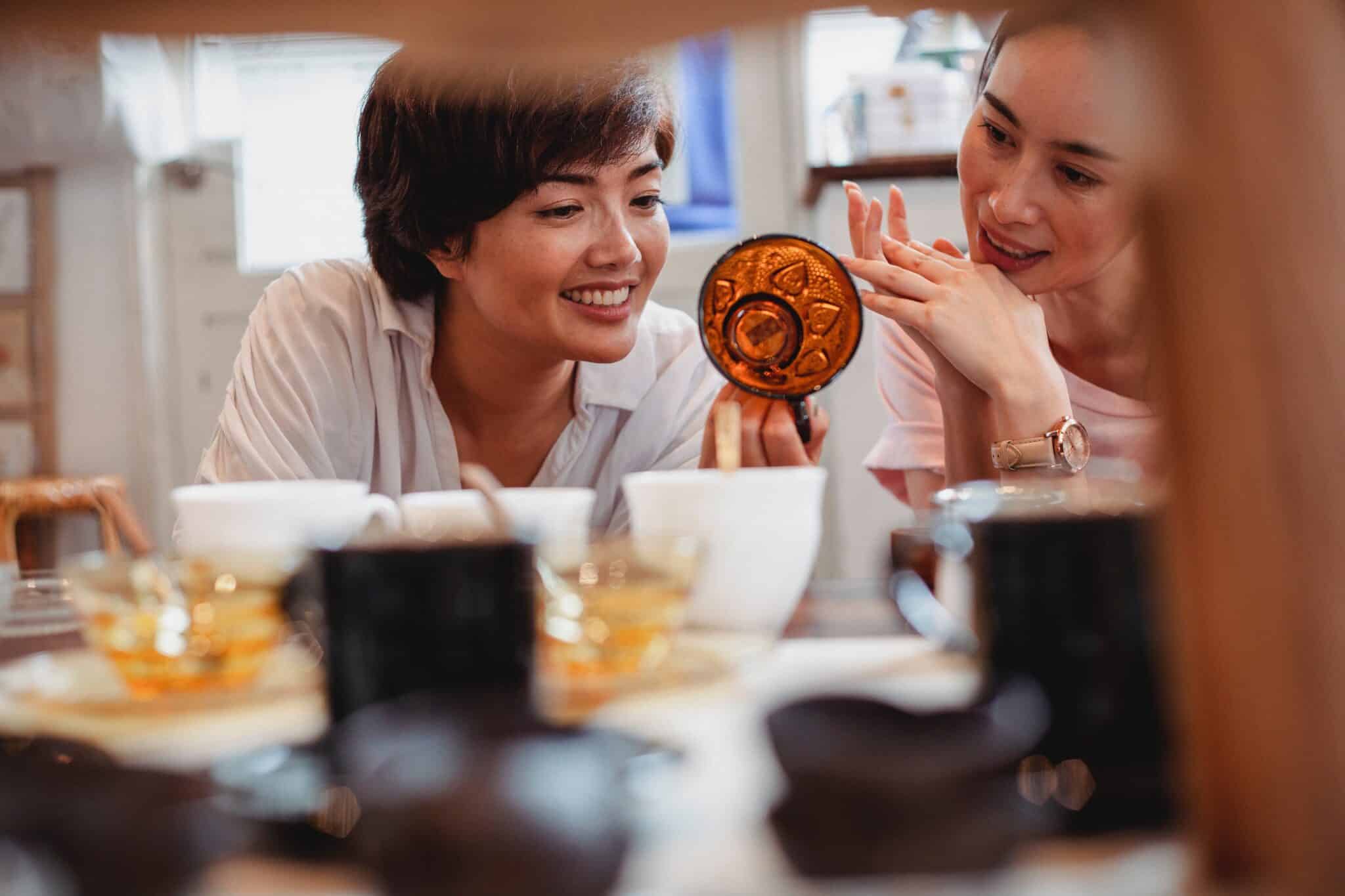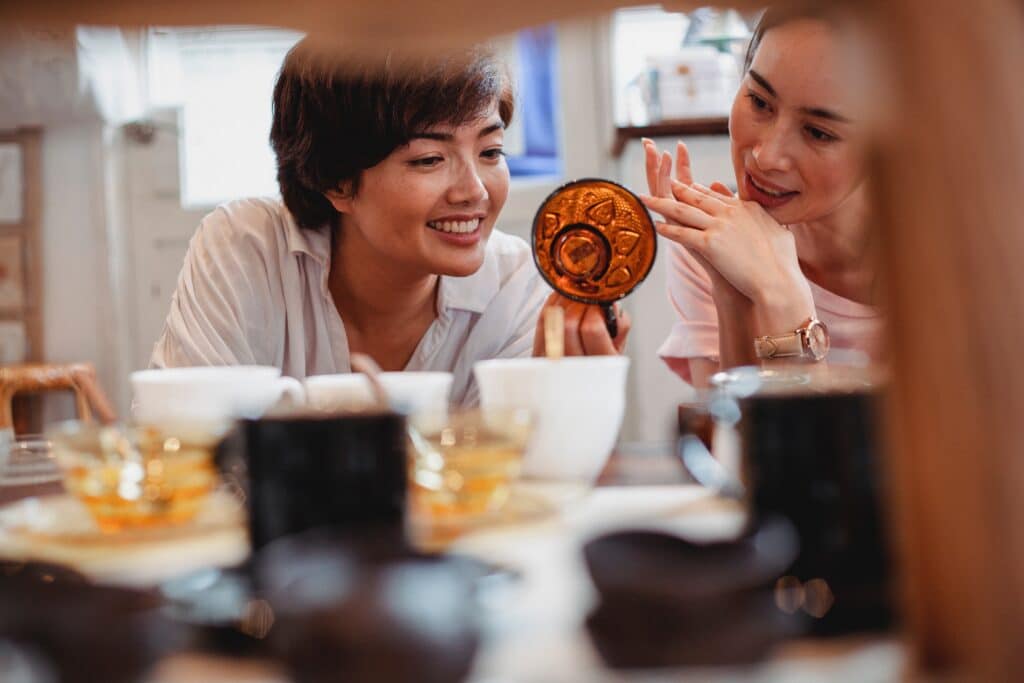 6. Add Reviews or Ratings When Appropriate
Highlighting your reviews doesn't just have to be something your eCommerce store does. Try it in some form or another at your brick and mortar shop. Showing reviews or ratings means that other people have purchased and enjoyed a product that a shopper is considering.
Many wine shops have brief descriptions and ratings for each of their wines. Amazon Go includes a review and overall rating for items in their brick and mortar stores, just like they have online.
Showing the total number of customers you've served numbers or highlighting how long your store has been in existence are also more subtle ways of using social proof to help convert sales. They instill a sense of trust in your products.
See also: How to Get More Customer Reviews: 6 Tips for SMB Retailers
7. Increase Desire by Creating a Feeling of Scarcity
For some retailers, these types of psychological tricks fall under that moral gray area. You want people to want to buy your product, not manipulate them into doing so. Others embrace it.
After all, every single one of us has fallen for some retail psychological trick at some point. There are a few different ways of making this environment succeed in converting potential shoppers into spending customers.
Clear your shelves – This doesn't mean leaving things empty; it's important to be fully stocked. But don't keep a glut of a single item packed onto a rack or shelf. It makes it seem that the product isn't popular. Instead, keep things more sparse. For instance, a clothing retailer might keep one of each size and color on the rack and spares in the back.
Use Your Staff – You know the whole "Let me look in the back" schtick? They know it's in the back. But when they come back and say, "It's your lucky day! We have one left," you are much more likely to make the purchase. There's no one more convincing than a great salesperson. And if you are actually out of a product, have a plan of something else to suggest.
Short-lived sales – These can create a sense of urgency and give someone the extra push to

purchase.
8. Offer Various Payment Options
Shoppers almost always choose convenience. For modern retailers, that means including a variety of payment options.
EMV chips – Every retailer MUST have a chip reader on their POS debit or credit card machine. The burden of responsibility is on the retailer, not their bank, for any swiped fraudulent transactions.
Contactless payments – Tap-and-go payment with a credit or phone is becoming increasingly common. And it will only become more ubiquitous in years to come.
Buy online, pick-up in store – This is an especially popular option among holiday shoppers. It allows them to skip crowded malls and long lines, and be in and out quickly. While it's good to have shoppers mill around your store, it's also necessary to appeal to those who don't have time to shop for extended periods of time.
Payment plans – For luxury items or higher-end goods, offering payment plans is important. For many consumers, it's hard to put down several thousand dollars of cash for a plush new mattress, customer-made coffee table, or gold necklace. Make the purchase a bit more comfortable for your more expensive items.
Don't lose shoppers just because you have limited payment options. All your hard work has brought them to the final step of the process, so failing to convert is even more costly and painful.
Boost Your Sales with a Higher Rate of Conversion
Figuring out how to increase conversion rate in retail stores takes trial and error. Decide what tactics best suit your particular shop and continue fine-tuning.
Like most of our advice here, different solutions work for different retailers. And it's by no means necessary to try all of these. But use this as a guide to try out one or two ideas. And for the tools that can help you measure your conversion rates, click below to find out how KORONA can help your retail business.
Get Started with KORONA POS today!
Tell us a little bit about your business and explore all features that KORONA POS has to offer. And there's no commitment or credit card required.
FAQs: Increase Retail Conversion Rates
1. Why is conversion rate important in retail?
Conversion rate is important in retail because it directly impacts the store's profitability and revenue generation. A higher conversion rate means more visitors are completing purchases. It also indicates the effectiveness of marketing strategies, user experience, and merchandising, helping retailers optimize their business and drive growth.
2. What is a good conversion rate for retail?
A good conversion rate for brick and mortar retail is generally around 20% to 30%. This means that 20% to 30% of the total foot traffic in the store result in completed purchases, reflecting a healthy level of customer engagement and successful sales efforts. This number can vary significantly depending on store size and vertical.
3. How can I increase my store conversion rate?
Increase store conversion rates with strategic merchandising and neat store organization. In addition, properly training retail staff is essential to catering to guests and executing sales. Finally, investing in a smart point of sale that keeps lines moving and accepts all forms of payments is a must.