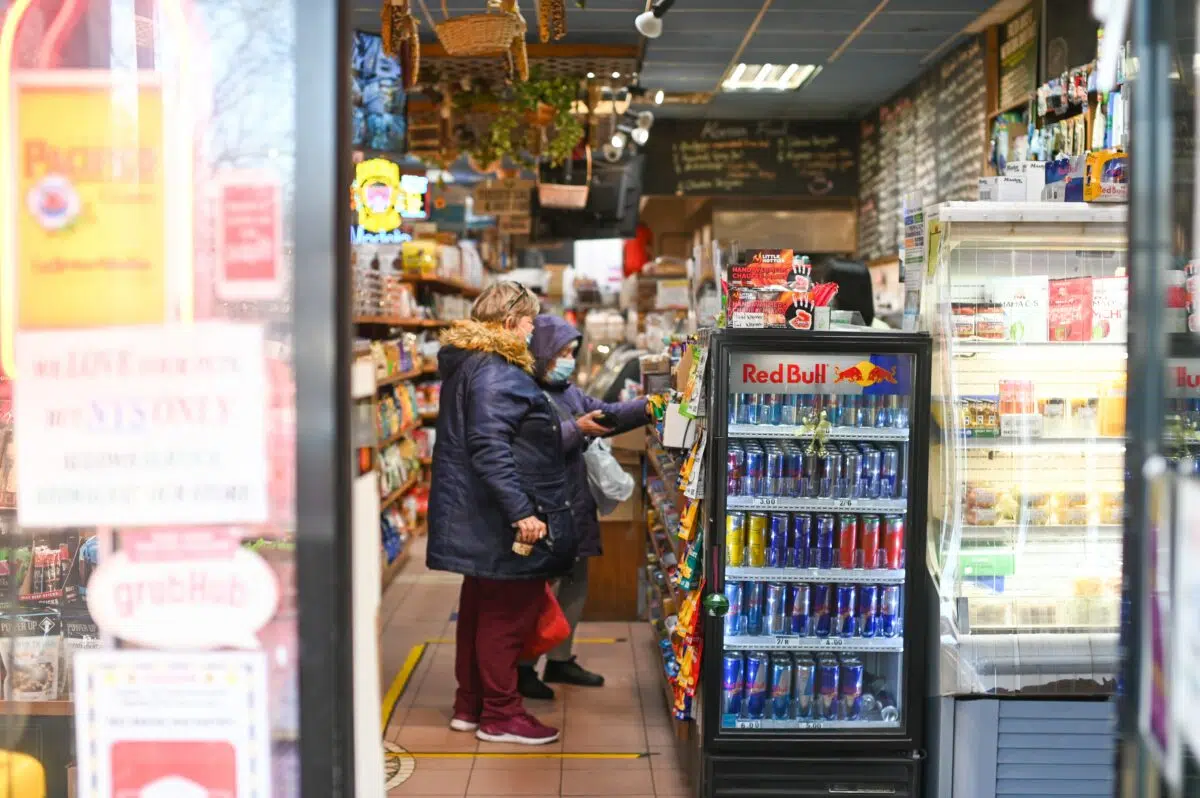 According to many metrics, the convenience store industry has seen significant growth in the last couple years. To be sure, there are still significant labor challenges for staffing these types of stores and supply chain issues in ensuring stock replenishment. Nonetheless, an increase of consumer products and evolving shopper behavioral patterns has shown that customers are eager to buy the products they want from the stores they prefer.
Hence, opening a c-store can be a great business opportunity for entrepreneurs. Nevertheless, this industry comes with considerable competition. In order to stay relevant and optimize your shop's efficiency and revenue, you'll need to keep up with convenience store industry trends. Below is a guide with some things to keep in mind about the booming c-store industry:
Table of Contents
Convenience Store Analytics: Use Data To Cater To Your Clientele
The c-store industry is expected to grow at about a 5% compounded annual growth rate from 2022 through 2028. While this stat is certainly promising, this is far from a guarantee of success.
Before opening a convenience shop, you will obviously need to write a business plan that addresses your intended customer base. Finding your target niche will help ensure long term success. Just as important, though, is utilizing sales data to determine what your most popular items are and how to cater to your current clientele.
KORONA POS comes with built-in inventory analysis. Get a firm grip on the performance of your products with actionable product insight. See what your customers are actually buying and what products are lagging behind with ABC analysis. Such actionable insights will help you determine where you can expand a bit and where you can hold back.
For example, if you see beef jerky flying off the shelves, you can expand your selection to include more jerky brands. On the other hand, if you have an item that you find is slow moving, you can use purchase history data to decide which items to put on sale or discontinue. KORONA POS gives you the opportunity to analyze sales trends by season, by store (if you have multiple locations), by profitability, and countless other retail KPIs.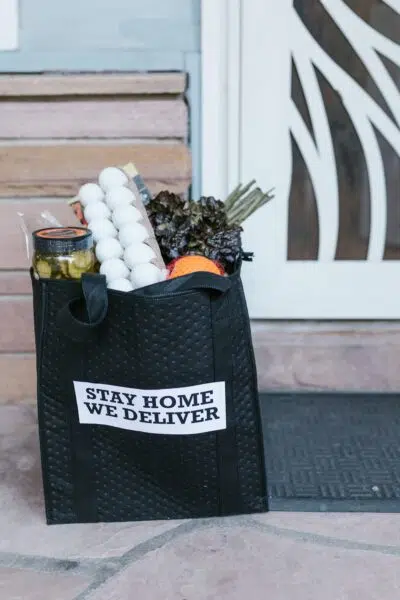 Offer Delivery Services
The COVID-19 pandemic certainly expanded the scope of delivery services. Unsurprisingly, 2020 saw a huge uptick in home delivery orders. However, this convenience store industry trend is likely here to stay. March of 2022 saw an increase of more than 20% year-over-year in home grocery deliveries. Consider offering your customers the option of having their convenience products brought right to their door. This will open up your retail to additional growing sales channels, allowing you to reach a brand new customer base.
Smartphone apps such as Seamless and Uber Eats provide courier services for restaurants and convenience stores. Other apps like Drizly and Minibar connect shoppers with liquor stores and markets that have the drinks they're looking for. Providing the ability for a shopper to browse your store from the comfort of their home adds a major convenience to their shopping experience. Once a purchase is made through these platforms, stores are notified and can pack up the shopping bag for the courier to pick up.
Omnichannel Sales 
Keep in mind that, while using multiple channels of sales is optimal for revenue, it requires a robust point of sale and inventory management system. With KORONA POS, you will always know exactly how much stock you have.
Whether you make sales through multiple apps per day or complete transactions in cash right in your store, our omnichannel sales and inventory software will provide you with accurate counts for every item. Never run out of stock so that your customers can rely on your store.
You May Also Want To Read: How To Run a Shop Successfully
Convenience Store Food Trends:  More Healthy Products
One of the biggest convenience store industry trends is offering shoppers healthy alternatives. More people than ever are realizing the importance of putting good quality, nutritional foods into their bodies. Thus, stocking products that appeal to healthier clientele is a must.
Think about adding some gluten-free, vegan, and paleo products to your inventory. CBD gummies and drinks, kombuchas, and fresh juices are popular convenience store items that can also help increase impulse buys and basket sizes. Remember that with a powerful POS you can always take a look at how these products perform, ordering fewer of those that don't move off of the shelf and expanding your inventory of the ones that do.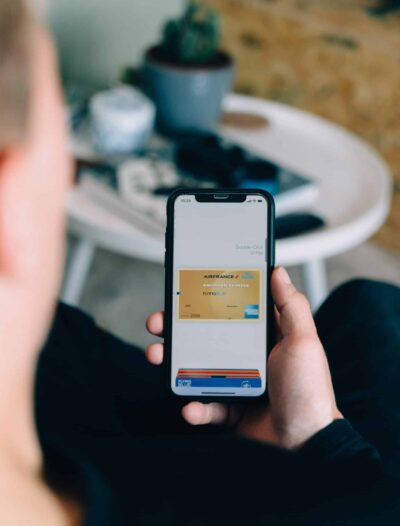 Accept Modern Payment Options
They're called "convenience" stores for a reason. Customers want to be in and out with the products they need in a matter of minutes. Accordingly, many shoppers prefer to use modern contactless payment methods that execute transactions extremely quickly and effortlessly.
These transactions are facilitated through a technology called near field communication, or NFC. With NFC-equipped credit card machines, the shopper can simply hover their credit card over the reader. Then, voila! The purchase is made without needing to insert the chip or swipe the magnetic stripe.
Newer additions to this technology, such as Google Pay and Apple Pay, allow users to make purchases directly through their smartphones. They simply tap the necessary command on their phone, hover it near the NFC reader, and the transaction will be completed. This option can help speed up your checkout process, reducing wait time. It will also open up your store to people who don't have their cash or card on them. For example, if someone leaves their wallet in the car or is returning from the gym and doesn't have their purse or wallet with them, they can still buy whatever they want from your store.
Convenient Market Loyalty Programs
Most convenience stores face fierce competition. Accordingly, they should employ every strategy possible to maximize sales. Customer relationship management with digital loyalty programs has become increasingly popular as a retail industry trend over the past decade or so. Offering rewards to customers who are loyal to your store will keep them coming back. One 2022 study shows that 76% of consumers said they would choose a c-store with a loyalty program over a different store without one.
Give your clientele a reason to pick your shop over your competitors. KORONA POS partners with several rewards platforms such as bLoyal, Drizly, Bottlecapps, springbig, and other, to offer comprehensive, flexible, and effective customer loyalty programs for convenience stores. You choose exactly how you want to implement your rewards program so that it makes sense for your business, products, and clientele.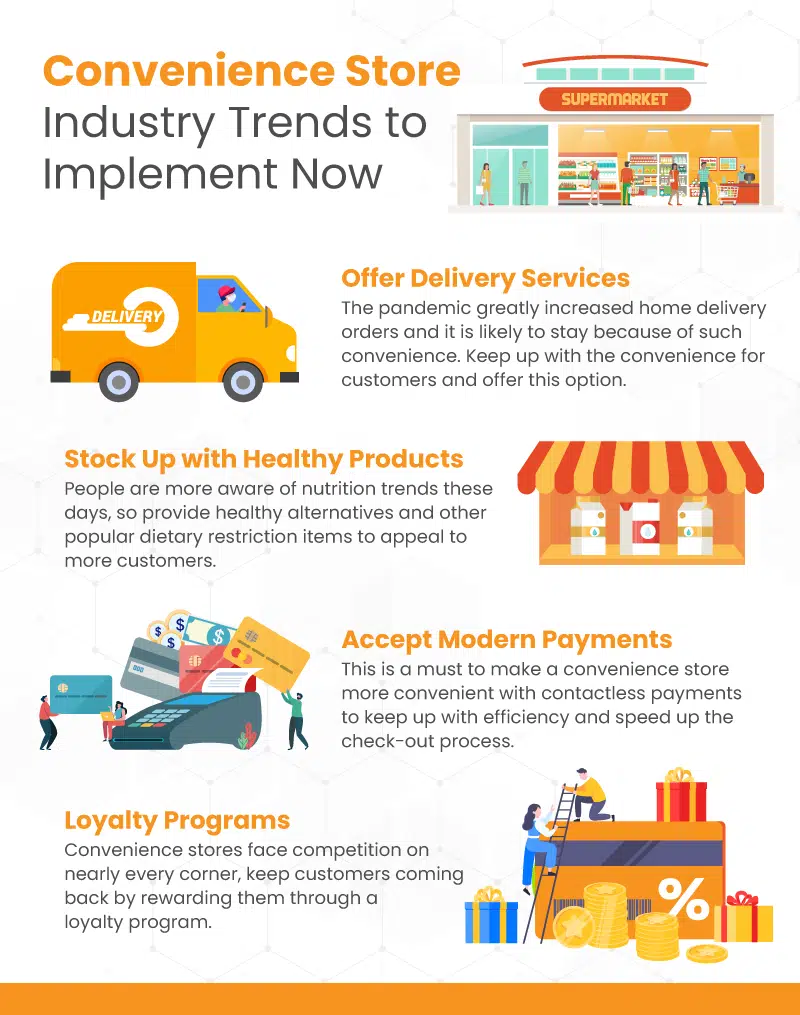 KORONA POS Does It All
All of the back office software functions that you need to optimize your convenience store are at your fingertips with KORONA POS. We offer extremely fast transaction speed, with contactless payment capabilities, offline transactions, and 24/7 customer support. Even in the event of a local internet outage, our point of sale will facilitate transactions remotely until your network is back up and running.
KORONA POS has vast integrations and an open API for any third-party platforms you might want to use to make your business more effective. Plus, our data analysis insight and inventory management will ensure that you always have the right products in stock to keep your customers happy. Give us a call today to learn more about our point of sale and schedule a demo.
FAQs: Convenience Store Industry Trends
What industry is a convenience store in?
Convenience stores are in the retail industry. C-stores stock cigarettes, beverages, toilet paper, magazines, snacks and more. Depending on location and customer demand, they will also offer wide ranging items from prepared foods to motor oil. 
Why do people prefer convenience stores?
People prefer convenience stores because they are fast,  easily navigable, and stock items that are crowd pleasers. While they might not have as many options as supermarkets, they cater to clientele that want convenience. As such, they often sell a high percentage of items like cigarettes, coffee, water, and beer. 
What makes a convenience store successful?
Paying close attention to consumer demands, and keeping the right items in stock makes a convenience store successful. Facilitating fast transactions and rewarding shoppers with loyalty rewards will ensure that customers come back. Also, utilizing point of sale software that provides broken down sales analyses will equip owners with actionable insights to optimize their store. 
Is the convenience store industry growing?
Yes, the convenience store industry is growing. In fact, studies have shown that even in the face of labor and supply chain challenges, sales have increased in the past couple of years. They are forecasted to continuously grow in the near future as well.