The idea of starting or buying a franchise is attractive for many reasons: being your own boss, investing in your community, and earning a lot of money as a franchisee. But how much do franchise owners make? According to Franchise Business Review, the average annual pre-tax income of franchise owners in America is $80,000. Only 7% of franchise owners earn more than $250,000 annually, and 51% earn less than $50,000.
This figure is only partially relevant, as the average income varies significantly from franchise to franchise and business owner to business owner. In addition, this range does not take into account the income potential if the business is sold or the risk of losing the money you have invested and more (which is a possibility that should be considered). Plus, it doesn't account for the fact that many franchise owners own more than a single location.
No matter your situation, though, you'll need to do your research to ensure that the brand you're interested in can meet your financial goals and weigh the risks associated with a franchise investment. This guide guides you through what you need to know about franchise profitability and revenue. You'll also learn about the average annual franchisee income of some franchises.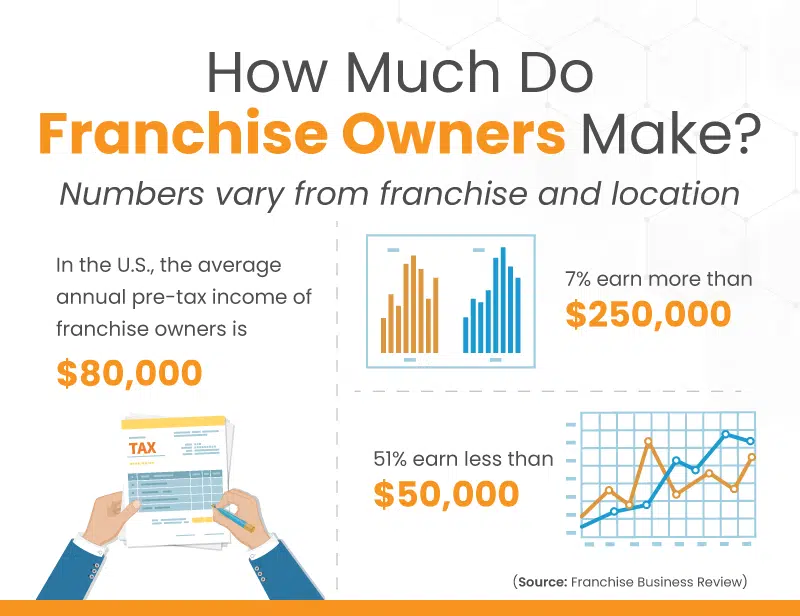 Table of contents
How Much Does a Franchise Owner Make?
According to Zippia, franchise owners earn an average of $49,588 per year, or $23.84 per hour, in the United States. Franchise owners at the bottom of the scale, the lowest 10%, earn about $39,000 a year, while the top 10% make $62,000. It is worth noting that geographic location also impacts the salary a franchise owner can expect to earn.
New Jersey, New York, Rhode Island, Massachusetts, and Delaware have the highest earnings for franchise owners. The average franchise owner earns $75,454 in New Jersey, $71,089 in Rhode Island, $72,095 in New York, and $65,936 in Massachusetts.
Although the average income of a franchise owner is not as high as you might think, the annual salary does not always reflect the business's true profitability. For example, a hardware owner may open a hardware store and earn only $45,000 annually. However, the hardware store and the real estate (if he owns it) may be valued at $3 million. The franchise owner can sell the business and the land, thus getting a considerable ROI.
What Is the Average Salary for Some of the Most Profitable Franchise Owners?
As previously stated, the above data is not fully representative of reality. These figures cover all types of franchises, from small coffee chains to international fast-food restaurants. The following five franchises are representative of a range of industries, investment amounts, number of locations, and brand recognition. Using the data provided by each Franchise Disclosure Document (FDD), let's look at how much these franchise owners earn.
The Maids
The Maids is a leader in the growing residential cleaning industry, serving thousands of unique customers weekly in more than 150 major U.S. and Canadian markets, including more than 45 states and three Canadian provinces. The Maids has more than 40 years of experience as a franchise, and that strong support system is evident in the numbers. According to the company, the average Maids franchise owner makes about $1.1 million in annual revenue, and the most successful franchise raked in $6.5 million last year. In addition, the initial franchise fee and other start-up costs are much lower than most other cleaning franchise opportunities. At most, the total initial investment is less than $200,000. The initial franchise fee is $12,500, and the estimated initial investment can range from $48,950 to $124,950.
Burger King
One of the most profitable franchises you can consider starting is Burger King. The median Burger King franchise revenue in 2020 was $1,351,000. The highest-paid franchise made about $4.8 million in revenue, while the lowest-paying franchise made less than $200,000. This data indicates that potential payments can vary widely and depend on the quality of business management, location, and other factors. Based on a net income of $1,351,000 and a profit margin of 13%, we can estimate that the average compensation for a Burger King franchise is $175,630 per year. It should be noted, however, that the initial investment range can be from $230,000 to $4,194,700. This estimate does not include real estate costs.
McDonald's
Owning a McDonald's franchise, no matter where you are located, guarantees you a loyal customer base. With that said, buying a McDonald's franchise requires a significant initial investment. So it's not a path to profitability if you have limited access to franchise financing. Potential franchisees must have access to at least $500,000 in cash to be considered, and you'll need to put down at least 25% in cash as a down payment to secure your McDonald's franchise location. The average McDonald's franchise owner in an existing restaurant makes approximately $150,000 per year. However, this figure can vary depending on several factors, such as the restaurant's location and the owner's experience level.
Dream Vacations
How much you can earn with a Dream Vacations franchise depends on how much time and effort you are willing to commit. Becoming a Dream Vacations franchisee is more affordable as you can get started for as little as $3,500 down. Since you're working from home, there's very little in the way of start-up costs. According to Glassdoor, the Franchise Owner of Dream Vacation is around $72,214 per year.
Supercuts
Supercuts is one of the most recognizable brands in the hair salon franchise business. The franchise has over 2,600 locations. In addition to offering haircuts, Supercuts franchisees can take advantage of various revenue streams to maximize their profitability, such as selling hair care products and other salon services. Supercuts applicants do not need prior experience in the salon industry. The estimated total salary for a franchise owner at Supercuts is $104,175 per year. However, you will need a total net worth of $500,000, $150,000 in liquid assets, and good credit to be considered.
See also: A Guide For Entrepreneurs Who Want To Open A Franchise
What Should You Know About Franchise Profitability And Income?
When researching how much a franchise owner makes, it is essential to differentiate between "business profits" and "owner's income." Potential franchisees often need clarification on business profits with their potential annual income/salary, which can be a serious oversight. As a business owner, before you can pay yourself, you often have to pay business taxes, pay off loans, and reinvest in your business. While your business may become very profitable, your net income may be significantly less. The following points should be kept in mind when considering franchise opportunities:
Talk with as many franchisees as possible and confirm that your business projections and revenue expectations are realistic.

Understand that most business owners can't take money out of their business for the first few years of the start-up phase, and it may take even longer for you to start paying yourself a salary with your new business.

Plan accordingly and try to have other sources of income to live on while your new business is starting up.
Finally, concerning revenue and profitability, while many food franchises have relatively high unit sales and/or profitability, it is essential to look at the big picture when considering investing in a franchise. For example, a food franchise may offer slightly higher profitability than other businesses, but if the initial investment is three times higher, your overall return on investment will potentially be much lower. Review your long-term financial projections with a good accountant and compare your potential franchise investment to other businesses and other investment opportunities (real estate, stocks, etc.) to see how they compare.
The Importance of Franchise Disclosure Documents With Item 19
Prospective franchisees should carefully review a brand's Franchise Disclosure Document (FDD) and ask current franchisees how much they recommend a new franchisee have in the bank before opening. It is important to note that most FDDs are updated once a year.  Many franchisors have begun to include Item 19 – the "representation of financial performance" – in their FDD. The latest trend in Item 19 is to provide gross and net figures to give applicants and franchisees a better idea of potential profitability, not just top-line revenue. 
Though the information shared sounds great, it doesn't necessarily mean that you, as a franchisee, will match those numbers or run your business with the same results. At the end of the day, you are the owner of a business that plays by another brand's rules and has the potential to fail or succeed. Buying a franchise does not guarantee that you will run a profitable business, generate the same revenue or incur the same expenses. Nonetheless, if a company's FDD is less transparent, it is appropriate to ask why the information is not being disclosed.
Run Your Franchise With KORONA POS
The POS system is one of the most essential franchise technologies. And for this, KORONA POS is the best POS system to manage both the individual franchisee locations as well as broader franchisor operations. Plus, the software makes scaling a franchise easier than ever. There are a few other key components of KORONA POS for franchises:
Real-time data updates

Consolidated inventory management

Franchisee inventory ordering portal

Setting up automated royalty payments

Ease of communication between sites

Improving transaction times

Employee management tools

Detailed sales reporting and metrics
To learn more about the features KORONA POS can offer a franchise, click on the button below for a demo with one of our product specialists.