Last Updated: March 4, 2021
Having quickly become a massive trend over the past few years, CBD (cannabidiol) retail continues to be one of the fastest growing industries in the United States. The market already saw a spike in demand in 2019 with over $4 billion in sales. Most experts agree that it will surpass $20 billion in annual sales in the next few years.
The reasons for the sudden growth are simple: cannabis products are popular and many states have begun relaxing legal regulations surrounding their use. And though THC products are still banned in many states, the same laws don't extend to CBD. So how can smoke and vape shops take advantage of these CBD retail trends? Or actually, how can any retailer? CBD is everywhere, so let's look at the industry and how to start selling CBD if you don't already.
Here are some retail trends in CBD to watch out for in 2021:
1. It Will Become Even More Ubiquitously Sold
As we've mentioned, CBD sales will only continue to grow across the country. It's quickly becoming a mainstream product as more tests reveal its safety and efficacy. The general population has steadily gained trust in the industry over the past few years.
And since it's legalization, there have been hundreds of clinical tests done on CBD products, helping to further usher in more trust in the industry. Plus, major big box retailers have begun carrying CBD products, including CVS, Rite Aid, GNC, Sprouts, Urban Outfitters, and many more.
And this trend only opens the door for smaller businesses to do the same. With more consumer trust, retailers can count on the products to move. Plus, it's not just smoke shops selling CBD products. Health and wellness stores, convenience stores, liquor shops, and more are now carrying a variety of CBD products.
2. It Can Be Sold Online and In-Store
For retailers looking to sell CBD products, the best part is that it can be sold in-store and online. For many retailers, in-store shopping has opened back up in some form or another. And, to be sure, that's ideal for selling CBD products. The average consumer has a lot of questions and/or concerns with CBD since it's a new market trend. A great team of employees can help guide each customer through the shopping experience to find the best fit for each shopper.
But adding to the omnichannel experience by selling online is valuable as well. No matter how quickly we're able to "get back to normal," offering multiple sales channels for your products is so important.
Make sure that your retail POS can offer a seamless eCommerce experience for you and your shoppers. To find out how KORONA can help, click below to learn more. The software integrates with WooCommerce, among many other features for any retail store.
For more on selling CBD, read: Features to Look For in a Cannabis Payments Solution: Ultimate Guide For CBD Retailers
3. People Are Using CBD for Their Pets
And that "and more" includes pet shops, too! What's even more exciting about the CBD retail trend is that it's been proven to be beneficial and safe for both humans and animals.
Dog and cat owners are buying up CBD topicals, peanut butter, chews, and tinctures for their pets. And, like the human market, it's likely to increase a whole lot over the next few years.
Retailers need not simply be a pet store to sell pet-friendly CBD products. Gift shops, cafes, and apparel stores, for instance, can add these products near their POS system as a last-minute item or gift idea as they're checking out.
Just make sure the product is quality before selling it! The market is new, and thus relatively unregulated. And there have been a lot of poor quality products hitting shelves, especially in the pet industry.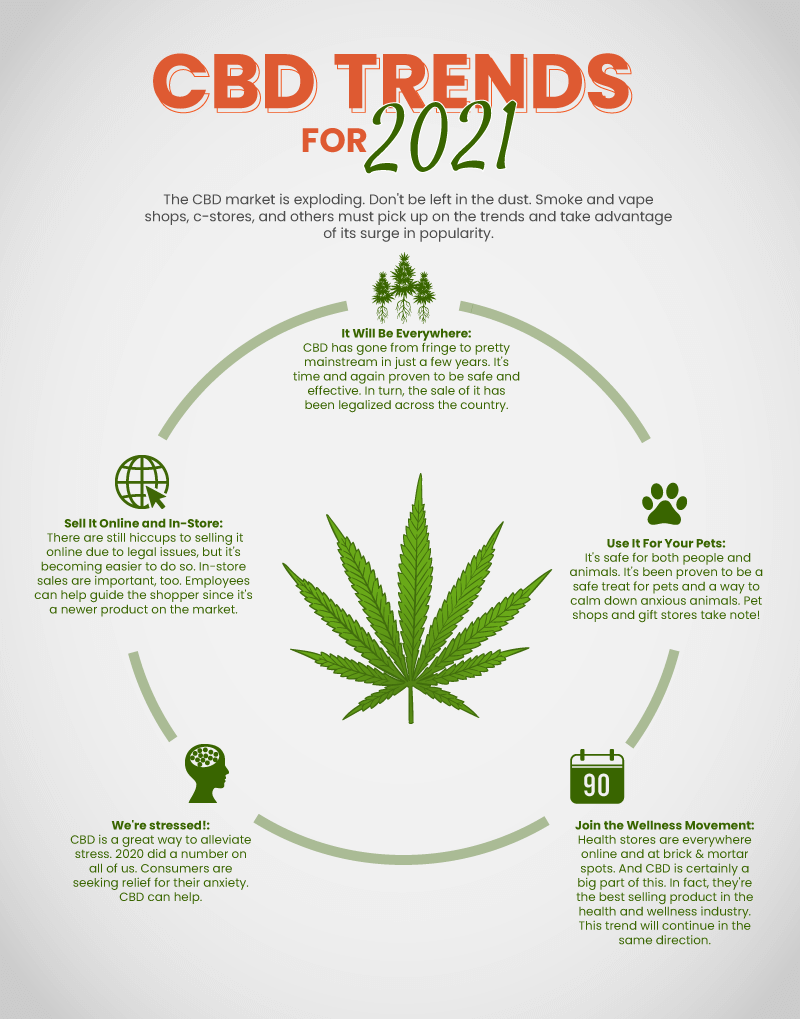 4. CBD Is Part of the Bigger Wellness Movement
Health and wellness stores are popping up everywhere due to increased consumer demand. Natural remedies, herbal supplements, meditation, plant-based diets, and more have quickly become a massive industry across the United States. And CBD is certainly part of this trend.
Amazingly, though, CBD products are the best-selling of any in this wellness movement. And consumers are searching for CBD-related terms on Google more often than any other wellness trend.
This goes to show that there is a massive untapped market of consumers who are thinking about using CBD products. Though the product in no way alters the cognitive ability of the user, there still remains a certain stigma around the product. Such a stigma will inevitably corrode as the product becomes more widely used and myths surrounding its effects are debunked.
5. We're All Super Stressed Out!
Let's face it, there's a lot going on in the world. And some days it feels like it's a little more than we can handle. For small business owners, the stress is even more tangible. COVID has left a lot of industries struggling to stay above water, and the future is still very much up in the air.
For a whole lot of Americans, legal substances are a go-to way of dealing with stress. And 2020 was no exception. There's a reason that our liquor store clients have been setting records with their monthly sales! The same has been the case for CBD retailers. Many consumers have said they're consuming alcohol, CBD, and THC at higher levels than before the pandemic. And the majority of younger people (Millennials and Gen Zers) are consuming these products at higher rates.
Some of the trend could be attributed to the wellness factor of CBD products, too. Many consumers are paying more attention to their health and investing more in holistic care.
To learn more about how KORONA POS can help your CBD store get started, sign up for a free trial. And check out this comprehensive CBD industry report to find out more about the opportunities to grow your business.