Last Updated: July 9, 2021
Trends in the retail industry continue to evolve each year. We've seen new technologies emerge and existing digital trends become more widespread.
One that we've talked about at length is for retailers to continue to create an omnichannel shopping experience. For most businesses, it's beneficial to find new avenues on which to sell. It's not always necessary for success, but an untapped market is certainly wasting potential sales.
The most basic type of multichannel selling is done by brick and click retailers. As the name suggests, this involves a retail operation that sells at a physical brick and mortar store as well as an eCommerce platform. So let's look at what brick and click retailing is and why it's such an important model.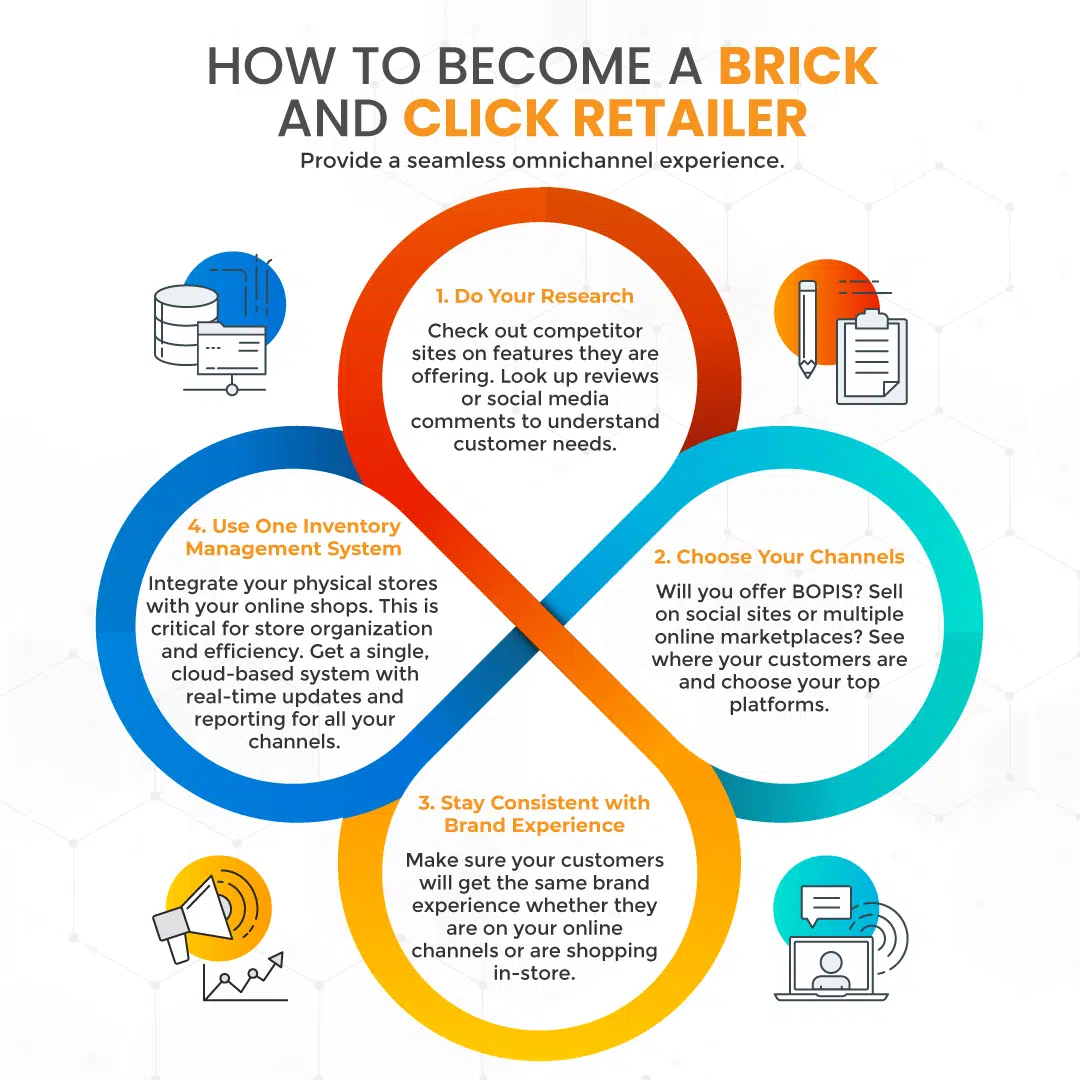 What Does Brick and Click Retail Mean?
Simply put, brick and click retail combines the traditional offline sales channel of a brick and mortar operation with an online, eCommerce store. It's the simplest way of setting up an omnichannel or multichannel retail business.
While the stores are separate entities, the retail operations are consolidated as one business with all operational procedures integrated together. This keeps seamless communication between the multiple sales channels.
A brick and click business uses each sales platform to boost the other. Customer behavior and feedback on any channel can help guide retailers to make decisions about the others.
Why Should You Be a Brick and Click Retailer?
While the eCommerce side of retail has been exploding over the past decade (and shows no signs of slowing down), that hasn't meant an end to brick and mortar retailing. In fact, 78.7% retail sales in U.S. were made in-store in 2020.
The so-called retail apocalypse that so many spelled as the end for physical shops has never come to fruition. While some brick and mortar stores have shut down or had to adapt to the changing environment, traditional retail is, if anything, in a sort of renaissance. Online shopping has yet to replace several key motivators of the in-person shopping experience.
So businesses need to get the best of both worlds by creating this omnichannel shopping experience. We've seen the quick shift that the largest big box retailers have made, which should be indication enough that it's time to hop on board. So if you haven't started, continue reading and learn how to open your doors to a whole new set of shoppers.
What Are the Benefits of Multichannel Retail?
There are many benefits of being a brick and click retailer and omnichannel retailing in general, some more direct than others. Together, the benefits mean that business is more streamlined and profits are bigger. Below are a handful of the biggest benefits of making your store a brick and click operation:
1. Buy Online Pick-up in Store (BOPIS) Option
Buy online pick-up in store is a growing trend among shoppers. This allows consumers to order an item online and then pick it up at the physical location.
It serves several purposes: saves the shopper any delivery fees (and the retailer the hassle of shipping the product), allows the shopper the luxury of bypassing navigating a large store and long lines, ensures that the product is in stock, and allows them to see the physical product before leaving the store, which helps reduce return rates.
BOPIS also gets shoppers in your doors. Even the majority come and go quickly after picking up the reserved product, some will inevitably stick around and do some more shopping, especially if you have some strategically placed displays in your high traffic real estate.
See related: A Guide to Retail Curbside Pickup – 3 Tips to Get Started
2. Hands-On Experience
One of the biggest hurdles for eCommerce retailers to clear is the fact that shoppers can't interact with the products. Combining your online store with an offline retail business helps augment shopper browsing.
3. Offer Delivery Convenience
While BOPIS is popular, most online orders are for home delivery. This is especially beneficial for bulky or large products that are difficult to pick up yourself. A multichannel retail operation means that you can offer your shoppers what they value most: convenience.
4. More Flexible Return Policy
Give your shoppers the flexibility to return or exchange items in-store or online no matter which of those channels they originally purchased the product from. One customer may prefer returning online while another will prefer returning in-store. Again, convenience is something they will highly appreciate.
5. Streamlined Inventory Management
Mismanaged inventory is often catastrophic for businesses. Under-stocked items mean that shoppers can't get what they expect when they come to your business. Over-stocked items mean that you need more storage space and have less cash flow. So to keep a well-stocked brick and mortar and eCommerce store, it's important to have your inventory under one system. Get the right POS inventory management to have seamless communication between each of your sales channels.
What Are the Steps to Becoming a Brick and Click Retailer?
The retail experience and customer journey has become much more complicated in recent years. Today's shoppers expect much more than ever before. And retailers must respond. a major aspect of this is creating an omnichannel shopping environment. So what's the best way to become an omnichannel retailer?
1. Start with where you want to take the customer.
After all, the ultimate goal with your omnichannel experience is to make each shopper satisfied and coming back. Pay attention to how people interact with your store when they're there – this includes both online and brick and mortar stores. Ask them questions and encourage survey forms so that you can learn more about what they need. Look up online reviews or comments on social media pages. Check out competitor sites to see how they've added features to improve the omnichannel experience. Understanding what your shoppers want is the first step to improving the overall experience.
2. Choose which channels to pursue.
Do you have click-and-collect (BOPIS)? Do you sell on social sites? Have you considered other online retail marketplace alternatives? These are the questions that you must consider to build your experience. Check out any popular channels you're not using to get an idea of new directions and avenues you can pursue.
3. Stay consistent with brand experience.
Your customer's experience with your brand should be consistent across all channels. If you're known for your friendly service in person, it should be the same when your customer is interacting with your brand online. At the same time, get creative and find ways for your brick-and-mortar retail experience to be unique while complementing your online channels.
See related: Navigating Retailing Channels: A Complete Guide to Multi-Channel Selling
4. Use a single inventory management system.
It's critical to integrate your physical stores with your online shops. As we discussed above, keeping a consolidated inventory management system across platforms is critical for store organization and efficiency. Use a single, cloud-based system to allow for real-time updates and convenient access to all data and reporting.
To learn more about how KORONA can help brick and click retailers succeed, click below. You can get started on a free trial to see exactly how it will work for your business. KORONA's POS System Software integrates with WooCommerce for your online store, but our open API allows businesses to integrate with any eCommerce platform that they'd like.