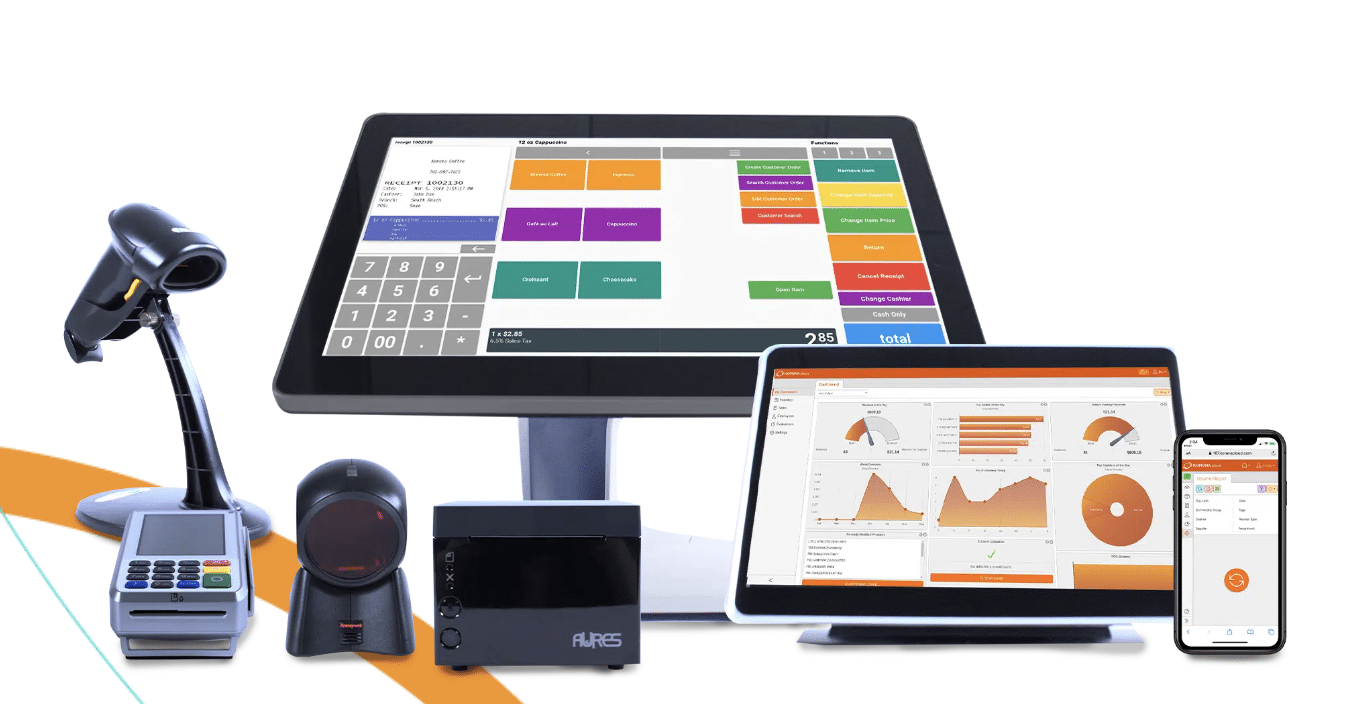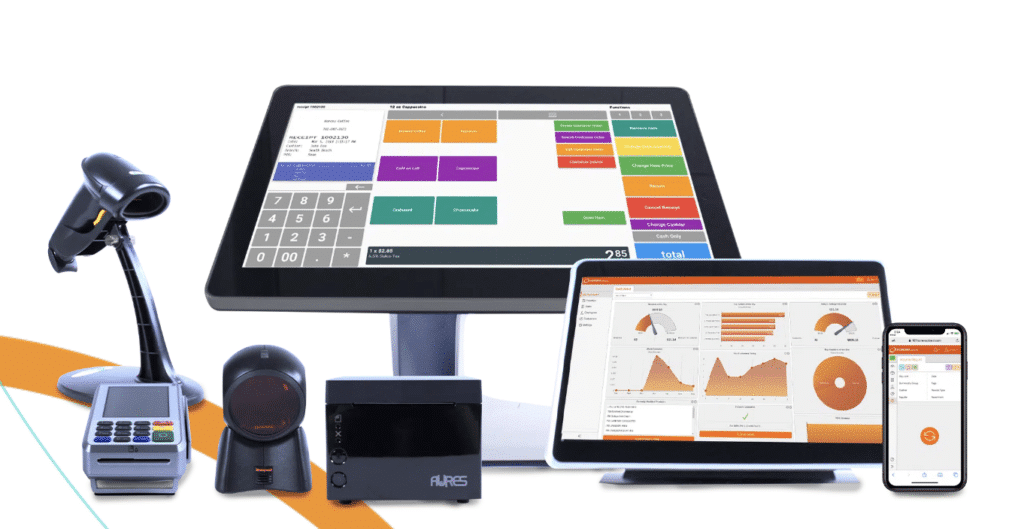 Best Small Coffee Shops: Takeaways
1. KORONA POS: Best for coffee shop chains and franchises
Server management, table management, multiple order printers, modifiers, KORONA menu, graphical table layouts.
$59- $79/month
Free trial available
No contracts, no processing agreements, and no extra fees
Not suitable for full-service restaurants
Bigger learning curve
2. Toast POS: Best solution for selling food and alcoholic beverages
Kitchen display system, catering online ordering, menu management, loyalty.
$0-$165/month
Two-year standard contract, early termination fee
Free trial available
Suitable for full-service
Less intuitive interface
3. Lightspeed Restaurant POS: Best for small coffee shops
Low stock alerts, contactless payment options, loyalty programs, modifiers, fully integrated platform, and simple floor plan customization.
$69-$399/month
No free trial available
Has frequent downtime, according to some reviews, fairly expensive, poor customer service
4. TouchBistrot POS: Best for catering and loyalty
Floor plan & table management, tableside ordering, staff management, menu management
$69-$330
More expensive
No free trial
Support is not great
Selecting the optimal POS software for your coffee shop hinges on various factors. First, the size and precise needs of the specific coffee shop must be evaluated. A quick-service coffee shop has different requirements than a full-service coffee shop restaurant offering an extensive food menu beyond just coffee.
When researching different POS for coffee shops, You should consider the necessary features, functionality, ease of use, and price point. The right POS system can streamline operations and provide insightful sales and inventory data. However, the wrong software can end up costing time and money.
This blog post provides a comprehensive overview of the top POS systems for coffee shops in 2023. It examines the standout features, pricing, strengths, and potential limitations of four leading options: KORONA POS, Toast POS, TouchBistro, and Lightspeed Restaurant POS.
Critical features like payment processing, inventory management, loyalty programs, and scalability are analyzed to help coffee shop owners select the best system tailored to their business needs and budget. Whether you're looking to upgrade your existing POS or shopping for a new coffee shop, this guide outlines the must-have capabilities to streamline operations, better engage customers, and take your cafe to the next level.
KORONA POS
KORONA POS stands out as one of the best POS systems for coffee shops due to its comprehensive features explicitly tailored to the needs of quick-service establishments. It offers several features that make it easy for baristas to take orders, prepare coffee and food items efficiently, and manage the day-to-day operations of a busy cafe.
KORONA POS allows for server management, so you can track which employees are taking orders and how long each transaction takes. It also has graphical table layouts that let you visualize what tables are occupied or available. Baristas can easily split checks between customers at the same table and transfer items between checks as needed.
KORONA POS allows you to track and manage all menu items, modifiers, and courses to accommodate custom orders. The time tracking feature lets managers monitor peak hours and staffing needs. KORONA POS has the features, flexibility, and reporting capabilities essential for running a smooth-flowing, successful coffee shop.
Here are some other features that make KORONA POS a good choice for coffee shop owners:
1. Processing-agnostic integration
KORONA POS's processing-agnostic approach allows coffee shop owners to select and integrate with their preferred payment processor. This flexibility empowers businesses to negotiate better rates and choose a processor that aligns with their unique needs and preferences. This ability to switch processors if necessary ensures that coffee shops can stay competitive in the ever-evolving payment processing landscape. KORONA POS is the only POS system that is processing-agnostic.
Are payment processors giving you trouble?
We won't! KORONA POS is not a payment processor, but we can help you choose the payment processor that's right for your business.
Contact us
2. Loyalty programs
KORONA POS offers robust loyalty program features that help coffee shops engage and retain customers. These programs can be tailored to suit individual coffee shops' needs, providing options for point-based systems, discounts, or special offers. The ability to track customer behavior and offer rewards fosters customer loyalty and encourages repeat business.
3. Advanced inventory management
Coffee shops often deal with various perishable and non-perishable items, from coffee beans and pastries to syrups and supplies. KORONA POS provides an automated inventory management system that helps businesses keep track of stock levels in real-time. This proactive approach minimizes the risk of running out of essential items and ensures smooth operations.
4. Employee scheduling
KORONA POS offers employee scheduling features that streamline the process of managing staff shifts and work hours. Coffee shop owners can efficiently create schedules, assign roles, and track employee attendance. This saves time and improves workforce management, which is crucial in the fast-paced coffee shop environment.
See also: How Many Employees Do You Need for Your Coffee Shop?
5. Item transfers and check-splitting
Coffee shops often cater to customers who want to split bills or transfer items between checks. KORONA POS makes this process straightforward, allowing baristas or servers to seamlessly split checks and transfer items between different customers, ensuring accurate billing and customer satisfaction.
6. Self-service kiosks
KORONA POS supports self-service kiosks, which are becoming increasingly popular in the coffee shop industry. Customers can use these kiosks to place orders, customize beverages, and make payments, enhancing the overall customer experience while reducing wait times during busy hours.
7. Gift cards
What sets KORONA POS apart in terms of gift cards is its native integration. While many POS systems that integrate with specific processors require businesses to use a separate and costly gift card module, KORONA POS includes gift card functionality as part of the subscription. This means that coffee shops can create and distribute gift cards without incurring extra charges, providing a cost-effective and customer-friendly solution.
8. Reporting and analytics
KORONA POS provides detailed reporting and analytics tools that offer insights into sales, customer behavior, and inventory management. Coffee shop owners can access these data-driven insights to make informed decisions, optimize operations, and develop effective marketing strategies. This feature aids in business growth and profitability.
Read also: 5 Coffee Shop POS Features To Brew Up Business
How Much Does KORONA POS Cost?
KORONA POS offers two main pricing plans: KORONA Core and KORONA Retail.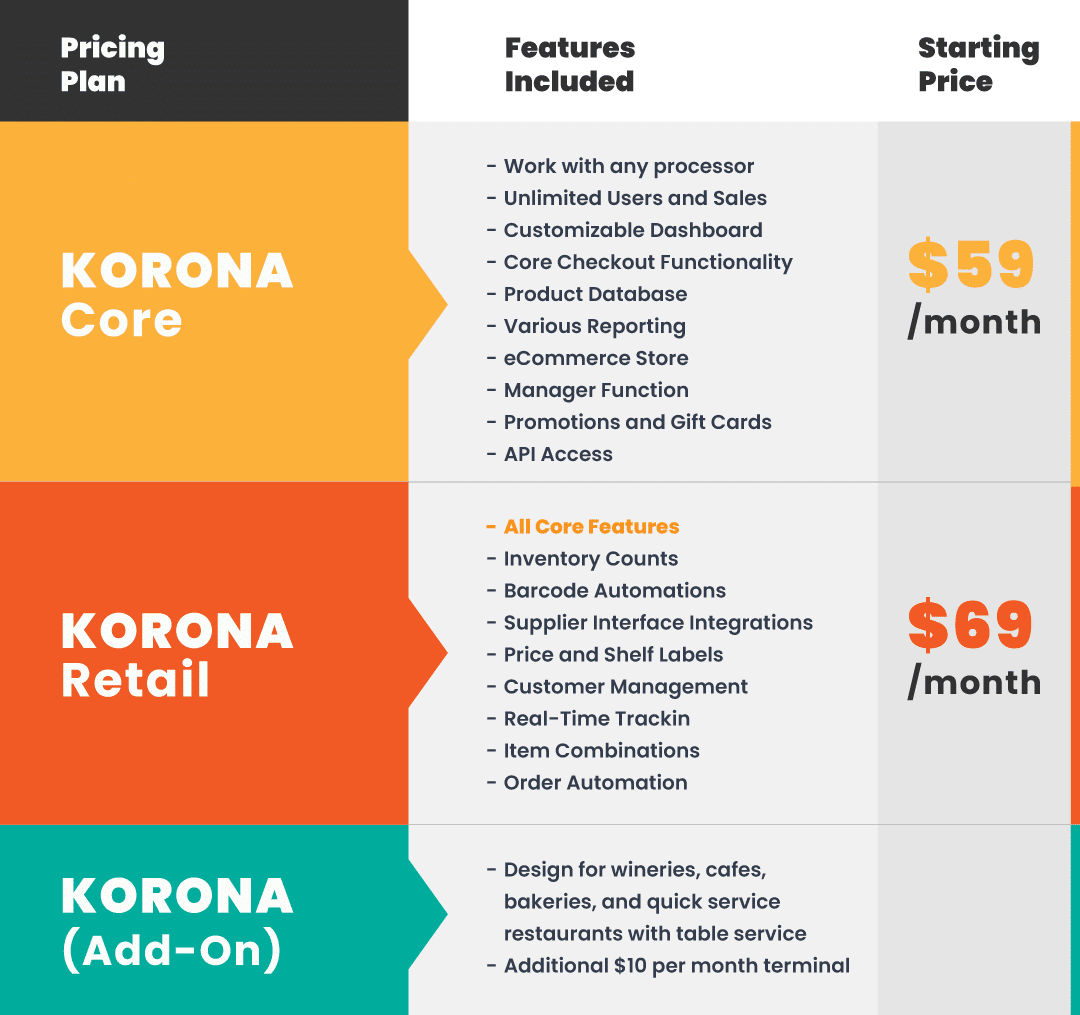 ---
Toast POS
Toast POS is a cloud-based restaurant point-of-sale system designed specifically for restaurants. Key features of Toast POS include table management, online ordering, payment processing, kitchen display systems, and guest profiles. The system provides tools for inventory management, staff management, sales reporting, and integration with third-party apps. Toast POS aims to help restaurants improve operations, increase revenue, and provide better guest experiences. Here are some aspects that set Toast POS apart:
1. Kitchen display system (KDS)
Toast POS integrates seamlessly with its Kitchen Display System, allowing coffee shops to enhance communication and efficiency between front-of-house and kitchen staff. This feature ensures that orders are transmitted accurately and promptly, resulting in quicker service and improved order accuracy. The ability to deliver unforgettable meals enhances the overall customer experience, particularly for coffee shops offering food items.
You might want to read: What To Sell In A Coffee Shop
2. Catering online ordering
Toast POS simplifies the catering process for coffee shops by offering an easy-to-use online ordering system. This feature allows customers to place catering orders conveniently through an online platform. The intuitive interface streamlines the ordering process, making it more convenient for customers and coffee shop staff.
3. Mobile order & pay
With Toast Mobile Order & Pay, coffee shop guests can use their mobile devices to scan a QR code, browse the menu, place orders, and make payments. The integration of Apple Pay further accelerates the payment process, with guests able to complete transactions in less than 10 seconds. This feature enhances the speed and convenience of the ordering and payment process, which is especially important for on-the-go coffee shop customers.
4. Toast management & team management
Toast POS offers tools for employee management and payroll, streamlining the onboarding process for new staff members and ensuring accurate and timely payments. This feature simplifies workforce management, allowing coffee shop owners to focus on providing excellent service to customers.
5. Order-ready boards
Coffee shops can use Order Ready Boards to broadcast the status of orders to both guests and delivery drivers. This ensures customers know when their order is ready, reducing wait times and improving customer satisfaction. This feature is invaluable for managing order flow for coffee shops offering in-house dining and takeout or delivery services.
6. Toast loyalty
Toast Loyalty is an integrated rewards program that coffee shop owners can use to enhance customer loyalty and increase guest frequency. The program allows coffee shops to create and manage loyalty rewards, incentivizing customers to return and make repeat purchases. This fosters a sense of community and encourages customers to become regulars.
See also: Best Coffee Shop Franchise Opportunities And How To Own One
How Much Does Toast POS Cost?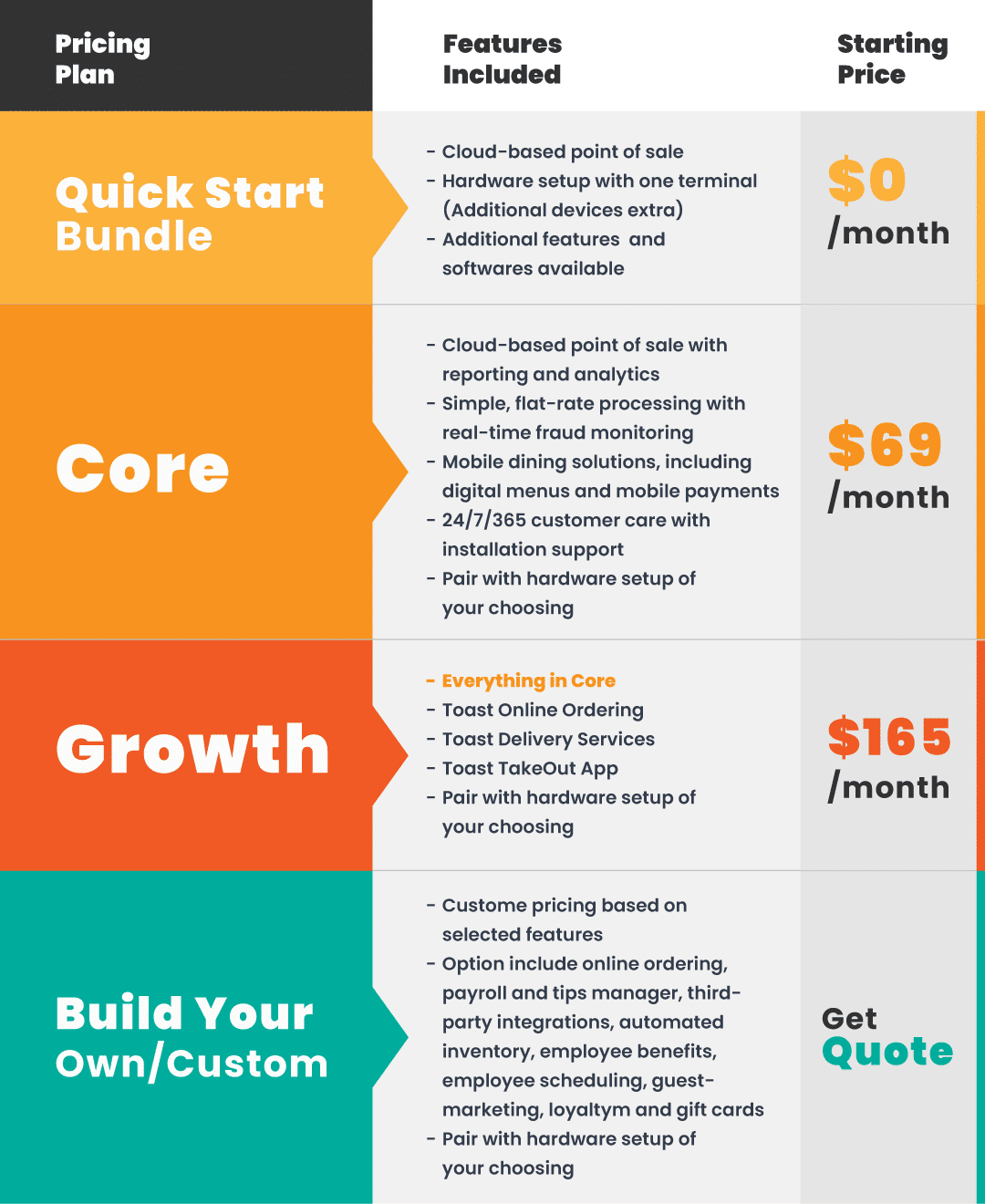 ---
See also: How to Run a Successful Coffee Shop
TouchBistro
TouchBistro's POS system stands out as an option for coffee shops because of its versatile online and offline capabilities, customizable features for catering and delivery, robust online ordering and loyalty program, and advanced upselling tools. With its unique hybrid online/offline setup, TouchBistro enables coffee shops to seamlessly manage orders whether customers are on-location or off-site.
The system also provides customizable options like service and delivery fees, catering menus, and house accounts that are ideal for catering operations.
TouchBistro further distinguishes itself with its integrated online ordering and loyalty program, including guest feedback and reservations. These online features, paired with TouchBistro's comprehensive upselling abilities, can help maximize revenue for coffee shops.
1. Payment processing
TouchBistro simplifies payment processing by offering TouchBistro Payments. This feature allows coffee shop owners to accept various payment methods, including credit cards, debit cards, contactless payments, and digital wallets like Apple Pay, Google Pay, and Samsung Pay.
Integrating the POS system eliminates the need for manual entry, reducing the risk of errors and saving time. Additionally, the option for tableside contactless payments enhances convenience and safety for both staff and customers.
2. Floor plan & table management
The floor plan and table management system within TouchBistro is a powerful tool for coffee shops. It enables users to easily design and customize their floor plans, add or remove tables, sections, and dining rooms, and keep track of all active tables and their total spending. This functionality helps in providing seamless table service and efficient capacity management, enabling coffee shop owners to optimize their seating arrangements and improve customer satisfaction.
3. Menu management
TouchBistro simplifies menu management with user-friendly features. Coffee shop owners can quickly add, clone, organize, and synchronize menu items. This flexibility allows for easy adjustments to the menu, such as introducing specials at specific times of the day or adapting to seasonal changes.
The system also provides upselling tools, including color-coded menus and pop-up prompts, to encourage staff to promote and upsell specific items. This can significantly boost sales. Furthermore, the platform allows for managing multiple in-house or online menus in a centralized and efficient manner.
4. Tableside ordering
Taking and placing orders tableside is a valuable feature for full-service coffee shops. The mobile POS system provided by TouchBistro enables staff to serve customers efficiently and accurately. This capability reduces wait times and enhances the overall dining experience.
5. Reservations
Managing reservations is made easy with TouchBistro Reservations. This feature allows coffee shops to control their capacity efficiently and ensure every guest feels like VIPs. By handling reservations effectively, coffee shop owners can minimize wait times and provide a seamless dining experience, thus improving customer satisfaction.
6. Staff Management
TouchBistro's POS system streamlines staff management. Staff can easily clock in and out, and managers can monitor employee activity anywhere through the cloud. Customizable staff types simplify payroll calculations, making it easier for coffee shop owners to manage wages and labor costs.
The integration with the TouchBistro Cloud stores employee-specific payroll details, making payday and tax season more manageable.
7. Profit Management
TouchBistro's Profit Management, powered by MarginEdge, offers coffee shop owners tools to save time and maximize profitability. It simplifies inventory management, which is crucial for coffee shops, helping to reduce waste and control costs effectively. This feature enables coffee shop owners to focus on increasing revenue and streamlining operations.
How Much Does TouchBistrot Cost?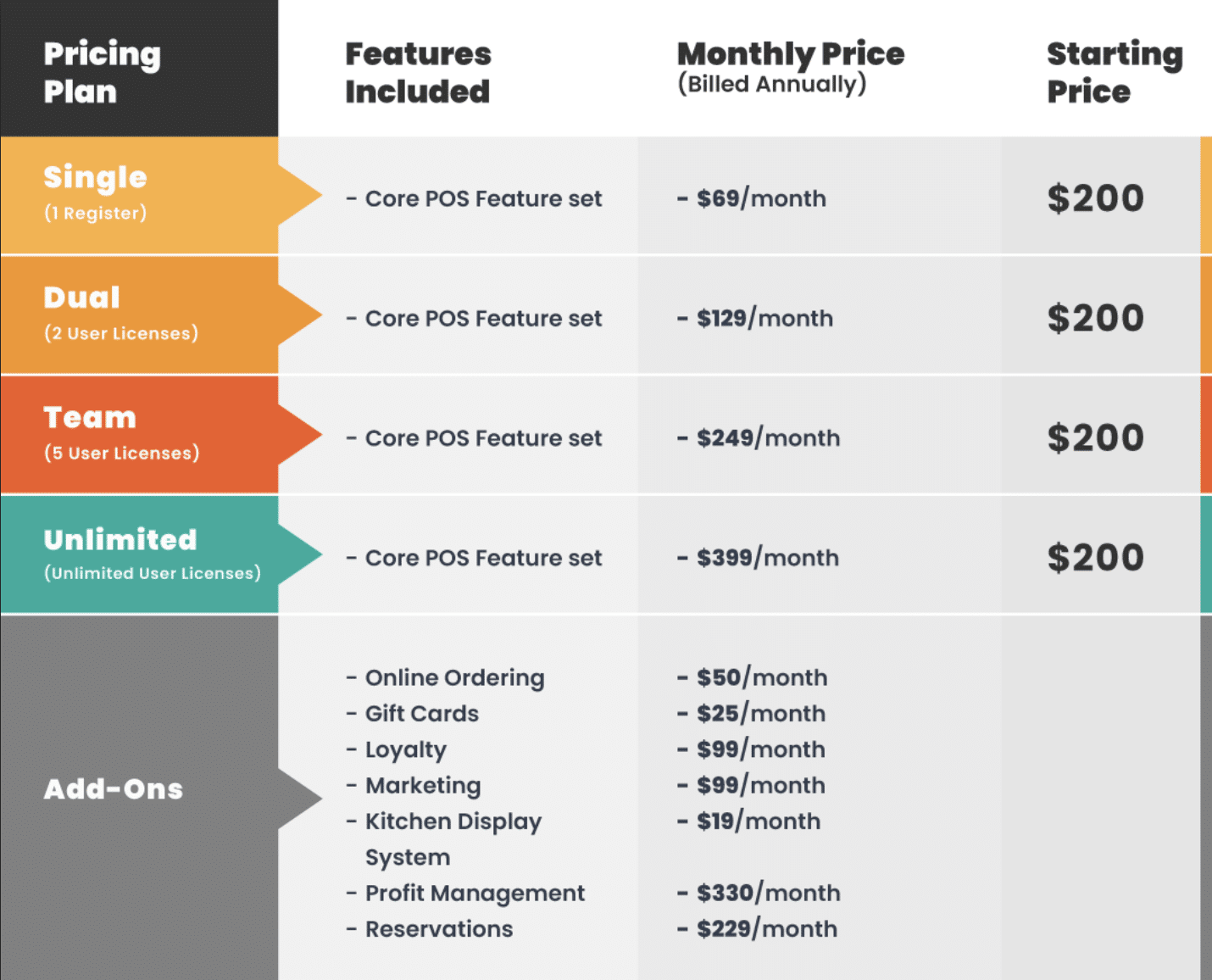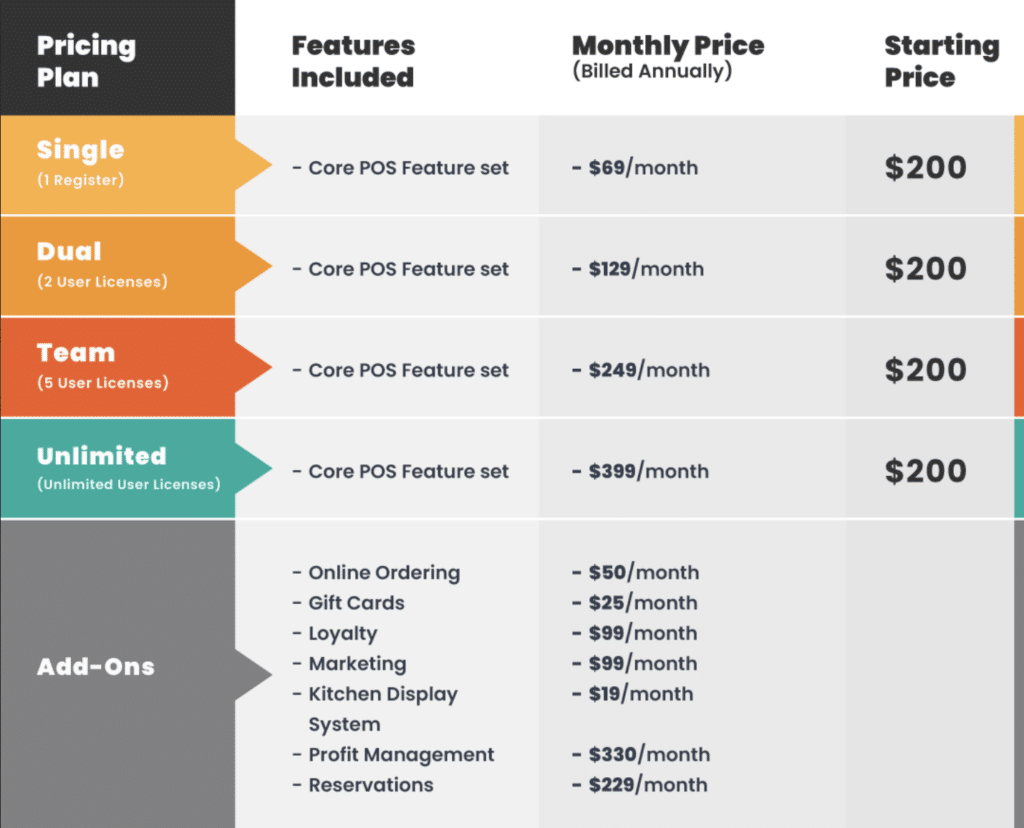 ---
Lightspeed Restaurant POS
Lightspeed Restaurant is a top POS system for coffee shops due to its robust inventory management capabilities, allowing detailed ingredient-level tracking and purchasing. The system's flexible POS interface can easily adapt for quick counter service or full-service dining.
Lightspeed Restaurant also enables multi-location management, integrated eCommerce, and a delivery platform integration. With its detailed inventory oversight, versatile POS options, and built-in eCommerce tools, Lightspeed provides coffee shops with an all-in-one system to efficiently manage in-store and online operations.
1. Keep track of Ingredients
You can keep tabs on individual ingredients for your products. It helps you avoid selling items you don't have the ingredients for and automatically removes them from your menu.
2. Connect with suppliers
You can add your suppliers and link them to specific products. For suppliers who accept orders by email, you can include their email addresses. If some suppliers don't accept email orders, you can provide links to their ordering websites.
3. Automated ordering
Lightspeed Restaurant can help you set up automatic orders. It can create recurring purchase orders and even order items when your stock runs low. When you receive an order, it automatically updates your inventory.
4. Low stock alerts
You can create rules that notify you when your stock is running low. It can send order emails to suppliers who accept email orders and provide links to ordering pages for suppliers who don't.
5. Track stock movement
Lightspeed Restaurant lets you monitor how your stock moves within one or more locations. You can check expiration dates, identify damaged items, count your stock, and transfer items between locations. This helps you understand where you might be losing money and how to improve your menu.
How Much Does Lightspeed Restaurant POS Cost?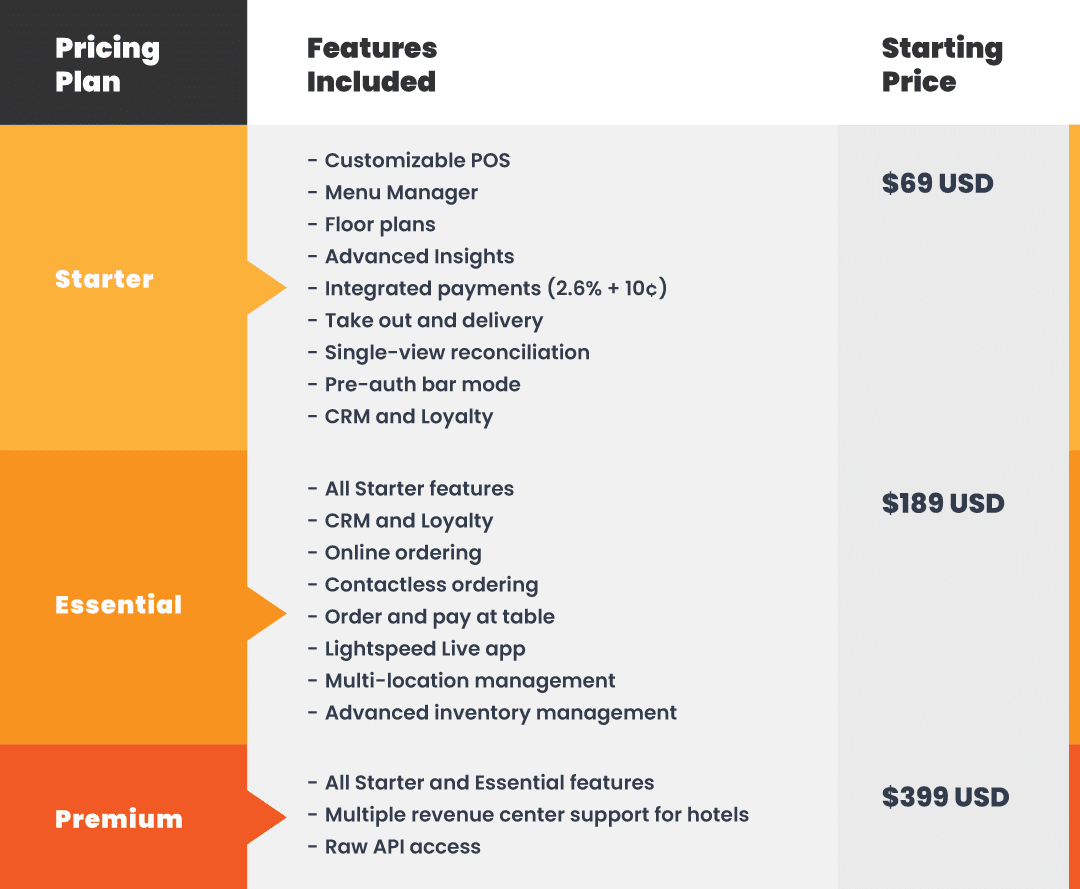 ---
Key Features to Consider For a POS System For a Coffee Shop
Selecting the right POS system for a coffee shop is crucial for efficient operations and customer satisfaction. Below, we'll provide a detailed breakdown of key features to consider for a coffee shop's POS system. Each of the systems mentioned above comes with most of these features, but it's worth thinking about the shopping process from a feature perspective:
User-friendly interface
The system should have a user-friendly interface to minimize staff training time and reduce the risk of errors during order taking and payment processing.
Order management
Customizable menu: The ability to easily customize and update your menu, including adding, removing, or editing items, is essential for a coffee shop where menu offerings change frequently.
Modifiers: The POS should support item modifiers (e.g., extra shot of espresso, milk options, syrup flavors) to accommodate customer preferences and tailor orders accurately.
Inventory management: Keep track of stock levels for coffee beans, pastries, and other items to avoid running out of popular products and manage waste efficiently. Receive notifications when inventory reaches low levels, allowing you to reorder supplies in a timely manner.
Read also: What is Equipment Inventory Management?
Payment processing: A good coffee shop POS should accept various payment methods, including credit/debit cards, mobile wallets, and cash, to cater to customer preferences. It allows customers to split bills if needed, which is common in coffee shops where customers may share costs.
Customer management: This feature maintains a database of customer information for loyalty programs, email marketing, and personalized service. It also integrates with loyalty programs to reward regular customers and encourage repeat business.
Table and table management: For coffee shops with seating, the POS should support table assignment and manage open tabs for customers dining in. The software should be also able to split bills and orders for customers at the same table.
Reporting and analytics: The reporting feature generates detailed reports on daily, weekly, and monthly sales to analyze trends and make informed decisions. Access inventory turnover, wastage, and cost analysis reports to optimize stock levels and pricing.
Employee management: The employment management feature Assign different access levels to employees to ensure security and limit access to sensitive data. Track employee working hours for payroll and attendance purposes.
You might also want to read: The Dos and Donts of Retail Employee Training
Offline mode: In case of internet outages, the system should still be able to process orders and payments and sync data when the internet connection is restored.
Customer-facing displays: Utilize customer-facing screens that show order details, pricing, and promotional information, improving transparency and reducing errors.
Integration and scalability: The POS system should support integrations with accounting software, marketing tools, and other software to streamline operations. Ensure that the POS can grow with your business and accommodate multiple locations, if necessary.
Customer support: 24/7 Support: Choose a vendor with reliable customer support to address issues promptly and minimize downtime.
Read also: Importance of POS Support and POS Customer Service
Cost and pricing structure: Understand the pricing structure, including subscription fees, transaction charges, or hardware costs. Avoid hidden fees that can impact your bottom line.
See also: How Much Does It Cost to Open a Coffee Shop in 2023?
Hardware compatibility: Ensure the software is compatible with your chosen hardware, such as receipt printers, card readers, and tablets.
Click below to get started with KORONA POS now.
FAQs: Best POS System For Coffee Shops and Cafes
1. ​​What Are The Top Features Of A POS System For Coffee Shops?
The top features of a POS system for coffee shops typically include quick and intuitive order entry, menu customization for various coffee and food items, integrated payment processing, inventory management, and customer relationship tools to enhance loyalty programs.

2. How Much Is A POS For A Coffee Shop?
The cost of a POS system for a coffee shop can vary widely, but it often starts at around $69 per month for the core features and can increase with add-ons and user licenses. The price may also depend on factors like the size and specific needs of the coffee shop. POS hardware costs around $400-$1200 upfront per terminal.

3. What Is The Best Coffee POS System?
Determining the best coffee POS system depends on the unique requirements of your coffee shop. Popular options include Square, Toast, KORONA POS, and TouchBistro, but the choice should align with your specific needs, such as order types, customization, and integrations.

4. What's the best POS for a small cafe?
The best POS for a small cafe often includes simple, user-friendly features with affordable pricing. An option like KORONA POS is commonly considered for small coffees due to its ease of use and scalability to accommodate growth. Other popular solutions are Square, TouchBistro, Revel, Lightspeed Restaurant, and EPOS Now. Selecting a system that suits your cafe's specific size and requirements is essential.