Last Updated: December 3, 2020
Too often we talk to retailers who wish they knew more about their product inventory, sales trends and customer shopping habits. Obviously, it's a huge benefit to predict what items will sell well and which won't. You can streamline your inventory, set the right prices, guide your promotions, and optimize your loyalty benefits. All of which adds up to running a profitable and successful small business.
But if only it was that easy. There's a reason that businesses fail. Parsing through the data and reports and turning it into an understandable narrative is one of the biggest challenges facing any business owner. Fortunately, though, there are some techniques and tools that can make this more manageable. Consider these great ways to analyze retail sales trends and grow your business.
Why Is Retail Sales Trend Analysis So Important?
At the most basic level, sales trend analysis enables more informed decision making. As an entrepreneur, you might very well have a great gut feeling, but that only goes so far, even for the best of us.
Start by thinking about all of the simple things you can categorize and understand. Track long-term patterns with individual products so that you can adjust pricing, marketing, and promotions, for instance. Or look at year-over-year performance to see overall sales trends.
Even starting with simple steps can give you a clearer picture of your business operations. With time and the right tools, you can fine-tune other important analytics.
How Do You Identify Retail Sales Trends?
To be fair, the term is a bit vague, so let's clarify it. A pattern of sales can come in many shapes and forms and across many different time frames. A brief lull in sales over a few days or weeks is hardly a trend compared to a year-long slump. And of course, the latter needs to be addressed differently than the former. Before moving on into more detail on this issue, consider other types of retail analysis:
There are also differences in trends that result from the overall marketplace status quo and your own business's independent trends. A certain economic period can have a great impact on sales across the board for some companies.

Additionally, there are product specific trends. Like Tickle-Me-Elmo, unfortunately. This was one of the holiday season's most memorable rages. This DOESN'T mean that every retailer should have carried it. If you have a boutique handmade soap store, a Tickle-Me Elmo on your shelves would have seemed a bit out of place. And desperate. Remember, when following sales trends in retail, only pay mind to those that are in your business realm. This is what blogs and Instagram are for.
What Do You Need To Analyze Sales Trends?
Well, glad you asked! You need a great retail point of sale. A modern POS solution will generate product reports in various ways that break down the performance of your business. The management system keeps track of all inventory and sales so that it can easily rank your products by best sellers, revenue, profitability, margins, seasonal sales, and much more.
For a more in-depth look at retail sales metrics, check out our blog on the 10 most critical KPIs in retail.
What Features Does This Require in the POS System?
There are a number of POS features for analyzing your sales patterns and metrics.
Consolidated Sales Platform – Basically, you'll need all data and sales consolidated onto one platform. This is especially the case if your business has multiple locations, an eCommerce site, or is a franchise. A single back-end system that accounts for sales across multiple channels is imperative.
Cloud-Based POS System – It should also be accessible off-site. Legacy POS models with a physical hub on location compromise your data security and are remarkably inconvenient. Cloud point of sale systems allow you to analyze reports and data from any location with any device connected to the internet.
Real-Time Updates – Some systems still update infrequently, or even require manual sales batching. To get the best out of your POS reporting, get a system that updates as each delivery and sale is made.
Data Visualization – Staring at spreadsheets of numbers is never fun (for most people). Mix it up with easy-to-read charts and graphs. They break down the data in a different way so that everyone can learn. Plus, for all you managers out there, it's an easy way to impress the boss.
Category Analysis – You'll also need to segment your data in various ways. Overall sales are important, but don't begin to tell the details of the story. With your POS, break it down by time, location, product type, individual product, channel, etc.
Altogether, these features from your point of sale will help you decipher the most important factors in your overall success or failure.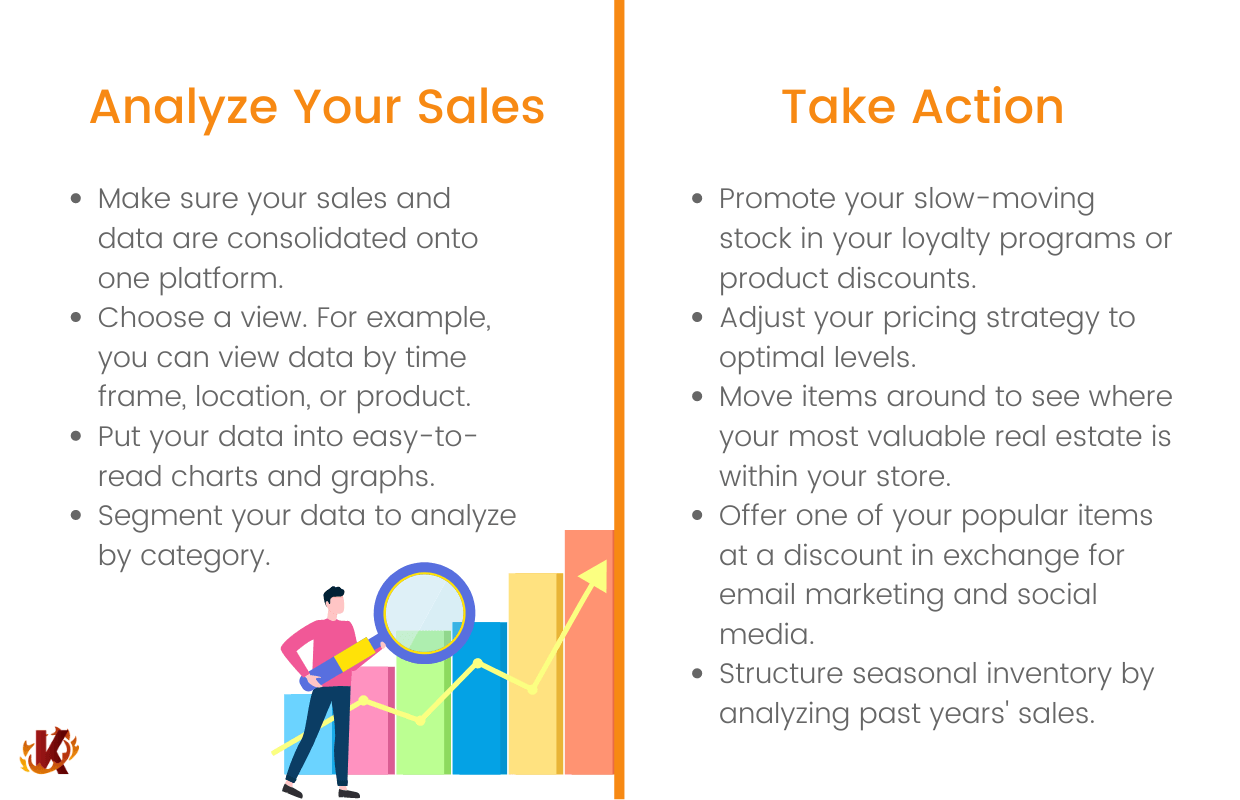 Take Your Retail Sales Reporting to the Next Level
Once you break down this information, implement it into your marketing strategy. Here are a handful of examples to consider:
Find ways to promote your slow-moving stock. Include them in loyalty programs or product discounts.

Play around with your pricing strategy to find the optimal level at which to price certain products.

Move items around in your retail space to see where your most valuable real estate is within in the store by seeing what sells well where.

Use sales trends to build your customer database. For instance, offer one of your popular items at a discount or for free, in return for a phone number and email.

Inform customers of new products through email marketing and social media.

Help structure your seasonal inventory by analyzing past years' sales.
Take Advantage of Your Retail POS System
There are countless ways you can analyze retail sales trends in meaningful ways. But one thing it for sure: you need a powerful POS system to support it. Find out more by signing up for KORONA's free trial. You'll get to play around with the software yourself, and also get a personalized tour from one of our product specialists. And a big part of that will be walking through the retail reporting and data analysis that KORONA has to offer. Click below to learn more!
Get Started with KORONA POS today!
Tell us a little bit about your business and explore all features that KORONA POS has to offer. And there's no commitment or credit card required.